By Lambert Strether of Corrente.
Bird Song of the Day
More winter birds. "A pair of birds building a nest about 3m up in a tall black spruce in open spruce muskeg."
* * *
Politics
"But what is government itself, but the greatest of all reflections on human nature?" –James Madison, Federalist 51
"They had learned nothing, and forgotten nothing." –Charles Maurice de Talleyrand-Périgord
"When the going gets weird, the weird turn pro." –Hunter Thompson
Biden Adminstration
Yep:

My man had one job https://t.co/6PUZpXTGSt

— Atrios (@Atrios) January 12, 2022

My man Biden, that is. Zients is, unsurprisingly, full of it. The Biden Administration has not done "everything," even in their own limited terms. They had a year to get testing, treatment, and masks right. Now they are frantically trying to catch up on the first two, and Walensky is fighting a desperate read-guard action against N95s (see below). Klain, Fauci, Zients, and Walensky should all get the axe. Na ga happen.

Many of us share this view:

More than anything in the world, I want to see the data that made the Biden COVID Response team say, "Fuck it."

I just don't get it.

— Jorge A. Caballero, MD (@DataDrivenMD) January 13, 2022

I would imagine the "data" is on corporate and family office income statement. So we'll never see it.

"Biden was forged in the Senate. Now he's burning political capital to change it." [Politico]. "Just as he tried to resolve myriad disputes on his domestic spending plans late last year, Biden is wading directly into a protracted battle within his own party over weakening the Senate filibuster. After edging from defender to critic of the chamber's 60-vote requirement to pass most bills — which has been a roadblock to many of his top priorities — Biden will visit Senate Democrats on Thursday to emphatically argue for changing the Senate rules to pass a party-line election reform bill. But it appears unlikely the president can move two of his party's most ardent filibuster defenders, Sens. Kyrsten Sinema (D-Ariz.) or Joe Manchin (D-W.Va.), off their defense of the Senate's supermajority requirement…. Democrats say it's better for Biden to try and fail with his latest long-shot effort than not try at all. After all, the president, himself a 36-year veteran of the Senate, campaigned as a skilled navigator of the Hill who could leverage relationships into legislative progress." • Indeed.
Democrats en Déshabillé
I have moved my standing remarks on the Democrat Party ("the Democrat Party is a rotting corpse that can't bury itself") to a separate, back-dated post, to which I will periodically add material, summarizing the addition here in a "live" Water Cooler. (Hopefully, some Bourdieu.) It turns out that defining the Democrat Party is, in fact, a hard problem. I do think the paragraph that follows is on point all the way back to 2016, if not before:

The Democrat Party is the political expression of the class power of PMC, their base (lucidly explained by Thomas Frank in Listen, Liberal!). ; if the Democrat Party did not exist, the PMC would have to invent it. . ("PMC" modulo "class expatriates," of course.) Second, all the working parts of the Party reinforce each other. Leave aside characterizing the relationships between elements of the Party (ka-ching, but not entirely) those elements comprise a network — a Flex Net? An iron octagon? — of funders, vendors, apparatchiks, electeds, NGOs, and miscellaneous mercenaries, with assets in the press and the intelligence community.

Note, of course, that the class power of the PMC both expresses and is limited by other classes; oligarchs and American gentry (see 'industrial model' of Ferguson, Jorgensen, and Jie) and the working class spring to mind. Suck up, kick down.

* * *

"Muted and deferential, the UK's scientists have failed the pandemic test" [New Statesman]. "Yes, according to James Wilsdon of Sheffield University. 'I think it's hard to disentangle some of what we're seeing from the government on masks and so on from the broader rise of a form of 'post-accountability politics', in which MPs and top officials no longer need to justify breaches of ethical or procedural standards. It has now completely infected the British body politic. And as the top science advisers work so closely with and for their political masters, it seems inevitable that this infection has spread to them, too.' These concerns were raised in the summer lull of 2020. Richard Horton, editor of the Lancet, told me then that 'the relationship between the scientific advisers and politicians in the early phase of the epidemic was strangely collusive'. Wilsdon, too, was troubled from the start. 'The very first moment I saw those press conferences, with the CMO [Whitty] and GCSA [Vallance] flanking the Prime Minister it rang all sorts of alarm bells, in terms of lines of accountability and the blurring of the distinction between advice and decision-making.'" • "Strangely collusive…."

"Why the Left Couldn't Destroy Rahm Emanuel" [Politico]. "Emanuel started out as an operative, as a fundraiser and campaign hand for the Democratic Congressional Campaign Committee…. What Emanuel knows is that in modern political culture, operatives — who are close to the gossip, to the evolving media narrative, to who is trying to knife who — often have more real power than principals. It is the same thing that an operative-turned-principal of another generation, James Baker, understood. Even after he became secretary of the Treasury and secretary of State, he never stopped working Washington and working the story. Who is that ringing my mobile phone on a Sunday morning? Oh, it's Rahm…. How many people get these calls? I feel sure there are many dozen…. Perhaps that proves we are all equally swamp creatures. But, simply on practical grounds, the operative mindset is essential to how Emanuel wields power. It is why he made common cause with Biden in the Obama White House. It is why chief of staff and fellow operative Ron Klain (who can be seen as he looked 30 years ago with Emanuel in The War Room, the Clinton '92 cam

paign documentary) believed he had to come up with some cool job for Emanuel even once the original idea of secretary of Transportation didn't come through. It was why several key members of Chicago City Council's Black Caucus, as well as New Jersey Sen. Cory Booker, backed Emanuel's ambassadorial nomination, preventing the vote from becoming a racial litmus test…. An aside: Given how much politicians fret over news coverage — craving more of it, yet also bemoaning what they do get — it's surprising how few have mastered the relatively easy art of working the media. There's nothing that Emanuel does that could not be done by any ambitious politician on left or right. He's already working the Japanese media." • What a shame this from The Thick of It is not a propos:

— out of context thw tbick of jt (@OOCThickOfIt) January 12, 2022

"Centrist Democrats urge progressives to tamp down rhetoric" [The Hill]. "'I think that it is a time for some careful thinking about what wins elections, and not just in deep-blue districts where a Democrat and a liberal Democrat, or so-called progressive Democrat, is going to win,' Clinton told NBC News in a recent interview, effectively throwing a grenade into the longest running intraparty debate in recent cycles. 'Winning elections is not about looking good. It's about being good,' Rep. Cori Bush (D-Mo.) told The Hill on Tuesday. 'If Democrats brought home expansive climate action, a federal minimum wage of at least $15, paid leave, police reform, and 'Medicare for All,' we would win in a landslide,' she said. 'The problem is that these are not getting done, year after year, even while basic necessities like housing and health care keep getting more and more expensive.' 'The path forward is to actually enact policies that address the pain people are feeling across the country, not pretend that pain doesn't exist,' Bush said." • I think Bush needs to show more deference to a party elder. Commentary:

Grifter extraordinaire Trump doesn't owe me six hundred bucks. Scranton Joe does.
2022
"Redistricting: Ohio Supreme Court strikes down state House and Senate maps" [Columbus Dispatch]. "The Ohio Supreme Court struck down GOP-drawn state House and Senate district maps as unconstitutional gerrymandering in a 4-3 decision Wednesday, sending the maps back to the drawing board. Advocates of redistricting reform hailed the decision as a resounding victory for Ohio voters who overwhelmingly approved changes to the state constitution to limit partisan line-drawing in 2015…. The Ohio Supreme Court ruled that the Ohio Redistricting Commission – which is tasked with drawing legislative maps and dominated by Republicans – could not ignore parts of the Ohio Constitution that required them to attempt to match the statewide voting preferences of voters, according to the court's majority opinion, written by Justice Melody Stewart. Those preferences, according to Stewart's opinion, were 54% for Republican candidates and 46% for Democratic candidates over the past decade." • Stewart, interestingly, was elected.

But the other guy is worse:

They are attacking teachers and unions while the Democratic open-covid policy crushes nurses. At this rate the only D women left will be wine moms who want the kids out of the house at any cost. https://t.co/iGEkEcLbOP

— Susan of Texas (@SusanofTexas) January 13, 2022

Rich suburbanites:

For all the paternalistic talk about how keeping schools open is for the benefit of working parents of color, a consistent trend throughout the pandemic has been that well-off white parents are the ones who most want their kids in school and oppose remote learning. https://t.co/NQxketKfsY

— Walker Bragman (@WalkerBragman) January 13, 2022
2024
"Biden-Cheney 2024?" [Thomas Friedman, New York Times]. "'Not at all,' said Levitsky. "We should be ready to talk about Liz Cheney as part of a blow-your-mind Israeli-style fusion coalition with Democrats. It is a coalition that says: 'There is only one overriding goal right now — that is saving our democratic system.'" • As usual, when liberal Democrats say "our", they mean it.
Realignment and Legitimacy
Democidal elites watch:

BROKEN—trust in the @CDCgov—@CDCDirector says CDC will not change recommendations to wear higher quality N95/KN95 masks. ➡️What an awful day in the pandemic & the🌎…I have more choice statements but suffice to say I am angry & disappointed beyond words.😢https://t.co/GJTgNemlDU pic.twitter.com/yG0Tc8cIMv

— Eric Feigl-Ding (@DrEricDing) January 12, 2022

Walensky is doubtless being cheered on by droplet goons in the hospital "infection control" [hollow laughter] community, which from the beginning was vociferously opposed decent masking for proles (and on whose behalf Fauci's noble lies were told, as well as WHO's).

"Walensky says CDC mask recommendation will not change" [The Hill]. "Walensky acknowledged that the CDC's website is 'in need of updating right now' to include information on the "different levels of protection different masks provide," including the improved filtration of KN95 and N95 masks. 'We want to provide Americans with the best and most updated information to choose ,' she said." • FFS. More: "'What I will say is the best mask that you can that you wear is the one that you will wear and the one you can keep on all day long that you can tolerate in public indoor settings and tolerate where you need to wear it,' the CDC director added." • CDC, that is, is providing "information" and not guidance. And the CDC's budget is ~$8 billion. Is out-of-her-depth and flailing Walensky really saying they don't have the money to keep their website updated on a key non-pharmaceutical intervention? Is she high?

"At-Home Coronavirus Tests Are Inaccessible to Blind People" [New York Times]. "Christy Smith has never been tested for the coronavirus. As a blind person, she can't drive to testing sites near her home in St. Louis, and they are too far away for her to walk. Alternative options — public transportation, ride share apps or having a friend drive her to a test site — would put others at risk for exposure. The rapid tests that millions of other people are taking at home, which require precisely plunking liquid drops into tiny spaces and have no Braille guides, are also inaccessible to Ms. Smith. Many people who are blind or have limited vision are not being tested as often as they would like — and some are staying isolated because testing is too difficult." • More Lebensunwertes Leben….

Meanwhile, it seems that the new "Let 'Er Rip" messaging has not entirely penetrated, despite everyone's best efforts:

While the media proclaims Americans are "over covid"…https://t.co/kBfhhUR7eb pic.twitter.com/Ht1U11gu5h

— wsbgnl (@wsbgnl) January 12, 2022

* * *

"Exiting the Vampire Castle" [Mark FIsher, The North Star]. • A must-read, and worth rereading periodically. And if Thomas Edsall is right (see Water Cooler yesterday), wealthy funders just gave the Vampire Castle — a more colorful label than wokistocracy, NGOs, or the Non-Profit Industrial Complex — $25 billion. No doubt for services rendered, and in earnest of further efforts….
#COVID19
Case count by United States regions: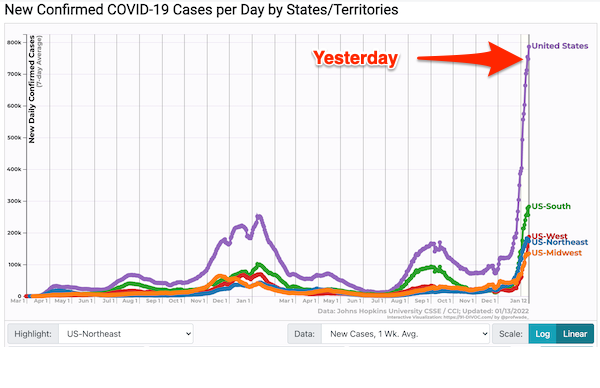 Big step after a small step, a recurring pattern (says the tape watcher). It would sure be nice if "rise like a rocket, and fall like a stick" applied, but we can't know that yet. To be fair, previous peaks — how small the early ones look now — have been roughly symmetrical on either side. But the scale of this peak, and the penetration into the population, is unprecendented.
The official narrative that "Covid is behind us," and that the pandemic will be "over by January" (Gottlieb), and "I know some people seem to not want to give up on the wonderful pandemic, but you know what? It's over" (Bill Maher) was completely exploded. What a surprise!
MWRA (Boston-area) wastewater detection: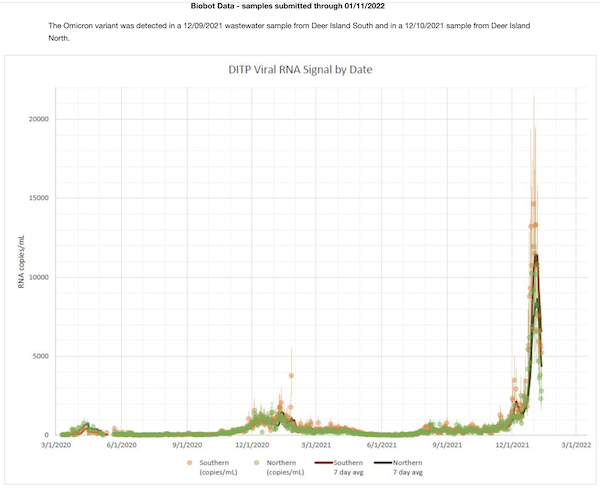 Still the only encouraging news I see (and a lot of people watch this now, so good for the biobots).
The Massachusetts Water Resources Authority (MWRA) service area includes 43 municipalities in and around Boston, including not only multiple school systems but several large universities. Since Boston is so very education-heavy, then, I think it could be a good leading indicator for Covid spread in schools generally.
From CDC Community Profile Reports (PDFs), "Rapid Riser" counties: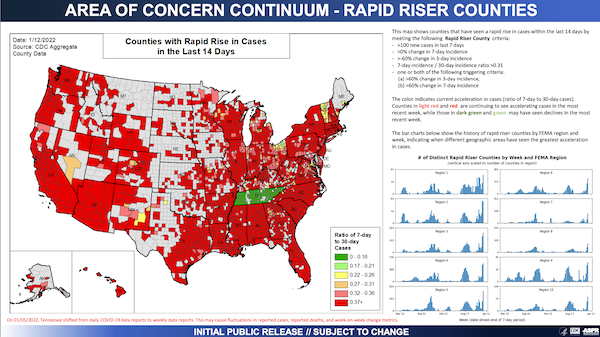 I see a few spots of improvement (San Diego, Vermont) but otherwise status quo. (Tennessee is green, as the note in red at the bottom says, because they went over to weekly reporting. Nice.)
The previous release: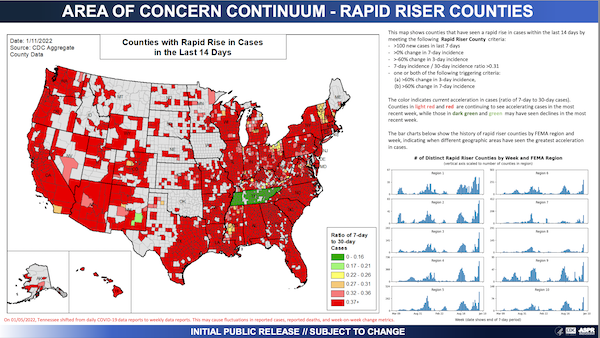 Hospitalization (CDC Community Profile):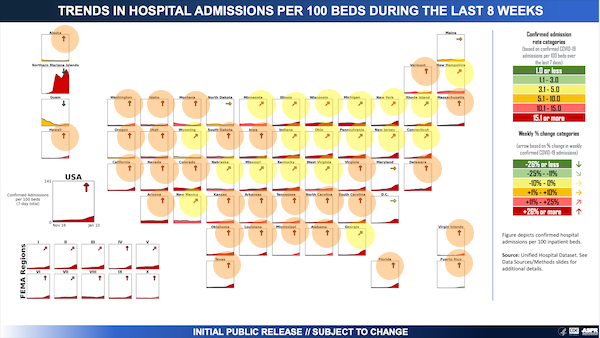 Still brutal. (Note trend, whether up or down, is marked by the arrow, at top. Admissions are presented in the graph, at the bottom. So it's possible to have an upward trend, but from a very low baseline.)
Death rate (Our World in Data):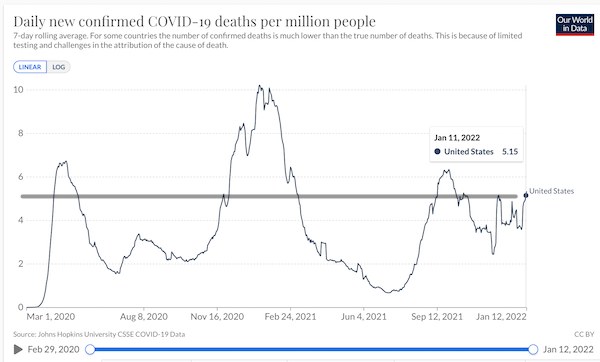 Total: 866,89863,896.
Covid cases in top us travel destinations (Statista):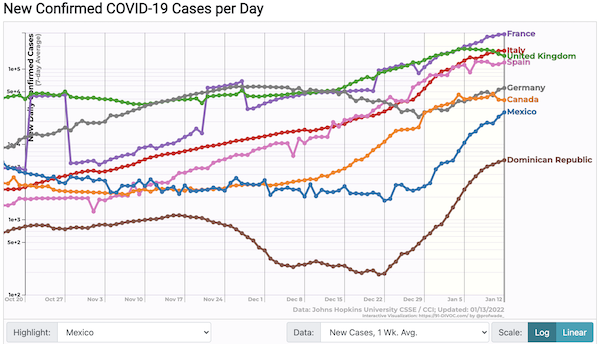 Might as well check out where we go, in case we bring something back (as from Italy to New York in 2020). This is a log scale. (Sorry for the kerfuffle at the left. No matter how I tinker, it doesn't go away. (The data is from 2019, and so subject to subsequent events, but this is the best I can find.)
The excess deaths charts will appear weekly, on Friday.
Stats Watch
Employment Situation: "United States Initial Jobless Claims" [Trading Economics]. "The number of Americans filing new claims for unemployment benefits rose by 23 thousand from the previous period, the most in 8-weeks, to 230 thousand in the week ending January 8th, compared with market expectations of 200 thousand, as a surge in coronavirus cases led by the Omicron variant disrupted activity from airlines to schools. Still, claims remained below their pre-pandemic level, suggesting labor market conditions continued to tighten as the US economy expanded at a solid pace and demand for labor remained strong."
* * *
Banking:
(Glenn Stevens was the Governor of the Reserve Bank of Australia from 2006 to 2016.) The Glenn Stevens episodes are some of the crispest; here's another one:
The Bezzle:
Hey guys, there's a way to endow your commercial interests with the force of a moral imperative…hit the subscribe button and I'll let you in on this cool trick…

— Wesley Yang (@wesyang) January 13, 2022
Lucky Millionaire Wants To Share The Wealth! Just send…
* * *
Today's Fear & Greed Index: 57 Greed (previous close: 63 Greed) [CNN]. One week ago: 51 (Neutral). (0 is Extreme Fear; 100 is Extreme Greed). Last updated Jan 12 at 12:26pm.
Class Warfare
"Family Capitalism and the Small Business Insurrection" [Dissent]. "At this point we need to ask whether the growing militancy of the Republican right can be adequately explained by the triumph of small over big business, as Tea Partiers and Trump himself would have us believe. Even the most sophisticated commentators have taken the Tea Party at its word on this matter. But as Trump's example reminds us, what is at stake here is less an alliance of the small against the big than it is an insurrection of one form of capitalism against another: the private, unincorporated, and family-based versus the corporate, publicly traded, and shareholder-owned. If most family enterprise was confined to the small business sector in the 1980s—when public corporations accounted for the bulk of big business—this shorthand does not apply today, as more large companies go private and dynastic wealth surges to the forefront of the American economy. The historian Steve Fraser has noted that the "resurgence of what might be called dynastic or family capitalism, as opposed to the more impersonal managerial capitalism many of us grew up with, is changing the nation's political chemistry." The family-based capitalism that stormed the White House along with Trump stretches from the smallest of family businesses to the most rambling of dynasties, and crucially depends on the alliance between the two. Without its network of subcontracted family businesses, the dynastic enterprise would collapse as a political and economic force. Meanwhile the many small business owners that gravitate toward Trump are convinced that their own fortunes rise and fall along with his." • Extremely important and well worth a read. Best context I've seen for 1/6.
"Our Debt to Mark Fisher" [Tribune]. Mark Fisher passed away five years ago today. "The first step in the fight against the entrenched desocialisation and dysphoria of the twenty-first century, [Capitalist Realism argues, must be a simple freeing of consciousness. This initially sounds like a throwback to the failed leftism of the sixties and seventies, and indeed Deleuze and Guattari's Anti-Oedipus is one of the models for Capitalist Realism. Mark set his argument apart, however, by making contemporary subjectivism the primary site of struggle and ultimately a means of reactivating collectivity. His writings on mental health enacted a series of brilliant inversions. You think you feel bad because of some arbitrary affliction called depression, but might your working conditions have something to do with it? We have been told that neoliberal capitalism liberated us from the horrors of statist dystopias, so why have mental-health problems skyrocketed in recent years? What if we looked beyond our obsession with self for a minute and re-emphasised our sociality?" • Breathing, as I keep saying, is a social relation. Hence Corsi boxes, etc…..
News of the Wired
Mask news. Alert reader Jen (supported earlier by Samuel Connor) recommended the 3M Aura:
Don't know if you've tried the 3M Aura, but I just did and whoa! Life changing! The nose bridge bit has foam as well as metal sealing that sucker tight. Was in the supermarket with it the other day and had a moment where I was like, am I actually wearing a mask? The don't fit every face shape but man, if they fit yours, it's night and day.
I bought a box of 3M​ Aura 9320A masks. They are FFP2 standard, which is an N95 near-equivalent. Yes, the foam nose-bridge really works, and my glasses do not fog. I prefer elastics round my head to loops round my ears, because the loops irritate my ears and get tangled up in the temples of my glasses. Importantly, the mask is structured, rather like the shoulders of some suits, so not only is the fit tight (the elastic helps), the mask is kept away from my mouth, so I don't get the occasionally feeling of breathing the mask in or out, as I did with the KN95's I previously used. The Aura also has a very long chin section you can pull down over your throat. I prefer the Aura to my earlier combination of a KN95 and a Badger seal; the fit is clearly better. It feels a bit like wearing lightweight armor, but it's something I can get accustomed to. I can't answer for how it will work with your face, of course, but the nose bridge, as Jen notes, is highly adjustable. They're also individually wrapped so elaborately that it's hard to believe they're fakes; they aren't just masks in a box.
* * *
Contact information for plants: Readers, feel free to contact me at lambert [UNDERSCORE] strether [DOT] corrente [AT] yahoo [DOT] com, to (a) find out how to send me a check if you are allergic to PayPal and (b) to find out how to send me images of plants. Vegetables are fine! Fungi and coral are deemed to be honorary plants! If you want your handle to appear as a credit, please place it at the start of your mail in parentheses: (thus). Otherwise, I will anonymize by using your initials. See the previous Water Cooler (with plant) here. Today's plant (JW):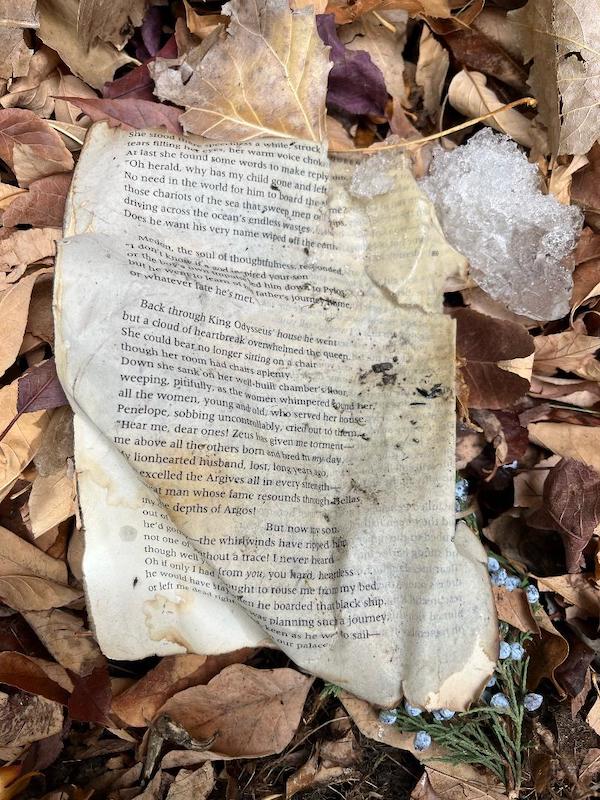 JW writes: "I live two miles downwind from where the fire burned all those houses in Boulder County. I didn't think our house would make it, but we were very lucky. Today when I was taking the compost out I found this singed paper lying near my leaf pile. Note the text is from a very appropriate source. Just the craziest thing that I had to share…"
* * *
Readers: Water Cooler is a standalone entity not covered by the recently concluded and — thank you! — successful annual NC fundraiser. So if you see a link you especially like, or an item you wouldn't see anywhere else, please do not hesitate to express your appreciation in tangible form. Remember, a tip jar is for tipping! Regular positive feedback both makes me feel good and lets me know I'm on the right track with coverage. When I get no donations for five or ten days I get worried. More tangibly, a constant trickle of donations helps me with expenses, and I factor in that trickle when setting fundraising goals:
Here is the screen that will appear, which I have helpfully annotated.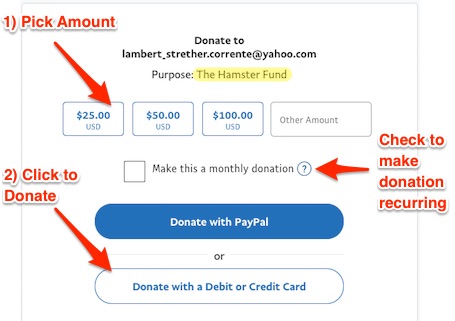 If you hate PayPal, you can email me at lambert [UNDERSCORE] strether [DOT] corrente [AT] yahoo [DOT] com, and I will give you directions on how to send a check. Thank you!