2:00PM Water Cooler 1/14/2021
By Lambert Strether of Corrente.
Patient readers, more shortly. Essay later. –lambert
Bird Song of the Day
A bit of a duet.
#COVID19
At reader request, I've added this daily chart from 91-DIVOC. The data is the Johns Hopkins CSSE data. Here is the site.
I feel I'm engaging in a macabre form of tape-watching, because I don't think the peak is coming in the next days, or even weeks. Is the virus gathering itself for another leap?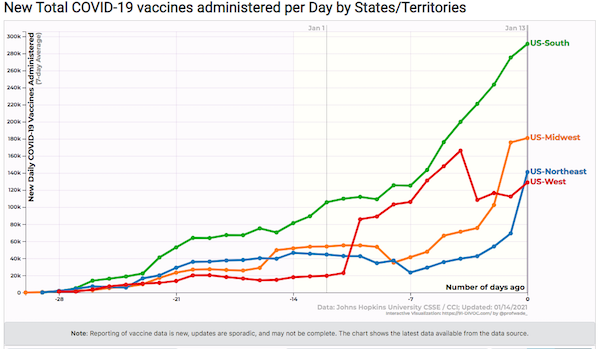 The South is the national champion for vaccination, so far, although the Midwest and now the Northeast are gaining.
Case count by United States region: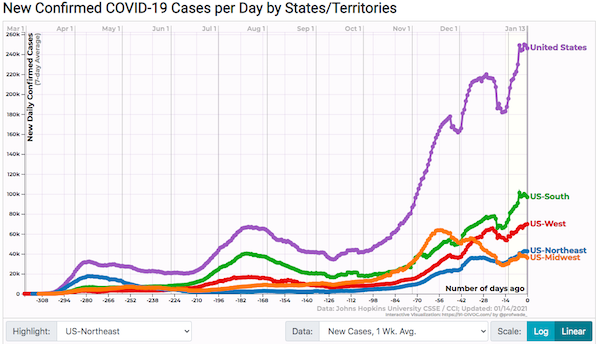 Big states (New York, Florida, Texas, California):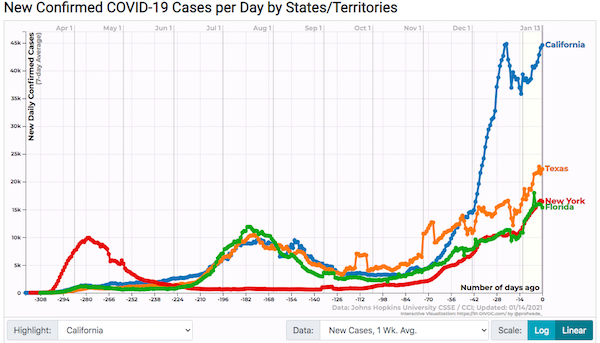 California resumes its upward climb.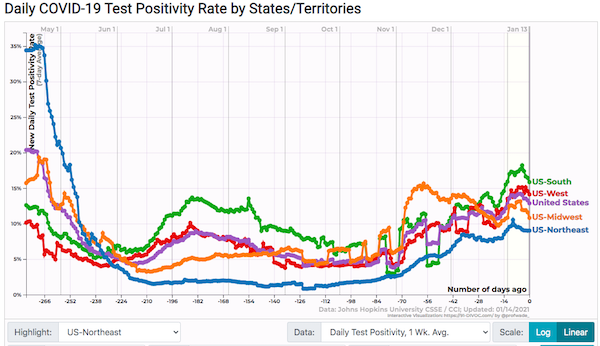 Not sure what this chart means if testing is rationed so widely.
Synchronized drop, weirdly.
Nowhere near 3%, anywhere.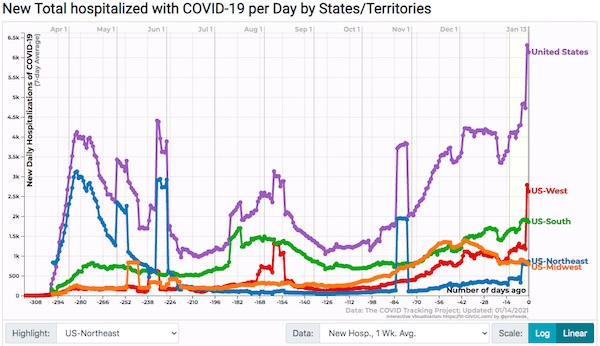 An enormous jump in the West. The Northeast seems to be holding steady after its jump, so maybe it's not reporting. Hospitalization is discretionary; they may also be reducing their admissions rate — relative to cases we cannot see in this data! — to preserve future capacity; or because hospitals have figured out how to send people home.
Case fatality rate (plus deaths):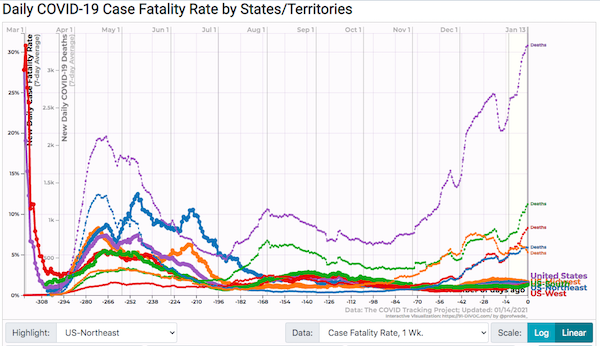 Fatality rate looking a little better, though still not as good as two months ago.
Politics
"But what is government itself, but the greatest of all reflections on human nature?" –James Madison, Federalist 51
"They had one weapon left and both knew it: treachery." –Frank Herbert, Dune
"They had learned nothing, and forgotten nothing." –Charles Maurice de Talleyrand-Périgord
Inaugural
"State Capitals Tighten Security Amid Threat Of Armed Protests Ahead Of Inauguration" [NPR]. "States are taking steps to tighten security at their capitol buildings following a warning by the FBI to prepare for armed protests in the days leading up to the the presidential inauguration on Jan. 20. Many state capitals have already seen protests by people upset by President Trump's loss in the election. On Wednesday, the president put out a statement responding to reports of more demonstrations. 'I urge that there must be NO violence, NO lawbreaking and NO vandalism of any kind,' Trump said in a written statement. 'That is not what I stand for, and it is not what America stands for. I call on ALL Americans to help ease tensions and calm tempers.' The warning collides with the beginning of new legislative sessions in many states, including in Washington."

"State capitals nationwide bracing for possible violence in wake of attack on U.S. Capitol" [CBS News]. "America's capital cities are bracing for possible unrest after last week's assault on the United States Capitol. The FBI is warning law enforcement across the country that groups are calling for the 'storming' of federal, state and local courthouses in all 50 states if President Trump is removed from office prior to Inauguration Day on January 20, a law enforcement source told CBS News."
Impeachment
"'The Genie is Out of the Bottle'" [Politico]. "Wednesday's impeachment of President Donald Trump was one of the strangest political events in memory: A historic rebuke to a president delivered with just days remaining in his term, with seemingly little at stake—and a Senate away on recess, in no rush to take a vote on whether to convict. Notably, 10 Republicans joined the vote, making it the most bipartisan vote in the slim history of impeachments. But how much will any of this really matter? Does it stand any chance of bringing Americans together in rejecting Trump's instigation of the Capitol riot—or will the rushed process just make an already stubborn partisan divide worse?" • A real lesson in what it takes to get Congress to act on a problem with some dispatch, I suppose.

Life's little ironies:

Overlooked irony: this time Trump is being rightly impeached for inciting a violent far-right mob. Last time Trump was impeached for, in part, briefly pausing weapons that were aiding far-right Ukrainian forces in a violent proxy war incited by the US. pic.twitter.com/6B4QVFSZvV

— Aaron Maté (@aaronjmate) January 13, 2021

And the first time Trump wasn't impeached, it was for something he didn't do. Imagine if, instead of investing enormous energies in RussiaGate, liberal Democrats had invested that same effort in continuous oversight of the Trump administration's performance, particularly with regard to the pandemic, not only showing us what Trump was doing wrong, but what they would do instead. If they truly intended to "hit the ground runnning" after the Presidential election, that would have been helpful. Of course, that would come perilously close to governing.
Our Famously Free Press
"How Facebook Incubated the Insurrection" [New York Times]. Weirdly, the Times puts this in the Opinion section. "Facebook's algorithms have coaxed many Americans into sharing more extreme views on the platform — rewarding them with likes and shares for posts on subjects like election fraud conspiracies, Covid-19 denialism and anti-vaccination rhetoric. We reviewed the public post histories for dozens of active Facebook users in these spaces. Many, like Mr. [Dom] McGee, transformed seemingly overnight. A decade ago, their online personas looked nothing like their presences today. A journey through their feeds offers a glimpse of how Facebook rewards exaggerations and lies. But the rewards are trivial compared with the costs: The influencers amass followers, enhance their reputations, solicit occasional donations and maybe sell a few T-shirts. The rest of us are left with democracy buckling under the weight of ." • From the "news-gathering institution" that brought you RussiaGate, not to mention Iraq WMDs. I also note that the word has changed from "coup" to "insurrection." Worth a read, though!

"Exclusive: Over 1,000 brands ran ads alongside election misinformation" [Axios]. "A new report from NewsGuard, a service that uses trained journalists to rate news and information sites, found that from Oct. 1 through Jan. 12, nearly every major brand in America inadvertently ran automated ads on websites that peddled election conspiracies and misinformation. The chaotic nature of the modern news cycle and digital advertising landscape has made it nearly impossible for brands to run ads against quality content in an automated fashion without encountering bad content." • B-a-a-a-d content. Bad, bad, bad!
Capitol Seizure
"Democrats demand probe into nature of Capitol tours on day before assault" [ABC]. "Congressional Democrats have demanded an investigation into what they call 'suspicious behavior and access' for some visitors the day before the Capitol assault, alleging that unnamed lawmakers led 'an extremely high number of outside groups' through the building on what they say could have been 'reconnaissance' tours…. 30 lawmakers [signed] a letter Wednesday to request an investigation from the acting House sergeant-at-arms, the acting Senate sergeant-at-arms, and the United States Capitol Police… The letter does not name any members or make a specific reference to Republicans, nor does it make any specific allegation that members leading the tours were privy to any plans to attack the Capitol the next day…. 'Many of the Members who signed this letter, including , as well as various members of our staff, witnessed an extremely high number of outside groups in the complex on Tuesday, January 5,' the lawmakers wrote." • Eesh.

"'What is Wrong with These People?'" [Barry Ritholtz, The Big Picture]. Re-upping from 2017: "'What the hell is wrong with those people?' If the events of recent weeks (or years) have you asking yourself that, the answer is: not very much. They simply suffer from a small but crucial error in the way their brains create models of the world around them. That is the conclusion of "The Unpersuadables: Adventures with the Enemies of Science," a 2014 book I reread this weekend. The insights of author Will Storr are applicable not only to the current political mayhem but to traders and investors. Indeed, anyone who makes important decisions based on their subjective understandings of the universe stands to learn something about themselves and their decision-making processes. Storr interviews, and occasionally embeds himself with, people many of us might describe as rather eccentric if not disturbed. UFO abductees, Holocaust deniers, new earth creationists, Western medicine eschewing homeopaths, meditation gurus, extreme yogis, 'skeptics' and past-life regression therapists are among those whose world views are closely examined. What is so striking about all of the people embracing unorthodox views isn't that they are insane, but rather . Indeed, what is wrong with these people? They are deeply tribal; they construct story lines to help make sense of the world; when evidence is presented in direct conflict to that narrative, they find ways to dismiss it or ignore it. Their compulsion for emotional narratives overwhelms any sense of data or evidence-based analysis. They are homo sapiens operating the way homo sapiens wetware has operated for hundreds of thousands of years. What is so shocking is not that these people are so awful or believe in awful things, but that they are otherwise rational and sane people." • Catullus 22: "Everyone has their own special delusion; but we do not see the knapsack which is on our back."
Transition to Biden
"Scoop: House freshmen at war after Capitol siege" [Axios]. "The freshmen class of House Republicans has been fighting since last Wednesday's Capitol assault, creating a clear split just over a week after being sworn in. The conversation started when Greene — a fierce defender of President Trump and former QAnon backer — sent a National Pulse article to the chain claiming the president's approval numbers had increased in December. Mace, who came out early against Republicans who planned to reject the election results, fired back: 'I'm disgusted by what you and other Q-conspiracy theorists did last week in the chamber after all of the violence.' Greene said she condemned it and told Mace 'don't believe the fake news.' She also brought up how some Black Lives Matter protests turned violent. Mace answered: 'Literal QAnon lady trying to deny she's a QAnon lady.'"

Does make you wonder if Democrats decided, early, that they would need a cop:

This is why Kamala Harris was chosen by the Democrats despite my community rejecting her pic.twitter.com/JjgW8lexY5

— Nina Turner is a Dr. Cornel West Democrat 🥋 (@SocialistMMA) January 13, 2021
Stats Watch
At reader request, I added some business stats back in. Please give Econintersect click-throughs; they're a good, old-school blog that covers more than stats. If anybody knows of other aggregators, please contact me at the email address below.
Employment Situation: "09 January 2021 Initial Unemployment Claims Rolling Average Significantly Worsens" [Econintersect]. "Market expectations for weekly initial unemployment claims (from Econoday) were 775 K to 835 K (consensus 788 K), and the Department of Labor reported 965,000 new claims. The more important (because of the volatility in the weekly reported claims and seasonality errors in adjusting the data) 4 week moving average moved from 816,000 (reported last week as 818,750) to 834,250,"
Rail: "Rail Week Ending 09 January 2021 – Rail Starts Year In Positive Territory" [Econintersect]. "Week 1 of 2021 shows same week total rail traffic (from the same week one year ago) improved according to the Association of American Railroads (AAR) traffic data. Total rail traffic has been mostly in contraction for over one year – and now is slowly recovering from the coronavirus pandemic."
Imports: December 2020 Import Year-over-Year Inflation Now -0.3%" [Econintersect]. "Year-over-year import price indices inflation remained in contraction and grew from -1.0 % to -0.3 %."
* * *
Commodities: "USDA Report Analysis: Is the U.S. Running Out of Soybeans to Sell?" [AgWeb]. "USDA'S final crop production report of the year made some historic adjustments. As a result, soybeans shot 60 cents higher in a matter of minutes, and corn traded up the limit. While the corn revisions seemed to be the bigger story on Tuesday, University of Missouri extension economist Ben Brown says USDA produced several surprises in its report on Tuesday. 'I continue to believe after today that the story was really about corn, and especially the corn yield drop,' he says. 'We found in our first quarter stocks report this month, it came in 651 million bushels blow trade estimate. So that's a large bullish surprise.'"
Shipping: "Surging Shipping Rates Add New Headwind for the Global Economy" [gCaptain]. "The convulsions are reaching beyond supply chains into operations, either curbing output or saddling manufacturers with goods that haven't been paid for, and wreaking havoc on inventories and cash flows. In some cases, supply snarls are begetting demand drags: Some factories complain they can't consider new orders until the clogged pipeline clears…. The outlook gets no less murky heading into February — when Chinese New Year marks a seasonal turn in Asian exports, many importers renegotiate freight rates with carriers for the next 12 months and ocean carriers start to receive tens of thousands of new containers they ordered last year… Normally container rates drop 15% to 20% after the Chinese holiday, he said, but 'that might not happen exactly the same this year because the backlog has got to be cleared.'"
* * *
Today's Fear & Greed Index: 69 Greed (previous close: 70 Greed) [CNN]. One week ago: 66 (Greed). (0 is Extreme Fear; 100 is Extreme Greed). Last updated Jan 14 at 12:24pm.
Health Care
"Improving Ventilation in Your Home" [Centers for Disease Control] (updated 2021). This full of useful, pragmatic information. Picking out one random item: "Use ceiling fans to help improve air flow in the home whether or not windows are open." • I don't know whether "virus particles," used throughout, was in the 2019 version, or whether CDC is using this phrase to bridge the droplets v. aerosols controversy.
"Bury Me Furious" [The Nation]. "Losing dozens of friends in your 20s and 30s and then getting diagnosed with a deadly virus yourself when you're young really fucks you up. I've lost more people than I care to count to AIDS since the late 1980s—and many of those who survived still bear the scars of those years… I spent most of 2020 high on adrenaline. As an infectious disease epidemiologist and someone living with HIV, pandemics strike visceral fear into me even as I try to focus my thoughts, logically, scientifically, on what needs to get done. At the end of 2020, with no holiday celebrations, with instructions to my research group not to do any work between Christmas and New Year, my world was quieter for a few days. And the grief, sadness, terror of 2020 just welled up. I looked in the mirror and could see what this struggle has done to me, physically, emotionally, psychologically…. Twenty twenty-one is here. We greet it with a Democrat soon to be in the White House, and both the Senate and the House in Democratic control. This is our last best chance to finally vanquish Covid-19. We cannot screw it up. The ability to cope, to make our way through the pandemic relatively unscathed, ended a long time ago for some, but for even the die-hards like me, it's getting tough to think how we can all bear much more of this." • Check his list. It seems unlikely to me that the Biden administration will be able to do all of it, or if it even wants to.
"The World Is Desperate for More Covid Vaccines" [New York Times]. "There is another way. President-elect Joe Biden can solve the U.S. and worldwide vaccine shortages by using a strategy inspired by the one our country used to address the AIDS crisis. Mr. Biden can marshal the federal government's resources to manufacture additional vaccine supplies and combine that move with vigorous efforts to boost distribution. Nearly two decades ago, Anthony Fauci, who was then almost 20 years into his role as the director of the National Institute of Allergy and Infectious Diseases, helped persuade President George W. Bush to establish the President's Emergency Plan for AIDS Relief. The goal of Pepfar, as it's called, was to ensure that people in countries with limited resources could get medication to treat H.I.V. Pepfar has received consistent bipartisan support and is recognized as one of the most successful global health initiatives ever implemented, responsible for saving an estimated 18 million lives to date, according to the U.S. government. Mr. Biden can help address today's urgent global health challenge by establishing the President's Emergency Plan for Vaccine Access and Relief, or Pepvar, and rapidly building facilities to manufacture vaccines and their constituent components at scale. Manufacturing could be coordinated using a model similar to the one used by the Department of Energy's national laboratories, in which a government-owned facility is operated by a private organization experienced in the relevant sector." • I don't think Pfizer would be happy about that.
News of the Wired
"'The Queen's Gambit': a review." [The Scrum]. "The series is inspiring in an endearingly old-fashioned sense. While it is neither moralistic nor judgmental, it certainly has something to say to us today. A young woman flirts with real dangers while growing up in unusually confronting circumstances. More and more, she comes to see that she is being helped along the way by the love and compassion of other people, people who, at the same time, are trying to find a way through their own problems and insecurities. The story sends a message that none of us is perfect but that we do better when we set out to support one another and work in teams. In other words, society matters. There is a subtle—almost invisible—international dimension to this theme."
"'Rent-a-person who does nothing' in Tokyo receives endless requests, gratitude" [The Mainichi]. "A 37-year-old Tokyo man who says he rents himself out to other people 'to do nothing' has been inundated with gratitude from Twitter users, indicating people are happy with his new form of support. 'I'm glad I was able to take a walk with someone while keeping a comfortable distance, where we didn't have to talk but could if we wanted to,' one user wrote. Another reflected, 'I had been slack about visiting the hospital, but I went because he came with me.'… In the current age, difficulties have spread to various areas of life. It may be the case that somewhere in their hearts, everyone is longing for someone who will cheer them on. It seems that this may be why the "rent-a-person who does nothing" — who doesn't tell you to 'do your best' or that they 'support you,' but stays by your side in silence, has seen endless demand." • "[D]ifficulties have spread to various areas of life" is "not necessarily to our advantage"-level understatement…
"A lost paradise of purity" [Standpoint]. "Whilst it is generally undesirable to map biographical elements onto abstract music in the absence of external evidence, in Schubert's case the evidence is to hand. There is moreover a directness of utterance, an absence of artifice or gesture in his music, which make him for many the most lovable of all composers. His genius is to draw us in to the melancholy of his interior world, and at the same time to set before us a vision of unattainable beauty, albeit one suffused with the ineffable sadness of transience." • The rest of the piece is in fact better, but hard to extract. Worth a read. If not:
* * *
Readers, feel free to contact me at lambert [UNDERSCORE] strether [DOT] corrente [AT] yahoo [DOT] com, with (a) links, and even better (b) sources I should curate regularly, (c) how to send me a check if you are allergic to PayPal, and (d) to find out how to send me images of plants. Vegetables are fine! Fungi and coral are deemed to be honorary plants! If you want your handle to appear as a credit, please place it at the start of your mail in parentheses: (thus). Otherwise, I will anonymize by using your initials. See the previous Water Cooler (with plant) here. Today's plant (WHD):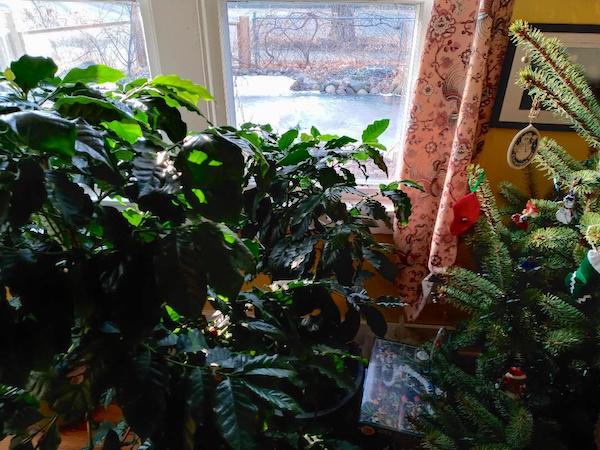 WHD writes: "If you look in the lower left corner, you can see the first coffee bean ripening. Next to the Xmas tree. Frozen pond in background. In Minneapolis. I purchased one coffee plant at the Friends Plant sale about six years ago. There were actually 9 in the pot. Five survived and are thriving." I had no idea one could grow coffee indoors. Although I don't think the yield from five plants would meet my needs.
* * *
Readers: Water Cooler is a standalone entity not covered by the recently concluded and — thank you! — successful annual NC fundraiser. So if you see a link you especially like, or an item you wouldn't see anywhere else, please do not hesitate to express your appreciation in tangible form. Remember, a tip jar is for tipping! Regular positive feedback both makes me feel good and lets me know I'm on the right track with coverage. When I get no donations for five or ten days I get worried. More tangibly, a constant trickle of donations helps me with expenses, and I factor in that trickle when setting fundraising goals:
Here is the screen that will appear, which I have helpfully annotated.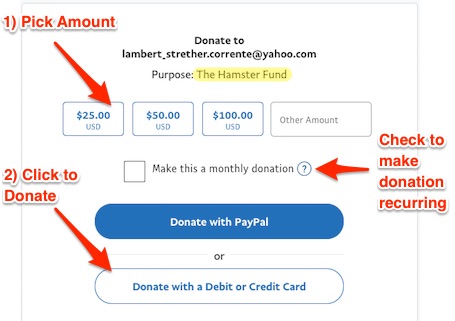 If you hate PayPal, you can email me at lambert [UNDERSCORE] strether [DOT] corrente [AT] yahoo [DOT] com, and I will give you directions on how to send a check. Thank you!