By Lambert Strether of Corrente
Bird Song of the Day
* * *
Politics
"But what is government itself, but the greatest of all reflections on human nature?" –James Madison, Federalist 51
"They had learned nothing, and forgotten nothing." –Charles Maurice de Talleyrand-Périgord
"When the going gets weird, the weird turn pro." –Hunter Thompson
Biden Adminstration
"Biden Administration Mounts Daring Mission To Evacuate Hunter's Remaining Cash From Ukraine" [Babylon Bee].

* * *

"Judge Ketanji Brown Jackson eyed as potential replacement to Justice Stephen Breyer" [ABC]. "With the retirement of Supreme Court Justice Stephen Breyer at the end of the current term, one name keeps rising to the top of the list of potential replacements: Judge Ketanji Brown Jackson. Jackson, whom President Joe Biden nominated to replace Merrick Garland on the high-profile D.C. Circuit Court of Appeals when he picked Garland for attorney general, is a Harvard Law graduate who served as a clerk to Breyer from 1999-2000 and interviewed with former President Barack Obama for former Justice Antonin Scalia's vacancy in 2016…. Jackson was the first Black woman confirmed to an appellate court in a decade and is one of six Black female circuit court judges currently serving. She is also one of just 39 active Black female federal judges out of 793 total… The 51-year-old also has some bipartisan appeal. She was confirmed 53-44 to her current seat in June 2021, drawing votes from three Republicans — Sens. Lindsey Graham, R-S.C., Susan Collins, R-Maine, and Lisa Murkowski, R-Alaska….. Other top contenders include Judge Leondra Kruger, of the California Supreme Court; Judge Leslie Abrams Gardner, of the US District Court Georgia; and Judge J. Michelle Childs, of the US District Court South Carolina." • Not Kamala. What a shame.

"Breyer's retirement renews focus on the Black female jurists who could replace him" [WaPo]. "[A] confirmation hearing slated for next week will put the spotlight on yet another Black woman who is being catapulted into the vacancy discussion: J. Michelle Childs, a federal judge and a favorite of House Majority Whip James E. Clyburn (D-S.C.). Childs seized the attention of legal observers when Biden unexpectedly nominated her last month to serve on the high-profile D.C. circuit, surprising Washington area lawyers who had anticipated a pick with local ties." Surely that would be a little unseemly? To pull Childs's DC circuit nomination and then nominate her for the Supremes? Clyburn must be kicking himself — a pleasurable prospect — because he didn't advise is protege to hold out for Breyer's spot.

"U.S. economy grew 5.7 percent in 2021, fastest full-year clip since 1984, despite ongoing pandemic" [WaPo]. ""This is no accident," President Biden said in a statement Thursday morning, referring to the GDP report. "My economic strategy is creating good jobs for Americans, rebuilding our manufacturing, and strengthening our supply chains here at home to help make our companies more competitive." And an interesting data point: "In a sign that consumers are starting to return to old habits, separate data shows that after almost two years of sweeping cuts and slow growth, museums and libraries are returning to pre-pandemic spending levels. In Muskogee, Okla., the Five Civilized Tribes Museum saw gift-shop sales grow in 2021, thanks to sales of books and crafts, even as attendance fell slightly."
Democrats en Déshabillé
I have moved my standing remarks on the Democrat Party ("the Democrat Party is a rotting corpse that can't bury itself") to a separate, back-dated post, to which I will periodically add material, summarizing the addition here in a "live" Water Cooler. (Hopefully, some Bourdieu.) It turns out that defining the Democrat Party is, in fact, a hard problem. I do think the paragraph that follows is on point all the way back to 2016, if not before:

The Democrat Party is the political expression of the class power of PMC, their base (lucidly explained by Thomas Frank in Listen, Liberal!). ; if the Democrat Party did not exist, the PMC would have to invent it. . ("PMC" modulo "class expatriates," of course.) Second, all the working parts of the Party reinforce each other. Leave aside characterizing the relationships between elements of the Party (ka-ching, but not entirely) those elements comprise a network — a Flex Net? An iron octagon? — of funders, vendors, apparatchiks, electeds, NGOs, and miscellaneous mercenaries, with assets in the press and the intelligence community.

Note, of course, that the class power of the PMC both expresses and is limited by other classes; oligarchs and American gentry (see 'industrial model' of Ferguson, Jorgensen, and Jie) and the working class spring to mind. Suck up, kick down.

"America's Asymmetric Civil War" [Michael Lind, The Tablet (gulag)]. "There are no red states or blue states. Instead, there are blue urban cores floating in a sea of red. Even the exurbs and rural areas in blue states like California and New York tend to be overwhelmingly red and Republican…. The big divide is within metro areas, between the blue downtowns and their inner-ring suburbs that are home to the American oligarchy and its children and retainers, and the red exurbs; outer-ring suburbs tend to be battlegrounds between the Democratic and Republican coalitions. This geographic concentration hurts the Democrats in the Senate and the Electoral College…. The Democratic coalition is an hourglass, top-heavy and bottom-heavy with a narrow middle. In addition to hoovering up the votes of college-educated Americans, the Democrats are the party of the Big Rich—tech billionaires and CEOs, investment banking houses, and the managerial class that spans large corporate enterprises and aligned prestige federal agencies like the Justice Department and the national security agencies. This mostly white and Asian American group cannot win elections without the overwhelming support of Black Americans, and smaller majorities of Hispanic and Asian American voters, clustered in the downtowns and inner suburbs. The high cost of living in Democratic hub cities forces out the multiracial middle; the exceptions tend to be civil servants like police and first responders and teachers who can (sometimes) afford to live in or near their downtown jobs. The social base of the Democrats is neither a few liberal billionaires nor the more numerous cohorts of high-school educated minority voters; it is the disproportionately white college-educated professionals and managers. These affluent but not rich overclass households dominate the Democratic Party and largely determine its messaging, not by virtue of campaign contributions or voting numbers, but because they very nearly monopolize the staffing of the institutions that support the party—K-12 schools and universities, city and state and federal bureaucracies, public sector unions, foundations, foundation-funded nonprofit organizations, and the mass media. By osmosis, professional and managerial values and material interests and fads and fashions permeate the Democratic Party and shape its agenda. While the liberal Big Rich cluster in silver apartments and offices in trophy skyscrapers in the inner core of blue cities, the elites of the outer suburbs and exurbs tend to be made up of the Lesser Rich—millionaire car dealership owners, real estate agents, oil and gas drilling equipment company owners, and hair salon chain owners. This group of proprietors—the petty bourgeoisie, to use Marxist terminology, compared to the Democratic haute bourgeoisie and its professional allies—forms the social base of the Republican Party, despite efforts by Sens. Josh Hawley of Missouri, Marco Rubio of Florida, and others to rebrand the GOP as a working-class party." • Well worth a read (though I don't think much of "osmosis" as a causal mechanism).

* * *

For real?

I have some exciting news. I am taking a leave of absence from Fordham Law School to work for the great New York State Attorney General @TishJames as a Special Advisor and Senior Counsel for Economic Justice. I'm proud to join such an extraordinary office.

— Zephyr Teachout (@ZephyrTeachout) January 24, 2022

Or is James offering potential rival Teachout a poisoned chalice?

I liked Booker from when I heard him on the Trillbillies:

In 1999, Rand Paul was creating a sham medical board to self-certify himself as a doctor amidst medical malpractice suits.

In 1999, I was 15 years old working as an elementary school tutor to help keep my mom and I from falling back into poverty.

Choose your fighter.

— Charles Booker (@Booker4KY) January 27, 2022

But maybe we have some Kentucky readers who can comment.
Republican Funhouse
"Mike Pompeo shells out for media makeover" [Axios]. "Mike Pompeo's political action committee spent $30,000 on media training from last March to June — the most on any service beyond payroll during the first six months of 2021…. The spending highlights the premium Pompeo places on upgrading his personal and political brand, amid a renewed presence on the airwaves. Pompeo most recently made headlines when the New York Post reported about his stark drop in weight, in which he lost 90 pounds in six months. He denied any political calculus for 2024 — but not beyond." • Pompeo for President? Really? Still, losing 90 pounds shows impressive commitment. Hard to believe anybody would do that for a gig on FOX.

"Jailed Oath Keeper's Estranged Wife Shares Snaps of 'Escape Tunnels' Dug Into Backyard" [Daliy Beast]. "When a federal judge ordered Oath Keepers leader Stewart Rhodes to remain jailed pending his trial for conspiracy charges on Wednesday, they cited testimony by Rhodes's estranged wife, who alleged that he installed "elaborate escape tunnels" in his backyard. On Wednesday, she posted the receipts. Tasha Adams shared several snaps on Twitter appearing to show Rhodes snugly tucked into a muddy hole and wrote in a separate tweet: "Folks if you ever feel tempted to rent a backhoe and dig escape tunnels in the backyard of your rental house, keep in mind it may back to haunt you if you later attempt to overthrow the U.S. government." Rhodes is arguably the highest-profile person charged for his involvement int he Capitol riot." • I'm trying to think of a successful revolutionary who dug tunnels in his backyard, but I'm coming up empty.
2022
* * *

Not unfair:

https://t.co/oXr1rzUMUp pic.twitter.com/4FUGnt5Fr8

— Eli Valley (@elivalley) January 23, 2022

And not even a political issue….

"Army of millionaires fuel Senate primary spending spree" [Politico]. "Months before the first Senate primary vote will be cast this year, there's a spending spree unrivaled by any election cycle in history…. [In] Pennsylvania, a political strategist involved in the open Senate race anticipates $110 to $130 million in spending on TV advertisements in the Republican primary alone — nearly as much as both parties combined spent on ads during the state's entire 2016 Senate election… It's a sign of the fierce trench warfare ahead in an election year where the loss of a single seat could cost Democrats their Senate majority. But it's also a reflection of a map that features open seats in some of the most competitive states in the nation, and a glut of Republican self-funders who are digging deep into their own pockets to finance their campaigns."

"Young Americans of all stripes are pessimistic about U.S. politics" [Fulcrum]. "Data-based rankings produced by the Center for Information and Research on Civic Learning and Engagement, housed within Tufts University's Tisch College, shows which Senate races can be most impacted by the youth vote. tops the Youth Electoral Significance Index, given its above average youth voter registration and turnout rates. According to the CIRCLE, President Biden garnered 127,000 more votes among the youth than Donald Trump in a race decided by fewer than 35,000 ballots. The remaining top 10 Senate races are in: Wisconsin, North Carolina, Georgia, Arizona, New Hampshire, Nevada, Florida, Ohio, Colorado." • Something for Fetterman to pay attention to.

"GOP Has Congress Edge by Default" [Monmouth]. "Few Americans believe that either political party truly cares about the average family's pocketbook. Specifically, just 23% say the Democrats in Congress are very concerned with looking out for the economic well-being of average Americans while at the other end of the spectrum 47% say the Democrats are not really concerned. Similarly, just 20% say the Republicans in Congress are very concerned with average Americans' financial status versus 42% who say the Republicans are not really concerned about it. Four years ago, Americans were slightly less likely to see Congressional Democrats (35%) as being unconcerned with average Americans' economic well-being compared with the Republicans (40%). The partisan difference is reversed in the current poll, although the gap is not large in either year. 'The GOP advantage on the economic concern question is not large as a percentage, but Democrats had a similarly small edge on this metric in 2018 and ended up gaining 41 House seats,' said Patrick Murray, director of the independent Monmouth University Polling Institute."
Realignment and Legitimacy
"Indignity Vol. 2, No. 7: The American sickness" [Indignity]. "Across this large and otherwise fractious country, in its famous "blue states" and "red states" alike, the United States is converging on an ever-more-clearly articulated answer to the coronavirus pandemic: the pursuit, in defiance of most of the rest of the world, of a nationwide Unlimited Covid policy….. But the movement for Unlimited Covid has a uniquely American character. It represents an informal yet powerful collaboration between the country's two mutually hostile political parties, across two different presidential administrations. The country's pandemic response was initially defined by Trump, who chose to deny the risks of the virus, to suppress testing to keep official case counts low, and to delay any mobilization to produce tests or protective equipment. Facing a reelection campaign, and encouraged by a party line that the disease would be no worse than seasonal influenza, Trump and the Republican Party counted on allowing the virus to spread freely, generating natural herd immunity, after which they hoped it would subside on its own. Joe Biden and the Democratic Party took power at the beginning of 2021, claiming a mandate to change the way the country handled the pandemic. In line with the party's technocratic spirit, and with the benefit of the newly available vaccines, Biden quickly launched a mass immunization program. That same technocratic outlook, however, led the administration to pursue what it hoped could be the most narrowly efficient strategy against the coronavirus—a domestic vaccination program only, rather than promoting international immunization, and without trying to catch up with the sort of testing, tracing, and targeted suppression that other countries had deployed. When the virus kept mutating and proved itself able to spread even among vaccinated people, the Biden administration had not stockpiled tests or masks with which to respond to new waves. Caught up in its promise of a return to normalcy, and unable to narrowly tailor closures to meet specific problems, the administration failed to bring the country to a pandemic-fighting footing and allowed economic relief measures to expire. . By redefining its failure to control the coronavirus as a success, the United States has rewritten its social contract and reshaped the expectations of its people." • The ruling class will have slaughtered a million Americans and gotten away clean. It's a remarkable achievement. These impressive numbers are, well, let's be polite and say "world historical."

"Democrats make surprising inroads in redistricting fight" [CNBC]. "Democrats braced for disaster when state legislatures began redrawing congressional maps, fearing that Republican dominance of statehouses would tilt power away from them for the next decade. But as the redistricting process reaches its final stages, that anxiety is beginning to ease. For Democrats, the worst case scenario of losing well over a dozen seats in the U.S. House appears unlikely to happen. , some Democrats predict the typical congressional district will shift from leaning to the right of the national vote to matching it, ending a distortion that gave the GOP a built-in advantage over the past five House elections." • The NGOs went nuts over this, as did the press. As it turns out, the electeds — for once — took care of business.

"The case for a better way to poll" [Grid]. "In recent years, progressives have invested heavily in crafting a narrative which holds that all or almost all of their main policy ideas are overwhelmingly popular with the public…. But is it really true? After all, if Americans are overwhelmingly in favor of liberal policies, how are Republicans winning elections roughly half the time?… American public opinion is a conflicted jumble of progressive and conservative impulses with limited knowledge of the details of the issues, mixed feelings about the parties, and a preference for divided government and compromise. What's interesting about polling on party trust is it reveals the enduring significance of this old conventional wisdom even in an era of polarization, presidential tweets, media fragmentation and whatever else has changed about the political system. It's common for Democrats to deliberately seek out coverage of their proposals as 'sweeping' or 'transformational' as if the mass public's biggest concern about the party is that it's not left-wing enough. But there's no evidence that it's true of the public at large."
#COVID19
Case count by United States regions: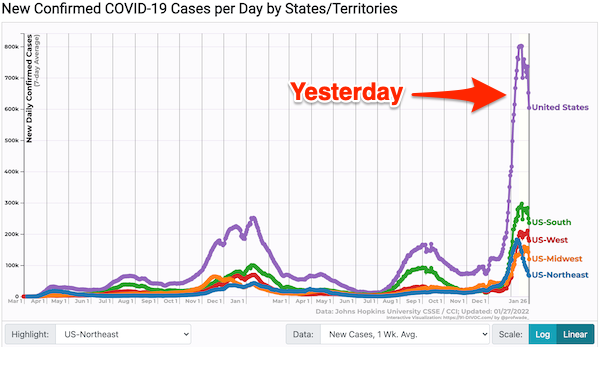 Peak behavior; I think we can expect more bounces on the way down, if we go by past behavior. If you look at the two previous peaks, you'll see we've had declines, followed by rises, followed by final declines. It looks like "rise like a rocket, and fall like a stick" applies; the slope of the downward curve is more or less the same as the upward curve. (Previous peaks — how small the early ones look now — have been roughly symmetrical on either side. But the scale of this peak, and the penetration into the population, is unprecedented.) I wonder if there will be plateau when B.2 takes hold. Since the Northeast has form, that is probably the region to watch for this behavior first.
Note that "up like a rocket, down like a stick" seems to be the case in South Africa (with a very different population from our own):
The steepness of Omicron's rise and fall in South Africa really is something to behold.

Here's Gauteng first, where it all began.

Cases, test positivity, admissions, deaths and excess deaths too all down almost as steeply as they rose, and in much less time than past waves. pic.twitter.com/GGGZxzG5gr

— John Burn-Murdoch (@jburnmurdoch) January 20, 2022
(I am but a simple tape-watcher, and say nothing of clinical effects, long Covid, stress on the health care system, co-morbidities, etc.)
The official narrative that "Covid is behind us," and that the pandemic will be "over by January" (Gottlieb), and "I know some people seem to not want to give up on the wonderful pandemic, but you know what? It's over" (Bill Maher) was completely exploded. What a surprise!
MWRA (Boston-area) wastewater detection: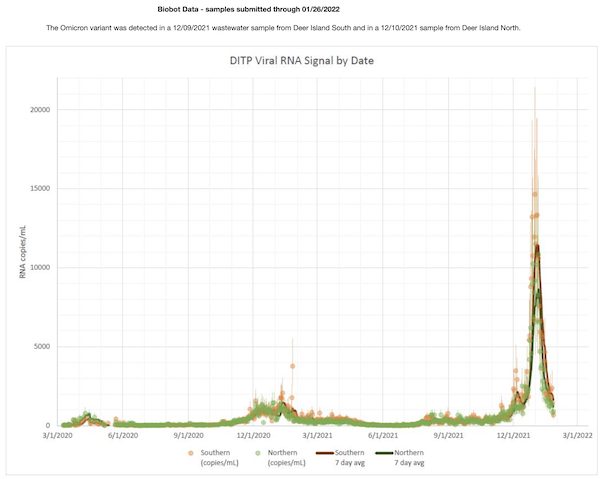 Continues encouraging. No jump from the return of the students yet.
The Massachusetts Water Resources Authority (MWRA) service area includes 43 municipalities in and around Boston, including not only multiple school systems but several large universities. Since Boston is so very education-heavy, then, I think it could be a good leading indicator for Covid spread in schools generally.
From CDC Community Profile Reports (PDFs), "Rapid Riser" counties: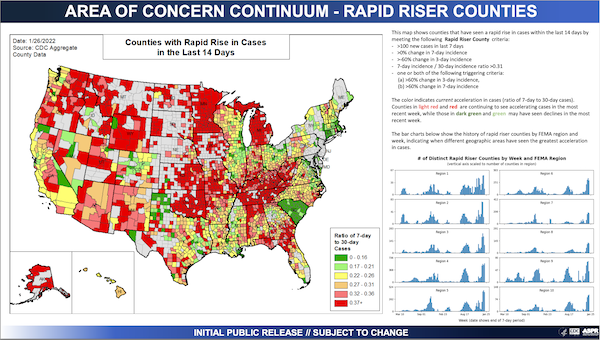 Oregon improves. The Northeast and the Midwest continue to improve. The lower Mississippi, too (Remember that these are rapid riser counties. A county that moves from red to green is not covid-free; the case count just isnt, well, rising rapidly.)
The previous release: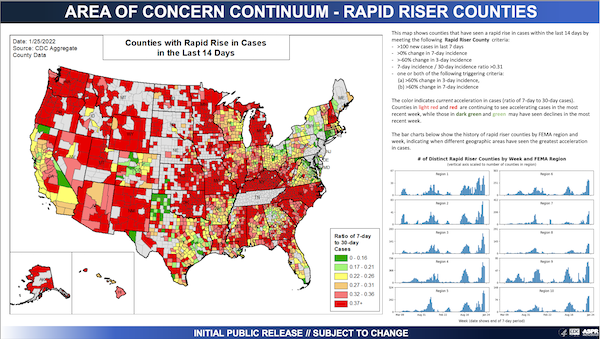 Hospitalization (CDC Community Profile):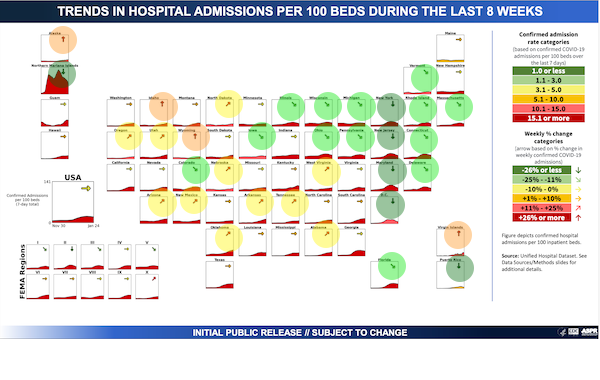 Stilll encouraging (reinforced my MWRA data and case data). (Note trend, whether up or down, is marked by the arrow, at top. Admissions are presented in the graph, at the bottom. So it's possible to have an upward trend, but from a very low baseline.)
Death rate (Our World in Data):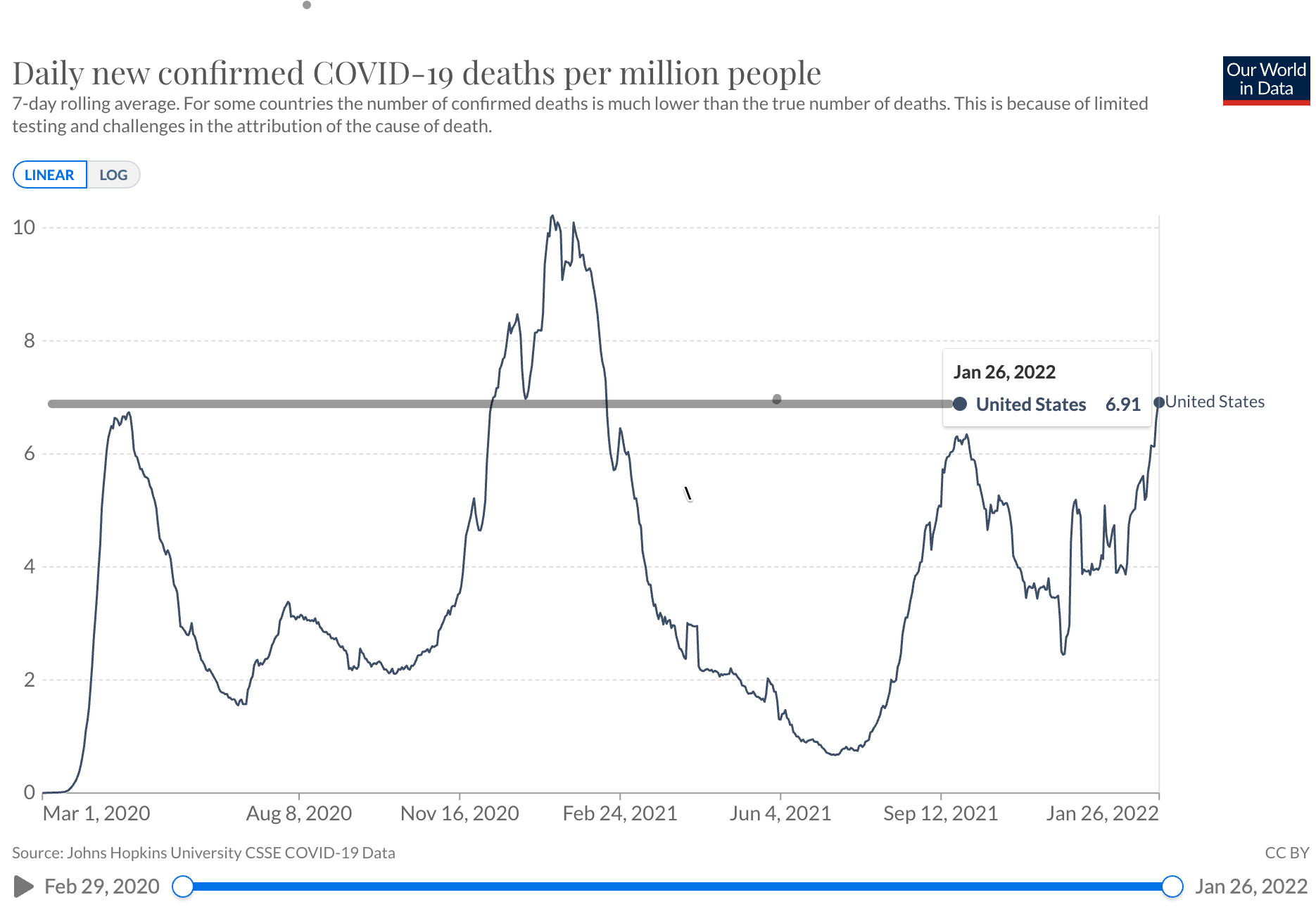 Total: 894,880 891,595. I have added an anti-triumphalist black "Fauci Line." As we know, deaths are a lagging indicator. I assume the absurdity of the "Omicron is mild" talking point is, at this point, self-evident. If you know somebody who's in "lead my life" mode, you might consider telling them the odds of dying from Covid are tied for second worst with the first wave in New York.
Covid cases in top us travel destinations (Statista):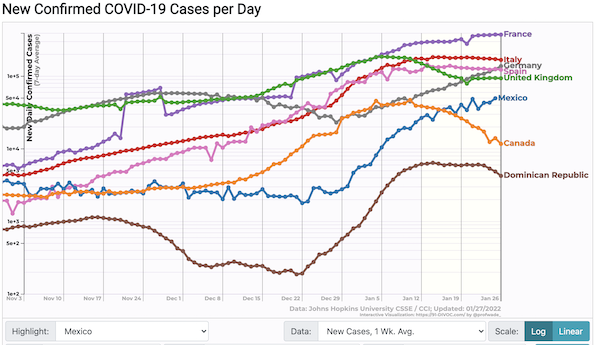 Good news here too. For the time being.
Stats Watch
GDP: "United States GDP Growth Rate" [Trading Economics]. "The American economy expanded an annualized 6.9% on quarter in Q4 2021, much higher than 2.3% in Q3 and well above forecasts of 5.5%. It is the strongest GDP growth in five quarters with the biggest upward contribution coming from private inventories (4.9 percentage points), namely motor vehicle dealers as companies had been drawing down stocks since the beginning of 2021. Personal consumption increased 3.3%, pushed higher by a 4.7% surge in services spending, namely health care, recreation, and transportation. Fixed investment rebounded by 1.3%, led by intellectual property products that was partly offset by a decrease in structures. Residential investment however, continued to decline and was down 0.8%. " • These numbers would be big for the midterms if they came in May or June.
Employment Situation: "United States Initial Jobless Claims" [Manufacturing]. "The number of Americans filing new claims for unemployment benefits fell by 30 thousand from the previous period to 260 thousand in the week ending January 22, matching market estimates. It was the first decrease in initial claims in four weeks, following three straight weeks of increases, suggesting the impact of the Omicron variant on the labour market is starting to recede."
Manufacturing: "United States Kansas Fed Manufacturing Index" [Trading Economics]. "The Kansas City Fed's Manufacturing Production Index rose to 20 in January of 2022, the highest in six months, from an upward revised 11 in the previous month. Factory growth was driven more by activity at durable goods plants in January, especially primary metals, machinery, electrical, furniture, and transportation equipment manufacturing."
* * *
Sorry to be so crypto-heavy, but that is the zeitgeist right now:
The Bezzle: Artificial scarcity:
NFTs reach another sickening low, with an auction house selling an original glass plate and a hammer to destroy it with. Digital work will never compare to an original exposure, this is a disgusting erasure of work for a meaningless fad. https://t.co/0EBZKLWecO

— Abandoned America (@abandonedameric) January 27, 2022
The Bezzle: This Artist Opens Up On Bitcoin:
I have to stress again that the vast majority really are just ways of making money off the hype. Like whether you think that's good or bad it is what it is. I do appreciate when people are at least honest about it being about getting paid and drop the rest of it. Just own it!

— Web3 Henry Dubb (@bombsfall) January 27, 2022
The Bezzle: "Crypto Lending Firms Celsius Network, Gemini Face SEC Scrutiny" [Bloomberg]. "The U.S. Securities and Exchange Commission is scrutinizing cryptocurrency firms Celsius Network, Voyager Digital Ltd. and Gemini Trust Co. as part of a broad inquiry into companies that pay interest on virtual token deposits, according to people familiar with the matter. The SEC enforcement review focuses on whether the companies' offerings should be registered as securities with the watchdog, said the people, who weren't authorized to speak publicly. The firms are able to pay customers rates higher than most bank savings accounts by lending out their digital coins to other investors, a practice that the SEC and states including New Jersey and Texas have said raises concerns about investor protection. The probes add to uncertainty for the burgeoning sector, which is grappling with sharply falling coin prices — Bitcoin earlier this month plunged 50% from an all-time high — as well as regulators who are eager to put guardrails around digital assets."
* * *
Today's Fear & Greed Index: 33 Fear (previous close: 36 Fear) [CNN]. One week ago: 55 (Greed). (0 is Extreme Fear; 100 is Extreme Greed). Last updated Jan 27 at 1:17pm.
The Agony Column
"What You Don't Know About Family Estrangement" [Culture Study]. "The vast majority of societies on this planet still understand family as their primary, most cherished bond. Blood relation or not, there is an understanding that forsaking these bonds is a form of unforgivable treachery, understandable only in circumstances of abject trauma. Within this paradigm, all parties should do whatever possible to maintain the bonds of family, even if those bonds require continued suffering. In some societies, this understanding is changing…. All of these stories, as one of the respondents put it, are "beautifully complex." If you're estranged, I hope they make you feel less alone in some way. If you're not, I hope they offer some insight into how to talk with and support those who are estranged — but more importantly, that they push you to think about what's lost when we rely so fully on family as our primary source of support."
The Conservatory
"Special Episode – Classical Reception in Metal Music with Dr Jeremy J. Swist" (podcast) [The Partial Historians]. "We are thrilled to bring you an exploration of the relationship between the ancient world and metal music. We're joined by Dr Jeremy J. Swist an expert in the subject. Dr Swist is a lecturer in the Department of Classical Studies at Brandeis University. He holds a PhD in Classics looking at the Reception of the seven kings of Rome in imperial historiography from Tiberius to Theodosius. His research covers everything from historiography to the classical reception in metal music." • Not a metal fan myself, but others may find this interesting.
The Gallery
"Work from home":
During the summer of 1896, Monet rose at 3:30am, rowed a short distance on the confluence of the Epte and Seine to board his studio boat and set off downstream to a bend in the river. Here he sat working on paintings as the sun rose capturing the effects of the lightening sky. pic.twitter.com/71RIIoeRIB

— Richard Morris: Art History in a Tweet (@ahistoryinart) January 27, 2022
Sounds like a pretty nice setup….
Class Warfare
"The empty promise of instant delivery" [Vox]. " I could simply place a mobile order, and retrieve it at the store without waiting in line. This kind of frictionless convenience is wildly appealing and seemingly everywhere now; it's especially pronounced in transactional spaces, whether it be a Starbucks, the local grocery store, or the airport. But there is a trade-off to resetting our expectations, and it looms large. Customers these days feel so entitled — and they are enraged. People are angrier, meaner, and more prone to throwing childish tantrums in front of service staff…. Companies, especially those in public-facing industries, are contending with a shortage of available workers while struggling to meet the old-fashioned service standards set in a very different time. "The meanness of the public has forced many public-facing industries to rethink what used to be an article of faith: that the customer is always right," wrote the Times' Sarah Lyall. "If employees are now having to take on many unexpected roles — therapist, cop, conflict-resolution negotiator — then workplace managers are acting as security guards and bouncers to protect their employees."
New slogan, and rightly:
— Grassy Knoller (@Blair_Langmuir) January 27, 2022
"Amazon Paid for a High School Course. Here's What They Teach." [Vice]. "In 2019, Cajon High School in San Bernardino, California, started offering the 'Amazon Logistics and Business Management Pathway,' a first-of-its-kind series of courses intended to help students get a head start in a career in logistics. Amazon donated $50,000 to provide the necessary materials to start the program. And, apparently, to do some redecorating. The classroom for the pathways program is painted in Amazon's signature yellow, with Amazon's Leadership Principles—'CUSTOMER OBSESSION', 'BIAS FOR ACTION,' 'DELIVER RESULTS'— written on the walls."
News of the Wired
EV owners and prospective owners take note:
Wait why do batteries need software updates now https://t.co/qwdplX5Lsn

— Internet of Shit (@internetofshit) January 22, 2022
* * *
Contact information for plants: Readers, feel free to contact me at lambert [UNDERSCORE] strether [DOT] corrente [AT] yahoo [DOT] com, to (a) find out how to send me a check if you are allergic to PayPal and (b) to find out how to send me images of plants. Vegetables are fine! Fungi and coral are deemed to be honorary plants! If you want your handle to appear as a credit, please place it at the start of your mail in parentheses: (thus). Otherwise, I will anonymize by using your initials. See the previous Water Cooler (with plant) here. Today's plant (HH):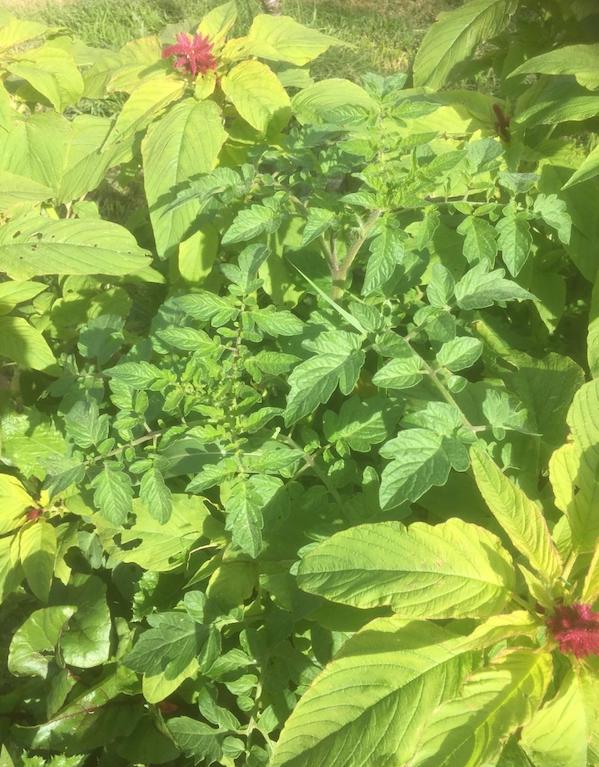 HH: "Here just a few hundred yards to the northeast of Austin, Texas, it shows no signs of freezing weather yet. As a result, some of the cool-weather greens we planted have been swamped by volunteer plants from a warmer season. Red amaranth (love-lies-bleeding variety) that has popped up and is almost ready to go to seed in our beet patch. The beets are doing ok and will take off once the frost kills the amaranth. Here is a volunteer tomato plant framed by a couple of amaranth seed heads."
* * *
Readers: Water Cooler is a standalone entity not covered by the recently concluded and — thank you! — successful annual NC fundraiser. So if you see a link you especially like, or an item you wouldn't see anywhere else, please do not hesitate to express your appreciation in tangible form. Remember, a tip jar is for tipping! Regular positive feedback both makes me feel good and lets me know I'm on the right track with coverage. When I get no donations for five or ten days I get worried. More tangibly, a constant trickle of donations helps me with expenses, and I factor in that trickle when setting fundraising goals:
Here is the screen that will appear, which I have helpfully annotated.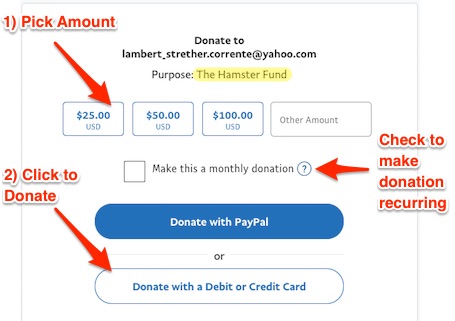 If you hate PayPal, you can email me at lambert [UNDERSCORE] strether [DOT] corrente [AT] yahoo [DOT] com, and I will give you directions on how to send a check. Thank you!