2:00PM Water Cooler 10/23/2020
By Lambert Strether of Corrente
Bird Song of the Day
Raucus! Alert reader Rod writes:
I have so enjoyed your inclusion of bird voices as an intro to Water Cooler–and find it centering before reading on. thanks for bringing it onboard.

Black Capped have a cousin that was noticed here first–so we call it the Carolina Chickadee. Its a regional voice being sweeter and more melodic, imo. Also a bit more petit, though often carouses with the BCs.

The voice graph makes an interesting comparison of the two.
It worked for Robert J. Lurtsema….
#COVID19
At reader request, I've added this daily chart from 91-DIVOC. The data is the Johns Hopkins CSSE data. Here is the site.
Here are the United States regions: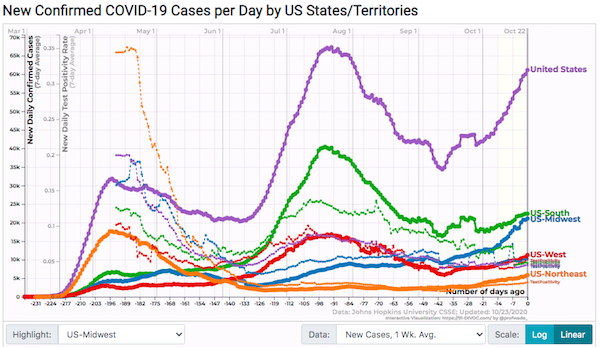 Still rising, if anthing faster. Gonna be interesting to see what happens if the virus is really cranking in November or December, and the FDA says a vaccine is ready…
Here are the Swing States as I conceive them (see below):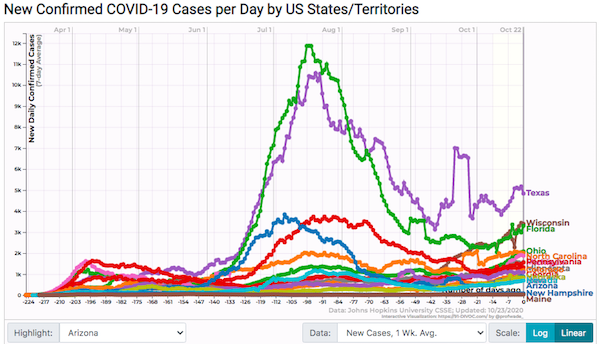 Unmistakable rise everywhere. Including Texas, which alas seems to have straightened out its data problem, in the past few days.
Politics
"But what is government itself, but the greatest of all reflections on human nature?" –James Madison, Federalist 51
"They had one weapon left and both knew it: treachery." –Frank Herbert, Dune
"They had learned nothing, and forgotten nothing." –Charles Maurice de Talleyrand-Périgord
The electoral map. July 17: Georgia, Ohio, ME-2 move from Leans Republican to Toss-up. Continued yikes. On July 7, the tossup were 86. Only July 17, they were 56. Now they are 91. This puts Biden at 278, i.e. over 270. August 18: Still no changes. August 31: Indiana moves from Likely to Safe Republican. September 9: No changes. September 14: No changes. September 21: No changes. September 22: Ohio moves from Toss-up to Leans Republican. September 25: Ohio moves from Leans Republican to Toss-up. September 30: Iowa moves from Leans Republican to Toss-up. October 3: Indiana moves from Safe to Likely Republican; Iowa moves from Toss-up to Leans Republican. October 6: Arizona moves from Toss-up to Leans Democratic; Iowa from Leans Republican to Toss-up; Indiana from Likely to Safe Republican; New Mexico from Likely to Safe Democratic. October 8: NE-2 moves from Toss-up to Leans Democratic. October 13: Indiana moves from Likely to Safe Republican. October 16: Indiana moves from Safe to Likely Republican. October 19: No changes. .
The election countdown:
Here is an early voting calendar. Maybe we'll have a whole series of October surprises, since election day is gradually being devalued as an event.
And here are mail-in voting ruies, which naturally differ state by state.
"2020 General Election Early Vote Statistics" [U.S. Elections Project (SlayTheSmaugs)].
"How to Vote in 2020: Everything You Need to Know" [Bloomberg]. "Casting a ballot in the U.S. isn't always easy, with a complex web of varying state rules governing how and when you can vote. The Covid-19 pandemic has introduced even more complexity in 2020, as many states have made significant changes to allow for more early voting or voting by mail. More changes could come as lawsuits in several states wind their way through the courts. That's why Bloomberg News is answering these critical questions so you'll know what you need to do to make sure your vote is counted in the 2020 election."
Here are is an enormous spreadsheet on voting equipment, so you can check your own jurisdiction (hat tip, UserFriendly. I should really aggregate these onto a map…).
"2020 General Election Early Vote Statistics" [U.S. Election Project].
"California Ballots Mailed and Returned Tracker" [Political Data]. • California only, sadly.
"Where's My Ballot?" [Alex Padilla]. "Tracking your vote-by-mail ballot—when it is mailed, received, and counted—has never been easier. The California Secretary of State is now offering Where's My Ballot?—a new way for voters to track and receive notifications on the status of their vote-by-mail ballot. Powered by BallotTrax, Where's My Ballot? lets voters know where their ballot is, and its status, every step of the way." • Ballottrax. Shoulda gone long….
"State Fact Sheets" [Georgetown Universitty]. "[F]act sheets for all 50 states explaining the laws barring unauthorized private militia groups and what to do if groups of armed individuals are near a polling place or voter registration drive."
All the deadlines, rules, and voting hours to know when casting your ballot in the 2020 presidential election" [Business Insider]. "Here are 12 interactive graphics, charts, and maps Insider created to answer your most common questions about voting in 2020."
2020
Swing States

Here is my list of Swing States, with votes in the Electoral College and selected ballot initiatives in parentheticals):

Arizona (11) (marijuana; taxes(=)
Colorado (9) (taxes, lottery, abortion, paid medical leave)
Florida (29) (minimum wage)
Georgia (16) (declaratory relief)
Iowa (6) (Constitional convention)
Maine-02 (1) (vax)
Michigan (16) (oil and gas royalties; privacy)
Minnesota (10)
Nebraska-02 (1) (payday lending; gambling)
Nevada (6) (marriage)
New Hampshire (4)
North Carolina (15)
Ohio (18)
Pennsylvania (20)
Texas (38)
Wisconsin (10)

Inspired by the thread starting with Arizona Slim's comment here, I went to Ballotpedia and added selected, hopefully hot button, ballot initiatives, because sometimes they affect turnout. If you live in a swing state, please comment if I got the hot buttons wrong!

* * *

Biden (D)(1): Because voters are like little children:

"Joe Biden is like one of the fathers in the neighborhood I grew up with as a kid," Springsteen told me. "They were firemen and policemen, and there was an innate decency to most of them that he carries naturally with him. It's very American." https://t.co/fEBOXpqXFV

— David Brooks (@nytdavidbrooks) October 23, 2020

Bruce, Bruce…. Stick to song-writing. This is vacuous.

Biden (D)(2): "Joe Biden's Animal Crossing Island Has Ice Cream, Dogs, And Model Trains" [Gamespot]. ""A lot of the residents on the island are dogs, Joe Biden loves dogs," said Kinda Funny's Greg Miller while exploring the island on Twitch." • Biden 👏 loves 👏dogs 👏OMG👏OMG.

Sanders (D)(1): "Bernie Sanders makes a play for Biden Labor secretary" [Politico]. "Sen. Bernie Sanders is hoping to be a part of Joe Biden's potential administration and has expressed a particular interest in becoming Labor secretary, two people familiar with the conversations tell POLITICO. 'I can confirm he's trying to figure out how to land that role or something like it,' said one person close to the Vermont senator. "He, personally, does have an interest in it.'… 'It would be great to have a unity government that takes into account that progressives are a pretty healthy portion of the electorate," [Former Sanders campaign manager Faiz Shakir] said. 'Heeding that would be good, but if Joe Biden wins, he rightly has a mandate to move in whatever direction he chooses.'" • Is it possible to grovel more? And why would Sanders want to serve at the pleasure of Joe Biden?

Trump (R)(1): This talking point from the Lincoln Project is so, so stupid:

Washington, Jefferson, Madison, Monroe, Jackson, Van Buren, Harrison, Tyler, Pole, Taylor, Johnson, and Grant all owned slaves, let alone Jackson's (et al.'s) genocidal extirpation of Native Americans or psychopath Teddy Roosevelt murdering a few hundred thousand Filipinos. https://t.co/ljvaMfunMG

— Jacob Bacharach (@jakebackpack) October 23, 2020

Bacharach and the Lincoln Project both leave out James Buchanan, the dude who worked toward the Dred Scott decision, and endorsed it in his Inaugural speech, two days before the Supreme Court actually handed it down.
Our Famously Free Press
Tracey is correct:

If you want to know why there's been so little media followup on the Hunter Biden materials over the past week, here's your answer. The leading lights of the profession claim that to do so would be "unethical" given the "stakes." No surprise, but nice to have it spelled out pic.twitter.com/Mh6Rlwg2Ks

— Michael Tracey (@mtracey) October 21, 2020

Hannah-Jones: "Especially when the stakes are so high." At this point, we recall that Hannah-Jones (of the 1619 Project) won her Pulitzer for commentary, not reporting. Although to be fair to the New York Times, the Times apparatchiks who suppressed James Risen's reporting on warrantless surveillance until after Bush was re-elected were also, at least once, journalists. Perhaps the stakes are always high?
Stats Watch
At reader request, I added some business stats back in. Please give Econintersect click-throughs; they're a good, old-school blog that covers more than stats. If anybody knows of other aggregators, please contact me at the email address below.
Leading Indicators: "16 October 2020 ECRI's WLI Marginally Continues To Improve" [Econintersect]. "ECRI's WLI Growth Index which forecasts economic growth six months forward marginally improved and remains in expansion. ECRI also released their coincident and lagging indicators this past week…. In theory, this index is now indicating that in the second or third quarter of 2021 the economy should be in expansion year-over-year."
Rail: "Rail Week Ending 17 October 2020 – Improvement Continues" [Econintersect]. "Week 42 of 2020 shows same week total rail traffic (from the same week one year ago) improved according to the Association of American Railroads (AAR) traffic data. Total rail traffic has been mostly in contraction for over one year – and now is slowly recovering from the coronavirus pandemic… This week again intermodal continued in expansion year-over-year and continues on a strengthening trendline. However, carloads remain in contraction. But overall, rail is on an improving trendline."
* * *
Tech: "When you tell Chrome to wipe private data about you, it spares two websites from the purge: Google.com, YouTube" [The Register]. "Updated Google exempts its own websites from Chrome's automatic data-scrubbing feature, allowing the ads giant to potentially track you even when you've told it not to…. A Google spokesperson has been in touch to say the issue is a programming error, and will be fixed: 'We are aware of a bug in Chrome that is impacting how cookies are cleared on some first-party Google websites. We are investigating the issue, and plan to roll out a fix in the coming days.'" • That's not a bug. It's a feature.
Tech: "Artists are irked by Twitter's change to retweets" [The Verge]. "Artists on Twitter have a request: stop quote-tweeting their work. It's all the more pressing now that Twitter has, temporarily at least, changed its retweet system to encourage users to quote tweets and add their own words on top, rather than simply boost someone else's message. Artists say quote tweets take attention away from their profiles, making it harder for them to be discovered, while someone else gets the glory. Twitter made the change yesterday as part of an effort to 'encourage more thoughtful consideration' of tweets — and presumably, to curb the spread of misinformation — around the US election…. [I]t's important to artists that they get the signal boost directly when someone wants to share their work. 'It's easy to go to our profile,' Rosa said, 'but many people don't check it out if it's only a quote retweet that's doing the numbers.' Rosa said she doesn't mind when people quote-tweet her work, but she's concerned the new interface will confuse people who might otherwise want to directly promote an artist."
Tech: "Where can I download my Creative Suite app?" [Adobe]. "We no longer provide installers for Creative Suite apps. To get the latest versions of your familiar apps that have been tested in current operating systems, upgrade to Creative Cloud." • Remember when you thought you owned software?
Tech: "Whose computer is it?" [tinyapps.org]. Quite technical; picking out one highlight: "[O]ne may well be left with a niggling doubt: should all this really be necessary to monitor your own computer's network traffic?"
* * *
.
Today's Fear & Greed Index [CNN]. • Mr. Market is feeling blank: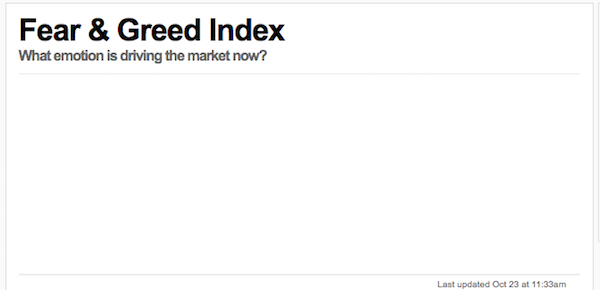 The dates are updating… but nothing else is. Abandoned by CNN?
The Biosphere
"The Rescue of the Spirit and of Nature" [Resilience (Henry Moon Pie)]. "Sooner or later, every human being faces the challenge of recognizing their own spirit. Spirituality does not appear, except as a result of their confronting, not fleeing from, the world. It is the response of being 'in front of the abyss'. Faced with the lack of logic or meaning of existence, faced with the incommensurability of the universe. This intuitive act — arrived at not by exploration or investigation, but by revelation or enlightenment — arises from the idea of ​​the existence of mysterious connections between the parts of nature that form a unity directed by an intelligent process. Hence, the recognition of a vital force that moves everything and to which all members of the human species are indebted. Without exception, this worldview was present in all the cultures that made up humanity during its almost 300,000 years of existence. It allowed humanity's survival and gave continuity to the impulse already devised by other groups of evolving organisms: corals, jellyfish, siphonophores, bryozoans, ants, termites, bees, wasps, vertebrates and primates."
Games
"Alexandria Ocasio-Cortez Plays 'Among Us' On Twitch, Breaks The Internet" [HuffPo]. "Social media was abuzz with comments by excited youngsters (and their parents) as they watched and marveled at Ocasio-Cortez's gaming prowess ― and her ability to connect with young people." • Did anyone ask her about ethics in video game journalism?
Class Warfare
"David Harvey: Socialists Must Be the Champions of Freedom" [Jacobin]. "Freedom means nothing if you don't have enough to eat, if you are denied access to adequate healthcare, housing, transportation, education, and the like. The role of socialism is to provide those basic necessities so that then people are free to do exactly what they want….. But Marx also pointed out that freedom is a double-edged sword. Laborers in a capitalist society, he says, are free in a double sense. They can freely offer their labor power to whomsoever they want in the labor market. They can offer it on whatever conditions of contract they can freely negotiate. But they are at the same time un-free, because they have been 'freed' from any control over or access to the means of production. They have, therefore, to surrender their labor power to the capitalist in order to live."
"Tips to stay focused during the workday when you're overwhelmed by election news" [CNBC]. "At BetterUp, a professional coaching platform, discussions around election stress and how it bleeds into the workplace have been top of mind for many clients in the last two weeks alone. Gabriella Rosen Kellerman, who examines workplace behavior as BetterUp's chief product officer, says workers are increasingly seeking coaching help to stay focused during the workday, handle difficult conversations in the workplace and even find value alignment with an employer that has expressed differing political views." • Why am I thinking these are not "essential" workers?
"Gig Workers' Only Chance to Pee Is Apparently an App" [Vice]. "Before the pandemic, gig workers—already forced to demean themselves to make ends meet—were regularly denied reliable access to clean bathrooms at restaurants, Uber facilities, and airports. The problem has only gotten worse, and things so dire that a rather dystopian app has launched to find drivers places to relieve themselves. The Whizz App pitches itself as a solution that 'gives gig workers 'pee'ace of mind with hassle-free access to restroom facilities.' The gist of it is simple: 'travelers, gig economy workers, and soccer moms' can sign up to use the app, and partner restaurants let Whizz users use their bathrooms." • I can't understand why this app hasn't already been imagined in Snow Crash, along with its sister App, Dump (and Dump's competitor, Number 2 (slogan: "We try harder")).
"Capitalist Systems and Income Inequality" [Marco Ranaldi and Branko Milanovic, Stone Center Working Paper Series. no. 25]. From the abstract: " Capitalism may be seen to range between Classical Capitalism, where the rich have only capital income, and the rest have only labor income, and Liberal Capitalism, where many people receive both capital and labor incomes. Using a new methodology and data from 47 countries over the past 25 years, we show that higher compositional inequality is associated with higher inter-personal inequality. Nordic countries are exceptional because they combine high compositional inequality with low inter-personal inequality. We speculate on the emergence of homoploutic societies where income composition may be the same for all, but Gini inequality nonetheless high, and introduce a new taxonomy of capitalist societies." • Hmm.
News of the Wired
"Wind Turbine Tutorial" [OpenSourceLowTech.org]. "This is a Vertical Axis Wind Turbine which uses wind energy to drive things like an alternator/generator for producing electricity, or air and water pumps for cooling, irrigation and similar. The turbine uses the 35-40% mechanically efficient Lenz2 lift+drag design. It is made almost entirely from scrap materials, and should cost about $15-$30 for the six vane version, which can be made by two people in four hours without much effort."
"What If Friendship, Not Marriage, Was at the Center of Life?" [The Atlantic]. "Friends of their kind sweep into territory typically reserved for romantic partners: They live in houses they purchased together, raise each other's children, use joint credit cards, and hold medical and legal powers of attorney for each other. These friendships have many of the trappings of romantic relationships, minus the sex. Despite these friendships' intense devotion, there's no clear category for them. The seemingly obvious one, "best friend," strikes many of these committed pairs as a diminishment….. Many of those who place a friendship at the center of their life find that their most significant relationship is incomprehensible to others. But these friendships can be models for how we as a society might expand our conceptions of intimacy and care."
* * *
Readers, feel free to contact me at lambert [UNDERSCORE] strether [DOT] corrente [AT] yahoo [DOT] com, with (a) links, and even better (b) sources I should curate regularly, (c) how to send me a check if you are allergic to PayPal, and (d) to find out how to send me images of plants. Vegetables are fine! Fungi and coral are deemed to be honorary plants! If you want your handle to appear as a credit, please place it at the start of your mail in parentheses: (thus). Otherwise, I will anonymize by using your initials. See the previous Water Cooler (with plant)
here. Today's plant (EG):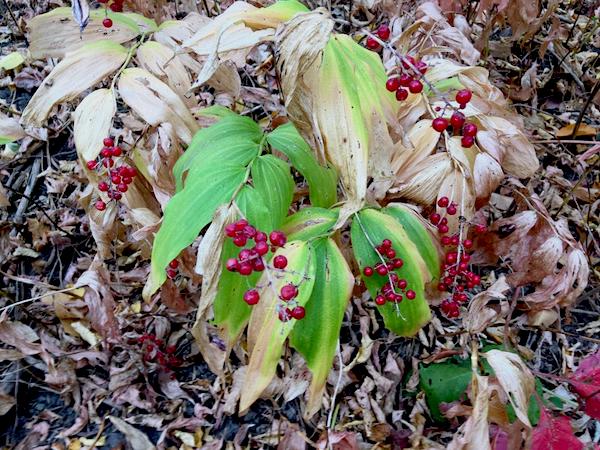 Not sure what these red berries are, but I like the tapestry of leaf debris.
* * *
Readers: Water Cooler is a standalone entity not covered by the recently concluded and — thank you! — successful annual NC fundraiser. So if you see a link you especially like, or an item you wouldn't see anywhere else, please do not hesitate to express your appreciation in tangible form. Remember, a tip jar is for tipping! Regular positive feedback both makes me feel good and lets me know I'm on the right track with coverage. When I get no donations for five or ten days I get worried. More tangibly, a constant trickle of donations helps me with expenses, and I factor in that trickle when setting fundraising goals:
Here is the screen that will appear, which I have helpfully annotated.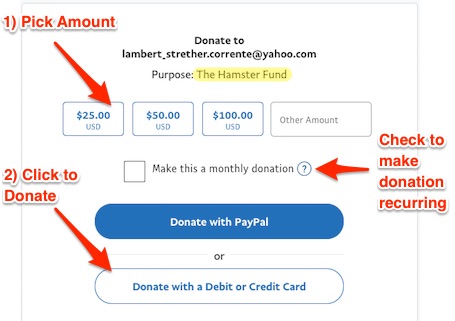 If you hate PayPal, you can email me at lambert [UNDERSCORE] strether [DOT] corrente [AT] yahoo [DOT] com, and I will give you directions on how to send a check. Thank you!