By Lambert Strether of Corrente
Patient readers, as usual after a weekend I have more than I know what to do with, and the awards ceremonies (see below) took longer than I thought. More soon.
Bird Song of the Day
Pine Siskin, "Frog Ranch", Brown, Indiana, United States. "Flock."
* * *
Politics
"But what is government itself, but the greatest of all reflections on human nature?" –James Madison, Federalist 51
"Here's food for thought, had Ahab time to think; but Ahab never thinks; he only feels, feels, feels" –Herman Melville, Moby Dick
"So many of the social reactions that strike us as psychological are in fact a rational management of symbolic capital." –Pierre Bourdieu, Classification Struggles
2022
2024
Democrats en Déshabillé
Patient readers, it seems that people are actually reading the back-dated post! But I have not updated it, and there are many updates. So I will have to do that. –lambert

I have moved my standing remarks on the Democrat Party ("the Democrat Party is a rotting corpse that can't bury itself") to a separate, back-dated post, to which I will periodically add material, summarizing the addition here in a "live" Water Cooler. (Hopefully, some Bourdieu.) It turns out that defining the Democrat Party is, in fact, a hard problem. I do think the paragraph that follows is on point all the way back to 2016, if not before:

The Democrat Party is the political expression of the class power of PMC, their base (lucidly explained by Thomas Frank in Listen, Liberal!). ; if the Democrat Party did not exist, the PMC would have to invent it. . ("PMC" modulo "class expatriates," of course.) Second, all the working parts of the Party reinforce each other. Leave aside characterizing the relationships between elements of the Party (ka-ching, but not entirely) those elements comprise a network — a Flex Net? An iron octagon? — of funders, vendors, apparatchiks, electeds, NGOs, and miscellaneous mercenaries, with assets in the press and the intelligence community.

Note, of course, that the class power of the PMC both expresses and is limited by other classes; oligarchs and American gentry (see 'industrial model' of Ferguson, Jorgensen, and Jie) and the working class spring to mind. Suck up, kick down.

* * *

The Pelosi Matter, which I have so little interest in (at least until there is actual reporting):

If readers wish to check out what was on the SFPD scanner on the night of the attack:

David DePape reportedly told Paul Pelosi he would wait in the home for Nancy Pelosi:

"RP stated there's a male in the home and that he's going to wait for his wife. RP stated that he doesn't know who the male is but he advised that his name is David and that he is a friend." https://t.co/0us6UgCRcw

— Demian Bulwa (@demianbulwa) October 28, 2022

(I've been to the link and the recordings are there.) Note that the time codes change according to your timezone! (Appparently, 2:27:56 AM Pacific Time is the place to start. There is, naturally, dispute already. Readers may wish to decide for themselves whether @demianbulwa's transscript is accurate, and what it means.

"Suspect in Paul Pelosi attack had list of targets, law enforcement sources say" [CBS]. Horrid stuff:

The suspect in the attack on House Speaker Nancy Pelosi's husband Paul Pelosi had a list of people he wanted to target, law enforcement sources briefed on the investigation confirmed to CBS News.

Law enforcement sources can't "confirm" anything; cops lie. (@greg_doucette is the goto account on this topic.)

And on the hammer:

San Francisco Police Chief William Scott said Friday that officers observed both Pelosi and the suspect holding a hammer, and then "the suspect pulled the hammer away from Mr. Pelosi and violently assaulted him with it."

Wait. So Pelosi was assaulted while the cops were there? And lest anyone forget–

"Ed Buck, once a prominent Democratic donor, sentenced to 30 years in prison" [CNN]. "Democratic donor Ed Buck, who in 2021 was convicted by a federal jury of nine felonies, including giving methamphetamine to two men who died at his West Hollywood apartment after being injected with the drug, has been sentenced to 30 years in prison, a spokesperson for the United States Attorney's Office Central District of California said Thursday." • Amazing this story has gone unmentioned. Surely it provides context?
Realignment and Legitimacy
#COVID19
Patient readers, today I have not one but two sociopaths of the day. I apologize for the excess. I also apologize for the crudity of the artwork; I should have spent time getting the backgrounds right. OTOH, having been in a past life graphic artist, I'm actually pleased with the ugliness and slapdashery, because it's so unlike the deference today's recipients recieve from book jacket designers, NPR booking agents, TED talk types, and so forth. When they think you're technical, go crude.
* * *
• Our first awardee: Emily Oster, JJE Goldman Sachs University Professor of Economics and International and Public Affairs at Brown University. Take a bow, Emily!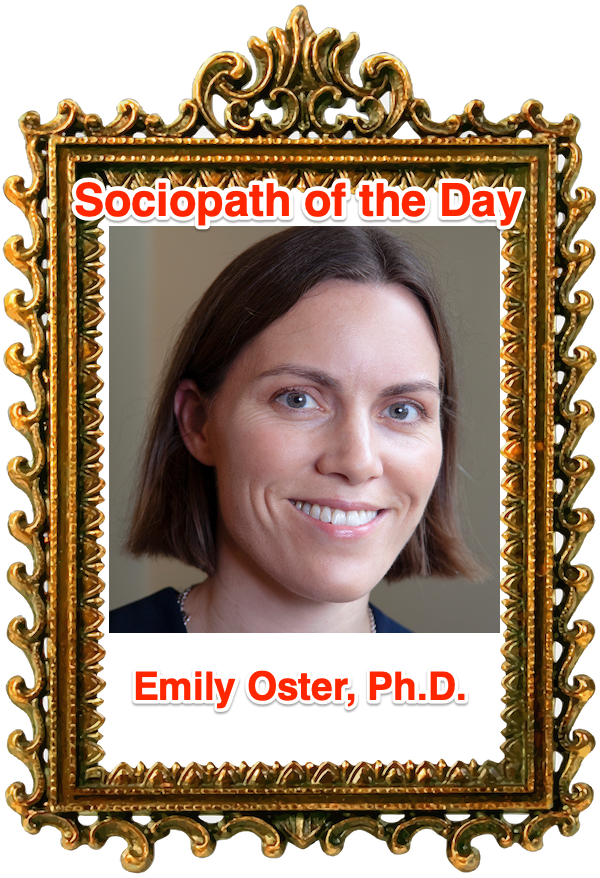 From Oster's "Let's Declare a Pandemic Amnesty":
But most errors were made by people who were working in earnest for the good of society.
Mistakes were made, but I think we should let the Hague Tribunal sort them out. Or possibly a Truth and Justice Commission (which we assuredly will not get from either party).
• This on Oster's putative area of expertise (hustling children back into unventilated death traps):
I honestly don't understand why this has been so difficult to understand: the "learning loss" wasn't about whether or not kids were going to school in-person. It's that *no matter what,* they were going to school in a pandemic https://t.co/7s6kpmUVIs

— Anne Helen Petersen (@annehelen) October 29, 2022
* * *
• Our second awardee, Monica Gandhi. I want to see your smile, Monica!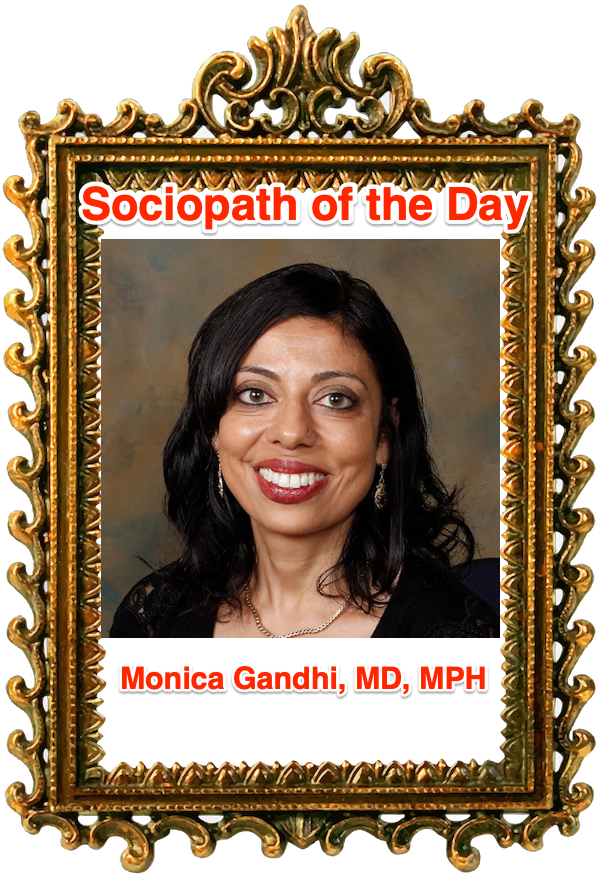 For this quote in The Hill:
"We have incredibly high levels of population immunity this year, which is really different than this time last year when BA.1 hit, which was the first variant of omicron," said Gandhi. "At that point … we still didn't have the levels of vaccination that we have now, and we hadn't gotten repeated waves of infection."

Those repeated waves of omicron infection have helped build up people's immunity to the virus, Gandhi said. "We have had so much natural exposure on top of vaccinations, [creating] hybrid immunity, which paper after paper shows that hybrid immunity is stronger than either vaccination-induced immunity or infection-induced immunity alone. … so I think it's very different in the winter of 2022 than the winter of 2021."
The immunity was "built" by piling up a million bodies or so….
Of course, I don't really mean "sociopath." "Hegemonic PMC" will do.
* * *
• National Covid Memorial?
To heal we must remember the lives lost to Covid.

We are proud to debut the #NationalCovidMemorial: a memorial that allows us to share our stories in our own words.

Our deepest gratitude to @Snapchat & co-designer @MarcosLutyens. Experience it: https://t.co/V3RPr479N6 pic.twitter.com/x7FLZMEwtk

— Marked By Covid #FBLC (@MarkedByCovid) October 27, 2022
Sadly, it's digital. But still a good idea.
* * *
• "Opinion Put your masks back on, please" [Kathleen Parker, WaPo]. " I'll tell you what's everywhere — COVID-19 — and it smells your fear. Don't let anyone tell you otherwise, and don't deceive yourself into thinking we're all done with it. We're not by a long shot. Despite our best efforts to thwart the virus that leads to COVID — and despite my own adherence to best practices — it got me again. That's two vaccinations, two boosters, and now, two COVIDs — appropriate for a Libra, I suppose. This isn't to suggest that one shouldn't get shot and boosted. I'm confident that my suffering would have been far greater had I not taken these precautions. The bear of it is that the newest omicron variant doesn't care. The honey badger of infectious diseases, it will find a way to find you and gobble you up, if you're not careful. It also likes to linger, and its victims tend to test positive for longer periods, which translates into longer quarantines. I will say that this time was worse than the previous round, even if experts say this newest version is supposedly 'mild.' Compared with what? Well, smallpox, I'd reckon. I felt very sick for about four days, then slowly better. Also, I'm still testing positive 10 days after symptoms began. The virus is getting smarter with each new turn, and our bodies and medicines are slow to keep up. What does this mean? . My contagion point was probably . By Monday night, I had a sore throat; by Tuesday morning, I felt like a plank — immovable with aches, fever, a headache that lasted a week and all the rest." • They believe it when they experience it themselves. Parker understands that closed, crowded, close contact spaces are dangerous. She even gets that "mild" is bullshit. But what's the issue? The groupthink of "nobody" [who is anybody] "wants to say this." I have to say, I do think that "the honey badger of infectious diseases" is a keeper.
• Maskstravaganza: This is great:
My hand painted fanart mashup of Felipe Pantone x @DentecSafety #maskart #MaskUp pic.twitter.com/pxfmEu3hrM

— nic (@nickelpin) August 26, 2022
However, what we need are masks explicitly designed for this use case. Which we won't get from hospital monopolies who want to buy in bulk from China!
• Maskstravaganza: I'd certainly consider one of these:
There are no surviving masks that were actually worn from Ancient Greek Theater. Some of earliest known images of Gorgons in fact come from terracotta masks from 7th Century BC, from a shrine of Artemis.

Detailed Post –https://t.co/EMsHjwbqIq#archaeohistories pic.twitter.com/eHmNMqa14F

— Archaeo – Histories (@archeohistories) October 30, 2022
* * *
Halloween Corsi-Rosenthal box:
Inspired by @robwiss 90 degree sandwich design, I made a #MiniCR based on the same principle. This config gets the highest cadr from multi fans in Rob's tests. 2 6×10 MERV13 NP filters and cheapest rgb fans on AZ, UpHere. #CRBox pic.twitter.com/U6Yj8xvYiC

— Alex 💨CR Boxes Everywhere (@CRBoxKits) October 30, 2022
* * *
Transmission
Here is CDC's interactive map by county set to community transmission. (This is the map CDC wants only hospitals to look at, not you.)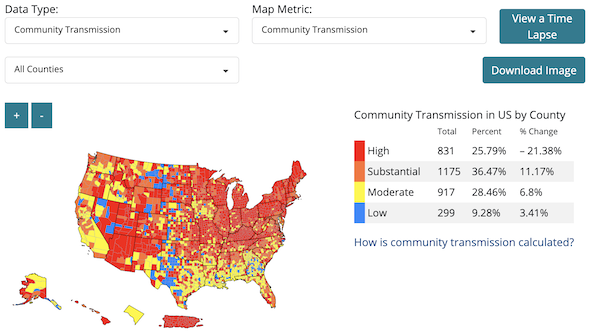 Lambert here: I have to say, I'm seeing more and more yellow and more blue, which continues to please. But is the pandemic "over"? Well….
Positivity
From the Walgreen's test positivity tracker, October 26: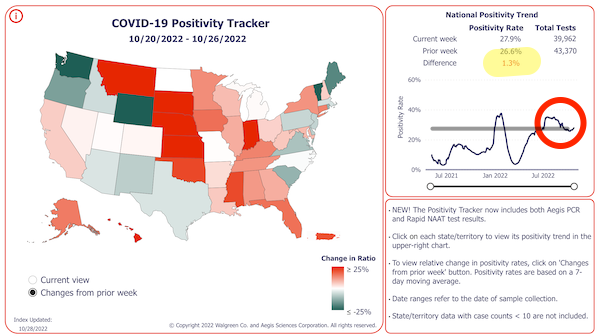 1.3%. Faster increase.
Wastewater
Wastewater data (CDC), October 23: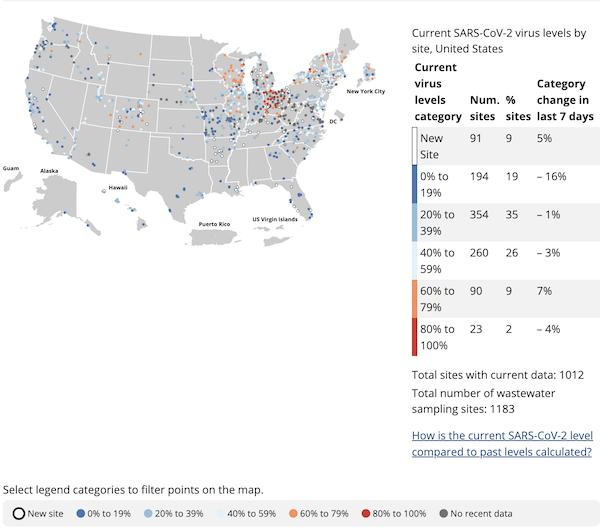 October 23: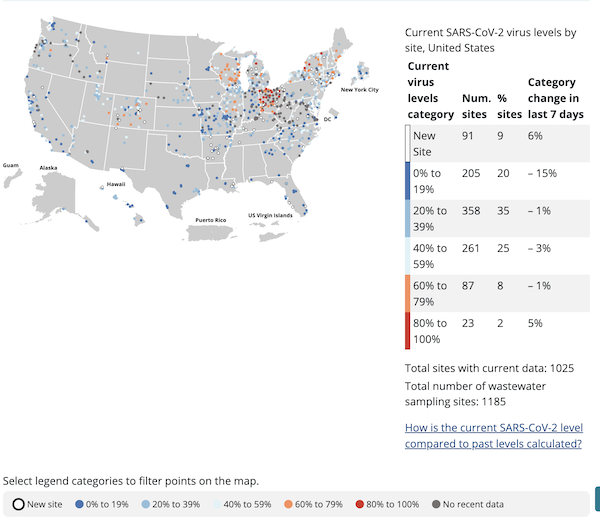 Variants
Lambert here: It's beyond frustrating how slow the variant data is. Does nobody in the public health establishment get a promotion for tracking variants? Are there no grants? Is there a single lab that does this work, and everybody gets the results from them? [grinds teeth, bangs head on desk]. UPDATE Yes. See NC here on Pango. Every Friday, a stately, academid pace utterly incompatible with protecting yourself against a variant exhibiting doubling behavior.
Variant data, national (Walgreens), October 19: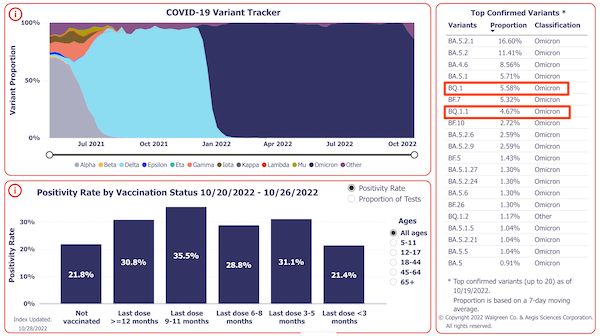 Lambert here: BQ.1*, out of nowhere. So awesome.
Variant data, national (CDC), October 8 (Nowcast off):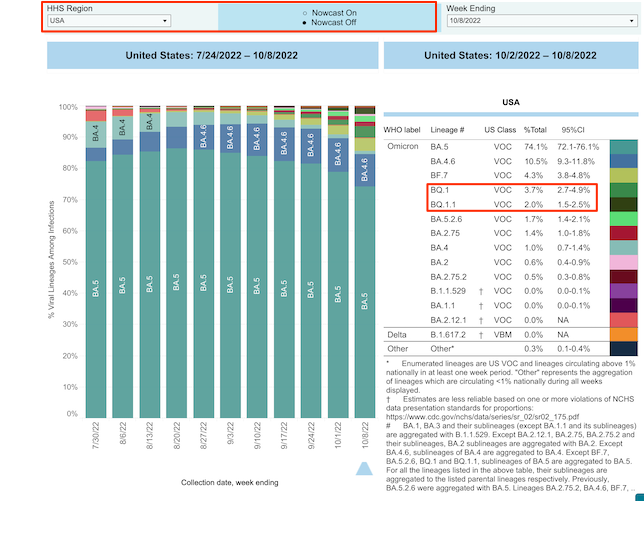 Lambert here: Most of the screenshots of CDC variants running around crop out whether Nowcast (CDC's model) is on or off; see red box at top. The BQ1.* figure of 27% that's running around is CDC's Nowcast projection, three weeks out. (It's telling that CDC would rather build a model than fund faster acquisition of real data.)
Deaths
Death rate (Our World in Data):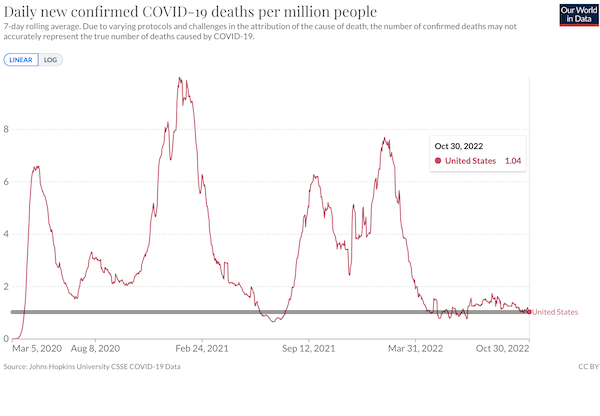 Total: 1,095,204 – 1,094,596 = 608 (608 * 365 = 221,920, which is today's LivingWith™ number (quite a bit higher than the minimizers would like, though they can talk themselves into anything. If the LivingWith™ metric keeps chugging along like this, I may just have to decide this is what the powers-that-be consider "mission accomplished" for this particular tranche of death and disease.
It's nice that for deaths I have a simple, daily chart that just keeps chugging along, unlike everything else CDC and the White House are screwing up or letting go dark, good job.
Stats Watch
Manufacturing: "United States Dallas Fed Manufacturing Index" [Trading Economics]. "The Federal Reserve Bank of Dallas' general business activity index for manufacturing in Texas decreased to -19.4 in October of 2022 from -17.2 in September. The production index, a key measure of state manufacturing conditions, edged down three points to 6.0, suggesting a slight deceleration in output growth. The new orders index slipped to -8.8, its fifth month in a row in negative territory, suggesting a continued decrease in demand."
* * *
Tech:
real footage of Twitter exoduspic.twitter.com/CZLUhtJmHS

— Ben Golub 🇺🇦 (@ben_golub) October 31, 2022
* * *
Today's Fear & Greed Index: 59 Greed (previous close: 60 Greed) [CNN]. One week ago: 48 (Neutral). (0 is Extreme Fear; 100 is Extreme Greed). Last updated Oct 31 at 1:41 PM EDT. A swing to greed? Weird. Honestly, if it means Mr. Market thinks there won't be a nuclear war, I'm a happy camper. But still…
The Gallery
A jape:
My oil painting of McDonald's Filet-O-Fish w/Strawberry Shake & Fries pic.twitter.com/O8I93vKWg7

— Noah Verrier (@NoahVerrier) October 29, 2022
But seriously folks, I wonder what kind of paintings >en plein air, Impressionist techniques would yield when thrown against, say, the kind of territory that Chris Arnade walks. Why not?
Zeitgeist Watch
Everything wrong with America packed into one vehicle:
I'm the average male height the at 5'9"

This vehicle should be illegal. pic.twitter.com/4AM3L6CHwy

— Tyler Newcomb (He/Him) (@tylernewcomb_) October 30, 2022
Under the Influence
Mommie Blogger Dearest:
I remember the first time I came across the TikTok of a girl that grew up as the daughter of a mommy blogger. She spoke about how it negatively impacted her life and how she felt exposed. This video is a letter from an anonymous teen of a vlog family. Please watch. pic.twitter.com/rtxdvaP8fb

— Krissy (@Krissys_Couch) October 30, 2022
Guillotine Watch
"At San Francisco restaurant, pups chow on filet mignon" [Associated Press]. "Dogue, which rhymes with vogue, opened last month in the city's trendy Mission District. For $75 dollars per pup, doggie diners get a multiple-course "bone appetite" meal featuring dishes like chicken skin waffles and filet mignon steak tartare with quail egg." • Oh.
Class Warfare
Funny thing. The death rates for the PMC are a lot lower than those for "essential workers" (remember them?):
COVID-19 death rates among U.S. residents aged 16–64, by usual occupation group: 46 states and New
York City, 2020https://t.co/UFUoaepVdX pic.twitter.com/5OO3YMMr6F

— wsbgnl (@wsbgnl) October 29, 2022
And PMC vaccination is a lot higher:
I'd also ask how govt and employers may have helped downplay covid risk for many in-person workers (e.g. never closing and absence of OSHA standard) and set those workers up to believe covid might be less of a threat than side effects from the vaccinehttps://t.co/trATHcBnW0 pic.twitter.com/5mKaKNTYmN

— wsbgnl (@wsbgnl) October 29, 2022
PMC, in chorus: "Because we're smarter!"
* * *
"Starbucks Union Group Ordered to Turn Over Messages With Reporters" [Daily Beast]. "Starbucks Workers United, the organization behind unionizing Starbucks stores in western New York, has been ordered to hand over their messages with journalists to the company. The federal ruling is highly unusual and will give the coffee company access to private conversations as they battle with unionizing groups. Several Starbucks workers have accused the company of union-busting. Starbucks said this ruling will help them uncover 'misinformation' the union organizers have dispelled." • So that's alright then. Liberal goodthinkers hate "misinformation."
"Maine Lobster Union Points the Way for Organizing Gig Economy Workers" [Bloomberg]. "Local 207—the only lobstering union in the US—so unusual. The decade-old group in Maine represents about 200 lobstermen (as men and most women in the business call themselves). The union members own three 18-wheel trucks, a pair of smaller vehicles for hauling the produce from wharves, and a so-called tank room, a warehouse packed with tubs of refrigerated ocean water in which the crustaceans spend a final few days in something resembling their home environment before reaching their ultimate fate: a quick plunge into a vat of boiling water. "We work for the fisherman," says Jason Rizzitano, manager of the tank room near Bar Harbor. The lobster union offers a potential model for gig economy workers seeking to push back against large companies that siphon off the bulk of profits in many trades, says Rebecca Lurie, a professor of Labor Studies at the City University of New York. By working together, such groups have organized Uber drivers, home health-care workers, and cable-internet technicians. Moreover, they can get a big boost from organized labor, which "offers unparalleled support, as well as an air of legitimacy," she says." • Dirigo!
News of the Wired
I don't run my own server any more. Can anyone tell me if this is true?
🔥 Weird one: Any HTML element can be visible and editable with display:block; and contenteditable – including style tags! pic.twitter.com/zRf2zFYb1i

— Wes Bos (@wesbos) October 29, 2022
* * *
Contact information for plants: Readers, feel free to contact me at lambert [UNDERSCORE] strether [DOT] corrente [AT] yahoo [DOT] com, to (a) find out how to send me a check if you are allergic to PayPal and (b) to find out how to send me images of plants. Vegetables are fine! Fungi and coral are deemed to be honorary plants! If you want your handle to appear as a credit, please place it at the start of your mail in parentheses: (thus). Otherwise, I will anonymize by using your initials. See the previous Water Cooler (with plant) here. From Copeland: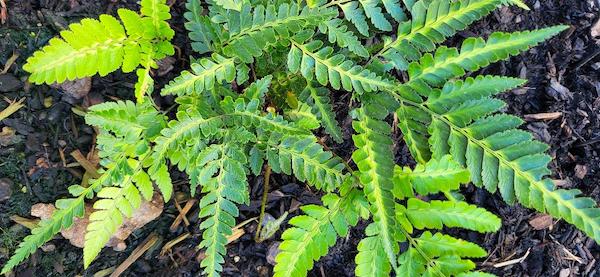 Copeland writes: "Arachnoides simplicior 'Variegata', the East ndian Holly Fern." I deprecate bark mulch. But what lovely textures!
* * *
Readers: Water Cooler is a standalone entity not covered by the annual NC fundraiser. So if you see a link you especially like, or an item you wouldn't see anywhere else, please do not hesitate to express your appreciation in tangible form. Remember, a tip jar is for tipping! Regular positive feedback both makes me feel good and lets me know I'm on the right track with coverage. When I get no donations for five or ten days I get worried. More tangibly, a constant trickle of donations helps me with expenses, and I factor in that trickle when setting fundraising goals:
Here is the screen that will appear, which I have helpfully annotated: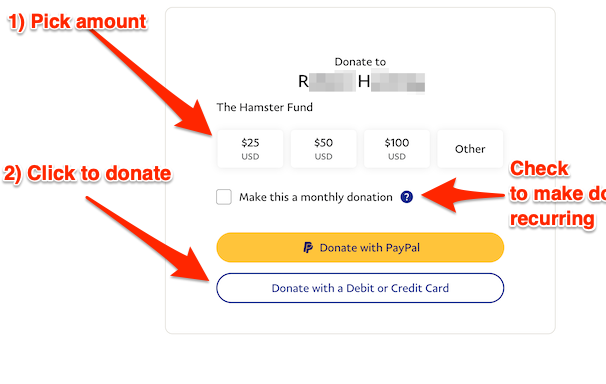 If you hate PayPal, you can email me at lambert [UNDERSCORE] strether [DOT] corrente [AT] yahoo [DOT] com, and I will give you directions on how to send a check. Thank you!