By Lambert Strether of Corrente
Bird Song of the Day
Common Nightingale, Taliouline, Morocco. 28 minutes!
* * *
Politics
"But what is government itself, but the greatest of all reflections on human nature?" –James Madison, Federalist 51
"Here's food for thought, had Ahab time to think; but Ahab never thinks; he only feels, feels, feels" –Herman Melville, Moby Dick
"So many of the social reactions that strike us as psychological are in fact a rational management of symbolic capital." –Pierre Bourdieu, Classification Struggles
2022
MN: "Keith Ellison's Narrow Victory" [Dissent]. "Keith Ellison's narrow reelection as Minnesota's Attorney General holds important lessons for Democrats as they seek to articulate positions on criminal justice. Elected in 2018 on a pledge to be the 'People's Lawyer,' Ellison entered this years' race with a strong record of protecting worker and consumer rights and leading the successful prosecution of the police officers accused of killing George Floyd and Daunte Wright in 2020. That he won by just 20,000 votes (a fraction of his 100,000 vote margin of victory in 2018) revealed how successfully Republicans narrowed debates over police reform and crime into simplistic narratives about 'law and order.' But it also demonstrated that Democrats can win on platforms that deliver racial and economic justice as well as public safety. Asked why he traded a safe seat and a leadership role in Congress for what many viewed as a step down to state office in 2018, Ellison explained that with Republicans in control of the White House and Senate, state attorneys general had key roles to play in countering attacks on civil liberties, consumer and environmental protections, and other "things the administration is doing to weaken rights, both social and economic, of Americans. It is at the local level that fight is being waged." • Ellison lost his leadership role in Congress because he was a Sanders supporter, no other reason. Of course, that was awhile back, and he can't say it anyhow.
Democrats en Déshabillé
Patient readers, it seems that people are actually reading the back-dated post! But I have not updated it, and there are many updates. So I will have to do that. –lambert

I have moved my standing remarks on the Democrat Party ("the Democrat Party is a rotting corpse that can't bury itself") to a separate, back-dated post, to which I will periodically add material, summarizing the addition here in a "live" Water Cooler. (Hopefully, some Bourdieu.) It turns out that defining the Democrat Party is, in fact, a hard problem. I do think the paragraph that follows is on point all the way back to 2016, if not before:

The Democrat Party is the political expression of the class power of PMC, their base (lucidly explained by Thomas Frank in Listen, Liberal!). ; if the Democrat Party did not exist, the PMC would have to invent it. . ("PMC" modulo "class expatriates," of course.) Second, all the working parts of the Party reinforce each other. Leave aside characterizing the relationships between elements of the Party (ka-ching, but not entirely) those elements comprise a network — a Flex Net? An iron octagon? — of funders, vendors, apparatchiks, electeds, NGOs, and miscellaneous mercenaries, with assets in the press and the intelligence community.

Note, of course, that the class power of the PMC both expresses and is limited by other classes; oligarchs and American gentry (see 'industrial model' of Ferguson, Jorgensen, and Jie) and the working class spring to mind. Suck up, kick down.

* * *

Ro Khanna on FTX:

2/x Part 2 of video.

Congress is supposed to look out for the American people.

Instead Ro Khanna is attacking someone who actually warned FTX was a scam and was a huge risk to implode.@RoKhanna Any self reflection at all about this clip? pic.twitter.com/NvfrMCXjk1

— Chuck (Taylor's Version) (@Jamie_Maz) November 22, 2022
Realignment and Legitimacy
"Ep 51 | Counting & Auditing the Election" (video) [YouTube].
#COVID19
Lambert here: I can't call a winter surge, though we'll really have to wait for Thanksgiving travel. However, high transmission (CDC), the elevation and continued increase in positivity (Walgreens), and the steady takeover of BQ.1* (CDC; Walgreens) are all a little unsettling (as is the apparent proliferation of variants). Stay safe out there! (As far as Thanksgiving travel goes, lacking CDC's "Rapid Riser" counties feature, the best we can do, I think, is follow the news and look at wastewater. I would order wastewater risk from highest to lowest at JFK/LGA (New York), LAX (Los Angeles), ATL (Atlanta), and ORD (Chicago). Since New York — as of this writing, and of course all the data is delayed, making personal risk assessment an effort in delusion, but I digress — is a BQ.1* hotbed, I'd try to use EWR (Newark) not JFK/LGA. My $0.02!
"A Year After the Omicron Surge, Officials See a Reduced Covid Threat This Winter" [New York Times]. "Now, Dr. Ashish K. Jha, the White House's Covid-19 response coordinator, said he was confident about the holiday season as long as Americans continued to get vaccinated and boosted. 'Nothing I have seen in the subvariants makes me believe that we can't manage our way through it effectively, especially if people step up and get their vaccine,' he said at a White House briefing. That could be a significant caveat. Weary of two years of repeated vaccination campaigns, Americans have been reluctant to embrace the updated booster shots that the administration rolled out in September. Thus far, only 35 million people have received one of the revised shots from Moderna and Pfizer-BioNTech. The administration bought enough doses for nearly five times as many people…. And where the coronavirus is headed remains a mystery. Federal officials have been watching a new subvariant of Omicron called XBB with some trepidation. The new subvariant accounts for only a tiny percentage of cases in the United States so far, but it is showing up in testing of travelers at the nation's major international airports and has taken hold in India and Singapore." • I don't want to be cranky about this, but "reduced Covid threat" is not at all the same as "the pandemic is over." I suppose I have to watch XBB now, though I don't know why. BQ.1* far outperforms XBB on the Walgreen's variant chart (see below), and doesn't appear at all on the CDC "Nowcast 0ff" variant chart. Nor does it appear on CDC's "Nowcast On" chart, or on the "Region 2" version of "Nowcast On," which includes the New York. So I don't know where the reporter is getting this information.
* * *
"'Immunity debt' is a misguided and dangerous concept" [Financial Times]. "[T]here is no evidence that an individual is worse off for having avoided earlier infection. "Immunity debt as an individual concept is not recognised in immunology," Dunn-Walters says. "The immune system is not viewed as a muscle that has to be used all the time to be kept in shape and, if anything, the opposite is the case." The constant onslaught of common pathogens such as cytomegalovirus, she adds, means the immune system begins to malfunction and slacken with age. She rejects the idea that infection is somehow good for health, saying vaccination is a far safer way of building population immunity…. The immunity debt theory holds broad appeal because it can be employed in so many ways. It seems to intuitively explain the current wave of respiratory illness. It is attractive to those who would downplay disease in children, and those who advocate for infection over vaccination. It provides a post-hoc justification for opposing measures such as masking, even though evidence suggests that such measures curbed Covid and virtually banished flu. Immunity debt also plays to the idea that the ebb and flow of childhood illnesses are best left to nature — until one remembers that the entire childhood vaccination schedule is about keeping the worst of nature at bay." • One day, nothing on "immunity debt" anywhere. The next day, opinion-havers sagely nodding their heads at it. I wish I understood that process, because it seems to be happening a lot.
* * *
Transmission
Here is CDC's interactive map by county set to community transmission (the "red map"). (This is the map CDC wants only hospitals to look at, not you.)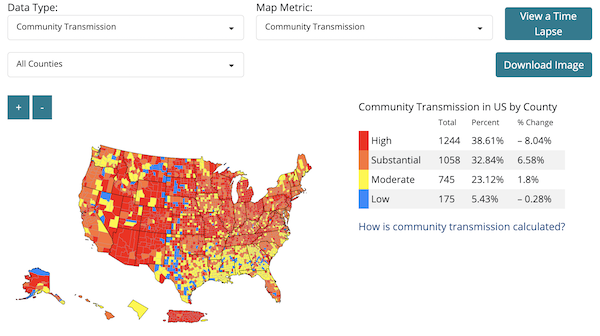 Positivity
From the Walgreen's test positivity tracker, published November 23: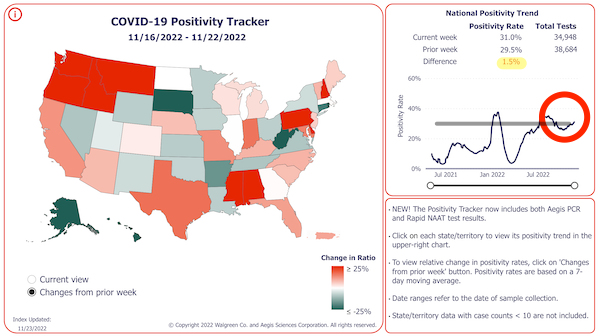 1.5%. Up.
• "What was your COVID-19 home test result?" [Make My Test Count]. From the FAQ:
What is the goal of MakeMyTestCount?

At-home COVID-19 tests allow us to quickly and easily find out whether we're infected with the virus. But if we don't share our test results, the people who work to keep us safe from this disease won't know how fast the virus is spreading, or where surges are happening. Without that information, they can't do the work they need to do to keep us and our communities safe.

The data from MakeMyTestCount can help public health teams do that work – while keeping your personal test results private and anonymous.

Sharing your at-home test result makes your test count. When you share your result, you help keep yourself and your community safe from COVID-19 – both now and in the future.
Good idea, although one might ask why we aren't doing this already. More importantly, why is NIH doing this, and not CDC?
Wastewater
Wastewater data (CDC), November 19: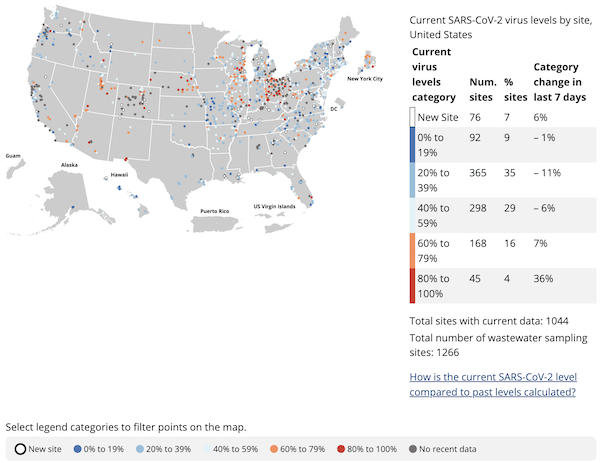 • Queens County (JFK/LGA) is elevated (red orange), just in time for holiday travel: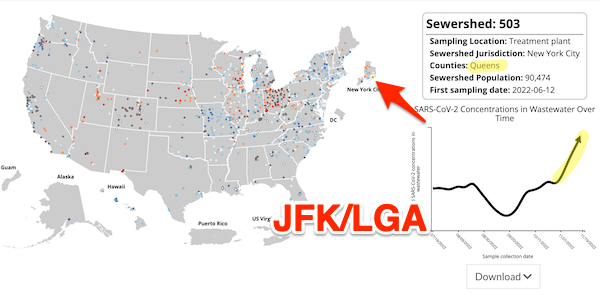 Interestingly, this is the first curve I've seen for awhile that looks like doubling behavior. Let's wait and see. Cook County (ORD) remains elevated. LAX and SFO are not.
November 16: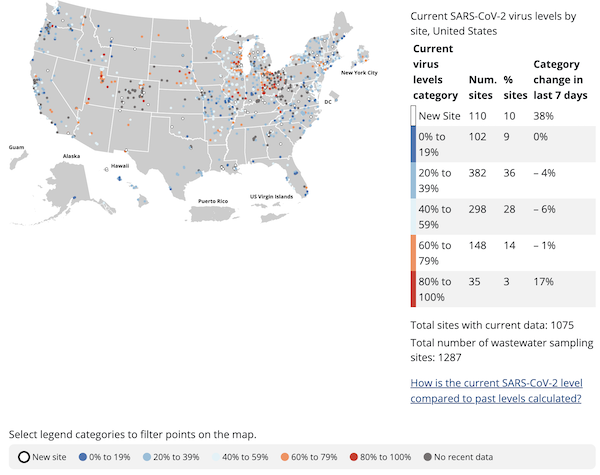 • "Wastewater Surveillance Data in the U.S." [COVID-19 Data Dispatch]. • A very handy and usable list (sadly gappy, but that's the US). In particular, it's got "State and local COVID-19 wastewater dashboards."
Variants
Lambert here: It's beyond frustrating how slow the variant data is. Does nobody in the public health establishment get a promotion for tracking variants? Are there no grants? Is there a single lab that does this work, and everybody gets the results from them? [grinds teeth, bangs head on desk]. UPDATE Yes. See NC here on Pango. Every Friday, a stately, academic pace utterly incompatible with protecting yourself against a variant exhibiting doubling behavior.
NOT UPDATED Variant data, national (Walgreens), November 6: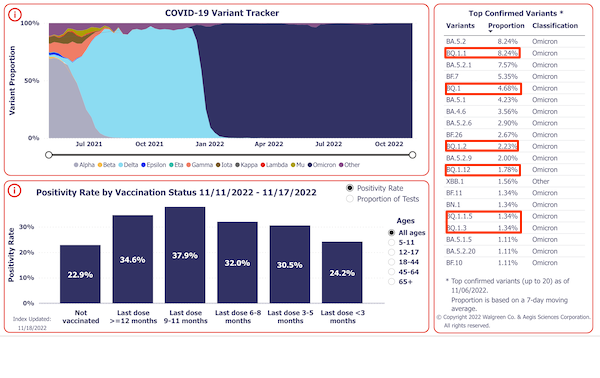 Lambert here: BQ.1* moving along quite briskly, though lower than CDC. XBB present here, not in CDC.
NOT UPDATED Variant data, national (CDC), October 29 (Nowcast off):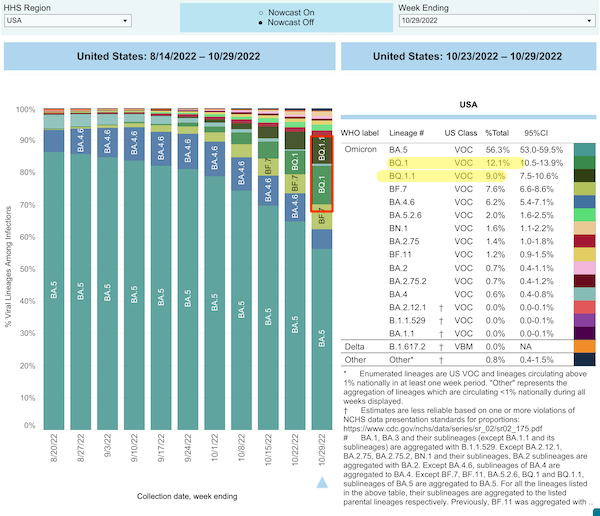 BQ.1* moving along quite briskly. New York/New Jersey (Region 2) numbers are higher: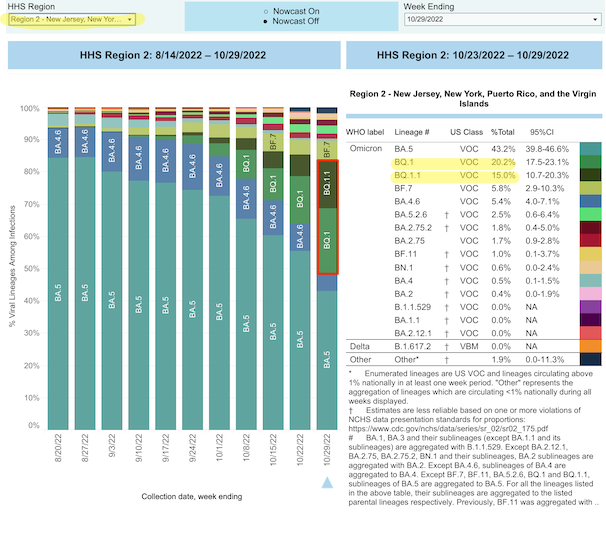 • As a check, since New York is a BQ.1* hotbed, New York hospitalization, updated November 19: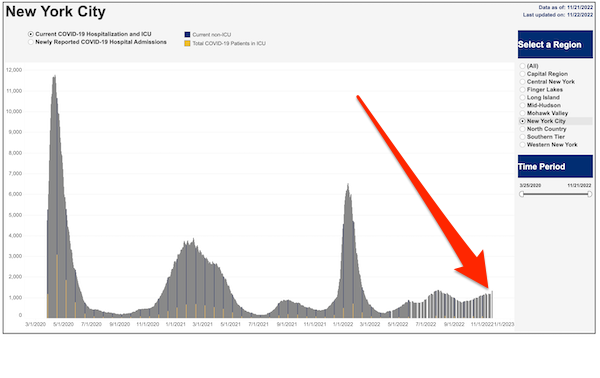 Lambert here: Increasing, after leveling out.
Deaths
Death rate (Our World in Data):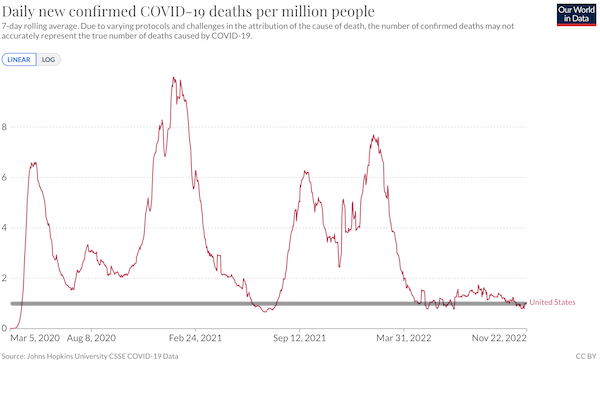 Total: 1,103,355 – 1,102,915 = 440 (440 * 365 = 160,600 deaths per year, today's YouGenicist™ number for "living with" Covid (quite a bit higher than the minimizers would like, though they can talk themselves into anything. If the YouGenicist™ metric keeps chugging along like this, I may just have to decide this is what the powers-that-be consider "mission accomplished" for this particular tranche of death and disease).
It's nice that for deaths I have a simple, daily chart that just keeps chugging along, unlike everything else CDC and the White House are screwing up or letting go dark, good job.
Stats Watch
Employment Situation: "United States Initial Jobless Claims: [Trading Economics]. "The number of American filing new claims for unemployment benefits rose by 17,000 to 240,000 on the week ending November 19th, the most since August and well above expectations of 225,000 likely boosted by the wave of layoffs in technology companies. Also, last week's rise may be technical as the model used by the government to adjust the data for seasonal fluctuations typically anticipates a rise in filings because of temporary company closures related to the holidays."
Manufacturing: 'United States Durable Goods Orders" [Trading Economics]. "Durable goods orders in the US which measure the cost of orders received by manufacturers for goods that meant to last at least three years, jumped 1% month-over-month in October of 2022, following a downwardly revised 0.3% increase in September and beating market forecasts of a 0.4% rise. It is the biggest rise in four months, led by transportation equipment (2.1%) and military aircraft (21.7%). The data aren't adjusted for inflation." •
* * *
Tech: "Meta Workers Hijacked User Accounts and Charged Bribes, Report Says" [Wall Street Journal]. "Meta disciplined or fired more than two dozen workers that it found allegedly misused an internal system to hijack users' accounts. In some cases, Meta says the workers charged users bribes to regain access to their profiles, according to people familiar with the matter and internal documents." • Only a podcast so far.
* * *
Today's Fear & Greed Index: 66 Greed (previous close: 62 Greed) [CNN]. One week ago: 63 (Greed). (0 is Extreme Fear; 100 is Extreme Greed). Last updated Nov 23 at 1:35 PM EST. In all my years doing this chart, I have never seen it update. Today, the pointer moved from 65 to 66 while I was watching it!
Thanksgiving Pre-Game Festivities
"Meet the Underground Network of Butter Bargain Hunters" [Wall Street Journal]. "The coming holidays and near record high butter prices have churned up an underground butter brigade. People who love to bake are scouting national, regional and local stores across the country and sharing butter deals with fellow spritz and snickerdoodle makers on social media. They post photos of store shelves with prices listed and kitchen counters piled with their latest hauls. One made a butter Jenga…. Dee Stroup, who won a Pittsburgh Nut Roll Competition in 2019, needs 20 pounds of butter to get through Thanksgiving and Christmas and will only bake with Land O' Lakes." • Holy moley!
"The Remedy: Grandma Lacey's Cornbread" (recipe) [Scalawag]. "1 ½ sticks of butter, melted." • OK!
"How To Tell Your Mom You're Not Coming Home For The Holidays" [The Onion]. "Isn't this why you had two kids?"
"Chelsea Manning accused of leaking grandma's secret Thanksgiving recipes" [Duffel Blog]. "This marks the first time Manning has leaked secret documents to the public in over a decade."
Zeitgeist Watch
"Contentious George Washington mural at San Francisco school can stay, judge decides" [Los Angeles Times]. • Here is the mural: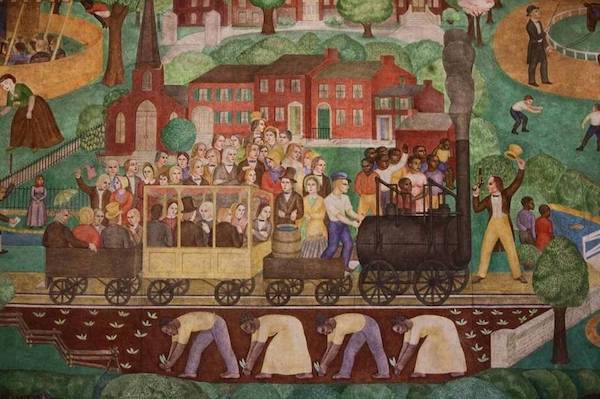 Exactly like the Kentucky mural discussed yesterday (hat tip 430MLK), this mural historically accurate; we have noted land speculator George Washington on the left, and on the right armed frontiersmen marching off to conquer that land, stepping on the body of a dead Native American as they go. Interestingly, both murals were commissioned by the Public Works of Art Project of FDR's WPA, and as attempts to correct the historical record at that time, look to be striving for racial justice, by correcting the record. To straw person just a bit: Anybody who throws these murals in the same bucket as Confederate monuments is a fool. Neither of them glorify white supremacy. Quite the reverse.
Our Famously Free Press
"Associated Press reporter fired over erroneous story on Russian attack" [WaPo]. • About the quickly debunked story of Russian missiles falling on Poland. The lead is buried:
LaPorta shared the U.S. official's [who] tip in an electronic message around 1:30 p.m. Eastern time. An editor immediately asked if AP should issue an alert on his tip, "or would we need confirmation from another source and/or Poland?"

After further discussion, a second editor said she "would vote" for publishing an alert, adding, "."
You don't need a spook at the censor's desk if one lives right in your head. More:
But a person at the Associated Press familiar with the larger conversations surrounding the story that day said LaPorta also told his editors that a senior manager had already vetted the source of LaPorta's tip — leaving the impression that the story's sourcing had been approved. While that editor had signed off on previous stories using LaPorta's source, that editor had not weighed in on the missile story. [AP spokesperson Lauren Easton} said .
But the editors ought to be disciplined, at least according to AP: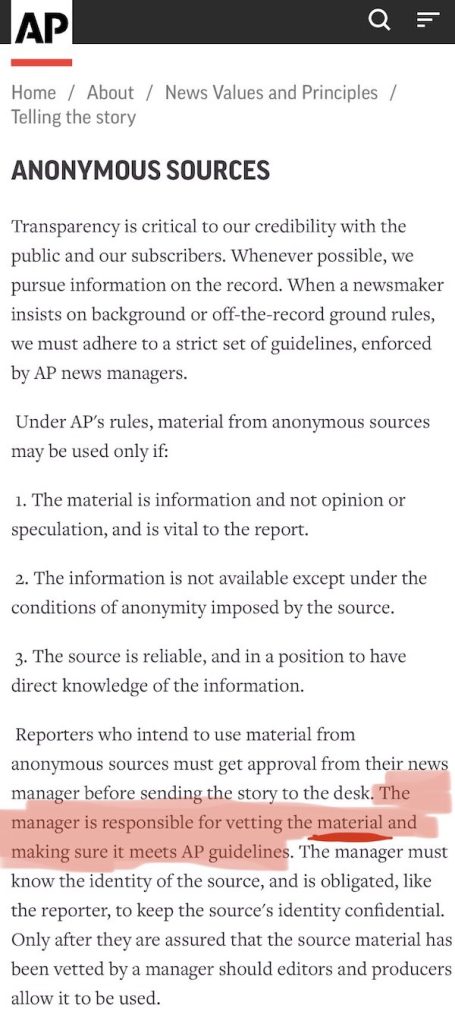 Here is the entire Slack conversation, including the "can't imagine" quote:
A 10 minute Slack conversation almost started World War III

James LaPorta was fired as a result of this pic.twitter.com/pk7d7lrx9t

— Whole Mars Catalog (@WholeMarsBlog) November 23, 2022
So, in my mind, this is a labor issue as well; the bosses have conned worker into believing they must be available at all times, and so here we have an exchange that could have set off World War II with the reporter at a dentist's appointment (doubtless in "fear and trembling," if LaPorta's experience with Amrican dentisty is anything like mine). Note this is exactly the same issue the railroad workers may strike over: paid time off for medical reasons. So the feckless, unaccountable editors also bear responsibility for not covering LaPorta's slot.
Class Warfare
"United Furniture abruptly shuts down Triad operations. Hundreds of workers affected." [Winston-Salem Journal (Polar Donkey)]. "nited Furniture Industries Inc. has stopped production abruptly at its five Triad facilities — where it was reported to have had between 530 and 600 employees — as part of what appears to be an overall shutdown of the business. Multiple media reports say employees in Winston-Salem, Verona, Miss., and Victorville, Calif., as well as delivery drivers, received emails from United's board of directors late Monday and early Tuesday…. The first email read 'we ask that all employees not report to their work locations tomorrow November 22, 2022.' The second email informed employees that 'your layoff from the company is expected to be permanent and all benefits will be terminated immediately without provision of COBRA.' The company ended the memo citing the 'difficult and unexpected situation' that industry analysts said likely includes inflation, high gas prices and the war in Ukraine as key factors." • The whole story is worth a read I doubt very much the "difficult and unexpected situation" was Ukraine.
Not a good look:
Starbucks, $SBUX, has officially closed the first store in Seattle that unionized, citing "safety and security incidents."

— unusual_whales (@unusual_whales) November 23, 2022
If Starbucks wants those cheerful and hardworking baristas looking and acting like wage slaves, they should proceed exactly as they are proceeding. The baristas are the public face of the company, not Laxman Narasimhan, whoever the hell he is (or Howard Schultz).
News of the Wired
"Dimming the Sun to Cool the Planet Is a Desperate Idea, Yet We're Inching Toward It" [The New Yorker]. • Wheee!
* * *
Contact information for plants: Readers, feel free to contact me at lambert [UNDERSCORE] strether [DOT] corrente [AT] yahoo [DOT] com, to (a) find out how to send me a check if you are allergic to PayPal and (b) to find out how to send me images of plants. Vegetables are fine! Fungi and coral are deemed to be honorary plants! If you want your handle to appear as a credit, please place it at the start of your mail in parentheses: (thus). Otherwise, I will anonymize by using your initials. See the previous Water Cooler (with plant) here. From AM: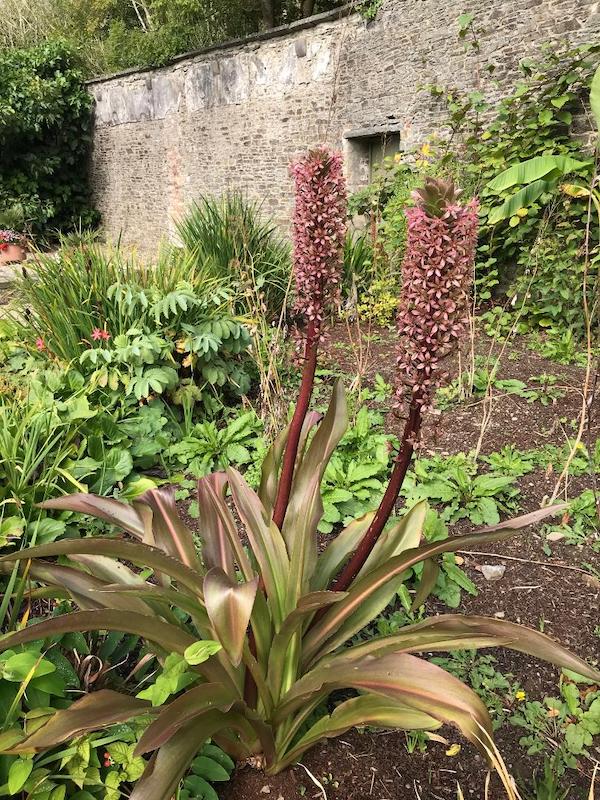 AM writes: "Unidentified large yucca-like plant in Vandeleur Walled Garden just outside Kilrush, County Clare, Ireland on September 13, 2022. Formerly an estate, the garden now commemorates the evictions of the tenants during the potato famine during the 1840's."
* * *
Readers: Water Cooler is a standalone entity not covered by the annual NC fundraiser. So if you see a link you especially like, or an item you wouldn't see anywhere else, please do not hesitate to express your appreciation in tangible form. Remember, a tip jar is for tipping! Regular positive feedback both makes me feel good and lets me know I'm on the right track with coverage. When I get no donations for five or ten days I get worried. More tangibly, a constant trickle of donations helps me with expenses, and I factor in that trickle when setting fundraising goals:
Here is the screen that will appear, which I have helpfully annotated: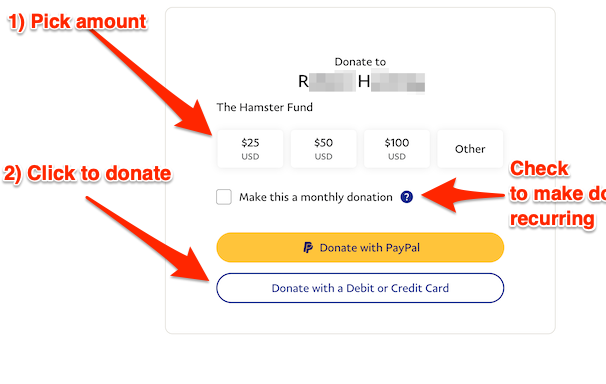 If you hate PayPal, you can email me at lambert [UNDERSCORE] strether [DOT] corrente [AT] yahoo [DOT] com, and I will give you directions on how to send a check. Thank you!