2:00PM Water Cooler 12/21/2020
By Lambert Strether of Corrente.
Bird Song of the Day
#COVID19
At reader request, I've added this daily chart from 91-DIVOC. The data is the Johns Hopkins CSSE data. Here is the site.
Case count by United States region: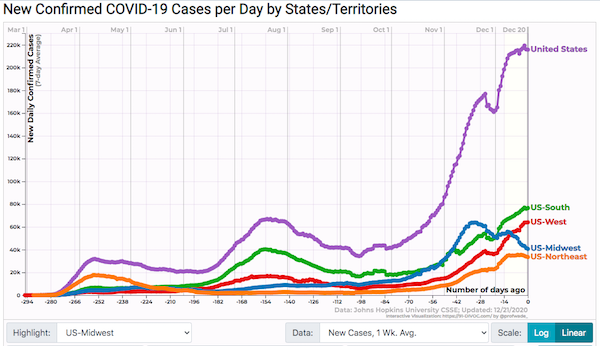 Resuming the upward climb, though at a lesser slope. Looks like the Midwest did it, from the regional data. I feel I'm engaging in a macabre form of tape-watching, because I don't think the peak is coming in the next days, or even weeks. Is the virus gathering itself for another leap?
Big states (New York, Florida, Texas, California) instead of the Midwest: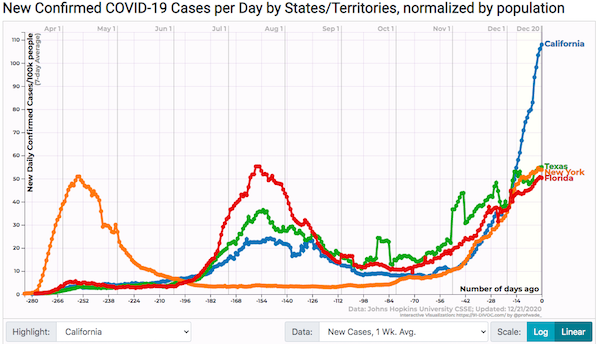 Despite Newsome's yeoman efforts at the French Laundry, California's case count continues to skyrocket.
Test positivity by region: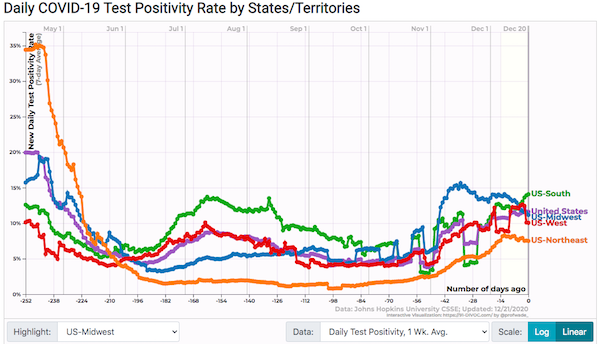 A wild swing in the West. Again.
Hospitalization by region: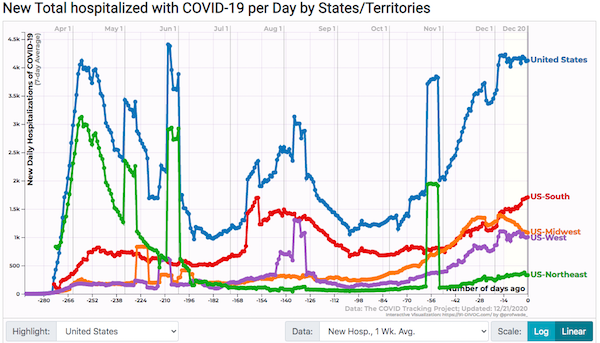 Distinct flattening, thanks to the Midwest and the West. Hospitalization is also discretionary; they may also be reducing their admissions rate — relative to cases we cannot see in this data! — to preserve future capacity; or because hospitals have figured out how to send people home.
Case fatality rate by region: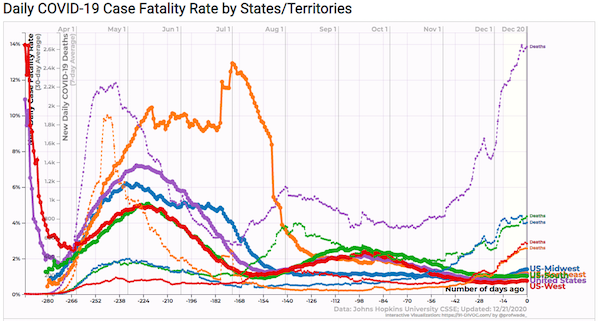 A little dip, thanks to the Midwest. I don't much care for that gradual increase in the fatality rate and wonder what's behind it.
CA: "'We are getting crushed.' What's behind the alarming rise in California's Covid-19 cases" [CNN]. "Since the Thanksgiving holiday, California has faced a surge of Covid-19 infections unparalleled across the United States, leading to continued daily record highs in hospitalizations and deaths…. Multiple factors are at play when it comes to California's sudden acceleration of coronavirus cases, including Covid-19 fatigue, resistance to stay-at-home regulations, the huge number of essential workers and the socioeconomic factors of the pandemic affecting poorer and minority households… "LA County is moving toward becoming the epicenter of the pandemic," Dr. Brad Spellberg, chief medical officer at LAC + USC Medical Center, warned in a media briefing Friday." • Workman-like piece, but I don't see an explanation for why California diverges so radically from Texas, New York, and Florida, all of which are very different. For example, "Covid-19 fatigue" surely applies across the board, and income disparities are stark everywhere. So why is California such an outlier?
CA: "'The virus is moving in': why California is losing the fight against Covid" [Guardian]. "Many have said the rules, which are expected to last through Christmas and order residents to stay home except for essential activities, bar hotels from accepting most out-of-state guests, shut down outdoor dining and personal care businesses, were complex, and at times seemingly contradictory. Why should residents minimize contact with people from other households, but retail shopping and entertainment production can continue? Why did rules initially order the closure of playgrounds, while allowing indoor shopping malls to remain open? And why do Californians need to limit social contact, when their governor and the mayor of San Francisco attended celebrations at a Michelin-starred restaurant?" • Much of this duplicates the material above, and has the same issues. If the issue is governance — "complex" and "contradictory" rules — are we really to say that California is more poorly governed than Florida or Texas? Anything's possible, I suppose….
CA: "California, latest coronavirus epicenter, sets nationwide record for new cases: 'The worst is still before us'" [WaPo]. "the state is still reeling from an influx of new infections tied to Thanksgiving holiday gatherings, while facing the prospect of an additional surge after Christmas." But look again at the "Big states" chart above. The timing is right for Thanksgiving to have sparked California's acceleration, but why did the same spark not not Texas, New York, and Florida abaze too? What is unique to California?
CA: "California has its most coronavirus deaths in a single day as cases, hospitalizations continue to surge" [Los Angeles Times]. "The death toll has been highest in Los Angeles, the state's most populous county." In other words, it's not deplorable Red counties in the interior.
CA: "As California I.C.U.s fill up, the dead are counted by the hour" [New York Times]. "The ever-climbing numbers are all the more demoralizing for Californians because they have endured some of the most stringent pandemic restrictions in the country. But now more than ever, health officials said, they need to keep hunkering down." • And that's as close as this article comes to an explanation.
CA: "'Nine Months Into It, the Adrenaline Is Gone and It's Just Exhausting'" (interview) [Kaiser Health News]. Dr. Jeanne Noble, director of the COVID response at the University of California-San Francisco medical center: "We've done some things well and other things not so well. We were very late to implement closures in a targeted fashion. Restaurants and dining reopened this summer, and a lot of us couldn't figure out why indoor dining was open. Why is indoor dining something we need to even be considering when we've just barely flattened our curve? It was very predictable that cases would go up when dining happened. And they did….. I would put dining and restaurants as being of minimal social importance and very high risk. We could have done this better. Closing [down society] when numbers go up is reasonable* and that saves lives. But I think we know enough that it should not be an across-the-board closing. I mean, with this latest order, they temporarily closed parks. And we've been telling people to go outside. It's like, what? Are you kidding?" • So, governance again. Really? NOTE * It's reasonable if you pay workers to stay home, which we as a society will not even consider.
Politics
"But what is government itself, but the greatest of all reflections on human nature?" –James Madison, Federalist 51
"They had one weapon left and both knew it: treachery." –Frank Herbert, Dune
"They had learned nothing, and forgotten nothing." –Charles Maurice de Talleyrand-Périgord
Democrats en Deshabille
"Relief Checks Out Next Week, Fed Fight Lingers" [Bloomberg]. "The House and Senate are set to vote Monday on a $900 billion pandemic relief package along with a $1.4 trillion measure to fund the government, after days of intense negotiations reversed a months-long stalemate just before lawmakers leave town for a holiday break." • Reactions from the Twitter on that $600 (six hundred) bucks–

From a normally cheerful account:

and everybody needed it in April lol

— hen-wen, oracular pig (@spindlypete) December 21, 2020

Running the numbers:

AAA estimates that the average cost of maintaining a vehicle in the United States is $706 per month. https://t.co/WfD7POPMix

— Aren R. LeBrun (@proustmalone) December 21, 2020

Good question:

How could it be that as the pandemic got worse, the stimulus got smaller?

We need a radical revolution of values. https://t.co/Jno4G8Agiv

— Nina Turner (@ninaturner) December 21, 2020

One answer:

When I was a kid, I was told that leaving only a quarter as a tip on a meal was actually more insulting than not leaving one, because it means the person didn't just forget a tip, it means they deliberately decided to give you almost nothing.

The $600 isn't help, it's a message.

— Oweeeeendennis (@OweeeeenDennis) December 21, 2020

There is this to remember:

THIS 👇🏽👇🏽 https://t.co/TmV6IYEEd5

— Peter Daou (@peterdaou) December 21, 2020
Transition to Biden
Larry Summers is not yet a member of the Biden administration, nor, IIRC, Cass Sunstein or Rahm Emanuel:

To be clear, I'm not praising Biden, I'm pointing out how awful Obama actually was. Biden's people are either corrupt shallow hacks or well-meaning technocrats, whereas Obama mostly chose actively malevolent con artists.https://t.co/LKlSlDuLS2

— Matt Stoller (@matthewstoller) December 21, 2020

Though Mayo Pete isn't malevolent? Really?
Realignment and Legitimacy
"Inauguration Part 1 w/Special Guest Daniel Bessner" (podcast) [The West Wing Thing]. • Good discussion of the weekend's dustup on the left, including but not limited to Jimmy Dore, David Sirota, and Briahna Joy Gray, staring at 24:03. Dave: "Dave's really disappointed with all of his fellow leftists."

I can't speak to efficacy, but I like the sound of "Congress of Essential Workers":

I don't know who all knows this, but the Amazon worker they fired & tried to smear in the press for protesting COVID conditions started his own org to mobilize even *more* workers and hasn't stopped protesting.

They tried silencing him and he's given voices to even more workers! pic.twitter.com/2GkGVtetHJ

— Malaika Jabali (@MalaikaJabali) December 21, 2020

One of the good things about Occupy, IMNSHO, was that it sought to take and hold ground. (Smalls is the worker Amazon fired for having the temerity to organize a work stoppage.)

"The Biden Administration Faces A Legitimacy Crisis" [The American Conservative]. • It's like the Republicans took the RussiaGate playbook and changed what got hacked. Fun, lucrative, embubbles millions, really screws the other party hard. So what's not to like?
Stats Watch
At reader request, I added some business stats back in. Please give Econintersect click-throughs; they're a good, old-school blog that covers more than stats. If anybody knows of other aggregators, please contact me at the email address below.
National Activity Index: "November 2020 CFNAI Super Index Moving Average Index Suggests Slower, But Slightly Above-Average Growth" [Econintersect]. "This index is likely the best coincident indicator of the U.S. economy. A coincident indicator shows the current state of the economy. This month, three out of the four broad categories of indicators improved. The economy has slowed from its rate of growth in 2018 but now has moved above territory associated with recessions [a level below -0.7 indicates a recession is likely underway]."
Debt: "October 2020 Credit Access Survey: Shows Plunge in Credit Demand and Access" [Econintersect]. "The latest Credit Access Survey reveals the stark imprint of the pandemic on consumer credit markets, with most credit application and acceptance rates falling sharply after February 2020. Application and acceptance rates for credit card and credit limit increase requests showed the largest declines, followed by auto loans. Meanwhile, application and acceptance rates for mortgage refinances continued to surge through 2020, with primarily high credit score borrowers taking advantage of lower mortgage rates. Looking ahead, households generally lowered their expectations during 2020 regarding applying and receiving credit over the coming year. The average probability of being able to come up with $2,000 for an unexpected need also reached a new series low in October 2020."
* * *
* * *
.
Today's Fear & Greed Index: 59 Extreme Greed (previous close: 63 Extreme Greed) [CNN]. One week ago: 69 (Extreme Greed). (0 is Extreme Fear; 100 is Extreme Greed). Last updated Dec 21 at 12:19pm.
Rapture Index: Closes unchanged [Rapture Ready]. Record High, October 10, 2016: 189. Current: 184. (Remember that bringing on the rapture is a good thing, so high is better.)
Department of Feline Felicity
"Cats: Not a fan favourite when the critters are draped around an office packed with tech" [The Register]. "Delicately, he gave the client three options: '1: Rehome the cats. 2: Rehome the hardware onto the desktops, not a complete fix but definitely an improvement. 3: Regular monthly visits by the cat-friendly IT engineer with a hoover.' 'The client opted for number 3,' Andrew told us. We have no doubt the monthly visit proved lucrative, both fiscally and in terms of client happiness.'"
Xmas Pregame Activities
Good Mom tone (#SoundUpForSid):
I love the glance at sid like "what? you would have done it too if you were here first"

— Jesse (@laughingmanreal) December 20, 2020
Ring Out the Old
Now figure out which way to hang it:
Happy next year! pic.twitter.com/QTCGv7yF6R

— Pekka Mäkinen (@PekkaTMakinen) December 21, 2020
Groves of Academe
"UVM Faculty and Students Reel From Proposed Cuts" [Seven Days]. "Soon after the administration announced the sweeping cuts, which would phase out 12 of the college's 56 majors, 11 of its 63 minors, and four of its 10 master's programs, students and faculty swiftly condemned the proposal. Senior Katherine Brennan, a religion major, started a Change.org petition to protest the elimination of the religion department, which, along with the classics and geology departments, is slated to be cut. To date, nearly 4,400 people have signed it." • In the Victorian era, religion and geology were opposed to each other. How times have changed. It seems — and I know this will surprise you — that the administration has proposed no cuts for itself. Not one Dean.
"Negotiations Go Astray in Connecticut" [Inside Higher Ed]. "A draft contract put forth by the university eliminates procedural protections regarding academic freedom, terminations and retrenchment; faculty ownership of original online course materials and the right to teach them; conference, travel and research funds; universitywide tenure committees; and privacy and grievance policies for personnel files. The university system also wants to increase teaching loads from 12 credit hours per semester to 15 and pilot changing the academic calendar from two to three terms, with faculty members required to teach for two such terms annually. In a stunning proposal that was apparently just a typo, the university system also sought to halve the value of teaching or contract time, from 1 credit hour per hour taught to 0.5 credit hours per hour taught. The Board of Regents for Connecticut State College and University System did not confirm the credit-hour change was a typo, but the faculty union believes it was." • If the faculty don't own the rights to their courses, I suppose the administrators can just print out Wikipedia pages or something.
Black Injustice Tipping Point
"This Guilty Land" [Eric Foner, London Review of Books]. "The divergent paths chosen by Brown and Lincoln illuminate a problem as old as civilisation itself – what is a person's moral responsibility in the face of glaring injustice?… Today, Lincoln is widely revered, while many Americans, including some historians, consider Brown mad. Yet it was Brown's strategy that brought slavery to an end. In a note written shortly before his death, Brown wrote: 'The crimes of this guilty land will not be purged away but with blood.' And Lincoln, the centrist politician, ended up presiding over slaughter on a scale neither he nor Brown could possibly have imagined. At his Second Inaugural, in March 1865, Lincoln embraced Brown's penetrating insight that slavery was already a system of violence and so could not be eradicated peacefully. Echoing Brown, Lincoln explained the Civil War's staggering death toll as divine retribution for two and a half centuries of 'blood drawn by the lash'. He was reminding his listeners that violence in America did not begin when John Brown unsheathed his sword; it was embedded in slave society from the outset. And in the end, as Brands concludes, 'Union arms, not Union arguments, overthrew slavery.'" • Well worth a a read.
Guillotine Watch
Paradigm shift:
What we need to is end once and for all the 40 year failure that is trickle down economics. We can replace that with Piñata economics instead. pic.twitter.com/NmZ6zqckqC

— Al (@davison_al) December 20, 2020
Of course, that's not how it works…
Class Warfare
"Texas Wedding Photographers Have Seen Some $#!+" [Texas Monthly]. • Read all the way to the end.
"My Mommies and Me" [Jewish Currents]. "I followed all my mommies, and I followed the mommies they followed. Homesteaders. Wifeys. Boymamas. Christ followers. Empaths. Holistic healers. Herbalists. Astral travelers. Antifeminists. Ohio dwellin', Oahu livin'. Lilah, Heather, Sydnee, Sierra, Aubrey, Krystal, Jinger. I learned their names and their children's; I studied the rhythms of their days. The mommies had husbands who worked in landscaping or the military, who politely smiled for the camera once a week when their wives sat them down to livestream a Q&A about marriage to a hundred thousand people. The mommies had babies with names like Raider and Rifle and Arkham and Taytum and Barley and Nehemiah. The mommies were custom-building their own mansions, buying their six children matching sets of sparkly clothing, having biweekly shoots with professional photographers to produce one beautiful image that would accompany a long caption about what it means to question your faith without abandoning it. I couldn't believe people lived like this." • Before giving way to completely uncharitable thoughts about "Mormon mommy bloggers on Instagram," I should probably imagine how a similar piece could be written, using class and cultural markers for the author's home place: Brooklyn. The same goes for the Texas wedding piece above.
News of the Wired
Winter (1):
Behold the gray—the most mysterious and elusive of all colours… Gustave Caillebotte's 'Rooftops in the Snow' (1878/1879) is a Symphony in Gray Major pic.twitter.com/ivcu3M2CB2

— Federico Italiano (@FedeItaliano76) December 18, 2020
Winter (2):
Immersed in the icy Oak Lake in Ontario, two Canadians play chess pic.twitter.com/ohpOi8aEzS

— Reuters (@Reuters) December 21, 2020
* * *
Readers, feel free to contact me at lambert [UNDERSCORE] strether [DOT] corrente [AT] yahoo [DOT] com, with (a) links, and even better (b) sources I should curate regularly, (c) how to send me a check if you are allergic to PayPal, and (d) to find out how to send me images of plants. Vegetables are fine! Fungi and coral are deemed to be honorary plants! If you want your handle to appear as a credit, please place it at the start of your mail in parentheses: (thus). Otherwise, I will anonymize by using your initials. See the previous Water Cooler (with plant) here. Today's plant (RH):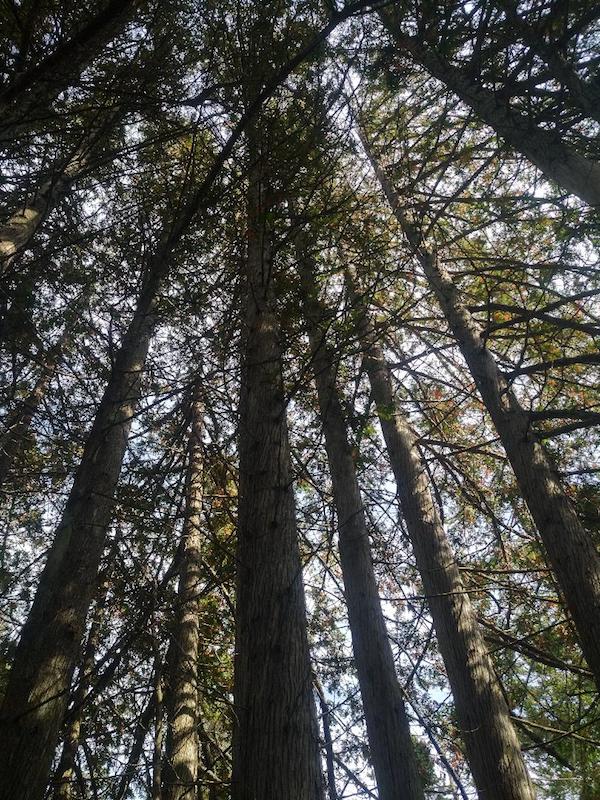 RH writes: "Cedars in Maine."
Readers, I'm still running a bit low on plants. If you all — and especially readers who have not contributed before! — would kindly send me some more fresh ones, that would be great. Thank you!
* * *
Readers: Water Cooler is a standalone entity not covered by the recently concluded and — thank you! — successful annual NC fundraiser. So if you see a link you especially like, or an item you wouldn't see anywhere else, please do not hesitate to express your appreciation in tangible form. Remember, a tip jar is for tipping! Regular positive feedback both makes me feel good and lets me know I'm on the right track with coverage. When I get no donations for five or ten days I get worried. More tangibly, a constant trickle of donations helps me with expenses, and I factor in that trickle when setting fundraising goals:
Here is the screen that will appear, which I have helpfully annotated.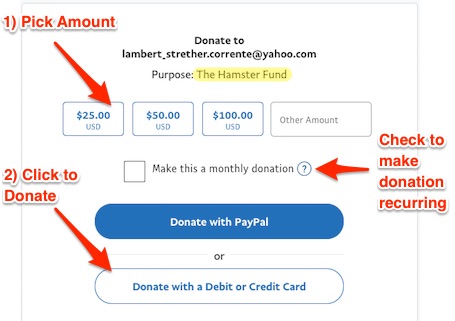 If you hate PayPal, you can email me at lambert [UNDERSCORE] strether [DOT] corrente [AT] yahoo [DOT] com, and I will give you directions on how to send a check. Thank you!