2:00PM Water Cooler 2/2/2021
By Lambert Strether of Corrente.
Patient readers, I got wrapped around the axle on AOC. More in a bit. –lambert
Bird Song of the Day
#COVID19
At reader request, I've added this daily chart from 91-DIVOC. The data is the Johns Hopkins CSSE data. Here is the site.
I feel I'm engaging in a macabre form of tape-watching…. (A reader asked the source of the data: Johns Hopkins CSSE. DIVOC-91 does allow other data sets to be used, like Our World in Data and The Atlantic, and where they provide visualizations similar to those below, a cursory comparison shows that the shape of the curves is the same.)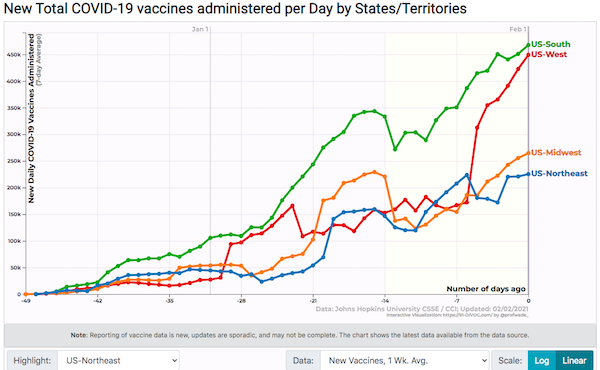 At some point, say by the third week in February*, we're going to need to see these curves going more vertical, or else we can conclude that the vaccination rate is basically a function of our extraordinarily [family-blogged] health care system, and "competence" operates only at the margin. Needless to say, I'd like to see the curves going more vertical. NOTE * "He's only been President ___ weeks, give him time."
Case count by United States region: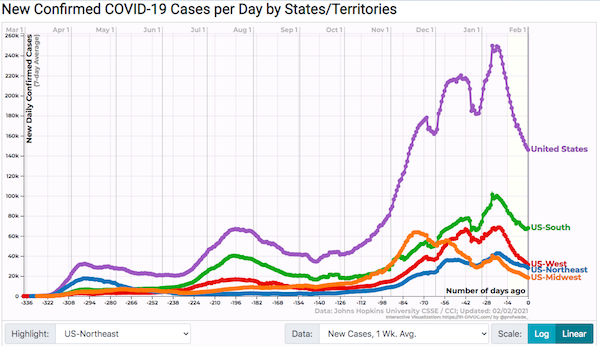 Big states (New York, Florida, Texas, California):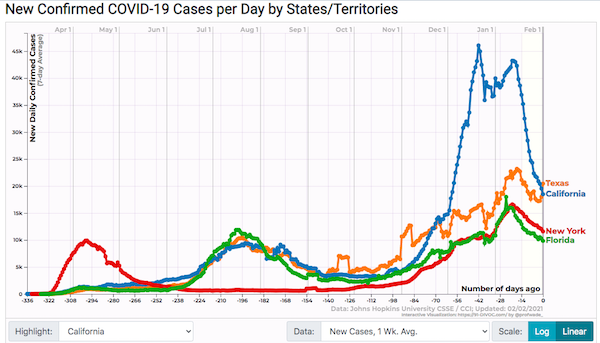 California slips below Texas. But Texas is rising. I don't like that. A cloud no bigger than a man's hand? (1 Kings 18:44)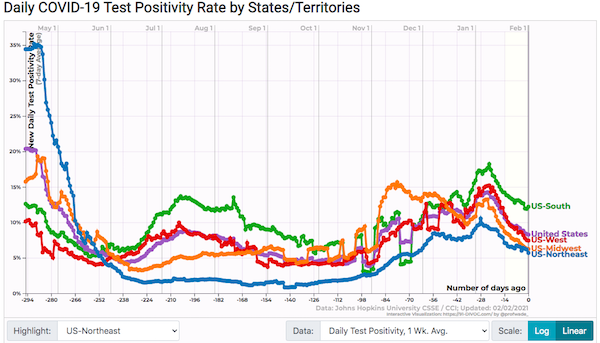 Nowhere near 3%, anywhere.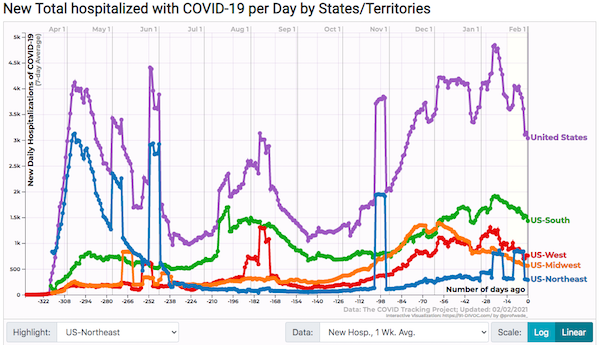 I wondered if New England would repeat its earlier, and unique, stairstep pattern; now it has. Hospitalization is discretionary; they may also be reducing their admissions rate — relative to cases we cannot see in this data! — to preserve future capacity; or because hospitals have figured out how to send people home.
Case fatality rate (plus deaths):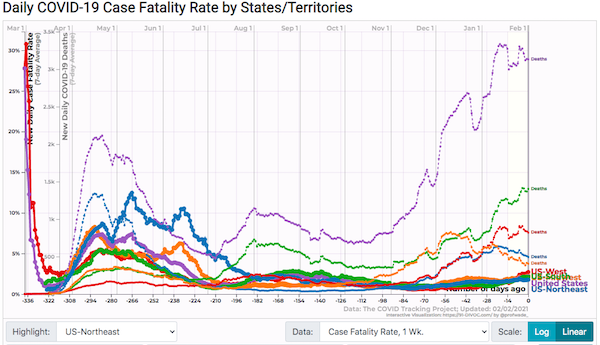 There's that slow rise in the fatality rate again. Nice to see a little drop in deaths, may it continue.
Politics
"But what is government itself, but the greatest of all reflections on human nature?" –James Madison, Federalist 51
"They had one weapon left and both knew it: treachery." –Frank Herbert, Dune
"They had learned nothing, and forgotten nothing." –Charles Maurice de Talleyrand-Périgord
Impeachment
"House Dems make their impeachment case in pretrial brief" [ABC]. "'The only honorable path at that point was for President Trump to accept the results and concede his electoral defeat. Instead, he summoned a mob to Washington, exhorted them into a frenzy, and aimed them like a loaded cannon down Pennsylvania Avenue,' the managers wrote in their brief submitted ahead of next week's trial of the former president." •
Democrats en Deshabille
"5 wacky things Senate Democrats will do instead of ending the filibuster" [Jon Walker, The Week]. "It would take the Senate Democratic majority roughly five minutes to use the so-called "nuclear option," to end the Senate filibuster rule and pass any bill they want with a simple majority. The problem is a few Senate Democrats, like Sens. Joe Manchin (W.Va.) and Kyrsten Sinema (Ariz.), refuse to do that. So the next two years in politics are going to be largely focused on the bizarre and often convoluted ways Democrats can pass their agenda without Republican support and without officially ending the filibuster. Here are five, ranked by likelihood." • I don't understand this. Sinema is, as Wikipedia puts it, "openly bisexal." Why isn't her ascriptive identity giving us a direct readout for progressive politics? More: "Ultimately, the rules of the Senate are whatever the vice president plus 50 senators say they are. So Democrats can get around any filibuster for policies they truly care about, even if they insist on "keeping the legislative filibuster." They can do it by bending the rules of reconciliation, or by turning the filibuster into some grueling months-long endurance challenge which eventually ends, or by redefining the filibuster in some completely new way. All it takes is the will and a plan."
Obama Legacy
Yep:

This strangest thing about this moment is almost every Dem is acting as if Obama's first term was a horrible failure but no one wants to explicitly say that. https://t.co/CuyrgEN6XT

— Jon Walker (@JonWalkerDC) February 2, 2021

"Nothing would fundamentally change." –Joe Biden, to large donors.

"Biden administration eyes Rahm Emanuel for ambassadorship" [NBC]. "President Joe Biden is considering former Chicago Mayor Rahm Emanuel for a high-profile ambassadorship, potentially to China, three people with knowledge of the discussions said." Rahm Emmanuel, China hand. More: "Becoming the U.S. ambassador to Japan is another option that Biden administration officials have discussed with Emanuel, one of the people with knowledge of the discussions said." • "You don't have to do this, Joe, you really don't." Please don't. Please don't confirm me in all my priors
Realignment and Legitimacy
I'm filing the AOC stuff here, for reasons that will become obvious in a moment:

Here is the entire AOC Instagram on the Capitol Seizure:

It's an hour-and-a-half long, and I just don't have time to listen to it all. It would be great any readers had to time and the inclination to pick out the highlights and put them in comments (and if you do, please include time codes).

"AOC on Instagram Live: Recounting Jan. 6 attack details draws more than 160K viewers" [Staunton News-Leader]. "[S]he laid out the fact that people knew violence was coming on Jan. 6. Members of Congress, trying to help her, sent messages as early as the Thursday before Jan. 6 that they expected bad things to go down as the Congress moved to certify the Electoral College results of the November election." • The News-Leader is a Gannet paper in the Shenendoah Valley, but they didn't pull the story from the wires, they had a reporter write it up. The last politician I can remember who made the story like this was, well… Donald Trump.

"Alexandria Ocasio-Cortez Opens Up About Trauma in a Moving and Powerful Instagram Live" [Marie Claire]. "On Monday night, in a brave and candid video on Instagram Live, Alexandria Ocasio-Cortez revealed her deep trauma following the Jan. 6 siege of the Capitol, and the prior traumas that had made it even more triggering. Ocasio-Cortez shared that she is a survivor of sexual assault: 'I haven't told many people in my life," she said. She began crying during her retelling of the events of Jan. 6, but fought to continue to tell her story. 'All of your traumas can, kind of, intersect and interact,' she explained. Ocasio-Cortez compared Republicans' insistence on telling her and other survivors of the Jan. 6 attack to 'get over it' to the tactics used by abusers. She added: 'The [false note, there] who are saying we should move on, we shouldn't have accountability, etc., are saying: 'Can you just forget about this so that we can do it again?'…I'm not going to let it happen to me again … and I'm not going to let it happen to our country." • I have mixed reactions to this. On the one hand the "we should just move on" attitude has done the country a lot of damage. Obama's version of this was "we need to look forward as opposed to looking backwards," and as a direct result Gina Haspel, a torturer, headed the CIA. On the other, I would want expert testimony on whether traumas "intersect and interact," and how they do. On yet another, I'm deeply suspicious of the concept that trauma conveys authenticity, especially political authenticity. If trauma did convey authenticity, then PSTD-suffering soldiers would make the best cops. Finally, it's a category error, exactly on the order of confusing government with a household, to equate personal trauma with political violence. They may have similar roots (say, deaths of despair), and they may feel the same to the person experiencing them, but they are products of difference systems.

"AOC: Ocasio-Cortez recalls Capitol raid, calls for accountability" [Al Jazeera]. "US Democratic Representative Alexandria Ocasio-Cortez has described being terrified for her life during the storming of the US Capitol, doubling down on calls for Republican politicians to be held accountable. In an emotional broadcast on Monday night, New York House member Ocasio-Cortez said she was harassed by those she identified as fans of former President Donald Trump for days before the January 6 incident and was warned by other members of Congress to be "careful" on the day of the rally." • To me, it looks like AOC — a very, very talented politician — is picking up the power that's lying in the street. First, the "survivor" rhetoric, like it or not — I don't; see my comment above — speaks directly to the bourgeois feminists of the Clintonite wing of the Democrat Party. Who else is doing that? Second, the "accountability" rhetoric speaks directly to the broad (albeit PMC) base that really wants to stick it to the Republicans, bipartisanship be damned. Who else is doing that? (The pink pussy hat brigade will, of course, do whatever the leadership tells them to, but that's their initial, default, setting). Third, in a party with a weak bench thirsting for non-geriatric leadership, AOC is stepping forward. Who else is doing that? Finally, speaking directly to her fan base (i.e., one assumes, voters, ultimately) on Instagram — as, apparently, she while cooking (!) — bypasses the press entirely. Who else is doing that? Again, one thinks of Trump. I wonder if she does A/B testing? (There are all sorts of reasons to dislike AOC on policy — I notices a long time ago she was saying "working class" a lot less — but there's no denying her talents as a politician.)

"Whiteness":

Overwhelming support for Biden in the non-white neighborhoods of Chicago (on the right) but the *change* is that Biden gained ground in white areas and lost in non-white ones.

This is why I'm frustrated with attributing everything to "whiteness" — trends matter. pic.twitter.com/i6URvZNsD7

— Matthew Yglesias (@mattyglesias) February 2, 2021
Stats Watch
At reader request, I added some business stats back in. Please give Econintersect click-throughs; they're a good, old-school blog that covers more than stats.
Housing: "December 2020 CoreLogic Home Prices: Annual US Home Price Appreciation in 2020 Outpaced 2019 Levels by 50%" [Econintersect]. "CoreLogic's Home Price Index (HPI) home prices for December 2020 exceeded expectations in 2020, closing out the year with the highest annual home price gain since February 2014 in December at 9.2%…. Price growth exceeded my forecast for the year – home prices are continuing very strong."
* * *
* * *
Today's Fear & Greed Index: 58 Greed (previous close: 39 Fear) [CNN]. One week ago: 55 (Neutral). (0 is Extreme Fear; 100 is Extreme Greed). Last updated Feb 2 at 12:42pm.
Rapture Index: Closes unchanged [Rapture Ready]. Record High, October 10, 2016: 189. Current: 186. (Remember that bringing on the rapture is a good thing, so high is better.
The Biosphere
I've Got My Love to Keep Me Warm:
John Burck, aka The Naked Cowboy, entertained sanitation truck and city bus drivers on Times Square as the snow fell heavily around him pic.twitter.com/b614nG8LTQ

— Reuters (@Reuters) February 2, 2021
"Moonstruck sleep: Synchronization of human sleep with the moon cycle under field conditions" [Science]. "Our results show that sleep starts later and is shorter on the nights before the full moon when moonlight is available during the hours following dusk. Our data suggest that moonlight likely stimulated nocturnal activity and inhibited sleep in preindustrial communities and that access to artificial light may emulate the ancestral effect of early-night moonlight."
Health Care
"Single Dose Administration, And The Influence Of The Timing Of The Booster Dose On Immunogenicity and Efficacy Of ChAdOx1 nCoV-19 (AZD1222) Vaccine" (preprint) [The Lancet]. "ChAdOx1 nCoV-19 vaccination programmes aimed at vaccinating a large proportion of the population with a single dose, with a second dose given after a 3 month period is an effective strategy for reducing disease, and may be the optimal for rollout of a pandemic vaccine when supplies are limited in the short term." The Methods and Findings sections are above my paygrade. Have a ball, vaccinologists!
"Diet modifications — including more wine and cheese — may help reduce cognitive decline, study suggests" [Science Daily]. n = 1,787 aging adults (from 46 to 77 years of age, at the completion of the study).
Here are four of the most significant findings from the study:

Cheese, by far, was shown to be the most protective food against age-related cognitive problems, even late into life;
The daily consumption of alchohol, particularly red wine, was related to improvements in cognitive function;
Weekly consumption of lamb, but not other red meats, was shown to improve long-term cognitive prowess; and
Excessive consumption of salt is bad, but only individuals already at risk for Alzheimer's Disease may need to watch their intake to avoid cognitive problems over time.

"I was pleasantly surprised that our results suggest that responsibly eating cheese and drinking red wine daily are not just good for helping us cope with our current COVID-19 pandemic, but perhaps also dealing with an increasingly complex world that never seems to slow down," Willette said. "While we took into account whether this was just due to what well-off people eat and drink, randomized clinical trials are needed to determine if making easy changes in our diet could help our brains in significant ways."
Inclination matching neatly with necessity, here!
Guillotine Watch
Amazon is a corporation. It's not "excited" about anything:
Amazon is excited to share the proposed design for the next phase of our Arlington headquarters. The Helix will be a spiraling vertical forest, connecting employees and the community with nature. 🌺🌳 Learn more: https://t.co/Bf7mHNkeom pic.twitter.com/kIKHXmCMkJ

— Amazon News (@amazonnews) February 2, 2021
Structurally, of course, the Amazon HQ "helix" is a giant screw. Which makes sense, because their logo is a d*ck with an outsized glans. Once you see it….
Class Warfare
"FTC says Amazon took away $62 million in tips from drivers" [ABC]. "The Federal Trade Commission said Tuesday that for more than two years, Amazon didn't pass on tips to drivers, even though it promised shoppers and drivers it would do so. The FTC said Amazon didn't stop taking the money until 2019, when the company found out about the FTC's investigation…. The drivers were part of Amazon's Flex business, which started in 2015 and allows people to pick up and deliver Amazon packages with their own cars. The drivers are independent workers, and are not Amazon employees. The FTC said Amazon at first promised workers that they would be paid $18 to $25 per hour, and also said they would receive 100% of tips left to them by customers . But in 2016, the FTC said Amazon started paying drivers a lower hourly rate and used the tips to make up the difference. Amazon didn't disclose the change to drivers, the FTC said, and the tips it took from drivers amounted to $61.7 billion." • And a "team" at Amazon reprogrammed the app to steal tips. Managers, programmers, testers, documentation specialists, accountants, database wizards, etc. Nobody said a word. All corrupt to the bone. "Learn to code!"
"A hungry America needs new food for thought" [The Hill]. "President Biden's decision to issue an executive order last week asking the U.S. Department of Agriculture to increase food stamp benefits and provide more nutrition to children is a painful reminder of how America has enjoined the global hunger movement as both participant and leader. Census data show that 30 million American households reported periods of not having enough to eat last month, a sharp jump from before the coronavirus pandemic. Our nation was in the midst of a hunger crisis long before the pandemic. But COVID-19 has caused far more families to go hungry, with one in seven households and more than one in five Black and Latino households unable to get enough food to eat."
No:
Dolly Parton has re-recorded her hit song 9 to 5, in a Super Bowl ad for Squarespace, as "5 to 9," as an ode to having a side hustle https://t.co/tmfbUbJqaA

— Joe Weisenthal (@TheStalwart) February 2, 2021
I imagine the Trillbillies will have something to say about this….
News of the Wired
"Tony Bennett's Battle With Alzheimer's" [AARP]. "But Tony was a considerably more muted presence during the recording of the new album with [Lady] Gaga. In raw documentary footage of the sessions, he speaks rarely, and when he does his words are halting; at times, he seems lost and bewildered. Gaga, clearly aware of his condition, keeps her utterances short and simple (as is recommended by experts in the disease when talking to Alzheimer's patients). 'You sound so good, Tony,' she tells him at one point. 'Thanks,' is his one-word response. She says that she thinks 'all the time' about their 2015 tour. Tony looks at her wordlessly. 'Wasn't that fun every night?' she prompts him. 'Yeah,' he says, uncertainly. The pain and sadness in Gaga's face is clear at such moments — but never more so than in an extraordinarily moving sequence in which Tony (a man she calls 'an incredible mentor, and friend, and father figure') sings a solo passage of a love song. Gaga looks on, from behind her mic, her smile breaking into a quiver, her eyes brimming, before she puts her hands over her face and sobs."
From Portland, ME:
In case you're wondering how it's going in Maine: I just had a guy offer to pay for something in ammo, which is about a dollar a round these days regardless of caliber because it is nearly impossible to find on store shelves.

— Alex Steed (@alexsteed) February 2, 2021
Portland is practically a Boston suburb (although with better beer).
* * *
Readers, feel free to contact me at lambert [UNDERSCORE] strether [DOT] corrente [AT] yahoo [DOT] com, with (a) links, and even better (b) sources I should curate regularly, (c) how to send me a check if you are allergic to PayPal, and (d) to find out how to send me images of plants. Vegetables are fine! Fungi and coral are deemed to be honorary plants! If you want your handle to appear as a credit, please place it at the start of your mail in parentheses: (thus). Otherwise, I will anonymize by using your initials. See the previous Water Cooler (with plant) here. Today's plant (RH):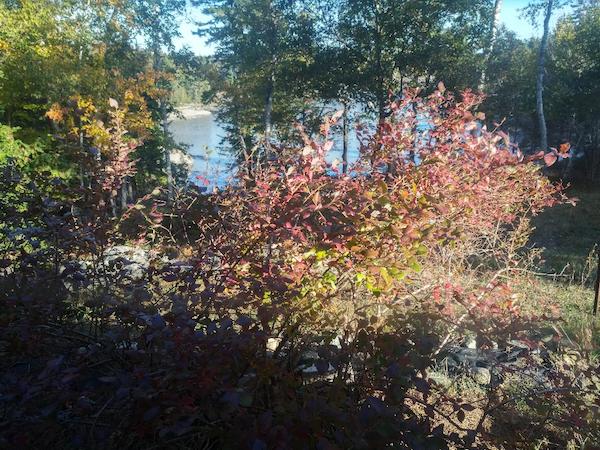 RH writes: "Overlooking a pond." See NC on ponds here.
* * *
Readers: Water Cooler is a standalone entity not covered by the recently concluded and — thank you! — successful annual NC fundraiser. So if you see a link you especially like, or an item you wouldn't see anywhere else, please do not hesitate to express your appreciation in tangible form. Remember, a tip jar is for tipping! Regular positive feedback both makes me feel good and lets me know I'm on the right track with coverage. When I get no donations for five or ten days I get worried. More tangibly, a constant trickle of donations helps me with expenses, and I factor in that trickle when setting fundraising goals:
Here is the screen that will appear, which I have helpfully annotated.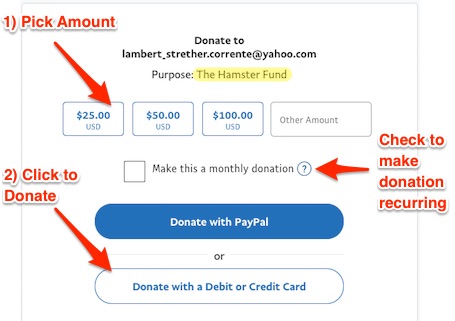 If you hate PayPal, you can email me at lambert [UNDERSCORE] strether [DOT] corrente [AT] yahoo [DOT] com, and I will give you directions on how to send a check. Thank you!