By Lambert Strether of Corrente
Bird Song of the Day
This is Lyre Bird week at Naked Capitalism. Prepare yourselves for eighteen minutes of sonic splendor. (One of the calls sounds like a pinball machine!)
* * *
Politics
"But what is government itself, but the greatest of all reflections on human nature?" –James Madison, Federalist 51
"They had learned nothing, and forgotten nothing." –Charles Maurice de Talleyrand-Périgord
"When the going gets weird, the weird turn pro." –Hunter Thompson
Biden Adminstration
"Biden hosts military chiefs as Ukraine crisis intensifies" [Retuers]. "President Joe Biden will convene top U.S. military leaders on Wednesday in an annual White House gathering that takes on special significance as the war in Ukraine enters a risky new phase and the United States plans more military aid…. The meeting comes amid questions about the future of NATO forces in Europe, including whether to install a permanent presence on the defense alliance's eastern border with Russia." • Commentary:

A half-senile gerontocrat is all that's between us and a humanitarian nuclear holocaust. https://t.co/G2r6dREGxo

— Mark Ames (@MarkAmesExiled) April 18, 2022

"Everybody's mad at Biden" [Yahoo News]. "That's how Biden now finds himself pursuing two incompatible goals: Promoting a transition to green energy while temporarily seeking more fossil fuels to help bring down prices today. What nobody seems to have foreseen is the changing business model in the oil and gas industry, where several years of terrible financial returns, combined with worldwide pressure to abandon fossil fuels, changed the whole equation of drilling. Lenders and investors now want higher returns in shorter periods of time, which means less money spent on new capacity and more returned via dividends and stock buybacks. From the perspective of green energy, this should be terrific news. When fossil fuels are more expensive, wind, solar and other renewables become more attractive as an alternative and investors have a stronger incentive to back development projects. When one group of producers in any industry declines to expand capacity, it's a chance for competitors to grab market share. What Biden and other green-energy advocates can't say is that high fossil-fuel costs could be the best way to speed the green-energy transition. Urban progressives who use public transportation might not care, but drivers in the suburbs and vast rural areas don't want to hear it. Nobody ever told them they were going to bear an outsize share of the cost of transitioning to green energy. Nobody said there would even be a cost, period. Biden is now stuck trying to explain, and his poor approval ratings reveal it's not going well."

Making the airlines happy donors:

DOT's enforcement against airlines has collapsed. Elaine Chao in her final year – 2020 – issued just 6 aviation enforcement orders, a record low. How many did Buttigieg issue in 2021?

4

This year? So far he's issued…

2

This is bad. https://t.co/EGnOIRN8OW pic.twitter.com/7gFG1CjNA2

— Matt Stoller (@matthewstoller) April 19, 2022

Watching with the sound down (wait for the close-up):

Vandenberg had the honor of receiving a visit from Vice President of the United States Kamala Harris and General John Raymond, Chief of Space Operations, USSF.

During her speech, Harris discussed the future of space power and its importance in our day-to-day lives. pic.twitter.com/dkwAyjM9M8

— Vandenberg Space Force Base (@SLDelta30) April 19, 2022

This is childish and unfair of me, but Harris's facial expresssions…. Something about them doesn't add up. Or this:

Kamala Harris shares Wordle strategy https://t.co/MQbxYPoDGB pic.twitter.com/JBZl9GyZnl

— The Hill (@thehill) April 19, 2022
Democrats en Déshabillé
I have moved my standing remarks on the Democrat Party ("the Democrat Party is a rotting corpse that can't bury itself") to a separate, back-dated post, to which I will periodically add material, summarizing the addition here in a "live" Water Cooler. (Hopefully, some Bourdieu.) It turns out that defining the Democrat Party is, in fact, a hard problem. I do think the paragraph that follows is on point all the way back to 2016, if not before:

The Democrat Party is the political expression of the class power of PMC, their base (lucidly explained by Thomas Frank in Listen, Liberal!). ; if the Democrat Party did not exist, the PMC would have to invent it. . ("PMC" modulo "class expatriates," of course.) Second, all the working parts of the Party reinforce each other. Leave aside characterizing the relationships between elements of the Party (ka-ching, but not entirely) those elements comprise a network — a Flex Net? An iron octagon? — of funders, vendors, apparatchiks, electeds, NGOs, and miscellaneous mercenaries, with assets in the press and the intelligence community.

Note, of course, that the class power of the PMC both expresses and is limited by other classes; oligarchs and American gentry (see 'industrial model' of Ferguson, Jorgensen, and Jie) and the working class spring to mind. Suck up, kick down.

* * *

Biden and his vanishing youth vote, a good rant:

and you cannot escape this bind by saying well the real problem is machin and sinema. yes, they are terrible, but the inability of the party to overcome their intransigence in fact constitutes a point against the party's abilities as such

— Бди! (@grapesmoker) April 18, 2022

And:

but the thing is, the existence of those bullet-pointed lists is itself a symptom of the problem. through a process of historical encrustation we've accumulated a system in which nothing can happen and no one can be held responsible

— Бди! (@grapesmoker) April 18, 2022

"Democratic Party weighs banning its consultants from anti-union activity" [Politico]. "The Democratic Party is considering banning its army of consultants from engaging in anti-union activity following a report that one of its pollsters had helped Amazon combat organizing efforts, according to a document obtained by POLITICO. A union-drafted addendum to any contract between a Democratic Party political committee and a consultant would forbid the consultant — or any of its parents, subsidiaries or affiliates — from participating in an array of activities involving unions. That includes union-busting, aiding an employer in a labor dispute or lobbying against union-backed legislation. A spokesperson for the Democratic National Committee said it is in the process of reviewing the proposal. But union officials indicated it was a sure thing. 'We appreciate the Democratic Party committees' decision to amend their contract and RFP processes in light of reporting that GSG had been working for Amazon as they sought to defeat the recent organizing drive,' AFL-CIO President Liz Shuler said in a statement." • We'll need to see the fine print. The Democratic strategists won't want to give up a fat, succulent host an important revenue source.
2022
* * *

MN:

I think my family and I should have a prayer session next time I am on a plane. How do you think it will end? pic.twitter.com/5696Erwsl5

— Ilhan Omar (@IlhanMN) April 17, 2022

OR: "Big Pharma Ally Rep. Kurt Schrader Distorts His Record On Drug Prices" [HuffPo]. "In a 30-second TV advertisement filled with footage of adorable dogs, Rep. Kurt Schrader (D-Ore.), a veterinarian and farmer, touts his work to lower prescription drug prices. Referring to the dogs, Schrader says, 'I'm making a real difference for their owners too — taking on drug companies to lower insulin costs, making sure Medicare can negotiate lower drug prices, expanding Pell grants and career and technical education. And I'm leading the fight to get big money out of politics.' But Schrader is not being completely honest about his record on prescription drug price policy. He played a key role in watering down Democrats' efforts to rein in prescription drug prices. And while Schrader portrays himself as a critic of 'big money in politics,' Big Pharma has stepped in with major financial support for Schrader's bid as he seeks to fend off progressive primary challenger Jamie McLeod-Skinner in Oregon's 5th Congressional District. Schrader's sleight of hand reflects the enduring influence of the biopharmaceutical industry in the Democratic Party, and the difficulty in exposing the sometimes complex ways that politicians advance the industry's interests."

PA: "2022 Pennsylvania Senate Overview" [Cook Political Report]. "The open Pennsylvania Senate seat is Democrats' best offensive opportunity on the midterm map. But given the headwinds they're likely to face this November, that doesn't mean it's going to be an easy flip. Over the weekend, former President Trump threw a major wrench into the race when he endorsed celebrity Dr. Mehmet Oz over former Bridgewater CEO David McCormick — a decision that earned the incredulity of even many MAGA loyalists with roughly a month until voters head to the polls. This is also the rare contest this cycle where both parties' primaries on May 17 are competitive and will tell us a lot about the direction of each. However, on the Democratic side, recent polling has shown Lt. Gov. John Fetterman pulling away from U.S. Rep. Conor Lamb and state Rep. Malcolm Kenyatta. That has Republicans grinning and some in-state Democrats grimacing. To Pennsylvania Democrats, some of those worries about Fetterman's statewide electability in a challenging political year eased up after Trump chose to back Oz. The Republican primary field, however, remains more muddled, and the wealthy McCormick isn't going to back off. It's also no sure thing that Trump's blessing can guarantee a primary victory. In a more neutral year, Pennsylvania is the type of place where Democrats should be able to make inroads. Four years after Trump carried the state by 0.7 points, Joe Biden won it by 1.2 points in 2020. But the state became ground zero for Trump's unfounded claims that the election had been stolen from him. That posturing may play well in a Republican primary, but it's risky in a general election. Nonetheless, polling clearly shows it's the economy, inflation, crime and other issues that are atop voters' minds. And President Biden — a proud Scranton native — has seen his approval rate crater in his home state. That gives Republicans more optimism that they can hold onto this vacant seat than they had back when incumbent Sen. Pat Toomey announced he wouldn't run again. "

PA: It's 4/20!

It's almost Legal Weed o'clock and we're running out of time so I gotta ask –

Can you help yours truly reach 420K followers by 4/20? 😁

We're only like 1.3K away and there's a Legal Weed for PA shirt with your name on it ✅ https://t.co/FFBGKfVIii pic.twitter.com/2OFgf0FtzJ

— John Fetterman (@JohnFetterman) April 19, 2022

PA: "John Fetterman Is Just a Dude" [Bulwark]. "Back to that picture up top. Standing with his arms crossed like a bored bouncer. The scowl. It points to what Fetterman isn't: He isn't a needy, blow-dried, grip-and-grinner. He isn't on the make. He isn't the kind of phony who turns on his TV smile in public or is playing a role as part of his quest for power. He's just a dude who happens to be running for office." • I'm not a Fetterman maven. I recall that the Pennsylvania regular Democrats hate him (maybe not so much this year), a point in his favor. And authenticity is a slippery concept (and may not even be important). But I'm quite taken with his Jesse Ventura-like affect. I think he would be inclined to take Hunter Thompson's advice: "Don't take any guff from these swine."
Republican Funhouse
Because freedom isn't free:

NEW: GOP Rep Mo Brooks says prime committee chairmanships cost a minimum of $1 million and are paid by special interest groups as "a quid pro quo" for favored legislation#ALsen pic.twitter.com/SswSObhpf7

— Lauren Windsor (@lawindsor) April 15, 2022

(To be fair, fundraising is an explicit requirement for committee chairs in both parties. Still, kudos to Brooks for saying the quiet part out loud.)
#COVID19
More on the CDC's new Center for Forecasting and Outbreak Analysis (CFA) (see Yves here). I went to their home page at CDC. First, you shouldn't expect whatever it these people are going to do to improve your personal ability to assess risk, since you'll probably never see the results: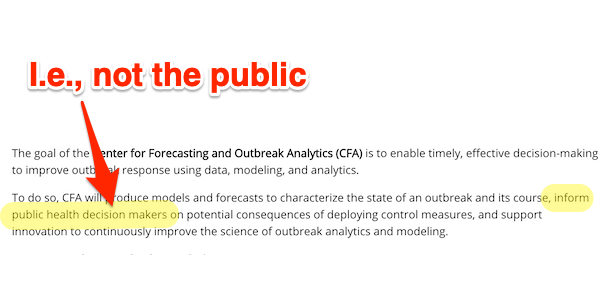 Second, as advised, I went to the CFA's "Who We Are" page. It turns out their operations director is a spook: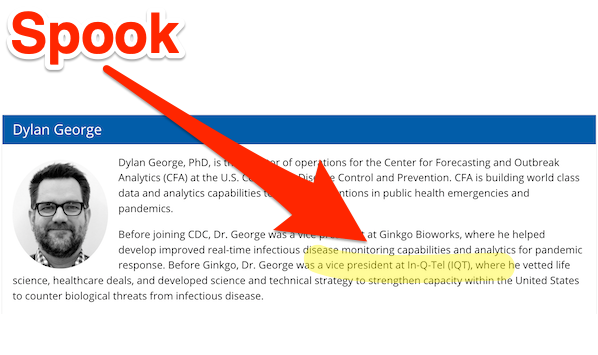 (In-Q-Tel is the CIA's VC arm.) So I would imagine we'd see CFA heavily involved in "perceptions management," which, to be fair, the CDC could certainly use some help with.
"CDC remains silent on unexplained 25 percent cut in child COVID-19 deaths" [WSWS]. "On March 16, 72,277 deaths, including 416 pediatric deaths, disappeared from the age demographics section of the COVID Data Tracker website run by the US Centers for Disease Control and Prevention (CDC). This resulted in the CDC's official COVID-19 pediatric death count dropping by nearly 25 percent. No substantive explanation has been given by the agency for this drastic reduction of age-demographic data…. The major broadcast news and print publications, including the New York Times and the Washington Post, have not reported this development, nor have they reported on the rise in pediatric COVID-19 deaths during the Delta and Omicron waves. The handful of outlets that did report the changes to Data Tracker had also previously ignored the rising child death toll…. The agency's lack of transparency falls in line with systematic efforts by the political establishment in the US and internationally to blind the population to the spread of COVID-19, while funding for essential surveillance and treatment programs runs dry, and the BA.2 subvariant of Omicron has initiated another surge of the pandemic across Europe and other parts of the world."
* * *
If you missed it, here's a post on my queasiiness with CDC numbers, especially case count, which I (still) consider most important, despite what Walensky's psychos at CDC who invented "community levels" think. But these are the numbers we have.
* * *
Case count by United States regions: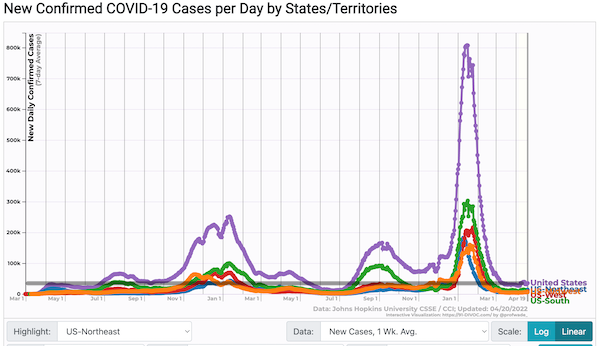 Fiddling and diddling. Remember, it's 100% certain the cases numbers are significantly understated. They've always been gamed, but it's worse than before. One source said they though cases might be undercounted by a factor of six. Gottlieb thinks we only pick up one in seven or eight. Yikes. But how do we know? Here are the cases for the last four weeks: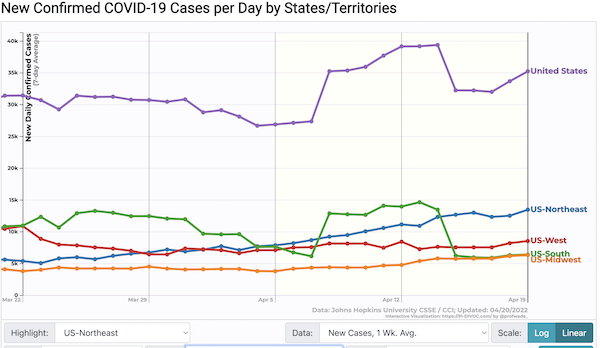 NOTE I shall most certainly not be using the CDC's new "Community Level" metric. Because CDC has combined a leading indicator (cases) with a lagging one (hospitalization) their new metric is a poor warning sign of a surge, and a poor way to assess personal risk. In addition, Covid is a disease you don't want to get. Even if you are not hospitalized, you can suffer from Long Covid, vascular issues, and neurological issues. For these reasons, case counts — known to be underestimated, due to home test kits — deserve to stand alone as a number to be tracked, no matter how much the political operatives in CDC leadership would like to obfuscate it.
From the Walgreen's positivity tracker: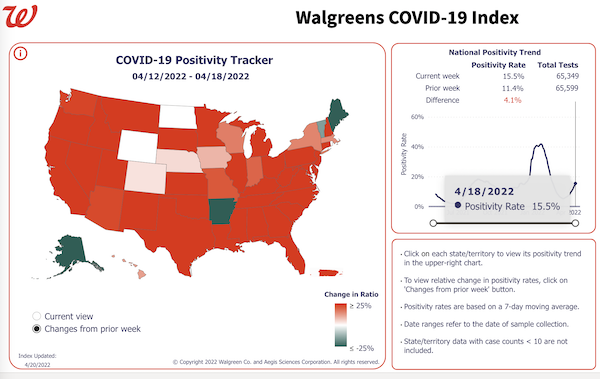 I'm leaving the corporate logo on as a slap to the goons at CDC.
STILL NOT UPDATED MWRA (Boston-area) wastewater detection: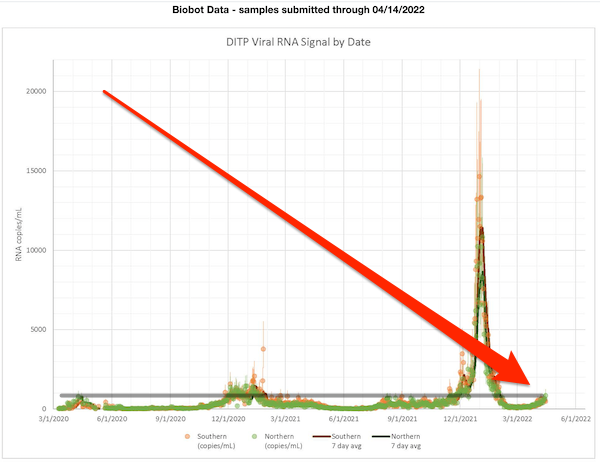 As usual, the crisis of the past is the normal of the present.
The Massachusetts Water Resources Authority (MWRA) service area includes 43 municipalities in and around Boston, including not only multiple school systems but several large universities. Since Boston is so very education-heavy, then, I think it could be a good leading indicator for Covid spread in schools generally.
From Biobot Analytics: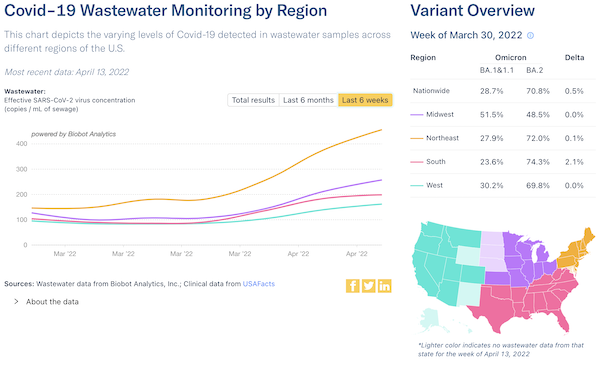 Cases lag wastewater data.
From CDC Community Profile Reports (PDFs), "Rapid Riser" counties: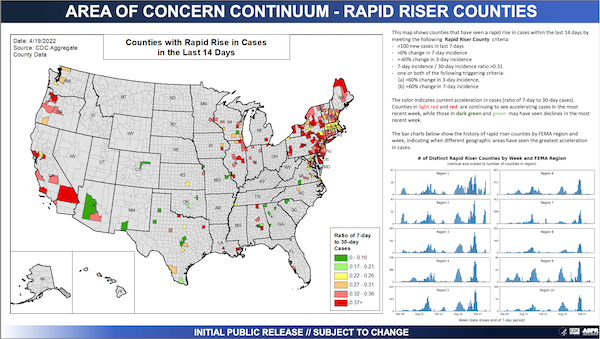 The Northeast seems improved today, especially Massachusetts, though I'm super-unhappy that the only reliable source of case-adjacent data we have, MWRA's wastewater, has done dark for six days. (Remember that these are rapid riser counties. A county that moves from red to green is not covid-free; the case count just isnt, well, rising rapidly.)
The previous release: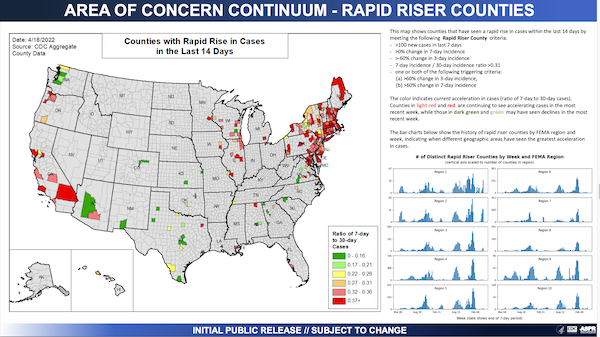 Here is CDC's interactive map by county set to community transmission. This is the map CDC wants only hospitals to look at, not you:
The Northeast remains stubbornly and solidly red.
Hospitalization (CDC Community Profile):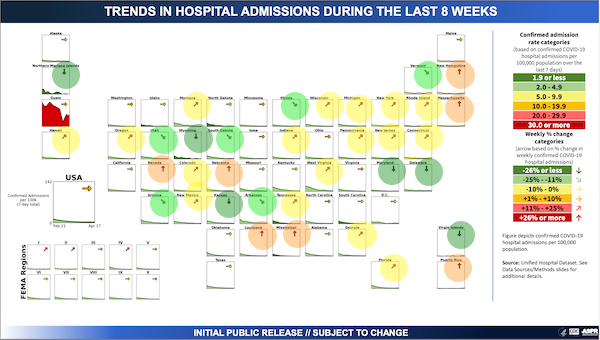 if anybody tells you hospitalization is down, tell them "No, it very isn't," as today's chart shows even more emphatically than yesterday's. (Note trend, whether up or down, is marked by the arrow, at top. Admissions are presented in the graph, at the bottom. So it's possible to have an upward trend, but from a very low baseline.) Oh, and
Death rate (Our World in Data):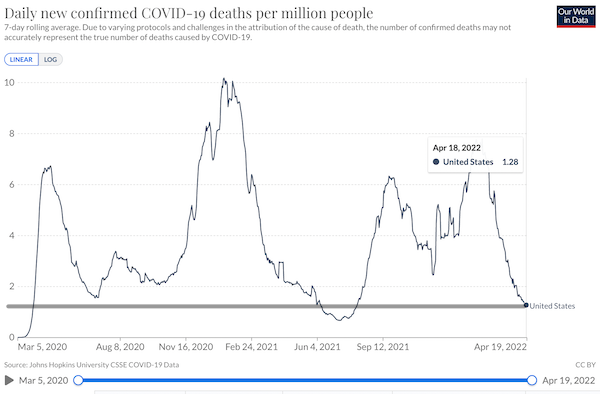 Total: 1,016,159 1,015,790. We did it. Break out the Victory Gin. have added an anti-triumphalist Fauci Line. Numbers still going down, still democidally high.
Covid cases in top us travel destinations (Statista):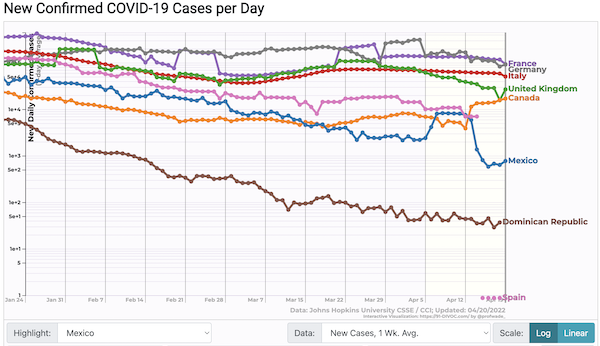 Not sure what's happening with Spain.
Stats Watch
Housing: "United States Existing Home Sales" [Trading Economics]. "Existing home sales in the US fell 2.7% mom to a seasonally adjusted annualized rate of 5.77 million in March of 2022, the lowest since June of 2020 and compared to forecasts of 5.8 million. It is the second consecutive month of falls in home sales as the housing market starts to feel the impact of rising mortgage rates and inflation on the purchasing power although median existing house price hit an all-time high of $375,300. Sales fell in the Northeast, South and Midwest but were unchanged in the South. The inventory of unsold existing homes increased to 950,000. That would support 2.0 months at the monthly sales pace."
* * *
The Bezzle: "Shameful: Insteon looks dead—just like its users' smart homes" [Ars Technica]. "The smart home company Insteon has vanished. The entire company seems to have abruptly shut down just before the weekend, breaking users' cloud-dependent smart-home setups without warning. Users say the service has been down for three days now despite the company status page saying, "All Services Online." The company forums are down, and no one is replying to users on social media. As Internet of Things reporter Stacey Higginbotham points out, high-ranking Insteon executives, including CEO Rob Lilleness, have scrubbed the company from their LinkedIn accounts. In the time it took to write this article, Lilleness also removed his name and picture from his LinkedIn profile. It seems like that is the most communication longtime Insteon customers are going to get." • Never eat at a place called Mom's; never buy a product called "smart."
* * *
Today's Fear & Greed Index: 40 Fear (previous close: 44 Fear) [CNN]. One week ago: 46 (Neutral). (0 is Extreme Fear; 100 is Extreme Greed). Last updated Apr 20 at 1:35pm.
Zeitgeist Watch
"architensions takes to coachella to create a 'playground' installation in the desert" [DesignBoom]. "At this weekend's opening of Coachella Valley Music & Arts Festival, eleven installations transformed the vast desert site into a playful new landscape. With the colossal pieces ranging from of sculpture to architecture, one work creates a colorful space of leisure and play — 'The Playground' was designed by the team at Architensions to merge the urban piazza with the vibrancy of Southern California….. At Coachella (see more here), Architensions builds each of The Playground's four towers as a stack of geometric shapes. These block modules are playful and unique in their form and color, and are finished in a dichroic film in either cyan, magenta, or yellow. The bold hues bathe the surrounding area in color as the sun shines through them. Meanwhile, other modules are finished in a mirrored surface to festival-goers to interact with them. At night, these mirrored blocks glow with the light of the surrounding performances and activities of the event." Here's a photo of one of the towers: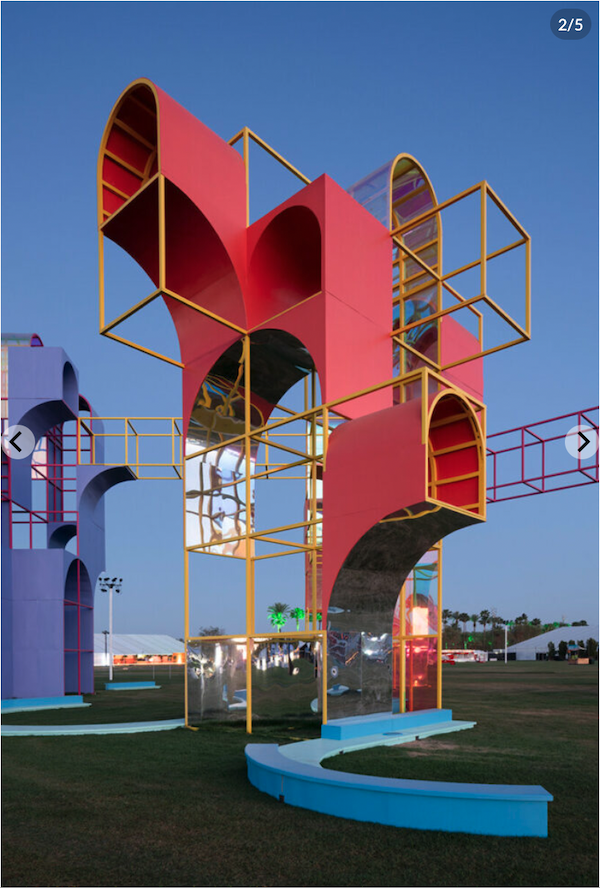 I think those blue circular structures are benches. If so, the design team arranged for people to be able to sit but not in the shade. This, in a desert. Playful indeed!
"Should you charge friends to eat at your place? We investigate" [Los Angeles Times]. "It's a question that comes up again and again despite being almost always summarily dismissed as not a good idea: Is it OK to charge your friends for dinner at your home? One of the latest examples involved Amber Nelson, an L.A.-based podcaster, who turned to Twitter to ask, 'Got invited to someone's place for dinner and they charged me for it….this is weird, right?' Yes it is, and nearly 400,000 people on Twitter seemed to agree. As Nelson explained, she'd had a couple servings of penne alla vodka for which the bill was $20; predictably, the horrified responses ensued. (Even actor Kristen Schaal got in on it.) So did the choruses of 'it happened to me'; 'It peeves me when someone Venmos me $9 for a drink after I just bought a round,' wrote one person. 'Boss offered tacos. Later charged each of us $17. They weren't even good tacos,' added another. There were parties where guests had to cough up $5 to use the bathroom, or $400 just to attend. There was pizza at the "multimillion-dollar new home in the suburbs" for which the guest received a payment request. There was the baby shower planned by friends who later emailed the guest of honor a bill for the event; the BBQ given by wealthy pals who asked for money when the guest departed. In one disturbing incident, a friend was invited to another's house and offered only water because she hadn't brought her own alcohol; meanwhile, the friend who lived there made herself a Manhattan." • Neoliberalism in decay. One hopes.
Class Warfare
"Silicon Valley's COVID windfall raises alarms about region's economy" [Mercury News]. "An unprecedented flow of riches is concentrating wealth among Silicon Valley companies that capitalized on the world's locked-down lives amid the pandemic, raising fears that a dramatically lopsided recovery will warp the economic future for the Bay Area….. The massive influx of wealth into a handful of tech companies poses wider risks, said Institute for Policy Studies researcher [Omar] Ocampo. Median household wealth in the U.S. has fallen since 2019, Ocampo said. 'Compare that to how the tech industry has done,' he said. 'The pie is growing but the vast majority of people are getting a smaller and smaller slice.'"
News of the Wired
Faster than today:
1949: radio hats
1950: home built computers

That's how fast technology moves! pic.twitter.com/k11UG0Ne5e

— Pulp Librarian (@PulpLibrarian) April 20, 2022
* * *
Contact information for plants: Readers, feel free to contact me at lambert [UNDERSCORE] strether [DOT] corrente [AT] yahoo [DOT] com, to (a) find out how to send me a check if you are allergic to PayPal and (b) to find out how to send me images of plants. Vegetables are fine! Fungi and coral are deemed to be honorary plants! If you want your handle to appear as a credit, please place it at the start of your mail in parentheses: (thus). Otherwise, I will anonymize by using your initials. See the previous Water Cooler (with plant) here. From TH: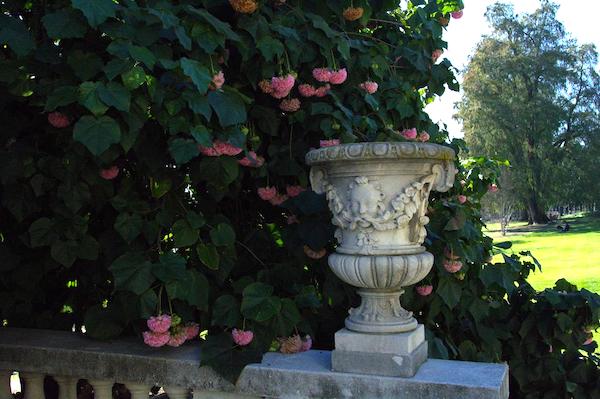 TH writes: "This may be too grainy to print but it's kind of my favorite of this Pink Ball tree because it shows it's size better than others I've taken of it and I like where the tree is. I want a bench, a good book, and maybe a cup of coffee."
* * *
Readers: Water Cooler is a standalone entity not covered by the recently concluded and — thank you! — successful annual NC fundraiser. So if you see a link you especially like, or an item you wouldn't see anywhere else, please do not hesitate to express your appreciation in tangible form. Remember, a tip jar is for tipping! Regular positive feedback both makes me feel good and lets me know I'm on the right track with coverage. When I get no donations for five or ten days I get worried. More tangibly, a constant trickle of donations helps me with expenses, and I factor in that trickle when setting fundraising goals:
Here is the screen that will appear, which I have helpfully annotated: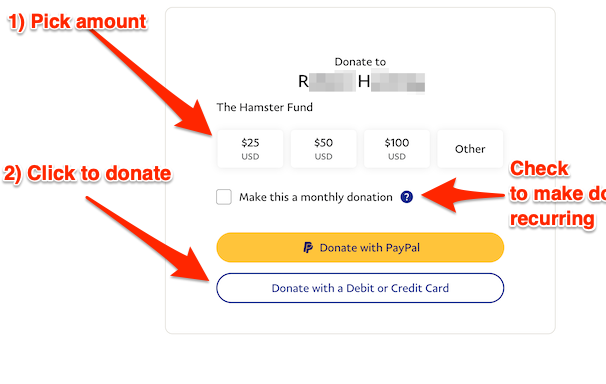 If you hate PayPal, you can email me at lambert [UNDERSCORE] strether [DOT] corrente [AT] yahoo [DOT] com, and I will give you directions on how to send a check. Thank you!