By Lambert Strether of Corrente.
Bird Song of the Day
House Sparrow, Stewart Park, Tompkins, New York, United States. "Calls from a group going to roost in a cedar next to the boathouse." Chatty!
* * *
Politics
"So many of the social reactions that strike us as psychological are in fact a rational management of symbolic capital." –Pierre Bourdieu, Classification Struggles
2024
"Biden dives back in, announces reelection bid" [Politico]. "President Joe Biden on Tuesday formally launched his campaign for a second term in 2024, asking voters to keep him in office and 'finish the job' of a historic American recovery that started after he vanquished Donald Trump in 2020. Biden's long-awaited announcement allows him to begin fundraising 18 months out from the November general election. In a video, the president echoed several familiar themes he outlined when he first took charge of the country during the spiraling Covid-19 pandemic and resulting economic turmoil, taking office days after insurrectionists seized the U.S. Capitol. 'When I ran for president four years ago, I said we are in a battle for the soul of America. And we still are,' he said in the video, titled and filled with images from his visits across the country touting his legislative accomplishments. 'The question we are facing is whether in the years ahead we have more freedom or less freedom. More rights or fewer. I know what I want the answer to be and I think you do, too,' he said. 'This is not a time to be complacent. That's why I'm running for re-election.'" • Based on his record, Biden believes people are most free when they're dead.

"How Democrats Learned to Cast Aside Reservations and Embrace Biden 2024" [New York Times]. "Mr. Biden has all but cleared the field despite concerns about his age — at 80, he is already the oldest American president in history — and the persistent misgivings about the president held by a large number of the party's voters. Democrats yearn for a fresh face in 2024, according to repeated polls, they just don't know who that would be. After Democrats won more races than expected in the 2022 midterm elections, any energy to challenge Mr. Biden quickly dissipated. The left has stayed in line even as Mr. Biden has lately made more explicit appeals toward the center. And would-be rivals have stayed on the sidelines. The early entry of Donald J. Trump into the race immediately clarified that the stakes in 2024 would be just as high for Democrats as they were in 2020. The former president has proved to be the greatest unifying force in Democratic politics in the last decade, and the same factors that caused the party to rally behind Mr. Biden then are still present today. Add to that the advantages of holding the White House and any challenge seemed more destined to bruise Mr. Biden than to best him."

"More obstacles for DeSantis' still-unannounced 2024 campaign" [Politico]. "No. 1 — First off came the news out of New York that Republican Lee Zeldin — who unsuccessfully ran for governor in the Empire State — was endorsing former President Donald Trump. This was a bit stunning given that DeSantis campaigned for Zeldin, and Zeldin introduced the governor at a law enforcement event held on Staten Island in February where he effusively praised DeSantis. No. 2 — The New York Times is out this morning with a story suggesting that hedge fund billionaire Ken Griffin — who was one of DeSantis' big donors during his reelection — may not be as locked in on backing the governor as he sounded just a few months ago. The story also says Griffin and DeSantis met in Florida in the last two weeks. No. 3 — The Trump campaign keeps unloading on DeSantis. They dropped a minute-long ad on social media Monday evening that contends DeSantis was destined for political irrelevancy until Trump endorsed him in 2018."
Democrats en Déshabillé
Patient readers, it seems that people are actually reading the back-dated post! But I have not updated it, and there are many updates. So I will have to do that. –lambert

I have moved my standing remarks on the Democrat Party ("the Democrat Party is a rotting corpse that can't bury itself") to a separate, back-dated post, to which I will periodically add material, summarizing the addition here in a "live" Water Cooler. (Hopefully, some Bourdieu.) It turns out that defining the Democrat Party is, in fact, a hard problem. I do think the paragraph that follows is on point all the way back to 2016, if not before:

The Democrat Party is the political expression of the class power of PMC, their base (lucidly explained by Thomas Frank in Listen, Liberal!). ; if the Democrat Party did not exist, the PMC would have to invent it. . ("PMC" modulo "class expatriates," of course.) Second, all the working parts of the Party reinforce each other. Leave aside characterizing the relationships between elements of the Party (ka-ching, but not entirely) those elements comprise a network — a Flex Net? An iron octagon? — of funders, vendors, apparatchiks, electeds, NGOs, and miscellaneous mercenaries, with assets in the press and the intelligence community.

Note, of course, that the class power of the PMC both expresses and is limited by other classes; oligarchs and American gentry (see 'industrial model' of Ferguson, Jorgensen, and Jie) and the working class spring to mind. Suck up, kick down.

* * *

The Democrats left me:

The people who endlessly and shrilly insist they are fighting fascism constantly advocate:

* A union of public power (CIA/FBI/DHS) and corporate power (Big Tech) to censor the internet;

* The president ignore court orders;

* Adversary media be banned.

Very odd anti-fascism. https://t.co/T7nXlyjDVm

— Glenn Greenwald (@ggreenwald) April 23, 2023

"NYC Libraries Reportedly Lose Weekend Service in Mayor's Latest Budget Cut Proposal" [NBC New York]. • Robot cops, but closed libraries. That's our Democrats!
Our Famously Free Press
"Tucker Carlson Was Blindsided by Fox News Firing" [Vanity Fair]. "On Monday morning, Fox News CEO Suzanne Scott called Carlson and informed him he was being taken off the air, and his Fox News email account was shut off. According to a source briefed on the conversation, Carlson was stunned by his sudden ouster from his 8 p.m. show, the most watched program in cable news last month. Carlson was in the midst of negotiating the renewal of his Fox News contract through 2029, the source said. As of last week, Carlson had told people he expected the contract to be renewed. Carlson has told people he doesn't know why he was terminated. According to the source, Scott refused to tell him how the decision was made; she only said that it was made "from above." Carlson has told people he believes his controversial show is being taken off the air because the Murdoch children intend to sell Fox News at some point." • Ah. A succession issue in one of the oligarch clans." • Commentary:

Tucker was the cable host who most:

* Opposed US proxy war in Ukraine;

* Denounced CIA, FBI and DHS for its systemic lies and corruption;

* Devoted himself to a pardon for Julian Assange;

* Objected to regime change efforts in Cuba;

* Criticized Trump Admin's militarism. pic.twitter.com/PEduNzOyW6

— Glenn Greenwald (@ggreenwald) April 24, 2023

"The keys to a hypothetical Tucker Carlson 2024 campaign" [Politico]. • It would be great if Carlson ran as a Democrat. Think of the collective intracranial splatterfest!
Realignment and Legitimacy
"Full audio released of Oklahoma sheriff discussing killing journalists" [The Oklahoman]. "A southeast Oklahoma newspaper has released the full audio recording it captured of county officials talking about killing journalists and lynching Black people. The McCurtain Gazette reported that the new audio includes more talk of harming journalists, as well as discussion of intimidating the local prosecutor. The Gazette published a summary in its Thursday edition, which hit newsstands Wednesday night. The newspaper does not have a web edition. The entire recording, which was captured March 6, lasts three hours and 37 minutes, the newspaper said. The Gazette said it is publishing the full audio to be transparent and to show the importance of public records." • That's quite a long meeting. I was looking for the musical, but here we are:

Good job, guys. Anyhow:

"They've gone about as fur as they can go."

Did the Top 40 list exist in the late Nineteenth Century? I don't think so. Nevertheless:

Populism learned its craft in popular music. The Top 40 was one of the earliest populist inventions, where music was ranked entirely on popularity. To this day you can't have a sensible discussion about the quality of music, without hearing 'it's all subjective'. /1 pic.twitter.com/11dI6bEmR9

— Henry Madison 🦠x0 (@RageSheen) April 20, 2023

So I think, historically, this tweet is intriguing but wrong. But intriguing!

"Axios Finish Line: Normal America" [Axios]. "After two speeches I gave this week, several audience members told me they struggled to understand why they felt like strangers in their own land. They described feeling like a normal person: They work hard, volunteer, and hang out at neighborhood parties, not on Twitter. But they also felt trapped in the abnormal, toxic political and media world surrounding them. New Gallup polling suggests they're hardly alone in feeling estranged. Turns out, 49% now call themselves independents — the same amount as self-described Republicans and Democrats combined." • Opportunity!
#COVID19
"I am in earnest — I will not equivocate — I will not excuse — I will not retreat a single inch — AND I WILL BE HEARD." –William Lloyd Garrison
Resources, United States (National): Transmission (CDC); Wastewater (CDC, Biobot; includes many counties); Variants (CDC; Walgreens); "Iowa COVID-19 Tracker" (in IA, but national data).
Lambert here: Readers, thanks for the collective effort. We are now up to 50/50 states (100%). This is really great! (It occurs to me that there are uses to which this data might be put, beyond helping people with "personal risk assessments" appropriate to their state. For example, thinking pessimistically, we might maintain the list and see which states go dark and when. We might also tabulate the properties of each site and look for differences and commonalities, for example the use of GIS (an exercise in Federalism). I do not that CA remains a little sketchy; it feels a little odd that there's no statewide site, but I've never been able to find one. Also, my working assumption was that each state would have one site. That's turned out not to be true; see e.g. ID. Trivially, it means I need to punctuate this list properly. Less trivially, there may be more local sites that should be added. NY city in NY state springs to mind, but I'm sure there are others. FL also springs to mind as a special case, because DeSantis will most probably be a Presidental candidate, and IIRC there was some foofra about their state dashboard. Thanks again!
Resources, United States (Local): AK (dashboard); AL (dashboard); AR (dashboard); AZ (dashboard); CA (dashboard; Marin); CO (dashboard; wastewater); CT (dashboard); DE (dashboard); FL (wastewater); GA (wastewater); HI (dashboard); IA (wastewater reports); ID (dashboard, Boise; dashboard, wastewater, Central Idaho; wastewater, Coeur d'Alene; dashboard, Spokane County); IL (wastewater); IN (dashboard); KS (dashboard; wastewater, Lawrence); KY (dashboard, Louisville); LA (dashboard); MA (wastewater); MD (dashboard); ME (dashboard); MI (wastewater; wastewater); MN (dashboard); MO (wastewater); MS (dashboard); MT (dashboard); NC (dashboard); ND (dashboard; wastewater); NE (dashboard); NH (wastewater); NJ (dashboard); NM (dashboard); NV (dashboard; wastewater, Southern NV); NY (dashboard); OH (dashboard); OK (dashboard); OR (dashboard); PA (dashboard); RI (dashboard); SC (dashboard); SD (dashboard); TN (dashboard); TX (dashboard); UT (wastewater); VA (dashboard); VT (dashboard); WA (dashboard; dashboard); WI (wastewater); WV (wastewater); WY (wastewater).
Resources, Canada (National): Wastewater (Government of Canada).
Resources, Canada (Provincial): ON (wastewater); QC (les eaux usées); BC, Vancouver (wastewater).
Hat tips to helpful readers: Art_DogCT, B24S, CanCyn, ChiGal, Chuck L, Festoonic, FM, FreeMarketApologist (4), Gumbo, hop2it, JB, JEHR, JF, JL Joe, John, JM (9), JW, KatieBird, LL, Michael King, KF, LaRuse, mrsyk, MT, otisyves, Petal (5), RK (2), RL, RM, Rod, square coats (11), tennesseewaltzer, Utah, Bob White (3).
* * *
Look for the Helpers
Class project:

4th graders @PhillyFolkshul construct their own Corsi-Rosenthal Box while watching @CorsIAQ's video instructions for building a Corsi-Rosenthal Box. pic.twitter.com/D1EgxONzyw

— Noah (They/Them) 🤟🏻🧏🏼‍♂️ (@NoahTzedek) April 23, 2023

And:

4th graders @PhillyFolkshul construct their own Corsi-Rosenthal Box while watching @CorsIAQ's video instructions for building a Corsi-Rosenthal Box. pic.twitter.com/D1EgxONzyw

— Noah (They/Them) 🤟🏻🧏🏼‍♂️ (@NoahTzedek) April 23, 2023

The Corsi-Rosenthal Foundation:

How can you be involved in the https://t.co/WyIAFW9XcX? Simple. Build a CR box and donate it to a church, school, shelter, or some other group in need. The purpose of the Foundation is to promote clean air for all. Funds raised will go towards multi-unit builds. https://t.co/1MftksLDKv

— Jim Rosenthal (@JimRosenthal4) April 22, 2023

* * *

"COVID Advocacy Groups State and Local Groups in the United States and Canada" [GoogleDocs]. "List maintained by Mandate Masks US. Please email MandateMasksUS@gmail.com if you have any changes or additions."
Vaccines
"Effectiveness of the Coronavirus Disease 2019 (COVID-19) Bivalent Vaccine" (preprint) [medRxiv]. ": Among 51017 working-aged Cleveland Clinic employees, the bivalent COVID-19 vaccine was 29% effective in preventing infection while the BA.4/5 lineages were dominant, and 20% effective while the BQ lineages were. Effectiveness was not demonstrated when the XBB lineages were dominant." • Oh. (Authors are all from the Cleveland Clinic.)
Covid Is Airborne
How a dentist can make their office safe:

Step 1 – N95 Respirator + eye protection

This was obvious. Dentists usually wear a mask and some form of eye protection anyways. Wearing a better mask is low hanging fruit. If you want to learn more about masking, see these documents.https://t.co/IPjtk8HTUb

— Joey Fox (@joeyfox85) April 24, 2023
Maskstravaganza
Moving beyond that medical appliance look, at least for FloMask:

More on FloMask:

I see a lot of posts about ppl getting harassed for wearing masks so I wanted to share a positive exp I had. We have to lead by example! I believe a lot of ppl intuitively know masks are necessary but need to see others continuing to mask so they don't feel alone/weird

— hawtnsawcey (@hawtnsawcey) April 21, 2023

Fashion forward:

Like the little black dress, a black mask is classic. pic.twitter.com/Z0akCIsURV

— Sara (@weisman_sara) April 23, 2023

* * *

"Carolyn Hax: Spouse is not okay with husband's disregard for risk" [WaPo]. "Dear Carolyn: I don't accept my spouse's risky behavior. He puts himself — and by extension, me and our marriage — in positions where terrible harm could occur. Wouldn't get vaccinated against the coronavirus, wouldn't wear a mask…. How do I stop letting his behavior hurt and threaten me? Selfishness and stubborn, self-absorbed foolishness are as good a basis as any for leaving someone when it persistently compromises your peace of mind and quality of life. If leaving seems extreme, then please scroll back to the opening words of your letter: 'I don't accept.' If he doesn't change, then that's what not accepting means. Plus, if you stay with him, and if reckless disregard for himself and others is indeed a lifestyle for him, then you need to think about protecting more than your peace of mind. That means long-term care insurance, umbrella liability insurance and steps to protect your assets independently of his. And a therapist, whom I expect you'll be seeing without him, to help you detach emotionally from the risks he assumes. It's really hard to do this. But it's still not as hard as living and dying with him every time he goes out to return a book." • Hax is, in my view, admirably tough-minded. I'm a fan! Correspondence date: "January 30, 2023."

* * *

The PMC just l-o-o-o-v-e-s them their complexity. They'll choose a complex rule over a simple one, every time:

Here are two examples of what is currently going on in hospitals (thanks @lisa_iannattone and @CoastalBendBern for the pics). It is clear that the example on the left conveys forethought, is clear and accessible and easy to understand. The example on the right is useless. https://t.co/NWprROKB8a pic.twitter.com/83GX8n0mgq

— Amanda Hu (@amandalhu) April 24, 2023

(Although I notice that the left-hand, simple signage has a mask with earloops, not N95-style headband. I wish commercial artists, clip-art suppliers, and stock photo companies would fix this.)

So determining what a hospitals masking rules actually are may not be so easy. But it must be done:

Tip #1 – Determine your #mask rules. Some parents require staff to #N95. Compliance would vary by region/hospital. Prep for what you'll say if staff don't comply.

With our newborn twins, we supplied medical staff w/free N95s & tests. Nobody wanted N95s; 1 took a #RAT. 🤣 pic.twitter.com/drqnM4pAVo

— Mike Hoerger, PhD MSCR MBA (@michael_hoerger) September 25, 2022

* * *

One more snappy comeback (and I think they're needed because I'm tired of being nice):

#DumBASS #NotAnMD: "That's not what I've heard about masks and mask induced exertion syndrome"

Dr. @hashamsarwar : "Have you been to your OR rotation yet?" @kevinnbass : "No"

Dr. S, MD: "You will be required and mandated to mask" #DumBASS: "Yeah sure but-"

Dr. S, MD: "If…

— Aysha 💋 MBS, Stem Cell Biologist 💕🇺🇸🧬🥇 (@ModelAyshaMirza) April 23, 2023

"Masking in Healthcare (04/20/23)" (podcast) [Death Panel]. "Bea, Artie, and Abby discuss the end of mask mandates in healthcare settings, why masking in places like hospitals was a good idea even pre-pandemic, and the one US agency that could put the brakes on this development——but isn't." • Always worth a listen.
Treatment
"Shielding the vulnerable did little to reduce COVID-19 among the at-risk, study finds" [Center for Infectious Disease Research and Policy]. "Shielding, a public health strategy used across the United Kingdom in the early months of the pandemic, aimed to keep the most vulnerable citizens protected from the novel coronavirus at home and away from public-facing jobs and schools. But a new study of Welsh citizens published in the May issue of Public Health shows the strategy did little to prevent infection in this group. 'Our study found no evidence of reduced COVID-19 infections one year after shielding was introduced. This raises questions about the benefits of shielding for vulnerable people as a policy,' said lead author Helen Snooks, PhD, of Swansea University Medical School in a press release. The study compared outcomes, including infection, deaths, and admissions to hospitals and intensive care units among a cohort of 117,415 shielded people, with 3,086,385 citizens who were not shielded during the first year of the pandemic in Wales. The shielded population included cancer patients (18.6%), those on immunosuppressive therapy (25.9%), and those with severe respiratory conditions (35.5%). All information came from anonymous electronic health records. People who were shielded were more likely to be residents in long-term care facilities, women, and those ages 50 and older. Shielded people had a slightly higher known infection rate—5.9% versus 5.7%—compared with controls. All outcomes of infection were worse among shielded people. They were more likely to die (odds ratio [OR], 3.68), have a critical care admission (OR, 3.34), hospital emergency admission (OR, 2.88), and visit the emergency department (OR, 1.89) compared with unshielded Welsh citizens. 'Shielding was an untested public health policy that was introduced in the United Kingdom early in the pandemic, in contrast to other countries where there was more focus on closing borders, lockdown, test and trace systems,' the authors concluded. 'The shielding policy was based on assumptions rather than evidence of effectiveness.'"
Sequelae
"Sex-Specific Neurodevelopmental Outcomes Among Offspring of Mothers With SARS-CoV-2 Infection During Pregnancy" [JAMA]. • I ran this previously in Links (NPR summarizes: "COVID during pregnancy may alter brain development in boys") but I need to run it again to have a hook for this chaser:

If a longitudinal study of 18,000 children found that boys born to mothers exposed to pictures of Donald Trump during pregnancy were twice as likely to suffer delays in brain development the liberal media would be all over it. But because it's covid, near silence

— Nate Bear (@NateB_Panic) April 23, 2023
Policy
Elite Malfeasance
I'll take eugenics for $500, Alex:

Separation of water and sewage, clean air and water, good nutrition, vaccination, control of infectious diseases, medical care free at the point of use. What the hell is going on ?

— Janine Paisley 🇺🇦 (@PaisleyJanine) April 22, 2023

Well, it's not like SARS-CoV-2 is a BSL-3 biohazard or anything. Oh, wait:

it's wild to me that several estheticians/hair styles/makeup artists i know have better covid safety protocols than schools and hospitals.

— Wendi Muse (@MuseWendi) April 23, 2023
* * *
Looks like "leveling off to a high plateau" across the board. (I still think "Something Awful" is coming, however. I mean, besides what we already know about.) Stay safe out there!
Lambert here: I'm getting the feeling that the "something awful" might be a sawtooth pattern — variant after variant — that averages out to a permanently high plateau (with, of course, deeper knowledge of the sequelae "we" have already decided to accept or, rather, to profit from). That will be the operational definition of "living with Covid." More as I think on this. In addition, I recurated my Twitter feed for my new account, and it may be I'm creating a echo chamber. That said, it seems to me that the knobs on Covid had gone up to 13, partly because science is popping, which demands more gaslighting, and partly because that "Covid is over" bubble maintenance is, I believe, more pundit-intensive than our betters believed it would be.
Lambert here: More on the sawtooth pattern: "Expert warns UK is facing 5 waves of Covid a year as Arcturus spreads" [Mirror]. "The UK is facing five waves of Covid a year, with the latest Arcturus strain set to impact the country in three ways, an expert has warned. Virologist Dr Lennard Lee spoke as Arcturus was blamed for a major hike in Covid cases in India, while as of April 11, 66 cases of the new variant had been detected here. Dr Lee warned the UK would continue to face multiple waves of Covid in coming years, The Express reports. He said: 'We're starting to see patterns now. So the virus doesn't appear to be dying out. It seems to be hitting our shores, a new variant anywhere in the world, every two months at the moment. I think last year, we had five waves of virus hitting coming to us and again, it looks like we're going have another five waves – this is another wave which will probably come start to ramp up again." • Musical interlude.
Case Data
BioBot wastewater data from April 24: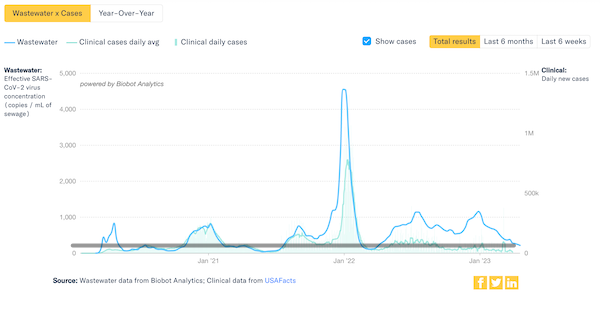 Lambert here: Unless the United States is completely unlike the rest of the world, we should be seeing an increase here soon.
For now, I'm going to use this national wastewater data as the best proxy for case data (ignoring the clinical case data portion of this chart, which in my view "goes bad" after March 2022, for reasons as yet unexplained). At least we can spot trends, and compare current levels to equivalent past levels.
• Mystery cancellations: Jackson Browne, Sam Smith, Justin Bieber
Variants
NOT UPDATED From CDC, April 22, 2023. Here we go again: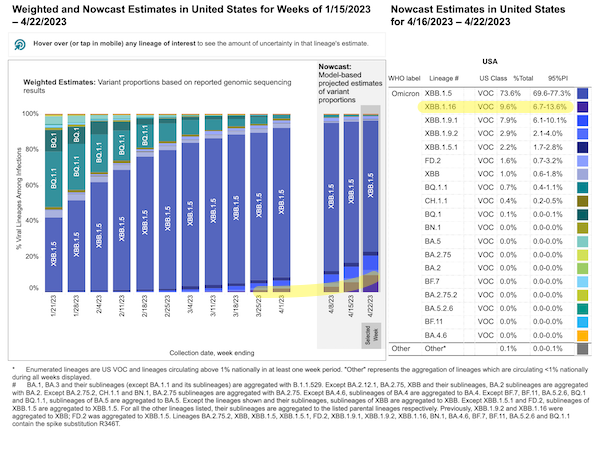 Lambert here: Looks like XBB.1.16 is rolling right along. Though XBB 1.9.1 is in the race as well.
Lambert here: CDC has redesigned its chart to combine actual data with NowCast model projections (which readers will recall I refused to use, because CDC's models have a wretched track record. Worse, the press always quoted the projections, not the model). Because the new chart design makes it clear what's data and what's projection (though that "weighted estimate" gives me pause) I'm using it.
Covid Emergency Room Visits
NOT UPDATED From CDC NCIRD Surveillance, from April 15: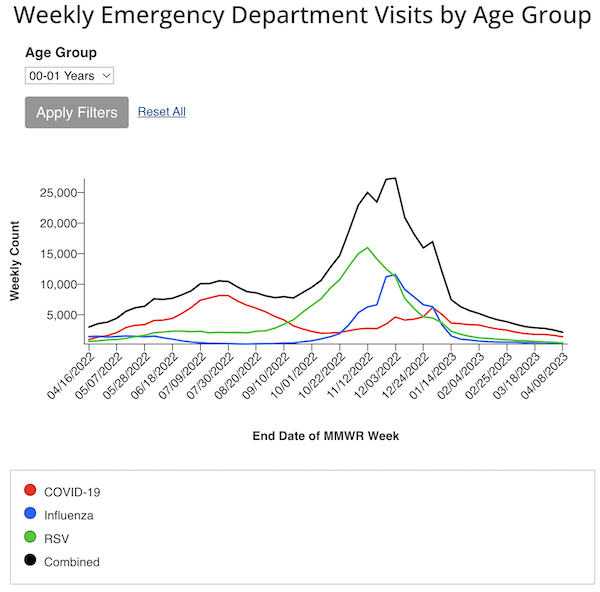 NOTE "Charts and data provided by CDC, updates Wednesday by 8am. For the past year, using a rolling 52-week period." So not the entire pandemic, FFS (the implicit message here being that Covid is "just like the flu," which is why the seasonal "rolling 52-week period" is appropriate for bothMR SUBLIMINAL I hate these people so much. Anyhow, I added a grey "Fauci line" just to show that Covid wasn't "over" when they started saying it was, and it's not over now. Notice also that this chart shows, at least for its time period, that Covid is not seasonal, even though CDC is trying to get us to believe that it is, presumably so they can piggyback on the existing institutional apparatus for injections.
Positivity
A kind reader discovered that Walgreens had reduced its frequency to once a week. No updates in more than a week, however.
Deaths
NOT UPDATED Death rate (Our World in Data):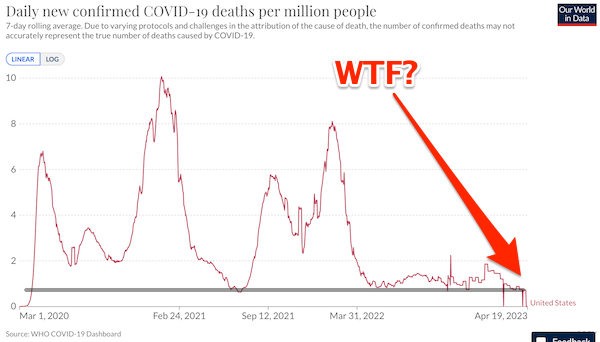 Total: 1,159,313 – 1,158,842 = 471 (471 * 365 = 171,915 deaths per year, today's YouGenicist™ number for "living with" Covid (quite a bit higher than the minimizers would like, though they can talk themselves into anything. If the YouGenicist™ metric keeps chugging along like this, I may just have to decide this is what the powers-that-be consider "mission accomplished" for this particular tranche of death and disease).
Lambert here: WHO turned off the feed? Odd that Walgreen's positivity shut down on April 11, and the WHO death count on April 12. Was there a memo I didn't get?
Excess Deaths
Excess deaths (The Economist), published April 23: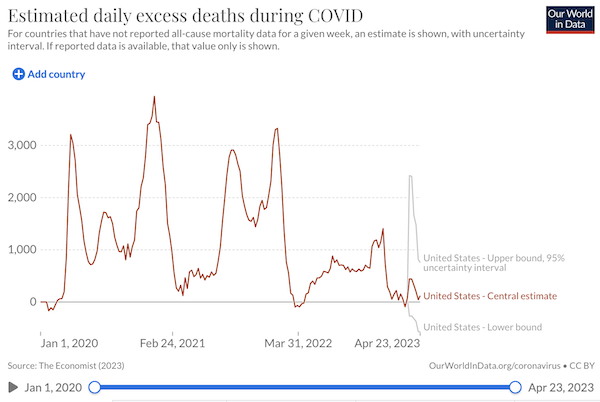 Lambert here: Based on a machine-learning model. I"m not sure how often this updates, and if it doesn't, I'll remove it. (The CDC has an excess estimate too, but since it ran forever with a massive typo in the Legend, I figured nobody was really looking at it, so I got rid it. )
Stats Watch
* * *
Tech: "Airlines must get new altimeters to ensure no interference from 5G: Telcos" [Business Standard]. "Telcos are pushing the Directorate General of Civil Aviation (DGCA) to impose a sunset clause within which airlines have to mandatorily replace their old altimeters with the latest one so that 5G spectrum airwave radiation in airports does not interfere with an aircraft's instruments." • Can somebody explain to me like I'm five what 5G is for? Other than driving replacement not only of altimeters, but millions of existing, functional phones?
Tech: If you care:
1. Likes and retweets matter way less

The old weights are dead:
· 30x for likes
· 20x for retweets
· 1x for reply

The algorithm calculates PROBABILITY of actions & applies weights.

Don't just gun for likes and retweets. pic.twitter.com/lE9KwSnD2H

— Aakash Gupta 🚀 Product Growth Guy (@aakashg0) April 9, 2023
I've gotta say, from my tiny corner of the Twitterverse — even if those weasels banned me for overly ponderour irony — Musk's Twitter is no worse than Democrat Twitter. And the "For You" (algorithmic) timeline is improved. Granted, it should not be the default, but I have found some useful stuff there.
Tech: "If You Come at the King" [Daring Fireball]. "Back in February when LeBron James broke the all-time NBA scoring title, [ex-Apple vets Imran Chaudhri] retweeted someone comparing a photo of James's record-breaking shot (with a seeming majority of the fans in the background holding their phones to capture the moment — almost all of them iPhones, natch) with Michael Jordan's iconic 1998 championship-winning shot against the Utah Jazz (with, of course, not a single fan with a phone in hand).1 Chaudhri's comment on the comparison: 'we all deserve better.'… The thought being, I surmise, that Chaudhri thinks something is wrong that so many of us turn to our phones to photograph or film major moments in our lives, rather than just enjoying them through our own senses…. People take their own photos at major events not because they think those will be great photos, but because they're proof that they were there. Selfies are the new autographs, and a shaky iPhone photo from the perspective of your own seat at the event is the new certificate of attendance…. The fundamental flaw in [Chaudhri's company's] entire premise, as I see it, is that people don't feel burdened by their phones. People love them — especially iPhone owners. And those who are ambivalent or even downright antipathetic toward their phones surely aren't the sort of people who are interested in a newfangled laser-projecting AI-driven chest-badge computer." • Nor am I, if that's a good description of the product.
Tech: "Inside the Struggle to Make Lab-Grown Meat" [Wall Street Journal]. "While Upside and others have long been able to grow small amounts of meat from cells, making larger volumes at low cost is proving much harder, according to interviews with current and former Upside employees, industry officials, investors and outside scientists. Many are skeptical that cultivated-meat companies—which rely on expensive technology to make a low-price commodity—will be able to produce meat affordable enough to make a meaningful dent soon in the more than $1 trillion global meat market. They expect hybrid products, often made with animal cells and other ingredients such as plant-based protein, to have a quicker, less costly path to market. 'We can make it on small scales successfully,' said Josh Tetrick, chief executive officer of a rival food-technology company, Eat Just Inc., of Alameda, Calif., which in March received the second FDA nod that its cultivated chicken is safe to eat. 'What is uncertain is whether we and other companies will be able to produce this at the largest of scales, at the lowest of costs within the next decade.'"
* * *
Today's Fear & Greed Index: 64 Greed (previous close: 63 Greed) [CNN]. One week ago: 65 (Greed). (0 is Extreme Fear; 100 is Extreme Greed). Last updated Apr 21 at 12:55 PM ET.
The Gallery
Sitting in the shade, but it wouldn't it be lovely to walk out from under the arch of the trees and look at the flowers:
Claude Monet
Adolphe Monet en el jardín de Le Coteau en Sainte-Adresse
1867
81 x 99 cm
W. 68a
Colección privada pic.twitter.com/O4CYvs3mtN

— Arte y libros. (@Arteymas_) April 23, 2023
Zeitgeist Watch
Yes, but why not a flamethrower?
I see hospital patients are big fans of the new robot medical assistants… pic.twitter.com/z80UKz0kGc

— Naomi Wu 机械妖姬 (@RealSexyCyborg) April 24, 2023
Brainworms that produce ideological anamorphosis:
This type of illusion where a distorted drawing appears normal when viewed from a particular point is called anamorphosis…

— Tansu YEĞEN (@TansuYegen) April 23, 2023
Class Warfare
"A critical look at Afrocentrism" [MR Online]. "Garveyism and Afrocentrism, while different, are grounded in their shared nature of being expressions of a call for National conscience. Both call upon their adherents to recognize an 'acknowledgment and need to return to origins' (Asa G. Hilliard III). The phrase suggests an understanding that black people across the globe represent a unified (at least in terms of shared struggle) though displaced people. Followers of these ideological trends argue that alongside shared struggle, there is a general 'Afrikan worldview' and cultural logic that, due to slavery, has largely been forgotten. This gap in our memory has been caused by the forceful removal of Afrikans from their homeland and filled in by the decadent and fatalistic values & behaviors of the Europeans. The path to overcoming this 'cultural amnesia' is via a total reorientation towards and (in some cases) overall destruction of the European's contribution to human history and thought. In practice, this reorientation movement often takes the character of (1) outlining the values of 'traditional' Afrikan people and counterposing them to the values of the Europeans. (2) From these values, the political-economic formation that Afrikan people need to combat and crush white supremacist domination is deduced. (3) When all is said and done, there is a call for us to spread these cultural maxims out to the diaspora (through different modes of education) and call for unity around those values. What is the economic solution that is deduced from these so-called 'traditional Afrikan values'? It can be either social democracy or some stripe of 'collectivist capitalism' where our money is circulated between our people own to 'build our strength' and 'demand our recognition.' One thing is clear, there is a general refusal to accept the socialist option because it is reportedly a 'white' thing. Ironically, when you ask these people from what country did capitalism originate, it is either met with quick dismissal or pointing out that 'socialism in Afrika failed,' followed by being told to look at Thomas Sowell or that Brother from Kenya. The main point is that while the Afrocentrist/Neo-Garveyist is correct to critique the decadence of bourgeois society, their inability to move past culturalism leaves them in a position where they maintain the real system of Afrikan exploitation."
News of the Wired
This is not a yard diagram (and that's not a Magritte reference):
Walt Disney's Rule:

• If struggling to think clearly about a subject, draw it out.

Here's Walt Disney's drawing he made in 1957 of the Media Empire he wanted to build.

It's iconic. pic.twitter.com/3J8wd4ewa4

— George Mack (@george__mack) April 22, 2023
Why not? The relationships are labeled.
* * *
Contact information for plants: Readers, feel free to contact me at lambert [UNDERSCORE] strether [DOT] corrente [AT] yahoo [DOT] com, to (a) find out how to send me a check if you are allergic to PayPal and (b) to find out how to send me images of plants. Vegetables are fine! Fungi and coral are deemed to be honorary plants! If you want your handle to appear as a credit, please place it at the start of your mail in parentheses: (thus). Otherwise, I will anonymize by using your initials. See the previous Water Cooler (with plant) here. From NM: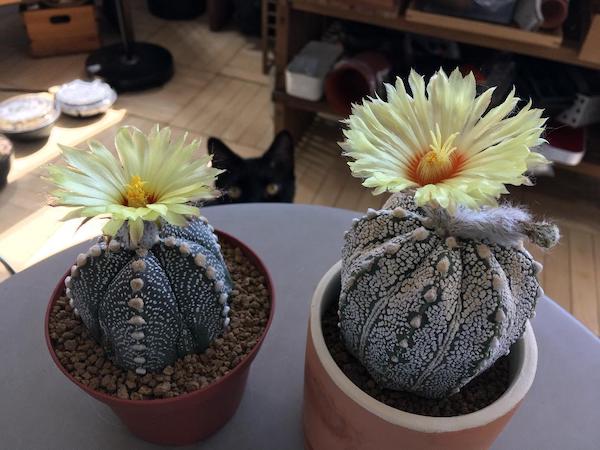 NM writes: "Attached is a photo submission for a future water cooler. These are both cacti of the genus astrophytum. I suspect they are both hybrids of different species (astrophytum asterias, Capricorne and coahuilense all have red throated flowers). Bonus photobomb of the apartment's other resident. Good sign spring is here!"
Readers, I am still in need of plant photos. Any of you out digging in the garden yet? The cupboard is no longer bare, but I'd like it to be jammed to overflowing. Thank you! (Also thanks to the many readers who sent in photos of the horrid Admiral popup. It was helpful to be able to see what you saw.)
* * *
Readers: Water Cooler is a standalone entity not covered by the annual NC fundraiser. So if you see a link you especially like, or an item you wouldn't see anywhere else, please do not hesitate to express your appreciation in tangible form. Remember, a tip jar is for tipping! Regular positive feedback both makes me feel good and lets me know I'm on the right track with coverage. When I get no donations for five or ten days I get worried. More tangibly, a constant trickle of donations helps me with expenses, and I factor in that trickle when setting fundraising goals:
Here is the screen that will appear, which I have helpfully annotated: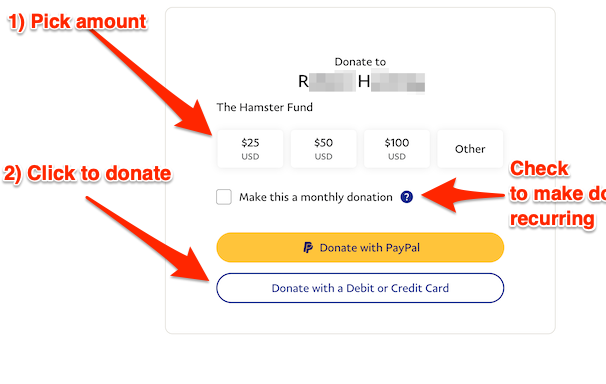 If you hate PayPal, you can email me at lambert [UNDERSCORE] strether [DOT] corrente [AT] yahoo [DOT] com, and I will give you directions on how to send a check. Thank you!