Patient readers, I must finish up a post on Paxlovid. However, because I have been extremely lax and remiss about Open Threads this week, this will be a temporarily Open Thread at 2:00PM, and I will then break my rule and add material until 3:00PM or so. –lambert
By Lambert Strether of Corrente
Bird Song of the Day
Warbler Week at Naked Capitalism continues. From Maryland.
* * *
Politics
"But what is government itself, but the greatest of all reflections on human nature?" –James Madison, Federalist 51
"They had learned nothing, and forgotten nothing." –Charles Maurice de Talleyrand-Périgord
"When the going gets weird, the weird turn pro." –Hunter Thompson
Capitol Seizure
"Building the "Big Lie": Inside the Creation of Trump's Stolen Election Myth" [Pro Publica]. "ProPublica has obtained a trove of internal emails and other documentation that, taken together, tell the inside story of a group of people who propagated a number of the most pervasive theories about how the election was stolen, especially that voting machines were to blame, and helped move them from the far-right fringe to the center of the Republican Party. Those records, as well as interviews with key participants, show for the first time the extent to which leading advocates of the stolen-election theory touted evidence that they knew to be disproven or that had been credibly disputed or dismissed as dubious by operatives within their own camp. Some members of the coalition presented this mix of unreliable witnesses, unconfirmed rumor and suspect analyses as fact in published reports, talking points and court documents. In several cases, their assertions became the basis for Trump's claims that the election had been rigged. Our examination of their actions from the 2020 election to the present day reveals a pattern. Many members of the coalition would advance a theory based on evidence that was never vetted or that they'd been told was flawed; then, when the theory was debunked, they'd move on to the next alternative and then the next." • "The walls are closing in!"

"Former police officer stands trial for role in U.S. Capitol violence" [Reuters]. "At the trial's opening, jurors saw video footage showing Thomas Webster, 56, striking a police officer with a flagpole before tackling the officer to the ground. 'This is a case about a former officer violently attacking a fellow officer,' prosecutor Hava Mirell told jurors, adding that Webster was 'rage-filled' when he taunted and attacked the overwhelmed officer. Webster's defense lawyer, showing the incident from another camera angle, told jurors that the officer 'instigated' the incident by punching Webster in the face….. Of the four Capitol riot defendants to face trial so far, Webster is the first to argue he was acting in self-defense."

"McCarthy's Trump tape was a 'nothingburger.' Can the House GOP shrug off more audio?" [Politico]. "Kevin McCarthy's caught-on-tape consideration of asking President Donald Trump to resign after the Capitol attack roiled the Beltway. Inside his conference, though, House Republicans are largely shrugging it off. And even the latest McCarthy recording — in which he said some of his own members posed a security risk — didn't appear to immediately trigger an alarm among most members. Days after The New York Times released audio of McCarthy weighing a suggestion that Trump resign — which the House minority leader had previously denied — few Republicans appeared to take issue with it. McCarthy allies cited a bevy of reasons why his disavowal of his recorded comments were of little concern, from the emotional strain lawmakers experienced following last year's insurrection to the way the newspaper asked for comment."
Biden Adminstration
"Manchin Explores Possible Energy, Climate Package With GOP" [Bloomberg]. "Democratic Senator Joe Manchin is exploring an energy and climate package aimed at winning enough Republican support to skirt the partisan budget reconciliation process that has held hostage hundreds of billions of dollars in potential spending on related priorities. 'If I can find something bipartisan, we don't need reconciliation,' Manchin, of West Virginia, said in an interview on Monday. A bipartisan energy package, like the infrastructure bill passed last year, could undercut the broader Democratic agenda but give President Joe Biden an election-year victory on an issue voters care about…. Manchin told reporters after the meeting that one area of common ground could be reform of the federal oil and gas leasing process…. Manchin also said Congress could focus on increasing domestic production of energy in the near term and provide incentives for climate-related projects in the longer term." • Federal oil and gas leasing… I see the Democrats have sewed the midterms up.
2022
* * *

MI: "Michigan Democrat who ripped colleague over grooming allegations says she received call from Biden" [The Hill]. '"I didn't wake up on Monday morning thinking that, by Friday, I'd answer a phone call saying, 'Hi, Mr. President,' McMorrow said in a Twitter post on Saturday. 'I'm humbled by @potus reaching out to discuss my speech, why we do this, and what it means for the soul of the nation. We can, and we will,' McMorrow added. '#HateWontWin.'" • An utterly vacuous hashtag, because liberal Democrat are pretty good haters themselves.

PA: "Takeaways from Monday's Pennsylvania GOP Senate debate" [The Hill]. "The candidates also debated whether it was time for Republicans to move on from the 2020 election as Trump continues to claim — without evidence — that widespread fraud robbed him of a win. 'We cannot move on,' Oz said, while others did not address the fraud claims as directly." • Hmm.

PA: "Philly Democrats back Conor Lamb for Senate — over the front-runner and the hometown candidate" [The Inquirer]. "Philadelphia's Democratic Party brass came off the sidelines and endorsed U.S. Rep. Conor Lamb in his Senate campaign. The vote by most of the city's ward leaders Tuesday night solidified Lamb's status as the establishment-favored candidate in Pennsylvania's largest city, as he wages an uphill fight in the May 17 primary…. While Lt. Gov. John Fetterman leads the Democratic primary field in polls and fund-raising, Lamb has built a statewide coalition of party supporters, leaning into the insider track. Philadelphia's building trades unions and Mayor Jim Kenney endorsed him in January."
2024
Democrats en Déshabillé
I have moved my standing remarks on the Democrat Party ("the Democrat Party is a rotting corpse that can't bury itself") to a separate, back-dated post, to which I will periodically add material, summarizing the addition here in a "live" Water Cooler. (Hopefully, some Bourdieu.) It turns out that defining the Democrat Party is, in fact, a hard problem. I do think the paragraph that follows is on point all the way back to 2016, if not before:

The Democrat Party is the political expression of the class power of PMC, their base (lucidly explained by Thomas Frank in Listen, Liberal!). ; if the Democrat Party did not exist, the PMC would have to invent it. . ("PMC" modulo "class expatriates," of course.) Second, all the working parts of the Party reinforce each other. Leave aside characterizing the relationships between elements of the Party (ka-ching, but not entirely) those elements comprise a network — a Flex Net? An iron octagon? — of funders, vendors, apparatchiks, electeds, NGOs, and miscellaneous mercenaries, with assets in the press and the intelligence community.

Note, of course, that the class power of the PMC both expresses and is limited by other classes; oligarchs and American gentry (see 'industrial model' of Ferguson, Jorgensen, and Jie) and the working class spring to mind. Suck up, kick down.

* * *

"The Democratic Party Is Wasting Its Grassroots Energy" [Sam Adler-Bell, New York Magazine]. "There appears almost no grassroots energy or urgency of any kind on the Democratic side. After four years of fever-pitched marching and movement-building by anti-Trump resistors, antifascists, Democratic Socialists, and Black Lives Matter militants, the sudden quiet from the country's left flank has been deafening. Where, I find myself asking, is the movement?… But wait. Listen. What is that sound? A growing crowd chanting "movement, movement, movement!" Who is that? By God, it's the nonprofits! Whether one celebrates or laments the fact, it cannot be denied that nonprofits have taken the place of other civic or party institutions as the site of grassroots Democratic politics…. while the right builds a movement, the Democrats attempt to call one into being — by giving more and more money to insular activist NGOs that speak an alienating language to people in places where they do not frequent, among people they do not already know. The alternative — and you'll be just shocked to hear me say this — is the only one that has ever worked. That is, the labor movement: a movement of the left that mobilizes and draws us together on the basis of our most basic associations and material interests." • Euthanize the NGOs, as I have often said.

"Rent control for Colorado mobile homes is doomed by Jared Polis veto threat" [CPR News]. "Lawmakers on Friday moved to significantly trim back a bill that aimed to protect mobile home park residents from big rent hikes — after Gov. Jared Polis threatened to veto it. The bill, HB22-1287, would have set a cap on annual rent increases for mobile homes, making it the first statewide instance of rent stabilization or rent control. Polis told sponsors he would veto the bill if the rent limits weren't removed, according to Democratic Rep. Andy Boesenecker. Boesenecker claimed his bill had enough support to pass the legislature as it was, but in the face of Polis' opposition, he planned on Friday to amend it. 'Absent another policy solution from the office of the governor to address this well-stated need, we felt it was necessary to pull lot rent stabilization out of the bill in order to ensure these other vital protections for residents,' said Boesenecker, a first-year representative, in an interview."
Republican Funhouse
"Why Hasn't AIPAC Endorsed One of Congress' Most pro-Israel Republicans?" [Haaretz]. "The American Israel Public Affairs Committee has now endorsed 109 of the 147 Republicans who voted against certifying the 2020 presidential election results through its new political action committee (PAC), but has yet to endorse one of Israel's strongest supporters in Congress: Rep. Liz Cheney…. AIPAC's failure to endorse Cheney begs the question: If it is prioritizing support for Israel above all else – regardless of party affiliation or other policy positions – then why has it not endorsed a member of Congress who has been very closely aligned with its mission statement for years? (Cheney's office declined to comment for this story.)"
Realignment and Legitimacy
"The pandemic that American politics forgot" [Financial Times]. "To do better next time, a system needs more than all the technical knowledge and practice it has gained this time. It needs a political incentive to change. The felling of careers and shaking of institutions that follow a national crisis is not (or not just) vindictive. It is often what spurs improvement in the future. It is hard not to admire a polity that can go through the loss of a million lives while remaining so familiar in its names, habits and preoccupations. It is even harder not to worry." • The handling of the pandemic isn't even an election issue, after a million dead. The death toll seems to have had no cultural impact, either. (Remember the AIDS quilt?) It's remarkable.

A hard problem:

🧵COVID-19: how do you convince people that the people in power actually want them to die?

This may seem dramatic but it isn't & given that we* have lost the war against COVID to the GBD & Co, we can't cushion this.

*Everyone trying to control the pandemic & save lives.
(1/25)

— Hisham Ziauddeen (@HZiauddeen) September 19, 2021

I don't think there's been a Wansee conference. The beauty of our political economy is that no conference has been needed.

"Under new Florida law, activist requests 62 school districts to ban the Bible, including LCS" [Tallahassee Democrat]. "School districts across the state are reviewing dozens of books, like 'The Bluest Eye' by Toni Morrison and '50 Shades of Grey' by E.L. James, at the request of parents who question whether these books are harmful for students. But Leon County Schools has only received one official complaint so far, and it's about banning the Bible. 'Let's be honest — banning books is never a good idea, but what's fair is fair, and with that in mind, please find attached my request to ban the Bible,' said Chaz Stevens in an email to Leon County Schools Superintendent Rocky Hanna. While Stevens' attempt may highlight the law of unintended consequences, school officials pointing to a new law are reviewing the request and have even begun auditing the number of Bibles in capital city schools…. Stevens, a resident of Deerfield Beach, said he is an archbishop with the First Church of Mars and is ordained in California and Florida. He describes himself as 'an atheist activist who likes banana daquiris.' He's grabbed headlines in the past in Florida for his Festivus pole display in the Florida Capitol. He said he sent 62 superintendents in Florida a request to ban the Bible to protest House Bill 1467, which was signed into law by Gov. Ron DeSantis on March 28. 'My goal is to use the law as our expert politicians in Tallahassee intended,' Stevens said. 'There were no carve outs for religious texts, so I would assume they meant for them to be in play.'"
#COVID19
Lambert here: If some trusting, non-realist soul tells you that "Covid is over," you can tell them that cases are up, transmission is up, test positivity is up, hospitalization is up, rapid riser counties are up, and wastewater is up, too. And this is all from data designed to support the narrative, and gamed within an inch of its life. So, if signals like that are flashing red, consider what the real signal must be like. (Note also this is all with BA.2 only, and with what the establishment considers an "immune wall" made from vaccination and prior infection. Since semper aliquid novi Africam adferre, and we've let 'er rip at the airports…. Well, I just hope we get lucky. "God has a special providence for fools, drunkards, and the United States of America." –Otto von Bismarck.
* * *
If you missed it, here's a post on my queasiness with CDC numbers, especially case count, which I (still) consider most important, despite what Walensky's psychos at CDC who invented "community levels" think. But these are the numbers we have.
* * *
Case count by United States regions: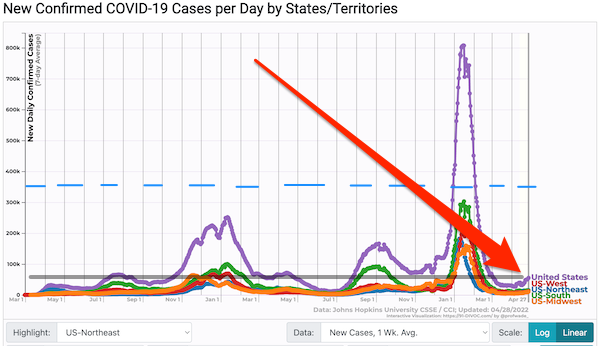 First decisive upward turn, so we'll see how it goes. Remember, it's 100% certain the cases numbers are significantly understated. They've always been gamed, but it's worse than before. One source said they though cases might be undercounted by a factor of six. Gottlieb thinks we only pick up one in seven or eight. In addition to the Fauci line, I have added a Democrat baby-blue dotted line for what the case count would be if it were 55,000 * 6 = 330,000. Here are the cases for the last four weeks: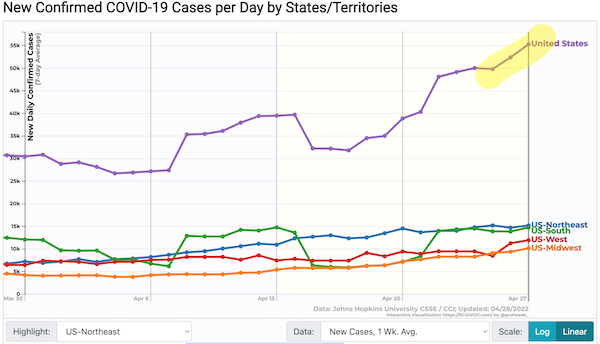 Looks like the Northeast has passed the torch to the West.
NOTE I shall most certainly not be using the CDC's new "Community Level" metric. Because CDC has combined a leading indicator (cases) with a lagging one (hospitalization) their new metric is a poor warning sign of a surge, and a poor way to assess personal risk. In addition, Covid is a disease you don't want to get. Even if you are not hospitalized, you can suffer from Long Covid, vascular issues, and neurological issues. For these reasons, case counts — known to be underestimated, due to home test kits — deserve to stand alone as a number to be tracked, no matter how much the political operatives in CDC leadership would like to obfuscate it.
From the Walgreen's test positivity tracker: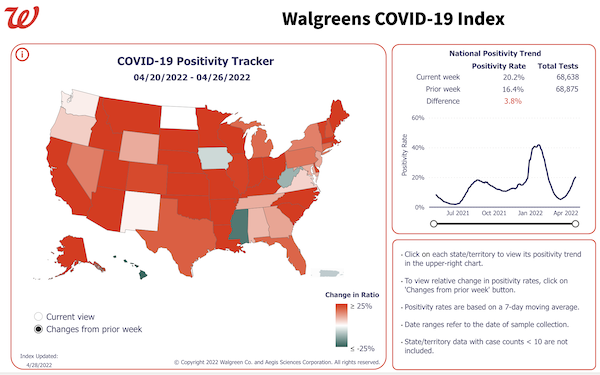 I'm leaving the corporate logo on as a slap to the goons at CDC.
MWRA (Boston-area) wastewater detection: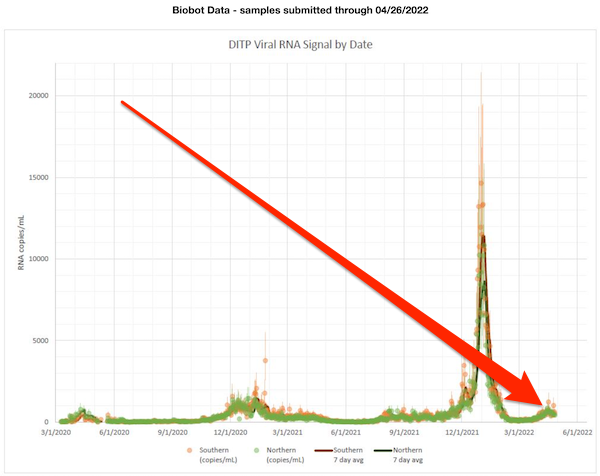 We'll need to wait to week or so for the universitities and Easter weekend to unkink the data. (Both service areas turned down; I don't think this is because the college semester has ended, either; readers please correct me.)
The Massachusetts Water Resources Authority (MWRA) service area includes 43 municipalities in and around Boston, including not only multiple school systems but several large universities. Since Boston is so very education-heavy, then, I think it could be a good leading indicator for Covid spread in schools generally.
From Biobot Analytics: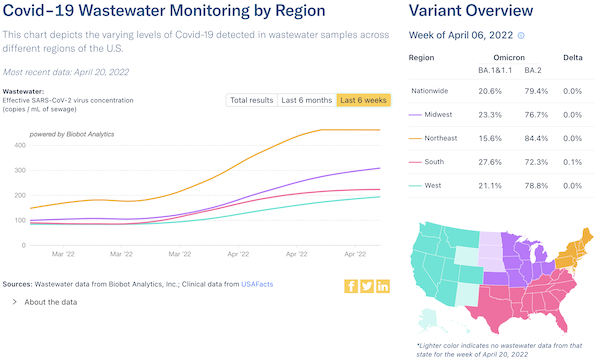 Also encouraging, in that the Northeast is flattening. Not encouraging, in that the West is not. (See also case counts and rapid riser counties.)
Cases lag wastewater data.
From CDC Community Profile Reports (PDFs), "Rapid Riser" counties: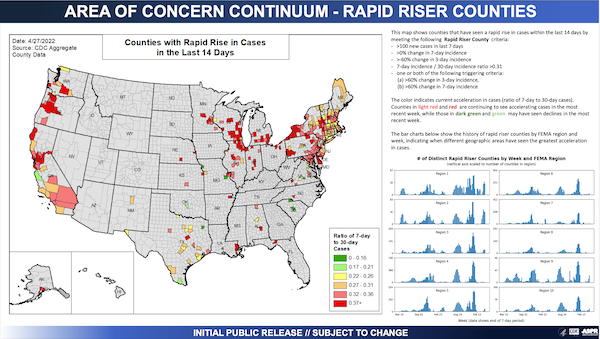 California and the Northeast looks slightly better; the Upper Midwest is getting worse. (Remember that these are rapid riser counties. A county that moves from red to green is not covid-free; the case count just isnt, well, rising rapidly.)
The previous release: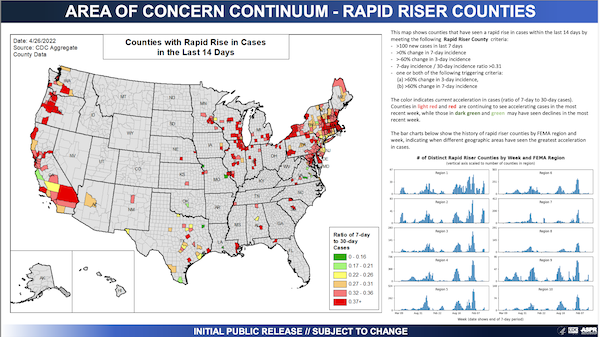 Here is CDC's interactive map by county set to community transmission. This is the map CDC wants only hospitals to look at, not you. In fact, every day I go to the same URL. The day before yesterday, at the usual URL, I found this disgrace to humanity:

Fortunately, CDC only moved the transmissibility data to a new URL. So here again is the map CDC doesn't want you to look at: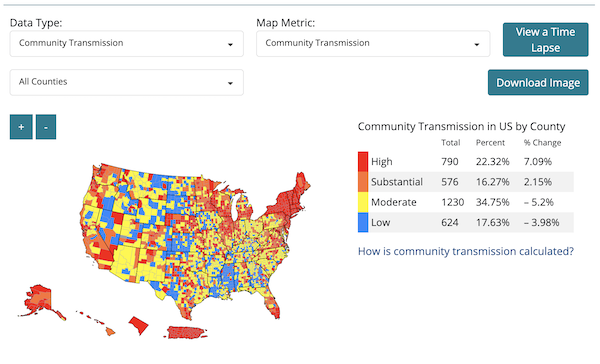 The Northeast remains stubbornly and solidly red. Now California is red as well. (It looks like portions of Maine went from High (red) to Substantial (orange), but that part of Maine is the Unorganized Territories, where virtually nobody lives.
Hospitalization (CDC Community Profile):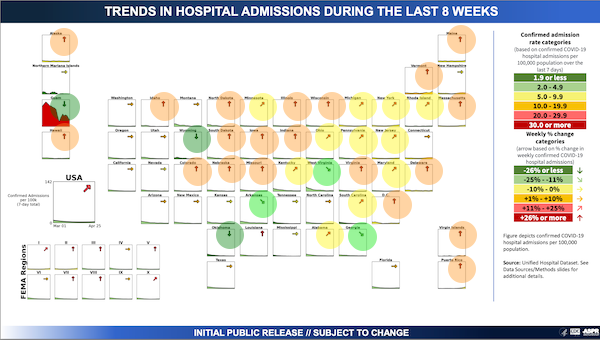 The baseline is still low. But hospitalization is most definitely up. (Note trend, whether up or down, is marked by the arrow, at top. Admissions are presented in the graph, at the bottom. So it's possible to have an upward trend, but from a very low baseline.)
Death rate (Our World in Data):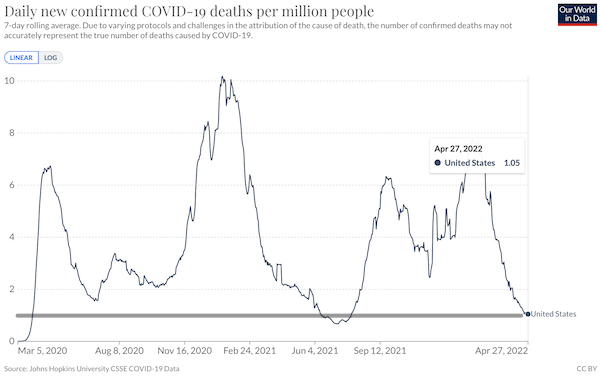 Total: 1,019,774 1,019,008. I have added an anti-triumphalist Fauci Line. Numbers still going down, still democidally high.
Covid cases in top us travel destinations (Statista):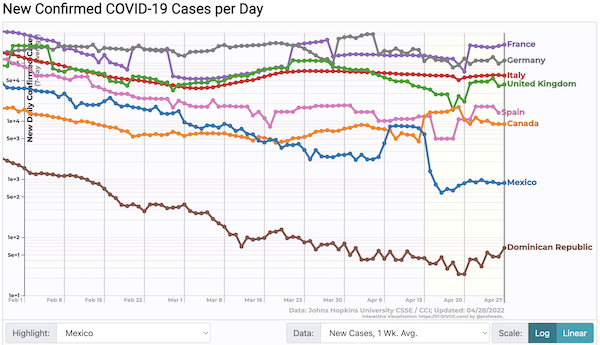 Still a bumpy ride…. (Note the quality of these numbers varies wildly. For example, the UK is cutting back on testing data.
Stats Watch
* * *
* * *
Today's Fear & Greed Index: 31 Fear (previous close: 27 Fear) [CNN]. One week ago: 48 (Neutral). (0 is Extreme Fear; 100 is Extreme Greed). Last updated Apr 27 at 10:00 AM EDT. ZOMG they changed the artwork!
Rapture Index: Closes unchanged [Rapture Ready]. Record High, October 10, 2016: 189. Current: 188. (Remember that bringing on the Rapture is good.)
Screening Room
"Here's Why Movie Dialogue Has Gotten More Difficult To Understand (And Three Ways To Fix It)" [SlashFilm]. "I used to be able to understand 99% of the dialogue in Hollywood films. But over the past 10 years or so, I've noticed that percentage has dropped significantly — and it's not due to hearing loss on my end. It's gotten to the point where I find myself occasionally not being able to parse entire lines of dialogue when I see a movie in a theater, and when I watch things at home, I've defaulted to turning the subtitles on to make sure I don't miss anything crucial to the plot. Knowing I'm not alone in having these experiences, I reached out to several professional sound editors, designers, and mixers, many of whom have won Oscars for their work on some of Hollywood's biggest films, to get to the bottom of what's going on. One person refused to talk to me, saying it would be "professional suicide" to address this topic on the record. Another agreed to talk, but only under the condition that they remain anonymous. But several others spoke openly about the topic, and it quickly became apparent that this is a familiar subject among the folks in the sound community, since they're the ones who often bear the brunt of complaints about dialogue intelligibility. 'It's not easy to mix a movie,' says Jaime Baksht, who took home an Oscar for his work on last year's excellent 'Sound of Metal' and previously worked on Alfonso Cuarón's 'Roma.' 'Everybody thinks you're just moving levers, but it's not like that.' This problem indeed goes far beyond simply flipping a switch or two on a mixing board. It's much more complex than I anticipated, and it turns out there isn't one simple element that can be singled out and blamed as the primary culprit." • Have readers experienced this? Do we have any sound engineers who can comment?
The Gallery
This is not the shortest day of the year, but the etching is still lovely. A secular Saint Jerome:
Today is the shortest day of the year: the first day of winter. That calls for one of Rembrandt's darkest etchings: 'A Student at a Table by Candlelight' (c. 1642). The only source of light is the flickering flame of an oil lamp. The rest of the room is dark. pic.twitter.com/UZDFDRc0mH

— Museum Het Rembrandthuis (@Rembrandthuis) December 21, 2021
Guillotine Watch
The rich are different….
"Rich People worked hard for their wealth." pic.twitter.com/upKuKSNOff

— Ryan Osouless (@RyanOsouless) April 27, 2022
Class Warfare
"Overnight Parking Walmart [How Long Can You Stay, RV's, Sleeping In Car + More]" [QuerySprout]. "Whether you have had a long drive and need to rest for the night or maybe have fallen on rough times, you may be wondering if you can sleep in your car overnight while in the Walmart parking lot. Here is what I discovered. Generally, yes, Walmart does allow people to sleep in their cars overnight in Walmart car parks. Walmart has no official policy on overnight parking with cars, so it is up to the discretion of the store manager or after-hours security guard to permit you to stay. Additionally, it is legal to sleep in your car at Walmart, but Walmart has the right to wave you on since it is private property. But in most cases, the Walmart security guard or store manager will allow people to sleep in their cars overnight as long as there are no issues and you are respectful." • News you can use!
"Introducing Left Wondering" [Kate Aronoff, The Lever]. "This is all to say that the world sucks, people know it and, in many cases, would like to feel like they are playing a positive role in making it better. The climate crisis is an awe-inspiring problem — a 'hyperobject' too massive to comprehend on its own, epoch-defining terms. For good reason, 60 percent of people in the U.S. are 'somewhat' or 'very' worried about it. There's an old lefty aphorism that if you're not angry, you're not paying attention. My gingerly edit would be: If you're not deeply troubled, apoplectic, or depressed about a world rapidly losing its capacity to maintain life, then you're either not aware it's happening, a billionaire, and/or have become alienated — by no fault of your own —from what it means to be a human being." •
News of the Wired
Jimenez is great:
* * *
Contact information for plants: Readers, feel free to contact me at lambert [UNDERSCORE] strether [DOT] corrente [AT] yahoo [DOT] com, to (a) find out how to send me a check if you are allergic to PayPal and (b) to find out how to send me images of plants. Vegetables are fine! Fungi and coral are deemed to be honorary plants! If you want your handle to appear as a credit, please place it at the start of your mail in parentheses: (thus). Otherwise, I will anonymize by using your initials. See the previous Water Cooler (with plant) here. From AM: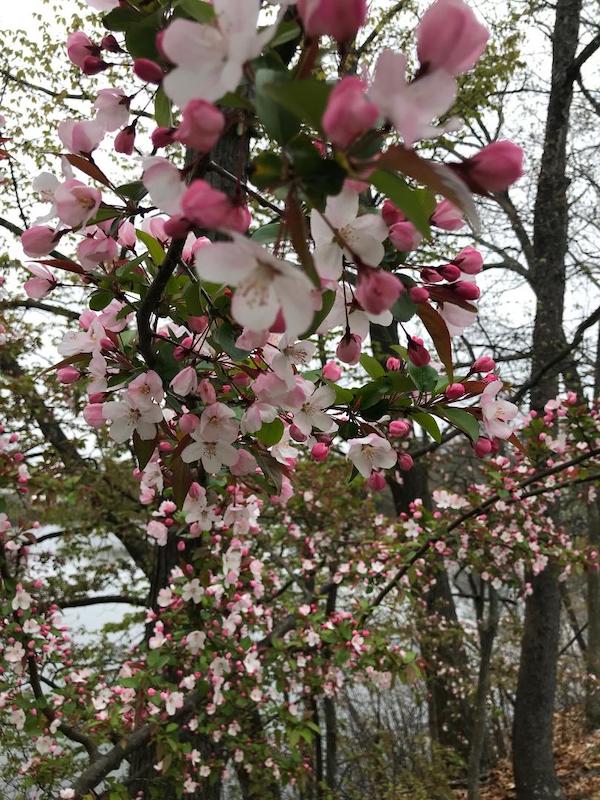 AM writes: "Apple blossoms seen on my walk in Roger Williams Park on April 26, 2022. Could only get a section of the tree in focus – artsy or iPhone limited, you decide." Well, I'm a f-64 type of guy, so everything in focus is what's artsy to me. That said, what a lovely time of year!
Readers: Water Cooler is a standalone entity not covered by the recently concluded and — thank you! — successful annual NC fundraiser. So if you see a link you especially like, or an item you wouldn't see anywhere else, please do not hesitate to express your appreciation in tangible form. Remember, a tip jar is for tipping! Regular positive feedback both makes me feel good and lets me know I'm on the right track with coverage. When I get no donations for five or ten days I get worried. More tangibly, a constant trickle of donations helps me with expenses, and I factor in that trickle when setting fundraising goals:
Here is the screen that will appear, which I have helpfully annotated: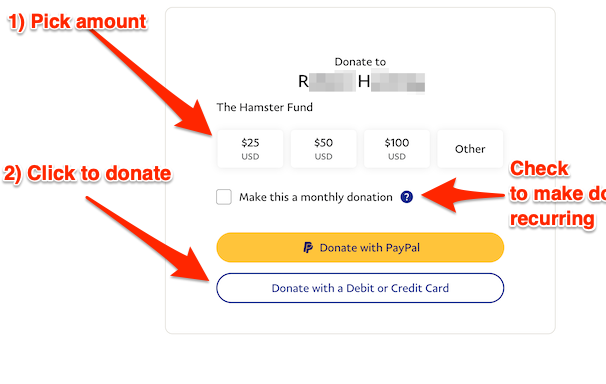 If you hate PayPal, you can email me at lambert [UNDERSCORE] strether [DOT] corrente [AT] yahoo [DOT] com, and I will give you directions on how to send a check. Thank you!