2:00PM Water Cooler 5/12/2020
By Lambert Strether of Corrente.
#COVID19
At reader request, I've added this daily chart: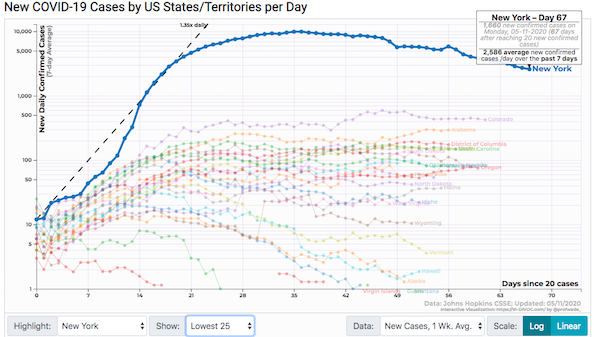 The data is the John Hopkins CSSE data. Here is the site. I have changed to a logarithmic scale for US States and territories.
Once again, "Default view is now new cases/day" which changes the graph, more optimistically, and perhaps more accurately. I thought I would contrast New York with the bottom 25 states (remember this is a logarithmic scale).
* * *
See Vice, "How to Read the Coronavirus Graphs":
Quantities that grow exponentially, when depicted on a linear scale, look like curves that bend sharply upward, with the curve getting constantly steeper. On a log scale, exponentially growing values can be depicted with straight diagonal lines.

That's the beauty of plotting things on log scales. Plots are meant to make things easy to understand, and we humans are much more adept at understanding linear, straight-line behavior. Log plots enable us to grasp exponential behavior by transferring the complexity of constantly steepening curves into the simplicity of an exponentially increasing scale.

On a log scale, we want to constantly be making the line more and more horizontal. The general concept of "flattening" is still a good one, but it's never going to curve down. And so what we should be looking, and hoping for is a trend toward horizontal.
Politics
"But what is government itself, but the greatest of all reflections on human nature?" –James Madison, Federalist 51
"They had one weapon left and both knew it: treachery." –Frank Herbert, Dune
"They had learned nothing, and forgotten nothing." –Charles Maurice de Talleyrand-Périgord
* * *
2020
Biden (D)(1): "What Tara Reade Deserves" [The Atlantic]. "Even given the comparatively strict evidentiary standards applied to sexual-assault allegations, Tara Reade's claim that Joe Biden assaulted her in the spring of 1993, when she was working as an aide in his Senate office, should be taken seriously. Voters and commentators don't have to believe Reade's story, but they do have a responsibility to weigh it carefully, and to treat it with solemnity. This is not happening. Surrogates, mostly women Democratic politicians who have endorsed Biden, have been tasked with cleaning up the mess. Their defenses have sometimes been pained….. Rank-and-file Biden supporters, along with the liberal and anti-Trump commentariat, have been much more aggressive in their attacks on Reade…. This kind of vitriol is supposedly justified by the moral imperative of denying Donald Trump a second term. But the argument that Reade's allegations must be refuted lest the country reelect Trump is undermined by Trump's presidency in the first place: If an allegation of sexual assault by the candidate were enough to fatally harm a campaign, Trump would never have become president at all. Meanwhile, survivors are seeing members of the political party that is more amenable to women's rights disbelieve a story of assault, and smear the accuser—as if #MeToo had never happened." • "More amenable" is doing a lot of work, there….

* * *
RussiaGate
"It looks like President Obama ordered up phony RussiaGate scandal" [New York Post]. "It's now clear the Obama-Comey FBI and Justice Department never had anything more substantial than the laughable fiction of the Steele dossier to justify the "counterintelligence" investigation of the Trump campaign. Yet incessant leaks from that supposedly confidential probe wound up consuming the Trump administration's first months in office — followed by the Bob Mueller-led special counsel investigation that proved nearly the "total witch hunt" that President Trump dubbed it." • No lies detected. But: "Information released as the Justice Department dropped its charges against Gen. Mike Flynn shows that President Barack Obama, in his final days in office, played a key role in fanning the flames of phony scandal. Fully briefed on the "Crossfire Hurricane" investigation, he knew the FBI had come up with nothing despite months of work starting in July 2016. Yet on Jan. 5, 2017, Obama told top officials who'd be staying on in the new administration to keep the crucial facts from Team Trump. It happened at an Oval Office meeting with Vice President Joe Biden, intel chiefs John Brennan and Jim Clapper and national security adviser Susan Rice, as well as FBI Director Jim Comey and Deputy Attorney General Sally Yates. 'From a national-security perspective,' Rice's memo afterward put it, 'President Obama said he wants to be sure that, as we engage with the incoming team, we are mindful to ascertain if there is any reason that we cannot share information fully as it relates to Russia.' This even as then-President Obama also directed that as many people as possible across his administration be briefed on the (utterly unsubstantiated) allegations against Team Trump — and as Rice and others took unprecedented steps to 'unmask' US citizens like Flynn whose conversations had been caught on federal wiretaps of foreigners." • Benghazi tendencies in stuff like "unmask." That said, the volume of leaks was obvious (besides being lucrative from Brennan, Clapper, and Comey. And the Cossacks work for the Czar. Interesting that Biden was present. And that Rice didn't run for the Senate in Maine against Collins.
Obama Legacy
Centrism:

Here was Obama in 2013 debunking the long-standing but central DC myth that the two parties are radically opposed on ideology & policy.

Instead, he correctly explained, they're far more similar than different, & the US entails far less ideological dispute than most democracies: pic.twitter.com/iPulgCC0zV

— Glenn Greenwald (@ggreenwald) May 9, 2020
Realignment and Legitimacy
"Democrats Are Prepared To Lose The First Special Election Of The Pandemic Era" [HuffPo]. "National Democrats are now prepared to lose in a special election to replace California Rep. Katie Hill in Congress, a stinging defeat in a district Democrats flipped less than two years ago and where the party's candidate has relentlessly hammered President Donald Trump's response to the coronavirus pandemic. Absentee ballot returns and internal polling from both parties indicate that Mike Garcia, a GOP former fighter pilot and defense industry executive running with Trump's endorsement, is now a clear favorite over Assemblywoman Christy Smith." • Thanks, DCCC.
Stats Watch
At reader request, I added some business stats back in. Please give Econintersect click-throughs; they're a good, old-school blog that covers more than stats. If anybody knows of other aggregators, please contact me at the email address below.
Debt: "February 2020 Loan Performance: Delinquency Rates at Record Lows in February" [Econintersect]. "February marked the 26th consecutive month of falling annual overall delinquency rates. However, as the coronavirus (COVID-19) pandemic continues to impact the economy, and claims for unemployment insurance reach record highs, homeowners are at an increased risk of becoming delinquent in the coming months — with the risk for borrowers in negative equity being even higher. While the share of homes in negative equity fell to 3.5% at the start of 2020, home prices are forecasted to slow drastically over the next several months, which could drive down equity. States with already high negative equity share, including Louisiana, Connecticut, Maryland, and Illinois, are most at risk for increases in delinquencies."
Inflation: "April 2020 CPI: Year-over-Year Inflation Rate Slows to 0.3%" [Econintersect]. "According to the BLS, the Consumer Price Index (CPI-U) year-over-year inflation rate was 0.3 % year-over-year (up from the reported 1.5 % last month). The year-over-year core inflation (excludes energy and food) rate declined from 2.1 % to 1.4 % and remains above the target set by the Federal Reserve…. The index for energy was the reason for the decline of the CPI-U. Medical care services cost inflation increased from 5.5 % to 5.8 % year-over-year."
Small Business Optimism: "April 2020 Small Business Optimism Continues Two Month Slide" [Econintersect]. "Small business optimism took another dive in April, falling 5.5 points to 90.9, with owners expressing certainty the economy will weaken in the near-term, but expecting it to improve over the next six months. The Optimism Index has fallen 13.6 points over the last two months, with nine of 10 Index components declining in April and one improving."
* * *
Commodities: "Shale drilling pioneer Chesapeake Energy warns it may not be able to stay in business… as weak oil and natural gas prices imperil efforts to pay down its hefty debt. The problems at the Oklahoma City-based company follow the longtime natural gas supplier's recent attempts to become a bigger player in oil" [Wall Street Journal]. "Chesapeake now is among dozens of U.S. shale firms facing possible bankruptcy a crude prices crash. Analytics firm Rystad Energy expects some 140 American oil and gas companies to file for bankruptcy protection this year at a U.S. benchmark oil price of around $20. The oil collapse has pushed the price of diesel across the country below $2.40 for the first time since October 2016, while world-wide prices for maritime low-sulfur fuel have fallen by more than half since February."
Retail: "The man feeding a remote Alaska town with a Costco card and a ship" [The Hustle]. "[Gustavus, Alaska] had no electricity until 1985, and no phones until the mid-90s. To this day, no roads connect it to the outside world…. Parker did some work around town, scrounged together $3k, and began taking a state-subsidized ferry to Juneau, where he bought Costco inventory to resell in Gustavus at a small markup. As the store grew, Parker and his father launched their own freight company, purchased the town's gasoline station, and bought two of their own ships — a $300k "insurance policy" that gave Parker tighter control over the supply chain in case of an emergency. During COVID-19, these preemptive moves have become crucially important."
Shipping: " Truckstop.com says its index of demand in the truckload spot market has expanded for three straight weeks, although it remains far below pre-pandemic levels" [Wall Street Journal].
Shipping: "Port of LA chief: 'We will need to reinvent ourselves'" [Freight Waves]. "[Port of LA Executive Director Gene Seroka] lived in China during the severe acute respiratory syndrome (SARS) epidemic. 'I know firsthand what it is like to live through a viral episode such as we are in right now, but this may be 10 or 15 times greater than what I witnessed back in 2002 and '03,' he said during a video press conference. 'The number of folks who have fallen ill, those who have perished, the closure of businesses, the closure of the United States economy throughout its 50 states in this union is something we have never witnessed before in our lifetimes. The levels of unemployment, the creation of funding from the United States Treasury, the federal government all the way down to the taxpayer is of epic level. The cost or price tag for SARS was estimated by economists at $40 billion U.S. during that time. This will be 10 to 15 times greater across the supply chain and its parallel businesses," he said."
Manufacturing: Drama queen:
Tesla is restarting production today against Alameda County rules. I will be on the line with everyone else. If anyone is arrested, I ask that it only be me.

— Elon Musk (@elonmusk) May 11, 2020
And crook. Very on-brand for Silicon Valley.
Today's Fear & Greed Index: 42 Fear (previous close: 44 Fear) [CNN]. One week ago: 43 (Fear). (0 is Extreme Fear; 100 is Extreme Greed). Last updated May 11 at 12:40pm.
The Biosphere
"Include the true value of nature when rebuilding economies after coronavirus" [Nature]. "Every nation's economic plans and policies are rightly pivoting to dealing with COVID-19 and its effects. But as economies are revived, now is the right time to make up for past omissions — and rebuild them in a way that takes nature's true value into account." • 
Health Care
Liberal Democrats plan for CARES 2: Leave this part alone, it's working fine (via Jon Walker):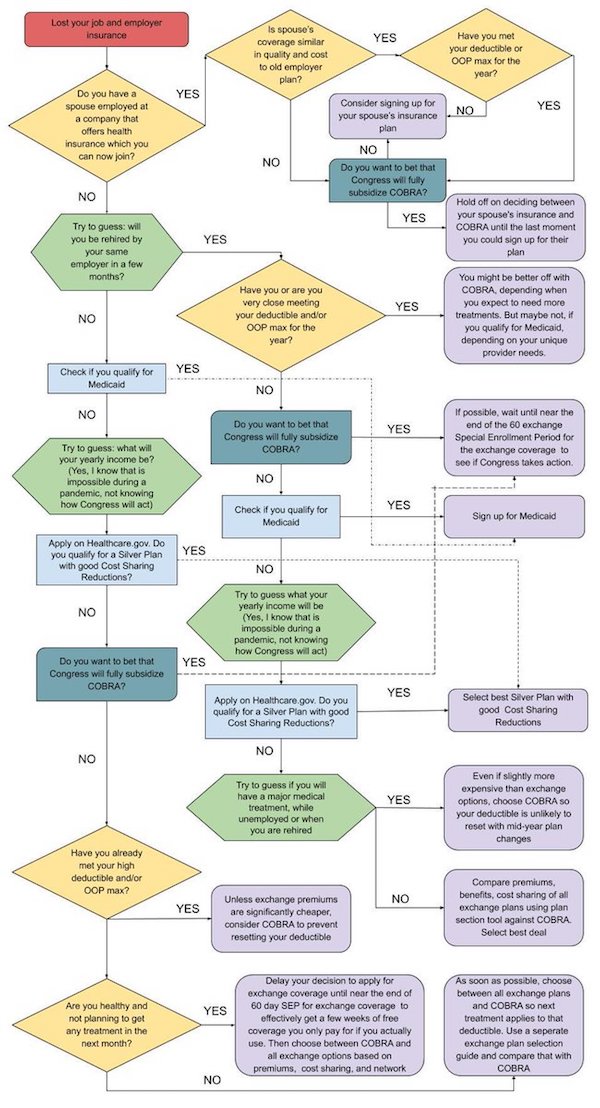 "Hospitals balk as CMS doubles down on price transparency" [Health Care Dive]. "CMS is adding a new element to controversial price transparency regulations, suggesting it will continue to collect data on hospital median payer-specific negotiated rates and consider how that information could be used to set set relative Medicare payment rates. Hospitals immediately blasted the idea… The American Hospital Association, which is suing HHS for earlier price transparency efforts, did not mince words when responding to the draft Monday evening. 'We are very disappointed that CMS continues down the unlawful path of requiring hospitals to disclose privately negotiated contract terms,' the group said in a statement."
* * *
"The Risks – Know Them – Avoid Them" [Erin Bromage]. I've run this link before, but I want to reinforce this: "Indoor spaces, with limited air exchange or recycled air and lots of people, are concerning from a transmission standpoint. We know that 60 people in a volleyball court-sized room (choir) results in massive infections. Same situation with the restaurant and the call center. Social distancing guidelines don't hold in indoor spaces where you spend a lot of time, as people on the opposite side of the room were infected." And: "When assessing the risk of infection (via respiration) at the grocery store or mall, you need to consider the volume of the air space (very large), the number of people (restricted), how long people are spending in the store (workers – all day; customers – an hour). Taken together, for a person shopping: the low density, high air volume of the store, along with the restricted time you spend in the store, means that the opportunity to receive an infectious dose is low. But, for the store worker, the extended time they spend in the store provides a greater opportunity to receive the infectious dose and therefore the job becomes more risky." So, think about volume, number of people, how long the people are together. For shopping, I would say quick in, quick out would be the rule. (Presumably that will have continuing effects on retail.) Incidentally, everybody comes together at the cash register; it drives me nuts how transactions via cellphone slow down purchase, causing me to breathe other people's air for longer. Cash is so much better.
"Association of Treatment With Hydroxychloroquine or Azithromycin With In-Hospital Mortality in Patients With COVID-19 in New York State" [JAMA]. " In a retrospective cohort study of 1438 patients hospitalized in metropolitan New York, compared with treatment with neither drug, the adjusted hazard ratio for in-hospital mortality for treatment with hydroxychloroquine alone was 1.08, for azithromycin alone was 0.56, and for combined hydroxychloroquine and azithromycin was 1.35. None of these hazard ratios were statistically significant." • This is another hospital study on HQ. But see this thead at NC. It seems to me that many of these studies are about solving the doctor's problem when the patient is in hospital, rather than the patient's problem, which is to at all costs avoid going to the hospital in the first place. In any case, this is an observational study, not a controlled one (and those are coming).
"Can post-exposure prophylaxis for COVID-19 be considered as an outbreak response strategy in long-term care hospitals?" [Science Direct]. "Although several drugs have been proposed as treatment options, there are no data on the effectiveness and safety of post-exposure prophylaxis (PEP) for COVID-19. After a large COVID-19 exposure event in an LTCH in Korea, PEP using hydroxychloroquine (HCQ) was administered to 211 individuals, including 189 patients and 22 careworkers, whose baseline polymerase chain reaction (PCR) tests for COVID-19 were negative. PEP was completed in 184 (97.4%) patients and 21 (95.5%) careworkers without serious adverse events. At the end of 14 days of quarantine, all follow-up PCR tests were negative. Based on our experience, further clinical studies are recommended for COVID-19 PEP."
"COVID-19 and Postinfection Immunity" [JAMA]. The bottom line: "n summary, existing limited data on antibody responses to SARS-CoV-2 and related coronaviruses, as well as one small animal model study, suggest that recovery from COVID-19 might confer immunity against reinfection, at least temporarily. However, the immune response to COVID-19 is not yet fully understood and definitive data on postinfection immunity are lacking. Amidst the uncertainty of this public health crisis, thoughtful and rigorous science will be essential to inform public health policy, planning, and practice." • Well-written, worth reading in full.
"Influenza and obesity: its odd relationship and the lessons for COVID-19 pandemic" [Acta Diabetologica]. "Basal hormone milieu, defective response of both innate and adaptive immune system and sedentariness are major determinants in the severity of influenza viral infection in obese patients. Being overweight not only increases the risk of infection and of complications for the single obese person, but a large prevalence of obese individuals within the population might increase the chance of appearance of more virulent viral strain, prolongs the virus shedding throughout the total population and eventually might increase overall mortality rate of an influenza pandemic…. Due to prolonged viral shedding, quarantine in obese subjects should likely be longer than normal weight individuals." • "The U.S. Obesity Rate Now Tops 40%." American exceptionalism!
"Coronavirus blood-clot mystery intensifies" [Nature]. "Blood clots, large and small, are a frequent complication of COVID-19, and researchers are just beginning to untangle why…. Studies from the Netherlands and France suggest that clots appear in 20% to 30% of critically ill COVID-19 patients1,2. Scientists have a few plausible hypotheses to explain the phenomenon…. Why this clotting occurs is still a mystery. One possibility is that SARS-CoV-2 is directly attacking the endothelial cells that line the blood vessels….. The virus's effects on the immune system could also affect clotting… there could be other factors at play that aren't specific to COVID-19. People with the disease who become hospitalized typically have a number of risk factors for clotting. They might be elderly or overweight, and could have high blood pressure or diabetes. They show up with high fevers and, because they're seriously ill, have probably been immobilized. They might have a genetic predisposition to clotting, or be taking medications that increase the risk… [Agnes Lee, director of the Hematology Research Program at the University of British Columbia in Vancouver, Canada] worries about the amount of '' happening. "People are changing their therapeutic approach in reaction to their local and personal experience," she says. She understands the impetus, 'but we have to remember the main thing is first do no harm.'"
"Finnish-developed, open-source coronavirus vaccine nearly ready for testing" [YLE]. "[Helsinki University Professor of Virology Kalle Saksela] is one of a team of three Finnish professors who together are finalising development of a coronavirus vaccine nasal spray… The project is well advanced and according to Saksela, testing could begin "around midsummer", which falls on 20 June…. The team of professors developing the vaccine are foregoing intellectual property rights to their work. In practice, they have gathered together research data in the field, refined it, added their own observations and are making it freely available…. The downside is that it will be harder to generate profits off an open source vaccine." • Lol. But: "Saksela says he hopes that the most time-consuming and expensive development phase, that is extensive human testing, can be for the most part be skipped. He admits that bypassing any test phase increases possible risks, but he stresses that the vaccine's development has been based on existing and tested data." • I think if a vaccine launch goes wrong, that would be bad.
"Fact-checking Judy Mikovits, the controversial virologist attacking Anthony Fauci in a viral conspiracy video" [Science]. •
News of the Wired
Why? Why?
Is there anything more over-the-top Silicon Valley than being late to make Mother's Day dinner because a wireless meat thermometer requires a mandatory over-the-air update before it starts working? pic.twitter.com/d20nExBG7l

— Vlad Magdalin (@callmevlad) May 11, 2020
* * *
Readers, feel free to contact me at lambert [UNDERSCORE] strether [DOT] corrente [AT] yahoo [DOT] com, with (a) links, and even better (b) sources I should curate regularly, (c) how to send me a check if you are allergic to PayPal, and (d) to find out how to send me images of plants. Vegetables are fine! Fungi and coral are deemed to be honorary plants! If you want your handle to appear as a credit, please place it at the start of your mail in parentheses: (thus). Otherwise, I will anonymize by using your initials. See the previous Water Cooler (with plant)
here. Today's plant (MF):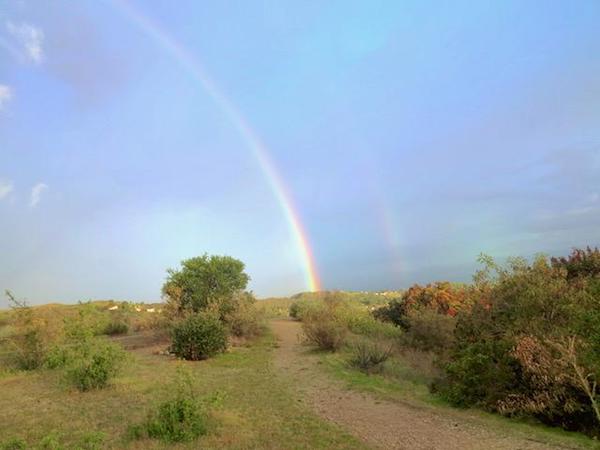 MF writes: "I know this photo, which was taken near Tarzan on March 16th a few minutes after sunrise, is not exactly plant focused, but I can't recall the last time I'd seen a double rainbow in LA county." Well, the rainbows are plant-adjacent and in any case I think we could also use a rainbow at this point.
* * *
Readers: Water Cooler is a standalone entity
not covered by the annual NC fundraiser. So if you see a link you especially like, or an item you wouldn't see anywhere else, please do not hesitate to express your appreciation in tangible form. Remember, a tip jar is for tipping!
Regular positive feedback both makes me feel good and lets me know I'm on the right track with coverage. When I get no donations for five or ten days I get worried. More tangibly, a constant trickle of donations helps me with expenses, and I factor in that trickle when setting fundraising goals:
Here is the screen that will appear, which I have helpfully annotated.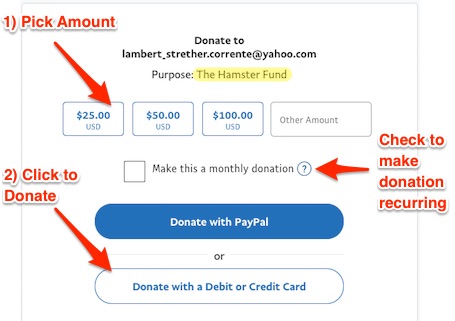 If you hate PayPal, you can email me at lambert [UNDERSCORE] strether [DOT] corrente [AT] yahoo [DOT] com, and I will give you directions on how to send a check. Thank you!