2:00PM Water Cooler 5/18/2020
By Lambert Strether of Corrente.
#COVID19
At reader request, I've added this daily chart: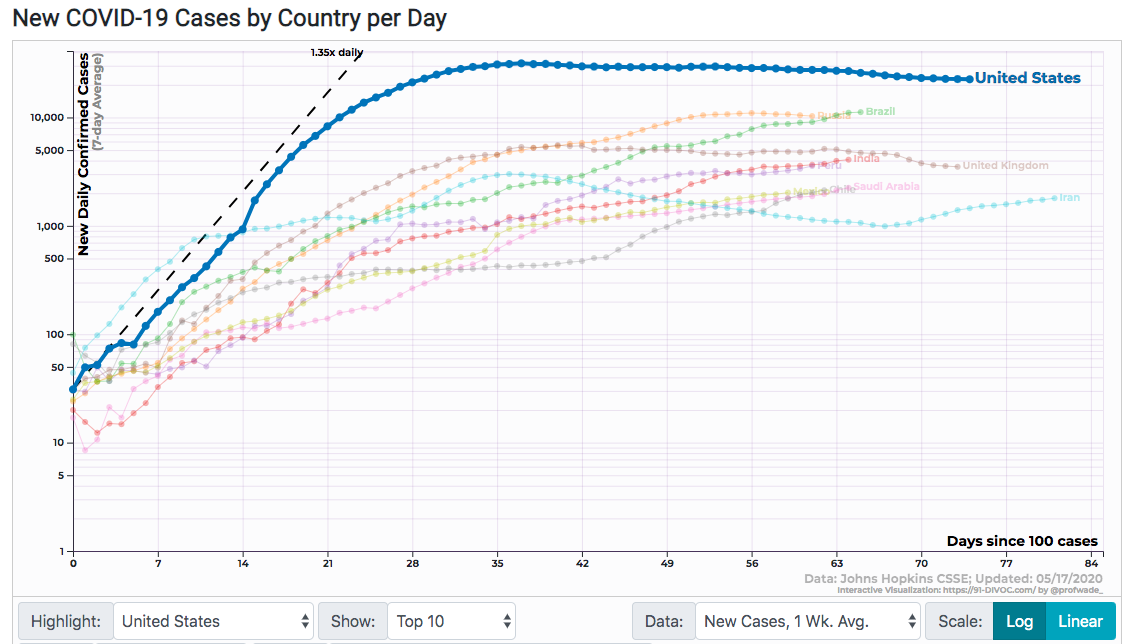 The data is the John Hopkins CSSE data. Here is the site. I have changed to a logarithmic scale for US States and territories.
I though I'd look at countries. The United States is in good company: Brazil. Russia, India China (the RBRICs — Hi, Goldman Sacsh [waves]), Saudi Arabia, Iraq, and of course, us.
* * *
See Vice, "How to Read the Coronavirus Graphs":
Quantities that grow exponentially, when depicted on a linear scale, look like curves that bend sharply upward, with the curve getting constantly steeper. On a log scale, exponentially growing values can be depicted with straight diagonal lines.

That's the beauty of plotting things on log scales. Plots are meant to make things easy to understand, and we humans are much more adept at understanding linear, straight-line behavior. Log plots enable us to grasp exponential behavior by transferring the complexity of constantly steepening curves into the simplicity of an exponentially increasing scale.

On a log scale, we want to constantly be making the line more and more horizontal. The general concept of "flattening" is still a good one, but it's never going to curve down. And so what we should be looking, and hoping for is a trend toward horizontal.
Trade
"New U.S. trade actions against Huawei Technologies Co. could help redraw supply chains at the heart of the technology sector. The Trump administration will impose export restrictions designed to cut the Chinese telecom-equipment maker off from overseas semiconductor suppliers, adding to pressure on chip makers to set new operations isolated from China's big electronics manufacturing field" [Wall Street Journal]. "The restrictions stop foreign semiconductor manufacturers that use U.S. software and technology from shipping to Huawei without first getting a license from U.S. officials, effectively giving American regulators a veto over the kinds of technology that Huawei can use. That's a blow to the company since U.S. software and design figures prominently in semiconductors behind much of the world's electronics. The actions could harm the U.S. industry, however, if foreign factories start favoring equipment made outside the U.S. because it comes with fewer strings attached."
Politics
"But what is government itself, but the greatest of all reflections on human nature?" –James Madison, Federalist 51
"They had one weapon left and both knew it: treachery." –Frank Herbert, Dune
"They had learned nothing, and forgotten nothing." –Charles Maurice de Talleyrand-Périgord
* * *
2020
Biden (D)(1): "Biden's Latino outreach is under fire: 'I can't tell what their strategy is'" [Politico]. "In interviews, more than 20 Latino political operatives, lawmakers, and activists said they don't see a game plan from Biden to marshal Hispanic voters effectively in the fall. They said there's little evidence the campaign is devoting the resources or hiring the staff that task will require — all the more crucial during a pandemic, when reaching and mobilizing Latino voters through in-person canvassing is nearly impossible." • I would say there's a fair amount of job-seeking and self-promotion there, but if none of them have jobs….

Trump (R)(1): "Bobo The Clown's Revenge? How The Media Is Reelecting Donald Trump" [Jonathan Turley]. "Trump has a curious record: He has been repeatedly (and correctly) chastised for untrue statements, and yet he has one of the best records for actually keeping campaign promises — the crackdown on immigration, building of the border wall, pro-life policies and appointments, selection of conservative jurists, tax cuts, regulation rollbacks, opening up areas to oil drilling. These and many other aspects of his administration are the most controversial but also are the long-held wish list of conservatives going back to Ronald Reagan…. [A]fter largely positive treatment of Clinton and correspondingly negative coverage of Trump, the election results [in 2016] stunned experts who predicted an easy win for Clinton — and why not? Voters had been exposed to unyielding, continual media conditioning against Trump. The conclusion of the media today appears to be that the scathing treatment in 2016 was not aggressive enough…. Thus, polls indicate that the unending attacks on Trump and his supporters in the media are not conditioning but, instead, are repelling voters. They are fulfilling his narrative that voters cannot trust the media. Many voters may still view both Trump and Biden as over-inflated clowns, but they resent being continually conditioned to hit one clown and hug the other. Indeed, if Trump is reelected, he may have the media to thank."

Trump (R)(2): If Trump wants to hammer an enormous wedge between Red and Blue America, and shift the blame from himself to liberal Democrat Cuomo, he can show a map like this in the first debate, right after he asks Biden to draw a clock:

(From "Travel From New York City Seeded Wave of U.S. Outbreaks" [New York Times]. There is a much more pointed map showing air travel from New York to various cities — Miami was #1, so long Florida! — connected them with arrows, but this map will have to do. No doubt Brad Pasquale's talented graphics department is working on a map like that as we speak.

* * *
Realignment and Legitimacy
Remember when people were naming their dogs after Mueller?

ladies …. no pic.twitter.com/ywDjkWqJ7w

— Liz Franczak (@liz_franczak) May 16, 2020

"How House Progressives' #PutPeopleFirst Plan Fell Short" [Politico]. "Instead of organizing as a bloc to make coordinated demands or threatening to withhold votes, the progressive approach has been to meet with leadership individually with legislative wish lists, with the hope that working behind the scenes will influence the legislation…. That began to change when the Congressional Progressive Caucus had released, in late March, a list of 'bold' legislative priorities for the next coronavirus rescue package…. Outside progressive groups also roused from their slumber…. The coalition launched its push for influence on April 20 under the banner of #PutPeopleFirst, with CPC co-chairs Rep. Pramila Jayapal, D-Wash., and Rep. Mark Pocan, D-Wis., as well as all four members of the Squad, touting the campaign. The news conference was the first of its kind during the crisis…. Within days, it ran into trouble. On Friday evening, the House passed the HEROES Act by a vote of 208 to 199, without many of those priorities and with many of those progressive groups confused about what was going on inside Congress. Fourteen Democrats in the House voted no, with Jayapal the lone member of CPC to vote against the bill. Despite the public display of unity, according to sources involved with #PutPeopleFirst, there was never agreement on a real strategy between those on the inside and those on the outside.: • Man, if Indivisible is taking the hardest line here, I really don't know what to say.
Stats Watch
At reader request, I added some business stats back in. Please give Econintersect click-throughs; they're a good, old-school blog that covers more than stats. If anybody knows of other aggregators, please contact me at the email address below.
Consumption: "What Are Americans Consuming More Of?" [Federal Reserve Bank of St Louis]. "These numbers tell us that average consumers increased consumption across the board over the sample period and spent significantly more on durable goods in 2018 than they did in 2002." But now the caveat: "It's important to note that this analysis focuses only on the average U.S. consumer and does not consider the issue of income inequality. It is well documented that the benefits of economic growth have been distributed unevenly across the population during our sample period. Hence, relatively lower income households may not have experienced such gains in real consumption and may disproportionately suffer from the rapidly growing costs of some services, such as housing and health care." It's almost as if even the macro-economists are hearing, far off and faintly, the sound of blades being sharpened…
* * *
Commodities: "The damage to American meat supply chains from the coronavirus could be long-lasting. The head of JBS USA Holdings Inc., the country's largest beef producers, says new safety measures on production lines will slow production… hampering output for the next several months and potentially longer" [Wall Street Journal]. "The warning from JBS Chief Executive Andre Nogueira highlights the likely impact of changes in business processes as companies with heavily manual processes seek to resume operations. Mr. Nogueira says JBS will space workers farther apart and adding safety measures like air-purification systems. The company has reopened plants in several states, and those so far are operating at 70% to 95% of normal capacity."
Retail: "Overall U.S. retail sales fell a record 16.4% from March to April… while sales in the category including online merchants jumped 8.4%" [Wall Street Journal]. "That gap should eventually close, but many retailers may not survive to see that happen."
Retail: "Who knew real milk runs, the service offered decades-ago with drivers dropping off fresh dairy products, would return? Wade's Dairy of Bridgeport, Conn., is resuming a home-delivery service it had shut down long ago… in an unlikely return to direct-to-consumer sales to replace business the company has lost under coronavirus lockdowns" [Wall Street Journal]. "The service is one of the creative distribution pivots industrial suppliers are making as their main markets have largely disappeared. That's especially true in the food sector, where suppliers are trying to bring in cash while restaurants, schools and other big dining operations are shut down. Wade's Dairy's return to its roots is bringing in about $10,000 in sales a week, enough to justify the recent purchase of a new 14-foot truck especially for the operation." • Cool!
Today's Fear & Greed Index: 47 Neutral (previous close: 39 Fear) [CNN]. One week ago: 44 (Fear). (0 is Extreme Fear; 100 is Extreme Greed). Last updated May 18 at 12:10pm.
Rapture Index: Closes up one on Earthquakes. "Nevada hit by the largest area quake in 65 years" [Rapture Ready]. Record High, October 10, 2016: 189. Current: 186. Remember that bringing on the rapture is a good thing.
The Biosphere
"Horticultural Therapy to the Rescue" [Modern Farmer]. "Several studies have reported a wide range of positive impacts. Gardening can help reduce your blood pressure and improve sleep. Recent research from Princeton University found that the emotional well-being people were experiencing from gardening was similar to the fuzzy feelings you get from activities such as biking, walking or eating at a restaurant. It also showed that those who grew their own food, as opposed to ornamental gardens, expressed higher levels of happiness. The therapeutic benefits of being out in the garden have been documented for hundreds of years. American hospitals started using horticultural therapy to help patients rehabilitate in the 19th century. In 1812, a Pennsylvania physician called Dr. Benjamin Rush wrote about how his patients who worked in gardens would recover faster from manic syndrome. By 1879, the Friends Hospital in Philadelphia became the first hospital in the country to build a greenhouse used for patient rehabilitation. Today, the practice of horticultural therapy is widely employed across the US, and post-secondary institutions have offered education in the field since the 1970's. Home gardening is only a small piece of horticulture therapy, but [Joel Flagler, a horticultural therapist and professor at Rutgers University] has a few tips for those looking to maximize on benefits. First, there is no formula for the right garden. Grow what you want, he says, and what appeals to you. Second, don't be afraid to add additional features like a fountain or wind chimes to harness the wind, which will contribute to a multi-sensory experience, he says." • I would say "plan to grow what you want, and start growing it" — "start growing" because the plants will show you want they want, and you may end up wanting new things. The plan doesn't have to be large, but it does have to suit your patch, no matter how small or large.
Health Care
Sadly, no:
The 👏🏻 pandemic 👏🏻 isn't 👏🏻 over 👏🏻 just 👏🏻 because 👏🏻 you're 👏🏻 bored 👏🏻

— Kate Kaput (@katekaput) May 17, 2020
I hate that clapback trope with the hatred of a million burning suns, but… they're right.
"SARS-CoV-2 Rates in BCG-Vaccinated and Unvaccinated Young Adults" [JAMA]. A natural experiment: "The BCG vaccine was routinely administered to all newborns in Israel as part of the national immunization program between 1955 and 1982. Overall, the vaccine acceptance rate in Israel is high, with greater than 90% coverage. Since 1982, the vaccine has been administered only to immigrants from countries with high prevalence of tuberculosis. This change allowed comparison of infection rates and proportions with severe COVID-19 disease in 2 similar populations with differing BCG status: individuals born during the 3 years before and 3 years after cessation of the universal BCG vaccine program." n= 72,060. And the result: "There was no statistically significant difference in the proportion of positive test results in the BCG-vaccinated group (361 [11.7%]) vs the unvaccinated group (299 [10.4%]; difference, 1.3%; 95% CI, −0.3% to 2.9%; P = .09) or in positivity rates per 100 000 (121 in vaccinated group vs 100 in unvaccinated group; difference, 21 per 100 000; 95% CI, −10 to 50 per 100 000; P = .15)." • Dang.
"Convergent Antibody Responses to SARS-CoV-2 Infection in Convalescent Individuals" (preprint) [bioRxiv]. Carefully qualified: "[M]ost convalescent plasmas obtained from individuals who recover from COVID-19 without hospitalization do not contain high levels of neutralizing activity. Nevertheless, rare but recurring RBD-specific antibodies with potent antiviral activity were found in all individuals tested, suggesting that a vaccine designed to elicit such antibodies could be broadly effective."
"'This feels great'" [WaPo]. From Georgia: "Outside Urban Outfitters, Jennifer Kiernan was having a glass of wine as her daughter shopped inside. 'Oh my God, this feels great — I love it,' she said, explaining that she assumed that she and everyone around her was healthy. 'I think people would not be out if they had been exposed to anyone with corona.'" • My Blue State, PMC-adjacent impulse to blame and shame really kicks in here. This attitude seems to me to be unfathomably stupid and irreponsible. ("American Roulette," where asymptomatic carriers spin the barrel and point the gun at somebody else's head. On the other hand, blaming and shaming hasn't worked all that well tactically, has it?
"Number of Americans practicing social distancing drops significantly: poll" [The Hill]. "More Americans are leaving their homes than in recent weeks, becoming less likely to practice social distancing regardless of stay-at-home orders, according to a new Gallup poll released Friday. Fifty-eight percent of U.S. adults surveyed reported that they were either completely (17 percent) or mostly (41 percent) isolating themselves — a 17-point drop from a high of 75 percent during the week ending on April 5. The poll found that the declines in social distancing were not just limited to states loosening their stay-at-home orders that had been implemented to prevent the spread of coronavirus. Among respondents who live in the 21 states that did not have stay-in-place orders as of May 4, 51 percent said they were either completely or mostly self-isolating. That's a drop from 64 percent among people in the same group of states two weeks prior. In states with stay-at-home restrictions still in place — such as New York and California — respondents also reported less distancing. The rate fell 7 points from 71 percent in the week ending April 26 to 64 percent the week ending May 10." • Still up on my high horse: Pandemics are hard schools, but fools will learn in no other.
"Variation in False-Negative Rate of Reverse Transcriptase Polymerase Chain Reaction–Based SARS-CoV-2 Tests by Time Since Exposure" [Annals of Internal Medicine]. The conclusion: "Care must be taken in interpreting RT-PCR tests for SARS-CoV-2 infection—particularly early in the course of infection—when using these results as a basis for removing precautions intended to prevent onward transmission. , and the clinical and epidemiologic situation should be carefully considered." • Yikes.
"US lockdown protests may have spread virus widely, cellphone data suggests" [Guardian]. "Cellphone location data suggests that demonstrators at anti-lockdown protests – some of which have been connected with Covid-19 cases – are often traveling hundreds of miles to events, returning to all parts of their states, and even crossing into neighboring ones…. One visualization shows that in Lansing, Michigan, after a 30 April protest in which armed protesters stormed the capitol building and state police were forced to physically block access to Governor Gretchen Whitmer, devices which had been present at the protest site can be seen returning to all parts of the state, from Detroit to remote towns in the state's north…. In the 48 hours following a 19 April "Operation Gridlock" protest in Denver, devices reached the borders of neighboring states including Wyoming, Nebraska, Oklahoma, New Mexico and Utah." • Exactly as wealthy New Yorkers did who left for the Hamptons, Miami, Pioneer Valley, Cape Cod, or wherever. And exactly as delegates to either national convention will do. Of course, if we could get mask-wearing to 80%….
"Families of essential workers killed by COVID-19 face loss of health care" [Salon]. "Congress is considering several bills to help and their families, including a bipartisan measure to extend a legal presumption to first responders that their death from COVID19 was line of duty linked. Such a provision, should it be made law, would ensure their families could apply for compensation under the Department of Justice's Public Safety Benefits Program." • Gawd forbid we should consider universal benefits!
Failed State
"After arrest, gym owner defies California again to reopen" [ABC]. "[Lou] Uridel said he had about reopening the gym. 'We lost a third of our membership that took us a year and a half to get,' Uridel said. 'If we waited, with the bills mounting, we weren't going to be able to recover.' Uridel said he has taken every precaution so his customers feel safe. Large handwritten signs warn people no one is allowed in if they are coughing or show other symptoms, and that everyone must sign a waiver declaring they are not ill. It says all rules will be enforced, including no gym bags or showering at the gym, and members must wear masks and shirts at all times. Everyone must maintain 6 feet (1.8 meters) of space between each other, wipe down equipment after each use, and wash their hands before entering the gym and before leaving it. Uridel said he also closes the gym every 90 minutes for cleaning and sanitizing. … Gyms are not being allowed to reopen anywhere because they are considered a high-risk business due to people being indoors, sharing equipment and breathing hard as they exercise. Coughing, sneezing and even talking are ways the virus is spread through tiny water droplets." • First, Uridel does have a choice: Perhaps he is in a bad business to be in. Second, if Uridel doesn't know that covid spreads asymptomaticallly, he's derelict in his duties. Third,
Screening Room
Where's the lie:
This is what happens when you ask Siri what ALIEN is about. pic.twitter.com/Xd4AyFbqY5

— Mike Dougherty (@Mike_Dougherty) May 16, 2020
Class Warfare
"From Black Death to fatal flu, past pandemics show why people on the margins suffer most" [Science]. "But careful archaeological and historical work at East Smithfield and elsewhere has revealed that intersecting social and economic inequalities shaped the course of the Black Death and other epidemics. "Bioarchaeology and other social sciences have repeatedly demonstrated that these kinds of crises play out along the preexisting fault lines of each society," says Gwen Robbins Schug, a bioarchaeologist at Appalachian State University who studies health and inequality in ancient societies. The people at greatest risk were often those already marginalized—the poor and minorities who faced discrimination in ways that damaged their health or limited their access to medical care even in prepandemic times. In turn, the pandemics themselves affected societal inequality, by either undermining or reinforcing existing power structures… Household account books and records of payments to workers on English manors show that by 1290, 70% of English families were living at or below the poverty line, defined as being able to buy enough food and goods to not go hungry or be cold. Meanwhile, the wealthiest 3% of households received 15% of the national income."
News of the Wired
"By visiting her partner my housemate is putting us all at risk" [Guardian]. "None of us wants to live in a police state, but relying on people to behave responsibly and unselfishly is not without challenges." • British understatement….
Listen!
Archaeologist Dr. Jean-Loup Ringot specializes in prehistoric music, here he demonstrates a Lithophone. 🔊 pic.twitter.com/xqaov8Q8LZ

— Daniel Holland (@DannyDutch) May 16, 2020
* * *
Readers, feel free to contact me at lambert [UNDERSCORE] strether [DOT] corrente [AT] yahoo [DOT] com, with (a) links, and even better (b) sources I should curate regularly, (c) how to send me a check if you are allergic to PayPal, and (d) to find out how to send me images of plants. Vegetables are fine! Fungi and coral are deemed to be honorary plants! If you want your handle to appear as a credit, please place it at the start of your mail in parentheses: (thus). Otherwise, I will anonymize by using your initials. See the previous Water Cooler (with plant)
here. Today's plant (AM):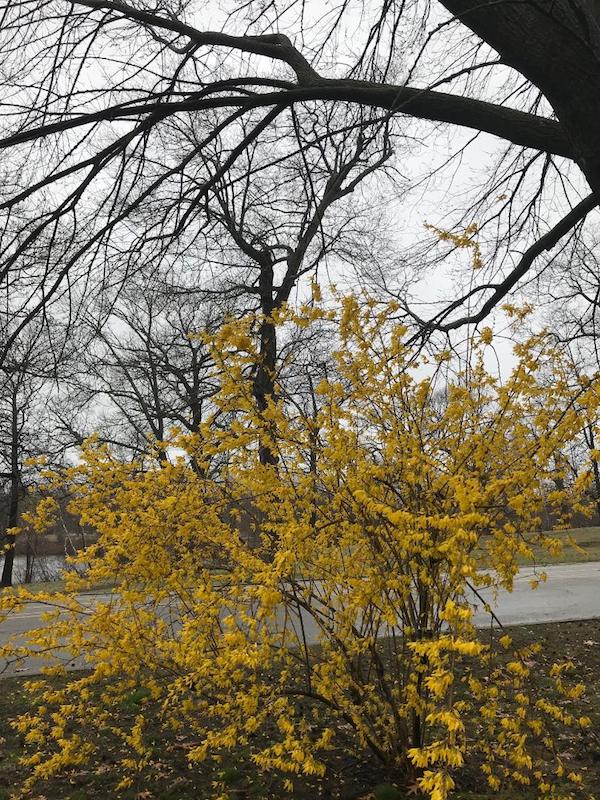 AM write: "Forsythia and bare trees, Roger Williams Park.' The cycle of spring flowers continues!
* * *
Readers: Water Cooler is a standalone entity
not covered by the annual NC fundraiser. So if you see a link you especially like, or an item you wouldn't see anywhere else, please do not hesitate to express your appreciation in tangible form. Remember, a tip jar is for tipping!
Regular positive feedback both makes me feel good and lets me know I'm on the right track with coverage. When I get no donations for five or ten days I get worried. More tangibly, a constant trickle of donations helps me with expenses, and I factor in that trickle when setting fundraising goals:
Here is the screen that will appear, which I have helpfully annotated.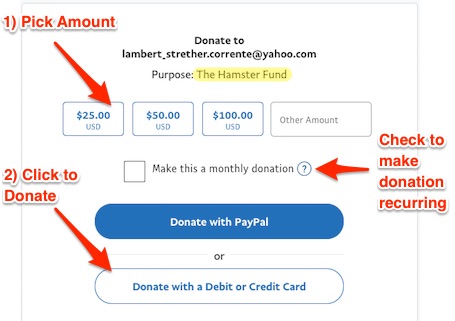 If you hate PayPal, you can email me at lambert [UNDERSCORE] strether [DOT] corrente [AT] yahoo [DOT] com, and I will give you directions on how to send a check. Thank you!