By Lambert Strether of Corrente
Bird Song of the Day
This is Tanager week at Naked Capitalism. Splendid background of insect sounds, from the Dominican Republic.
* * *
Politics
"But what is government itself, but the greatest of all reflections on human nature?" –James Madison, Federalist 51
"They had learned nothing, and forgotten nothing." –Charles Maurice de Talleyrand-Périgord
"When the going gets weird, the weird turn pro." –Hunter Thompson
Biden Adminstration
"Biden says no change on 'strategic ambiguity' as Taiwan overshadows Quad talks" [Channel News Asia]. "President Joe Biden on Tuesday (May 24) said there was no change to a US policy of "strategic ambiguity" on Taiwan, a day after he angered China by saying he would be willing to use force to defend the democratic island…. While Washington is required by law to provide self-ruled Taiwan with the means to defend itself, it has long followed a policy of "strategic ambiguity" on whether it would intervene militarily to protect it in the event of a Chinese attack – a convention Biden had appeared to break with on Monday.Some critics have said Biden has misspoken on the issue, or made a gaffe, but other analysts have suggested that given Biden's extensive foreign policy experience and the context in which he made the remarks, next to Kishida and after the Russian invasion of Ukraine, he had not spoken in error. A Chinese foreign ministry spokesperson said on Monday that China had no room for compromise or concessions on matters relating to its sovereignty and territorial integrity."
2022
* * *

GA: "2022 midterms: What to watch in Georgia, Texas, elsewhere" [Associated Press]. "Georgia takes center stage in Tuesday's primary elections as Gov. Brian Kemp and Secretary of State Brad Raffensperger try to fight back challengers endorsed by former President Donald Trump, who is seeking revenge for his 2020 election defeat in the state. U.S. Rep. Marjorie Taylor Greene of Georgia is testing Republican voters' tolerance for controversy in her primary. On the Democratic side, U.S. Rep. Lucy McBath and U.S. Rep. Carolyn Bourdeaux are facing off after McBath switched districts because of redistricting."

PA: "Gisele Fetterman steps into the spotlight after husband's stroke" [The Hill]. "Pennsylvania's second lady Gisele Fetterman stepped into the spotlight this week and took on a central role in the campaign of her husband, Pennsylvania Democratic Senate nominee John Fetterman, after he suffered a stroke. Gisele Fetterman has long been a presence on the campaign trail, with her husband frequently citing her former status as a 'Dreamer' when talking about immigration. But being front and center on primary night when her husband couldn't be introduced her to a far wider audience."

TX: "The expensive and unscrupulous campaign to keep an anti-abortion Democrat in Congress" [Popular Information]. "Tonight, Cuellar faces a run-off election against Democratic challenger Jessica Cisneros, an immigration attorney, activist, and supporter of abortion rights. It is expected to be a close contest. In the March 2020 primary, Cuellar defeated Cisneros by a margin of 51.8% to 48.2%, securing the nomination. In the March 2022 primary, Cuellar received 48.7% to Cisneros' 46.6%. (A third candidate, Tannya Benavides, received the remaining votes.) Since neither candidate secured 50% of the vote, a run-off was scheduled for May 24. Tonight's results is a case study in the power of incumbency. Cuellar has been in Congress since 2005 and his reelection campaign has attracted extensive support from wealthy donors, corporate PACs, and Democratic leadership. Will it be enough to convince Democratic voters to overlook Cuellar's policy positions? Since the March primary, an odd coalition of Super PACs, backed by a handful of very wealthy people, have spent millions on dishonest and misleading advertisements promoting Cuellar and attacking Cisneros." • For example:

NEWS: Although @JoeBiden hasn't endorsed @RepCuellar in race against @JCisnerosTX, America United PAC—whose treasurer is senior Biden adviser Jorge Neri—just dropped $70K in radio ads supporting Cuellar 3 days before the TX runoff between Cuellar-Cisneros pic.twitter.com/md9PoUFrp2

— Jordan (@JordanChariton) May 23, 2022

More:

Even Teen Vogue is watching this primary closely https://t.co/RAl3IcMGex

— Blake Hounshell (@blakehounshell) May 24, 2022

"Even" Teen Vogue my Sweet Aunt Fanny. At least Teen Vogue was willling to cover the labor beat.
2024
"Eric Adams eyeing White House run in 2024: sources" [New York Post]. • Ha. Adams is Black, a cop, and has a million-watt smile. What more could any identity politics-driven, cop-loving, celebrity-worshipping liberal Democrat want? And who cares if he lives in New Jersey.

"Speculation over whether Biden will run again heats up" [The Hill]. "'Everything is frozen,' said one Democratic source who bundles campaign contributions."
Democrats en Déshabillé
I have moved my standing remarks on the Democrat Party ("the Democrat Party is a rotting corpse that can't bury itself") to a separate, back-dated post, to which I will periodically add material, summarizing the addition here in a "live" Water Cooler. (Hopefully, some Bourdieu.) It turns out that defining the Democrat Party is, in fact, a hard problem. I do think the paragraph that follows is on point all the way back to 2016, if not before:

The Democrat Party is the political expression of the class power of PMC, their base (lucidly explained by Thomas Frank in Listen, Liberal!). ; if the Democrat Party did not exist, the PMC would have to invent it. . ("PMC" modulo "class expatriates," of course.) Second, all the working parts of the Party reinforce each other. Leave aside characterizing the relationships between elements of the Party (ka-ching, but not entirely) those elements comprise a network — a Flex Net? An iron octagon? — of funders, vendors, apparatchiks, electeds, NGOs, and miscellaneous mercenaries, with assets in the press and the intelligence community.

Note, of course, that the class power of the PMC both expresses and is limited by other classes; oligarchs and American gentry (see 'industrial model' of Ferguson, Jorgensen, and Jie) and the working class spring to mind. Suck up, kick down.

* * *

Pass the Victory Gin:

In this next clip Manchin says he and the strategists he talks to have never seen an "opportunity" like this war to "do what needs to be done" against Putin. 2/2 pic.twitter.com/wzDhL22piH

— Caitlin Johnstone ⏳ (@caitoz) May 24, 2022

I'm glad we have a President like President Manchin.
RussiaGate
"FBI opened Alfa-Bank inquiry based on 'referral' from DOJ — but it came from Sussmann" [Washington Examiner]. "The FBI opened a full-fledged counterintelligence investigation into since-debunked Trump-Russia collusion claims just four days after Michael Sussmann pushed the allegations to the bureau…. The case identification was 'Alfa Bank, Russia — Contacts / Agents, Sensitive Investigative Matter,' and the opening document said it 'documents the opening of a Full Field Investigation into the network communications between a U.S.-based server and the Russian ALFA BANK organization.' Enclosed was a 'White Paper.' 'On or about September 19, 2016, FBI received a referral of information from the U.S. DEPARTMENT OF JUSTICE, detailing an unusually configured email server in Pennsylvania belonging to the TRUMP ORGANIZATION,' the FBI wrote in September 2016. 'In that referral, the DEPARTMENT OF JUSTICE provided the FBI with a white paper that was produced by an anonymous third party. According to the white paper, a U.S.-based server that is owned by the TRUMP ORGANIZATION has been communicating with the Russian-based ALFA BANK organization in Moscow, Russia.' Andy McCarthy, a former chief assistant U.S. attorney for the Southern District of New York and now a senior fellow at the National Review Institute, told the Washington Examiner: 'The investigation opening document is totally outrageous. It not only claims that the information came from the Justice Department. It suggests that the Justice Department commissioned and may even vouch for the white paper.' The former federal prosecutor added, 'To identify Sussmann as 'the Department of Justice' is especially outrageous under circumstances where (a) he is a lawyer for the Clinton Campaign, and (b) the representation that got him in the door to meet Baker was that he wasn't representing anyone (which would include the Justice Department, if he had any such technical tie).'"
Realignment and Legitimacy
"A Conservatism Parasitic on the Liberal Tradition: Yoram Hazony's Conservatism: A Rediscovery" [Matthew McManus, Liberal Currents]. "The ideological tendency of conservatism is to shift fluidly between caricaturing liberal universalism as defunct, unrealistic, and uncompelling when criticizing it and describing it as omnipresent, dangerous, potentially hegemonic, and even a nihilistic force threatening to sweep over the entire world. This tendency is irritating, but one needs to recognize that both sides of this ideological maneuver are necessary. Liberal modernity must be too stupid for anyone to buy into it while still threatening enough to pose a real danger. Tilt too much towards the former and one cannot mobilize, tilt too much towards the latter and one risks presenting it as a doctrine of such extraordinary strength and appeal it cannot be defeated. In the book's better moments Hazony grudgingly admits that liberalism has proven attractive to many because some of its features may actually be appealing." • Interesting article, though I suspect the number of actually existing liberals who conform to McManus's notion of liberalism is vanishingly small.
#COVID19
Lambert here: I am but a humble tape-watcher, but if some trusting, non-realist soul tells you that "Covid is over," you can tell them that cases are up, transmission is up, test positivity is up, hospitalization is up, rapid riser counties are up, and wastewater is up, too. And this is all from data designed to support the narrative that "Covid is over," and gamed within an inch of its life. So, if signals like that are flashing red, consider what the real signal must be like. (Note also this is all with BA.2 only, and with what the establishment considers an "immune wall" made from vaccination and prior infection. Since semper aliquid novi Africam adferre, and we've let 'er rip at the airports…. Well, I just hope we get lucky with BA.4 and BA.5. "God has a special providence for fools, drunkards, and the United States of America." –Otto von Bismarck.
* * *
• "Intranasal COVID-19 vaccines: From bench to bed" [British Medical Journal]. "Recent studies indicate that [intra-muscular (IM)] vaccines are poor in controlling viral replication and nasal shedding in the upper respiratory tract, leading to asymptomatic or milder symptomatic infection that can still transmit virus to others. In contrast, [intra-nasal (IN)] vaccines have . Antigens are exposed at the initial site of viral attack to induce potent immune responses at local or distant mucosa. Meanwhile, the systemic humoral and cellular immunity triggered by IN administration is comparable to or stronger than that induced by IM injection, suggesting a lower dose required to increase vaccine safety." • Still waiting on Bharat's BBV154.
• "SII, Bharat Biotech halt production of Covid vaccines as demand slips" [Business Standard]. From April, and disturbing if still true: "India's two major Covid-19 vaccine makers — Serum Institute of India (SII) and Bharat Biotech (BB) — have halted production of Covid vaccines, and will focus on non-Covid vaccines instead….. with demand for vaccination going down, both companies have halted production of jabs at their facilities. Sources indicated that there were no fresh orders from the Government of India, and their supply commitments have ended as of March 31. SII has accumulated about 250 million doses of Covishield stocks at its Pune facility, while Bharat Biotech said it had completed all its supply commitments." • It would be a bitter irony indeed if the successful propagation of "Covid is over" prevented the development and introduction of a sterilizing vaccine, and left us with the inferior IM versions, good for only a few months.
* * *
Maskstavaganza:
• "A Mechanical Engineer Becomes a Mask Nerd" [American Society of Mechanical Engineers]. "Attendees at the February 2022 Friday Night Mask Party could be excused for feeling a twinge of sadness when the Mask Nerd dropped his bombshell: That night would mark the end of his career as a mask reviewer; at least for now. 'I know I said I was done last March,' Aaron Collins said on his YouTube channel, where he'd been posting his reviews of KF94, KN95 and 95 masks for the past 18 months. 'But, then, I never thought I'd be doing this in the first place.' As 'The Mask Nerd,' Collins began posting his reviews shortly after it became clear that COVID-19's hold would not be receding anytime soon. Before closing up shop in February 2022, he'd accrued a loyal following, trying out masks on segments that included the live-streamed 'mask party' and a Saturday morning 'Coffee and Masks' klatch, both of which routinely lasted more than two hours." • Better than anything CDC ever did. Or the entire Biden administration, for that matter;.
• "Brookline reinstates indoor mask mandate for schools, town buildings" [WCVB]. "The town of Brookline has reinstated an indoor mask mandate for town-owned spaces, including schools, due to the recent increase in COVID-19 cases." Too late, no doubt. More: "The mandate that began Monday requires everyone to wear a face covering over their mouth and nose while inside the library, senior center, all public schools and any other town-owned indoor spaces where the public gathers." • I don't know where that noxious phrase "face covering" orginated. For one thing, it suggests that abominations like gaiters are OK. For another, it's false. Masks (at least for Covid) don't cover the face (unless you've adopted the Darth Vader look). They cover — since Covid is airborne — the nose and mouth, and not the eyes. "Face covering", besides being an appalling example of administrative jargon, falsely implies concealment, when in fact the purpose of masking is protection (of others as well as one's self).
• "Long Covid Is Dangerous. The Fear of It Still Shouldn't Rule Your Life." [Ross Douthat, New York Times]. "Doing the math and ." • New theory of transmission: Covid is spread by assholes. (I know I should try harder to persuade, etc., and I spend too much time on Twitter being triggered by the stupid, but crap like this is really exasperating and I think pushback is needed if and when nice doesn't work.) Douthat's face is not sufficiently callipygian to be worth a case of the sniffles, let alone Long Covid. And see above on "face." Masks don't cover the face. They leave the eyes ("the windows of the soul") exposed.
• Confirmation for my new theory of transmission (1):
My daughter too. This is her first infection and she's done everything possible to stay safe. One relative came to visit who had a 'cold' and it knocked my daughter flat. Individual responsibility is straight up bs

— runs with scissors (@mauigirl8888) May 22, 2022
• Confirmation for my new theory of transmission (2):
I went to a small music festival last weekend. I wore a mask when I was close to other people even though we were outdoors. I received rude comments and ridicule. Yesterday I found out that a group of people I know all caught Covid at the festival. Not me!

— BeeMarie (@beemariestanley) May 21, 2022
• Another of many anecdotes:
My daughter too. This is her first infection and she's done everything possible to stay safe. One relative came to visit who had a 'cold' and it knocked my daughter flat. Individual responsibility is straight up bs

— runs with scissors (@mauigirl8888) May 22, 2022
* * *
If you missed it, here's a post on my queasiness with CDC numbers, especially case count, which I (still) consider most important, despite what Walensky's psychos at CDC who invented "community levels" think. But these are the numbers we have.
* * *
Case count by United States regions: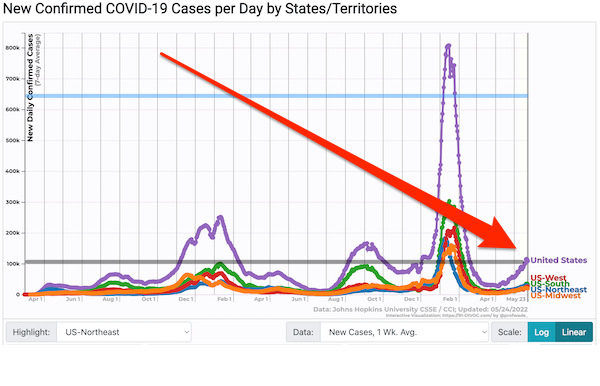 The train is still rolling. Biden has handily beaten Trump's first two peaks, even accepting the data, which of course nobody does. (Remember these data points are weekly averages, so daily fluctuations are smoothed out. Also remember, it's 100% certain the cases numbers are significantly understated. They've always been gamed, but it's worse than before. One source said they though cases might be undercounted by a factor of six. Gottlieb thinks we only pick up one in seven or eight.) The black "Fauci Line" is a counter to triumphalism, since it compares current levels to past crises. The blue "Biden Line" shows what the case count would be if it were 108,000 * 6 = 648,000, i.e. not gamed.
Here are cases for the last four weeks: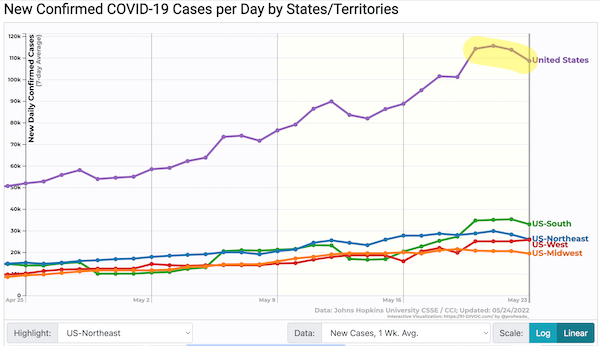 A bit of a dip. We shall see. Worth noting that cases have doubled tripled in four weeks.
NOTE I shall most certainly not be using the CDC's new "Community Level" metric. Because CDC has combined a leading indicator (cases) with a lagging one (hospitalization) their new metric is a poor warning sign of a surge, and a poor way to assess personal risk. In addition, Covid is a disease you don't want to get. Even if you are not hospitalized, you can suffer from Long Covid, vascular issues, and neurological issues. For these reasons, case counts — known to be underestimated, due to home test kits — deserve to stand alone as a number to be tracked, no matter how much the political operatives in CDC leadership would like to obfuscate it. That the "green map" (which Topol calls a "capitulation" and a "deception") is still up and being taken seriously verges on the criminal.
• To be fair to CDC, their guidance is working exactly as intended:
A convenient feature of the extremely late triggers in the new CDC guidance is that it allows officials and commentators like Slavitt to jump straight from "not yet" to "it is too late" without that annoying middle part where they stand around looking indecisive and ghoulish https://t.co/2XRE9MPu57

— wsbgnl (@wsbgnl) May 20, 2022
From the Walgreen's test positivity tracker: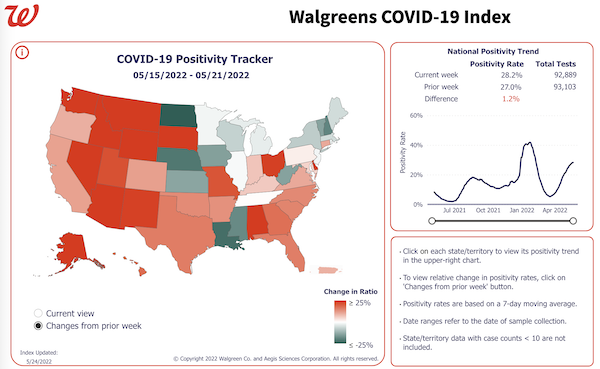 I'm leaving the corporate logo on as a slap to the goons at CDC.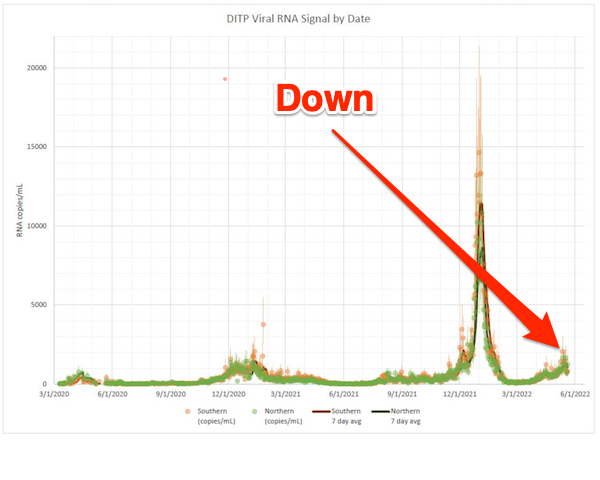 Down (for both north and south systems). Readers suggest that this reflects the colleges and universities closing for the summer; commencement for BC was May 23, BU's May 22; Harvard's is tomorrow. May 25. So I think readaers are correct.
The Massachusetts Water Resources Authority (MWRA) service area includes 43 municipalities in and around Boston, including not only multiple school systems but several large universities. Since Boston is so very education-heavy, then, I think it could be a good leading indicator for Covid spread in schools generally.
Cases lag wastewater data.
From Biobot Analytics: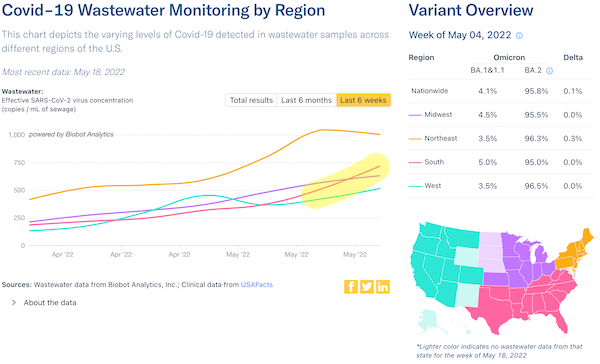 The South is up. Northeast retrospectively revised downward. I don't like this at all, and maybe I should drop this chart. The other thing I'm not liking is that big time lag with the variants. April 27? I want to know about BA.4 and BA.5 (dubbed "variants of concern" by The European Centre for Disease Prevention and Control (ECDC) last week, but not WHO).
From CDC Community Profile Reports (PDFs), "Rapid Riser" counties: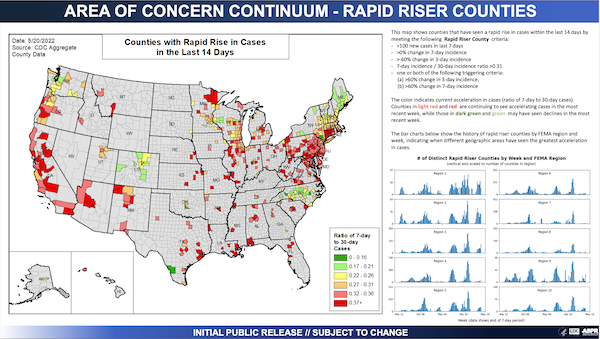 Status quo.
The previous release: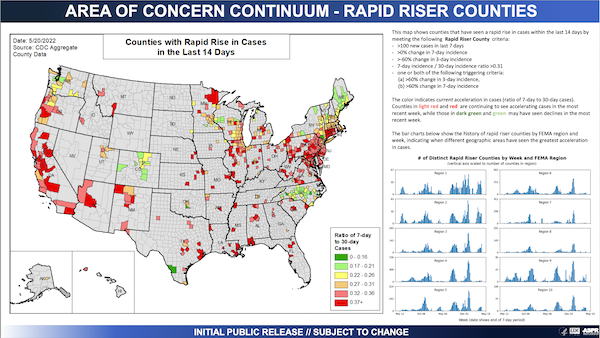 Here is CDC's interactive map by county set to community transmission. This is the map CDC wants only hospitals to look at, not you: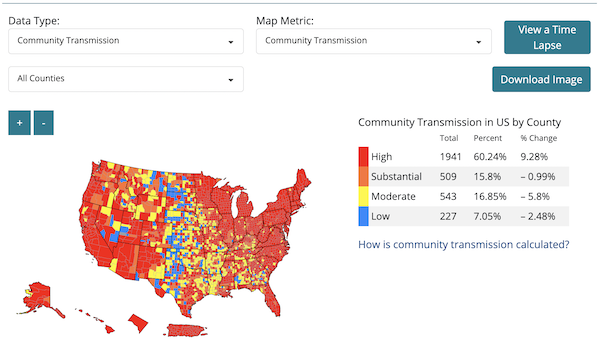 East coast, West Coast, and Midwest are all red.
Hospitalization (CDC Community Profile). Back to normal, so yesterday's debacle (this chart disappeared) was only an editorial screw-up (CDC drone: "That guy Strether is onto us!"):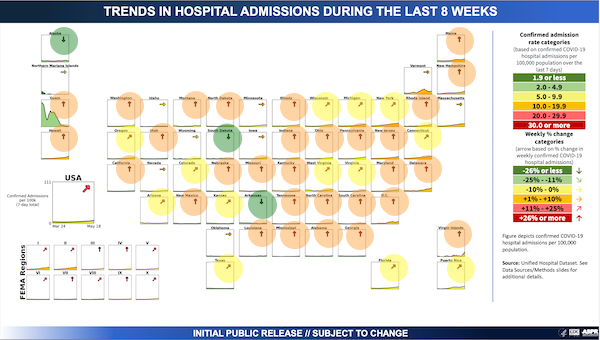 More and more orange.
Death rate (Our World in Data):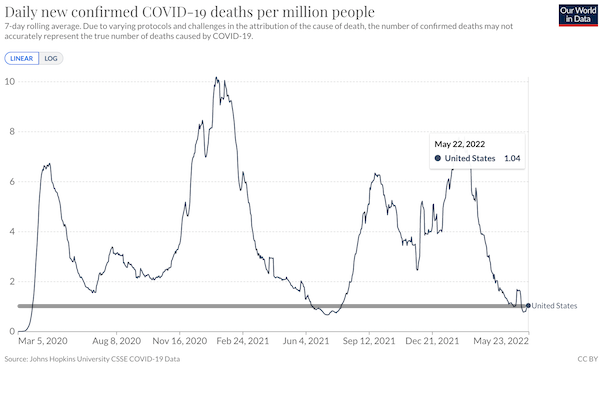 Total: 1,029,121 1,028,924. Now at the second-lowest "valley," which is good. I have added an anti-triumphalist Fauci Line.
Covid cases in top us travel destinations (Statista):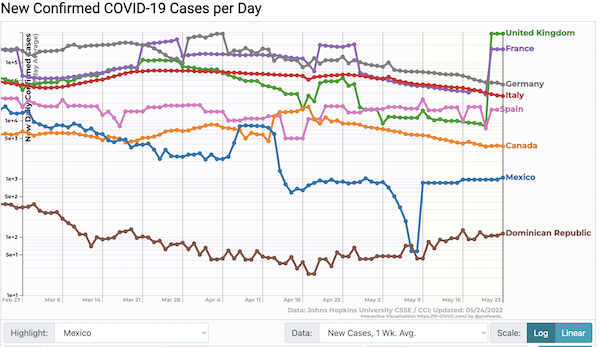 Big jump in the UK and France! Why both together? Coincidence? (Note the quality of these numbers varies wildly. For example, the UK is cutting back on testing data.
Stats Watch
Manufacturing: "United States Richmond Fed Manufacturing Index" [Trading Economics]. "The Richmond Fed composite manufacturing index was at -9 in May of 2022 from 14 in the previous month. It was the first negative reading since September of 2021, and the lowest since May of 2020. The shipments subindex swung to -14 from 17, while the volume of new orders was at -16 compared to 6 in the prior month. The index for finished goods and raw materials deteriorated to a lesser extent, and firms expect that to persist in the foreseeable future. Manufacturers reported lower number of employees, even though wage levels were steady from the previous month. Also, firms noted a significant increase in prices paid, while prices received rose to a lower extent. Survey participants expect business conditions to deteriorate in the next six month, the fourth time in survey history that the expectations index was negative."
* * *
Commodities: "Legendary lithium riches from Bolivia's salt flats may still just be a mirage" [Reuters]. "But the locals' dreams of lithium wealth may still be no more real than the shimmering mirages that appear over the Uyuni flats. The landlocked country faces steep challenges to meet its targets, according to Reuters interviews with a dozen current and former officials, as well as scores of local residents around the salt flats. Among the key hurdles are technological challenges, simmering citizen resistance, a nonexistent legal framework for lithium mining, and looming infighting within Bolivia's ruling socialist party over taxes and royalties, the sources said. 'I see an exaggerated enthusiasm. It's not grounded in reality,' said Juan Carlos Montenegro, a former top Bolivian official in charge of lithium extraction under the administration of ex-President Evo Morales."
* * *
Today's Fear & Greed Index: 9 Extreme Fear (previous close: 14 Extreme Fear) [CNN]. One week ago: 15 (Extreme Fear). (0 is Extreme Fear; 100 is Extreme Greed). Last updated May 24 at 1:29 PM EDT.
Rapture Index: Closes down one on Volcanoes. After a very active first part of 2022, volcanic activity has slowed down" [Rapture Ready]. Record High, October 10, 2016: 189. Current: 187. (Remember that bringing on the Rapture is good.)
Police State Watch
Now all we have to do is scale this up:
owners had a state license to grow medical marijuana

cops drop in for bldg fire inspection and see plants

cops seize bldg for 17 months, no crime charged

owners sue to get bldg back

— David Burge (@iowahawkblog) May 19, 2022
The Gallery
Imaginary gardens with real toads in them:
Édouard Vuillard's letters tell us this study of four people looking over a sea wall (1901) was left deliberately unfinished. Real poetry in art belongs to the hesitant line, to roughly splashed colours and patches of bare canvas; the unfinished is frequently poetic, and soulful. pic.twitter.com/ETRee2GEBF

— Richard Morris: Art History in a Tweet (@ahistoryinart) May 23, 2022
Not all. however, agree that the "hesitant line" is all-important:
This is Philip Hermogenes Calderon's amazing and beautiful 1856 painting, Broken Vows!!!! #Art #Fineart #painting #Artist #Painter #Artwork #PreRaphaelite #19thcentury #Victorian pic.twitter.com/mnL974e2lK

— 19th century Painting! (@LordFredericLe1) May 23, 2022
Some prefer prose!
Zeitgeist Watch
"panic: myth or reality?" (PDF) [contexts]. From 2002, still germane: "Panicky behavior is rare. It was rare even among residents of German and Japanese cities that were bombed during World War II. The U.S. Strategic Bombing Survey, established in 1944 to study the effects of aerial attacks, chronicled the unspeakable horrors, terror and anguish of people in cities devastated by firestorms and nuclear attacks. Researchers found that, excepting some uncontrolled flight from the Tokyo firestorm, little chaos occurred. An enormous amount of research on how people respond to extreme events has been done by the Disaster Research Center, now at the University of Delaware. After five decades studying scores of disasters such as floods, earthquakes and tornadoes, one of the strongest findings is that people rarely lose control. When the ground shakes, sometimes dwellings crumble, fires rage, and people are crushed. Yet people do not run screaming through the streets in a wild attempt to escape the terror, even though they are undoubtedly feeling terror. Earthquakes and tornadoes wreak havoc on entire communities. Yet people do not usually turn against their neighbors or suddenly forget personal ties and moral commitments. Instead the more consistent pattern is that people bind together in the aftermath of disasters, working together to restore their physical environment and their culture to recognizable shapes." More: "Dispelling the myth of public panic highlights the sociality rather than the individuality of human nature. It leads to optimism about people. If people generally act well under the most trying of circumstances—precisely when it would be easiest to turn their backs on others—it gives us reason to look for the good and the sensible in them at other times as well. Jettisoning the myth of public panic could also increase elites' trust of people. Politicians and corporate managers have a litany of responses after some mishap: 'There was never any danger to the public.' 'Everything is under control.' 'There is no reason for concern.' Behind such public pacifiers is the presumption that people cannot be trusted with bad news. Communications based on that presumption generate distrust and suspicion." • As we have seen with Covid (and may be seeing with Monkeypox).
Allan Savory on science v. academia:
He's right.pic.twitter.com/QOSZ2XD01q

— James Melville (@JamesMelville) May 21, 2022
Reminds me of "evidence-based medicine" (which seems more like "document-based medicine," the more I hear about it).
ZOMG the responses:
A cooking competition where contestants make whatever they want but my husband wanders around the kitchen and stands in front of the drawer they need

— meghan (@deloisivete) May 18, 2022
Class Warfare
"Why 2022 has been a dangerous time to retire — and what you can do about it" [CNBC]. • Shorter: Here's how you can market time your way to retiring with dignity. Why not just increase Social Security?
News of the Wired
Some readers seem to have been uncertain about whether I meant "WHO" or "the Who," so for the avoidance of doubt:
* * *
Contact information for plants: Readers, feel free to contact me at lambert [UNDERSCORE] strether [DOT] corrente [AT] yahoo [DOT] com, to (a) find out how to send me a check if you are allergic to PayPal and (b) to find out how to send me images of plants. Vegetables are fine! Fungi and coral are deemed to be honorary plants! If you want your handle to appear as a credit, please place it at the start of your mail in parentheses: (thus). Otherwise, I will anonymize by using your initials. See the previous Water Cooler (with plant) here. From Late Introvert: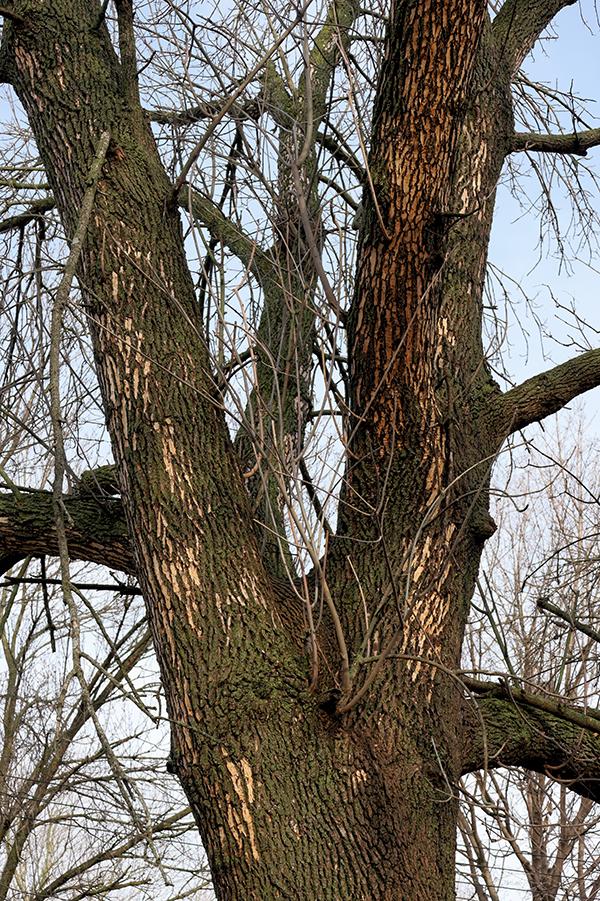 Late Introvert writes: "Shot from my front porch in Eastern Iowa. My neighbors have many more,
we are planning a group buy for tree services."
* * *
Readers: Water Cooler is a standalone entity not covered by the recently concluded and — thank you! — successful annual NC fundraiser. So if you see a link you especially like, or an item you wouldn't see anywhere else, please do not hesitate to express your appreciation in tangible form. Remember, a tip jar is for tipping! Regular positive feedback both makes me feel good and lets me know I'm on the right track with coverage. When I get no donations for five or ten days I get worried. More tangibly, a constant trickle of donations helps me with expenses, and I factor in that trickle when setting fundraising goals:
Here is the screen that will appear, which I have helpfully annotated: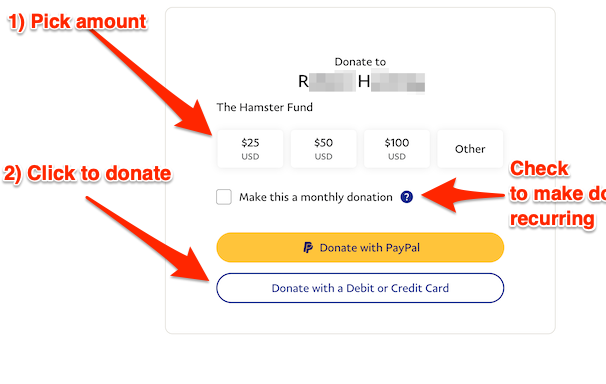 If you hate PayPal, you can email me at lambert [UNDERSCORE] strether [DOT] corrente [AT] yahoo [DOT] com, and I will give you directions on how to send a check. Thank you!