2:00PM Water Cooler 5/27/2020
By Lambert Strether of Corrente.
#COVID19
At reader request, I've added this daily chart. The data is the John Hopkins CSSE data. Here is the site. Today I thought I would add several charts: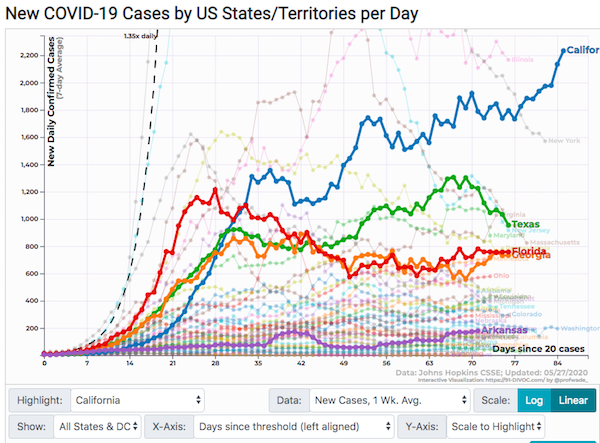 The vertical scale is expanded so New York's enormous debacle is cut out, but the differences between other states that otherwise are all jammed together at the bottom of the chart are now visible: I picked California, Texas, Florida, and Arkansas (for the pool cluster). California's signal was, I think, obscured by New York, but that rise is a little disquieting. Here are deaths: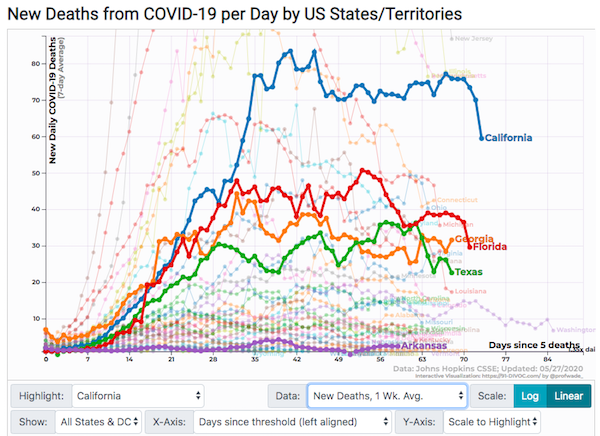 (Of course, the cause of death can be disputed and gamed; a chart that showed excess deaths, no matter the cause, would be interesting to see.) And here is testing: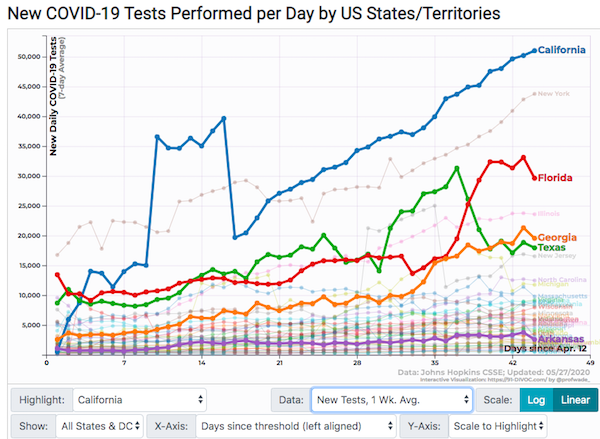 "These Charts And Maps Show Where The Coronavirus Is Surging Across The US — And Where It Is In Decline" [Buzzfeed]. "As the weeks and months drag on, experts expect to see a patchwork of surging and subsiding local epidemics — particularly if the virus starts to spread rapidly in places that are relaxing lockdowns that have brought the economy to its knees." • This is the data that state aggregates conceals: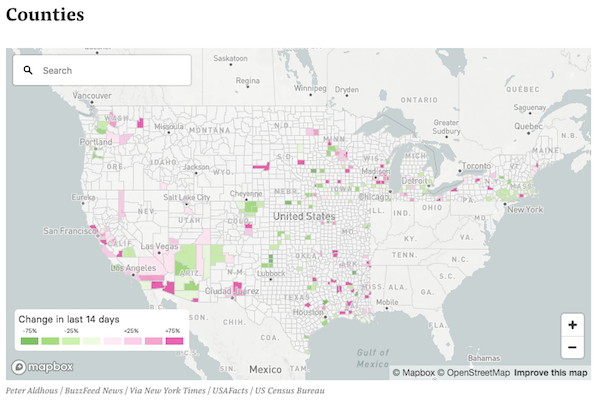 Oh, California. What is happening to you?
"Coronavirus in the U.S.: Latest Map and Case Count" [New York Times]. The Times version of the same patchwork (with the Times own dataset):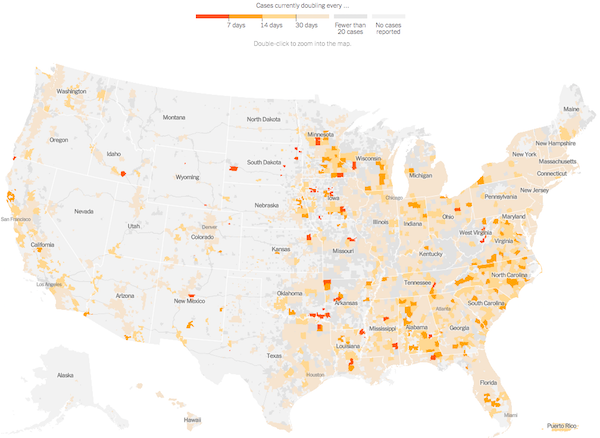 Politics
"But what is government itself, but the greatest of all reflections on human nature?" –James Madison, Federalist 51
"They had one weapon left and both knew it: treachery." –Frank Herbert, Dune
"They had learned nothing, and forgotten nothing." –Charles Maurice de Talleyrand-Périgord
* * *
2020
* * *

Biden (D)(1): "California DA launches investigation into Tara Reade testimony" [Politico]. "Reade, under the name Alexandra McCabe, for years testified as an expert in domestic violence cases for the California D.A.'s office. Among the issues is whether she lied about her credentials to qualify as an expert….. Seattle University Law School confirmed that Reade, under the name Alexandra McCabe, did graduate from law school. But officials wouldn't comment on whether she had a valid undergraduate degree, which is required under the law school's current admission standards." • Getting a graduate degree without an undergraduate degree is not typical of meritocrats, but it does happen.

Biden (D)(2): "Demanding End to 'Failed Billionaire-Backed' Policies, 200+ Teachers and Activists Urge Biden to Go Bold on Public Education" [Common Dreams]. "A group of more than 200 teachers, academics, and activists on Tuesday published an open letter calling on presumptive 2020 Democratic presidential nominee Joe Biden to commit to a bold education platform that puts the needs of students first and breaks decisively from the decades-long bipartisan record of attacks on public schools. 'You have the power to fight for the public schools and colleges and universities that our students deserve,' reads the letter, which was signed by New York University professor Diane Ravitch, Princeton University emeritus professor Cornel West, author and activist Jonathan Kozol, and 212 others." • "Bold" is in the Common Dreams headline, not the letter.

Cuomo (D)(1): "INVESTIGATION: Cuomo Gave Immunity to Nursing Home Execs After Big Donations — Now People Are Dying" [David Sirota, Too Much Information]. "As Governor Andrew Cuomo faced a spirited challenge in his bid to win New York's 2018 Democratic primary, his political apparatus got a last-minute boost: a powerful health care industry group suddenly poured more than $1 million into a Democratic committee backing his campaign. Less than two years after that flood of cash from the Greater New York Hospital Association (GNYHA), Cuomo signed legislation last month quietly shielding hospital and nursing-home executives from the threat of lawsuits stemming from the coronavirus outbreak. The provision, inserted into an annual budget bill by Cuomo's aides, created one of the nation's most explicit immunity protections for health care industry officials, according to legal experts." • See also the nursing home story under "Health Care," below.

Trump (R)(1): "Trump-Pence: The Ticket That Seems (Almost) Certain for a 2020 Reprise" [Sabato's Crystal Ball]. "There's no real indication that President Donald Trump is considering replacing Vice President Mike Pence on his ticket this year, and there are at least two major reasons for why this seems unlikely. Those are the president's own public comments, and history. Yet there are three other reasons why we would not necessarily rule it out: The possibility that Pence's specific appeal is now redundant; the high level of turnover in this administration; and the potential for the president to become desperate as the November election gets closer." • Leaving aside "The walls are closing in!!" aspect, that's not an unreasonble scenario: "Despite the public health crisis and the immense disruption of the economy, the presidential race hasn't changed all that much over the past couple of months. Joe Biden still leads Donald Trump in national polling: Biden was up about a half dozen points on St. Patrick's Day in the RealClearPolitics national polling average, and he was up about the same amount on Wednesday. This may basically be how the race goes all the way until November: Biden leading but not necessarily by enough to look at him as a very significant favorite, particularly if Trump runs ahead of his national polling in the most important swing states (as he did in 2016). Our own sense is that the president was better-positioned to win a few months ago than he is now, but we also don't really see Biden or Trump as a strong favorite in the fall yet. However, one possible scenario is that Biden's lead expands a bit in the coming months as the president struggles with criticism of his response to coronavirus and the economic fallout. If that happens, the president may find himself in an increasingly desperate position and possessing limited options to change the trajectory of the election. One of the few cards Trump could play in such a scenario would be to change his running mate.

• So, after Biden chooses Condaleeza Rice, Trump should pick Stacey Abrams!

* * *

"Ocasio-Cortez challenger drops out of GOP primary" [The Hill]. • It's the Democrats AOC has to worry about, not the Republicans!
Realignment and Legitimacy
"Progressives raise alarm over letting lobbying groups access PPP funds" [The Hill]. "PhRMA would qualify with 276 employees, as would AHIP with its payroll of 158 workers." • Gad. Just open corruption. Pigs at the trough (not to insult pigs).
Stats Watch
At reader request, I added some business stats back in. Please give Econintersect click-throughs; they're a good, old-school blog that covers more than stats. If anybody knows of other aggregators, please contact me at the email address below.
Manufacturing: "May 2020 Richmond Fed Manufacturing Survey Improves But Remains Deep In Contraction" [Econintersect]. "The important Richmond Fed subcategories (new orders and unfilled orders) improved but remain deep in contraction. This survey was somewhat better than last month."
* * *
Tech: "Man responsible for least popular iteration of Windows UI uses iPad Pro as a desktop*" [The Register]. "While some might quibble about the 'PC' definition for Apple's ferociously expensive fondleslab, we find a pleasing symmetry in Sinofsky, who gave us the unpopular full and split-screen app layout of Window 8's touchscreen, turning to iPadOS with its occasionally infuriating approach to multitasking and slightly iffy 'mouse' support."
New desktop PC. pic.twitter.com/b2OcaEgLEK

— Steven Sinofsky (@stevesi) May 25, 2020
"Sinofsky went on the explain that he planned to use his new toy as a second screen for meetings and revealed that the cost of the setup was nudging $1,600. A mere snip as far as Apple fanbois are concerned." • "Fondleslab." Ouch.
* * *
Today's Fear & Greed Index: 51 Neutral (previous close: 50 Neutral;) [CNN]. One week ago: 52 (Neutral). (0 is Extreme Fear; 100 is Extreme Greed). Last updated May 27 at 12:49pm.
The Biosphere
"California Will Get So Hot That Mountain Streams Could Kill" [Bloomberg]. "It's going to get so hot in California that people swimming in mountain streams could freeze to death. Much of California, parts of Nevada and Arizona, will be getting their first extreme heat of the year and by Tuesday temperatures will reach 100 degrees Fahrenheit (38 Celsius) in many places and stay there through Thursday. Car interiors will become death traps for children and pets left alone, outside work will be difficult, and the elderly will be at risk, the National Weather Service said. So much mountain snow will melt that streams will turn into icy torrents. Anyone venturing in to cool off risks being swept away and suffering 'rapid onset of hypothermia,' the agency warned. … An excessive heat watch in California's Central Valley reaches all the way to the coast where temperatures in Oakland could approach 90 and push to 103 in Napa. The heat risk also spreads to southern Nevada and into western Arizona, where temperatures could reach 108 by Wednesday and linger until Friday."
"BlackRock to flag climate concerns at ExxonMobil AGM" [Guardian]. "BlackRock, the world's largest fund manager, will lodge multiple votes against ExxonMobil at its annual shareholder meeting on Wednesday as it flags concern over the oil company's failure to make progress on its climate change targets…. The US investment firm is ExxonMobil's second largest shareholder, with a stake of almost 5% in the company…. BlackRock manages assets worth $6.9tn (£5.3tn), including large holdings in oil producers such as BP, Shell and ExxonMobil. It announced at the start of the year that it would divest from holdings related to thermal coal and would focus on sustainability when making investment decisions. The firm has joined Climate Action 100+, an influential pressure group calling for the biggest polluters to reduce their emissions. BlackRock's chief executive, Larry Fink, wrote in his annual letter to chief executives in January that financial markets had been slower to reflect the threat to economic growth posed by the climate crisis, and added that the firm would vote against companies that were not making progress."
Humorous vegetables:
time to look at some guys and the giant vegetables they love like children pic.twitter.com/S5SvbFDyzr

— big honky tonk homie (@KWholesaler) May 24, 2020
Health Care
"How to Maintain Social Distance as the U.S. Reopens" (interview) [Asaf Bitton, The New Yorker]. Bitton: "I think that we've learned from a number of studies that social distancing, when practiced en masse and consistently, actually can work to drive down the rate of growth of cases. This has gone from theoretical economic-modelling literature to a lot better epidemiological data. The practices that work are really the practices that reduce the ability of respiratory droplets to easily travel to other people. So that means that we've learned that it's not just the distance quotient or equation. In fact, we've learned that sneezes and coughs can actually amplify beyond the six feet, but, in fact, that masks are really effective. Ventilation is really important. And the time interval that separates people from touching the same objects is important. So making sure that we're not just washing hands but also not touching the same objects, especially indoor objects, is the hallmark of effective distancing strategies." • Very interesting (including the history of the "six feet" standard for social distance). This interview was two months ago, and I would venture to say that if the same interview were taken today the balance would shift a bit between surface transmission and airborne transmission, especially through vocalization. Bitton: "[B]y far the riskier interactions happen in densely packed indoor spaces, where there's poor air circulation and where there are more surfaces that are coming in contact with multiple people." Those are my current priors!
"As residents perish, nursing homes fight for protection from lawsuits" [Politico]. "As an unprecedented catastrophe unfolds in which more than 28,000 people have died of Covid-19 in care facilities, the nursing home industry is responding with an unprecedented action of its own: Using its multi-million dollar lobbying machine to secure protections from liability in lawsuits. At least 20 states have swiftly taken action within the last two and a half months to limit the legal exposure of the politically powerful nursing home industry, which risks huge losses if families of coronavirus victims successfully sue facilities hit by the pandemic. Now, the industry is turning its energies to obtaining nationwide protections from Congress in the upcoming coronavirus relief bill."
A candidate for The Performative Empathy Hall of Fame™:
I don't know how to honor these people but some day these names will all go up on a plaque in the Mall and I want to be there the day it opens holding hands with whoever is next to me. /end

— Andy Slavitt @ 🏡 (@ASlavitt) May 27, 2020
Slavitt, of course, is well-paid to lobby against #MedicareForAll through USofCare (see NC here). No plaque for the 68,000 lives lost there, eh Andy? Nor a plaque for the lives lost to declining life expectancy among the working class in flyover. No plaque for deaths of despair. In flyover. No plaque for opioid deaths. In flyover. Odd, that. I need a word for hypocrisy squared or cubed, and I'm not sure there even is one. (Also, many others share Slavitt's curious blindness, so Slavitt may be an exemplar, but is not uniquely or individually culpanble.
Sports Desk
"Deep, But Playable: Indecent Proposal" [Baseball Prospectus]. "Around two weeks ago, reports fluttered about suggesting that MLB was in financial crisis, in danger of losing enough money that the owners were going to propose a one-season pact with the players, wherein the revenues generated would be split 50-50. It was ownership's way of mitigating losses and an attempt to convince the public that players needed to share in the pain above and beyond the already agreed to pro-rata hit they've taken. Whether you believe the language in the March agreement regarding the 'economic feasibility' of playing games without fans entitles the league to a new round of negotiations on player salaries or just a round of negotiations about what is feasible and what isn't, we're getting the former. The owners waited those two weeks to ultimately not offer that 'historic' 50-50 split, instead proposing cuts ranging from significant to massive for players across the league, in what is being termed a 'sliding scale.' In this scenario, the league's highest-paid players would take the brunt of the additional cuts, ultimately losing 77.6 percent of their full-season salaries, while players making the minimum wage would lose 54 percent of their full-season salaries. The move appears to be both a non-starter in terms of getting anywhere in a negotiation and an attempt to split loyalties within the union and among fans, painting the higher-paid players as selfish for being unwilling to sacrifice their earnings as a means to ensure that lower-paid players are taken care of. The choice is, of course, a false one: The players could be paid their prorated salaries by ownership, for example."
Groves of Academe
"Life in Hell: Online Teaching" [Counterpunch]. "I had long heard rumors from academicians about how 'online teaching is a nightmare,' 'online teaching ruined my life,' 'online teaching sucked the brains out of my head,' 'online teaching is a new and insidious form of labor degradation,' and the like. I foolishly tended to write these complaints off as hyperbole, saying 'it can't be that bad.' No more. I get it now." • But I bet administrators love it (for many of the same reasons that library executives actually hate books and want to get rid of them, no doubt).
Guillotine Watch
Class Warfare
"Stock" like investments, inventory, or cattle?
White House adviser Kevin Hassett: "Our human capital stock is ready to go back to work." #HumanCapitalStock pic.twitter.com/Yl9KwJf6KP

— Aaron Rupar (@atrupar) May 25, 2020
"Walmart Workers Are Dying From the Coronavirus. Now They Want a Seat at the Table." [New York Magazine]. This article is worth reading in full, but here's one tiny detail from an "associate": "And customers don't always respect instructions meant to keep them — and associates — safe. Stickers meant to direct foot traffic 'are just a waste,' [Cat Davis, who works at a Walmart in New Bern, North Carolina] said. 'I think it was just eye candy for the media. To me, if they really wanted to force customers to shop one way, to keep them from clustering in the aisles, they should have made the signs eye level."" • Davis knows retai, and knows her store.
"Salaries Get Chopped for Many Americans Who Manage to Keep Jobs" [Bloomberg]. "Companies across the U.S. are cutting salaries as they fight to survive the coronavirus, upending a key assumption in modern economics and raising another hurdle to rapid recovery. The hard numbers won't be in for months, but anecdotal evidence is piling up. On earnings calls, big businesses including The Container Store Group and Lyft have cited what they say are temporary salary reductions. Federal Reserve officials also have found plenty of supporting evidence. The pandemic has triggered unemployment on a scale not seen since the Great Depression. Pay cuts for Americans who've managed to hold onto their jobs may hobble the return to normal. People will have to use a bigger chunk of their income for fixed obligations such as housing and other debts — leaving less for the kind of spending that can help spark the economy back into life." • Obligations that are "fixed" by convention (and not for elites.:
"Genes silenced down the generations, thanks to tails on messenger RNA" [Nature]. "In C. elegans, RNAi underlies transgenerational epigenetic inheritance — a phenomenon in which changes in gene expression can be transmitted across three or more generations without changes in DNA sequence." • Epigenetics, in my (speculative) view, being important to reproducing class structures across generations. Hence I file this paper here.
News of the Wired
"How to Get Back to Sleep" [WebMD]. "About 20% of people wake up in the middle of the night, then struggle to get back to sleep." • Regretably, a slidehow, but it may be useful nonetheless to some readers. My formula is to count backwards from 400 while listening to a soothing podcast: Say, The CIvil War: A History Podcast. That's one reason I don't listen to Jimmy Dore all that much: He keeps me awake!
* * *
Readers, feel free to contact me at lambert [UNDERSCORE] strether [DOT] corrente [AT] yahoo [DOT] com, with (a) links, and even better (b) sources I should curate regularly, (c) how to send me a check if you are allergic to PayPal, and (d) to find out how to send me images of plants. Vegetables are fine! Fungi and coral are deemed to be honorary plants! If you want your handle to appear as a credit, please place it at the start of your mail in parentheses: (thus). Otherwise, I will anonymize by using your initials. See the previous Water Cooler (with plant)
here. Today's plant (IM):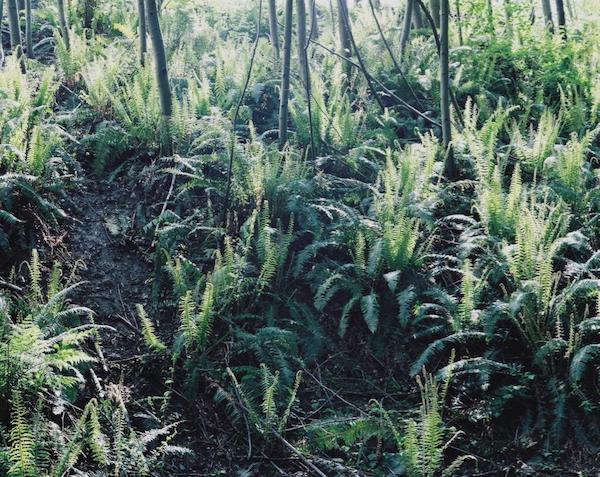 IM writes: "Baby sword ferns." And: "The black dot indicating a comment is the best part of the internet!" [lambert blushes modestly].
* * *
Readers: Water Cooler is a standalone entity not covered by the annual NC fundraiser. So if you see a link you especially like, or an item you wouldn't see anywhere else, please do not hesitate to express your appreciation in tangible form. Remember, a tip jar is for tipping! Regular positive feedback both makes me feel good and lets me know I'm on the right track with coverage. When I get no donations for five or ten days I get worried. More tangibly, a constant trickle of donations helps me with expenses, and I factor in that trickle when setting fundraising goals:
Here is the screen that will appear, which I have helpfully annotated.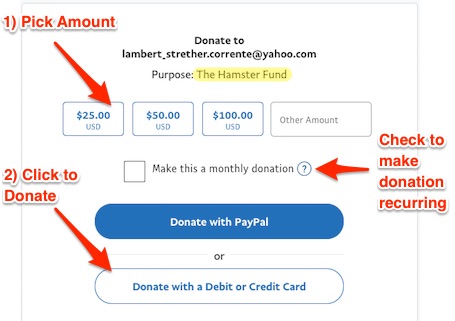 If you hate PayPal, you can email me at lambert [UNDERSCORE] strether [DOT] corrente [AT] yahoo [DOT] com, and I will give you directions on how to send a check. Thank you!