2:00PM Water Cooler 5/28/2020
By Lambert Strether of Corrente.
#COVID19
At reader request, I've added this daily chart. The data is the John Hopkins CSSE data. Here is the site. Today I thought I would look at international data. Brazil, the United Kingdom. Sweden, China: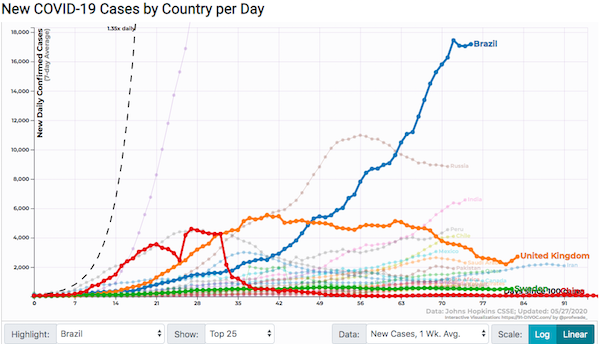 The vertical scale is scaled to the highlight, Brazil, and so the league leader, the United States, is not visible, but the differences between other states that otherwise are all jammed together at the bottom of the chart are now visible. While Brazil is the Latin American leader, Chile, Peru, and Mexico are also on the upward swing.
Politics
"But what is government itself, but the greatest of all reflections on human nature?" –James Madison, Federalist 51
"They had one weapon left and both knew it: treachery." –Frank Herbert, Dune
"They had learned nothing, and forgotten nothing." –Charles Maurice de Talleyrand-Périgord
* * *
2020
Biden (D)(1): "Tech billionaires are plotting sweeping, secret plans to boost Joe Biden" [Recode]. "hind the scenes, Silicon Valley's billionaire Democrats are spending tens of millions of dollars on their own sweeping plans to catch up to President Donald Trump's lead on digital campaigning — plans that are poised to make them some of the country's most influential people when it comes to shaping the November results. These billionaires' arsenals are funding everything from nerdy political science experiments to divisive partisan news sites to rivalrous attempts to overhaul the party's beleaguered data file. They are pushing their favored, sometimes peculiar, fixes to a political ailment just like they might if on the board of a struggling startup…. In Silicon Valley's new political moment, four billionaires in particular — LinkedIn founder Reid Hoffman, Facebook co-founder Dustin Moskovitz, philanthropist Laurene Powell Jobs, and former Google CEO Eric Schmidt — have the most ambitious plans, according to Recode's interviews with over 20 donors and operatives. The chess moves of this power set are instrumental to fulfilling Democrats' — and much of Silicon Valley's — four-year quest to oust Donald Trump." • Oh. Great. Schmidt did so well for Clinton, too.

Biden (D)(2): "Joe Biden Has Struggled With Young People. He Has A New Plan To Win Them." [Buzzfeed]. "League 46 will be "the coalition of young people that will make Joe Biden the 46th president," says the narrator of an introductory video shared first with BuzzFeed News. Symone Sanders, a senior adviser to Biden and one of his most visible spokespeople, will lead the project. League 46 will build on work by the previously launched Students for Biden while forging alliances with young professionals and young elected officials…. , featuring an online conversation Sanders will moderate with Pete Buttigieg, the 38-year-old former mayor of South Bend, Indiana, who was a top contender for this year's Democratic nomination." • Aaugh! Aaugh! My eyes!!!!!

Biden (D)(3): "There Was A Pretty Loud Fart Noise During A Joe Biden Livestream" [Buzzfeed]. "A livestreamed campaign video chat between presumptive Democratic nominee Joe Biden and Pennsylvania Gov. Tom Wolf on Wednesday was briefly muffled by the sound of what appeared to be a very wet fart. Biden was asking about what 'the human cost' looks like in Pennsylvania if more federal money doesn't arrive to help with the coronavirus economic recovery when the toot rang out. He appeared to lean back in his chair at the same time as the noise, while Wolf appeared to blink and shake his head shortly after." • I thought every old codger knew the rule: "Never trust a fart."

Biden (D)(4): "Freedom Rider: Biden and the Low Point of Black Politics" [Black Agenda Report]. "Black America's political hopes now consist solely of getting rid of Trump. There appear to be no other topics of interest or importance. A Trumpless presidency is seen as the fulfillment of every need. Apparently low wage work, homelessness, and mass incarceration will disappear if Biden wins. However, the truth is even worse. The Biden dead enders know that he won't make these problems disappear but they are tacitly admitting that they have shrunk their politics down to a microscopic size. This negation of need is no accident. The end of black politics was a long time coming. They sealed the deal with a black president who embodied nothing that black people needed but his presence kept any doubt at bay. Now after years of acquiescence to disastrous neo-liberal policies the only thing that appears to matter is Trump's defeat. This con job requires feats of mental gymnastics and self-delusion. But the traitorous misleaders have done their jobs well. Smart people who ought to know better ignore Biden's history of racist policy making without complaint while simultaneously claiming not to notice his ill health and obvious stupidity." • Ouch.

Biden (D)(5): "New York Times Reporter's Probing Questions For Tara Reade Highlights Double Standard In Media Coverage" [Jonathan Turley]. "The comparison to the treatment of Biden is striking and unsettling. The recent interview with CNN's Dana Bash is an example of the pattern. After days of editing out Biden's false statement about the NAACP, Bash finally raised the fact that it is clearly false. Biden simply did not respond to the falsity and said that he has never taken black voters for granted. Bash immediately let it go and turned to criticism of Trump and asking Biden whether it is fair to him that there is a double standard that Trump is not expected to apologize. While many of us have criticized Trump for his refusal to apologize, the interview illustrated the double standard in the tenor and content of questions for Biden. It was more than a softball interview. You can miss softballs. It was a beachball interview where Biden could not miss." • "A beachball interview."

Warren (D)(1): "Elizabeth Warren seen as 'obvious' pick for Joe Biden's vice president by veteran pollster" [MarketWatch]. • Not gonna play well among those who were hoping for a permanent woman of color.

* * *

"Scott Rasmussen's Number of the Day" [Ballotpedia]. "Thirty-nine percent (39%) of voters have a family member who has lost their primary income due to the government shutdowns of the economy. A Ballotpedia survey of 1,200 registered voters found that 57% have not experienced that challenge….. Fifty-six percent (56%) of Hispanic voters have experienced such loss along with 49% of black voters. That figure is just 33% among white voters….. [J]ust 20% of white Democrats believe the lockdowns have done more harm than good. However, 38% of non-white Democrats believe that to be true."

"Tlaib Opponent Brenda Jones Collected Campaign Contributions from Quicken Loans Executives as Public Subsidies Flowed" [The Intercept]. "In the weeks leading up to Brenda Jones's vote in November 2017 to award $250 million in taxpayer funds to billionaire Dan Gilbert and his Quicken Loans empire, the Detroit City Council president cashed $8,000 in campaign checks from current and former executives at Gilbert's companies. In total, Jones has received nearly $25,000 in campaign contributions from the executives, their spouses, and Quicken's political action committee, while Gilbert, Michigan's richest man, has accumulated over half a billion in public subsidies… Jones and Tlaib faced off in two elections in 2018, one to fill the remainder of former Rep. John Conyers's term, the second for the nomination to succeed him in the next Congress. Jones won the first, serving for roughly three weeks, while Tlaib won the second, going on to become a high-profile member of the so-called Squad."
RussiaGate
"New FBI document confirms the Trump campaign was investigated without justification" [The Hill].

Those of us who have speculated there was insufficient cause for beginning the investigation could not have imagined the actual opening document was this feeble. It is as if it were written by someone who had no experience as an FBI agent.

Keep in mind the FBI cannot begin to investigate anyone, especially a U.S. citizen or entity, without first creating a document that lists the reasonably suspicious factors that would legally justify the investigation. That's FBI 101, taught Day 1 at the FBI Academy at Quantico, Va.

To the untrained eye, the FBI document that launched Crossfire Hurricane can be confusing, and it may be difficult to discern how it might be inadequate. To the trained eye, however, it is a train wreck. There are a number of reasons why it is so bad. Two main ones are offered below (if you would like to follow along, the document is here):

First, the document is oddly constructed. In a normal, legitimate FBI Electronic Communication, or EC, there would be a "To" and a "From" line. The Crossfire Hurricane EC has only a "From" line; it is from a part of the FBI's Counterintelligence Division whose contact is listed as Peter Strzok. The EC was drafted also by Peter Strzok. And, finally, it was approved by Peter Strzok. Essentially, it is a document created by Peter Strzok, approved by Peter Strzok, and sent from Peter Strzok to Peter Strzok.

Second, the Crossfire Hurricane case was opened as a Foreign Agent Registration Act (FARA) investigation. A FARA investigation involves a criminal violation of law — in this case, a negligent or intentional failure to register with the U.S. government after being engaged by a foreign country to perform services on its behalf — that is punishable by fines and imprisonment. It is rarely investigated.

In a normal EC opening a FARA case, we should expect to see a list of reasons why the FBI believes individuals associated with a U.S. presidential campaign had been engaged by the Russian government to represent and advocate that government's goals.

This, however, was no normal EC. Try as we might to spot them, those reasons are not found anywhere in the document.

Check the author's bio. Yes, he's in counter-intelligence, so he could be a loon, but then the RussiaGate pushers were loons, too. Anyhow, here's the document. And the memo header is just as bizarre as described:

One wonders if the "To" field was once there, or was never there. Either way!
Realignment and Legitimacy
"How Long Will the Actual Left Stay with the Democratic Party?" [Down with Tyranny]. "It's about progressive activists, the sleeping mass of progressive voters (and non-voters) who are starting to wake, and the potential beginning of the end of progressive support of the Democratic Party. Recall the opening point: 'Black activists to Biden: If you Klobuchar, we may not support you.' That's a threat for this time, for the 2020 election….. There's no question knee-jerk Democratic voters, and also some thoughtful ones, will line up to support every bad mainstream Democrats (because Republicans!), but the real resistance (hashtag #RealResistance) is not to Republican rule, but to donor class rule and devastation by both parties. How long will actual progressives — let's call them 'FDR voters=' or #RealResistance voters, those who used to flock to Sanders every time he spoke — continue to flock to Democrats at the ballot box, simply because they're Democrats no matter how bad?" • Let's assume that black activists and #RealResistance activists can unite. My view is that, institutionally, a third party should be dues-paying, have a single, simple, fixed programmatic platform for at least three Presidential election cycles, and be able to enforce party discipline. No more of this Blue Dog, Big Tent garbage. If you don't stick to the platform, you're out. And above all, don't call the party "Progressive" or "Peoples" whatever. Base it firmly in the working class (and not "working families" ffs).
Stats Watch
At reader request, I added some business stats back in. Please give Econintersect click-throughs; they're a good, old-school blog that covers more than stats. If anybody knows of other aggregators, please contact me at the email address below.
GDP: "Second Estimate 1Q2020 GDP Growth Declines to 5.0% Economic Contraction" [Econintersect]. "The coronavirus lockdown is the reason for the decline – and pushed GDP into contraction. No doubt the U.S. economy is in a recession. From the BEA: …'The full economic effects of the COVID-19 pandemic cannot be quantified in the GDP estimate for the first quarter of 2020 because the impacts are generally embedded in source data and cannot be separately identified." I am not a fan of quarter-over-quarter exaggerated method of measuring GDP – but my year-over-year preferred method showed a significant decline from last quarter."
Employment Situation: "Jobless Claims at 2.1 Million, But Joblessness Shrinks Slightly" [Industry Week]. "The next significant sign of how the economy is adapting through the COVID-19 crisis will come next week, when the Bureau of Labor Statistics releases its May jobs report June 5. The last available Employment Situation report, for the month of April, was released May 8 and showed an active unemployment rate of 14.7%, its highest level since the Great Depression. That figure doesn't include people who are considered outside of the labor market or who have stopped working for work. Some predictions have the unemployment rate reaching 20%, or about 5% shy of records set during the Great Depression."
Manufacturing: "Headline Durable Goods New Orders Again Significantly Declined In April 2020" [Econintersect]. "As expected, there was a serious decline in durable goods due to coronavirus. In the adjusted data, the weakness in new orders was widespread."
Manufacturing: "May 2019 Kansas City Fed Manufacturing Remains Deep In Contraction" "[Econintersect]. "Kansas City Fed manufacturing has been one of the more stable districts. Note that the key internals remains deep in negative territory. This survey should be considered better than last month."
Manufacturing: "General Electric Co. is turning out the lights on an iconic part of its business. The company is getting out of making lightbulbs…. selling a unit that defined GE for nearly a century and was its last direct link to consumers. The company will sell its lighting business to Massachusetts-based Savant Systems Inc., a seller of home-automation technology in a transaction that values the unit at around $250 million" [Wall Street Journal]. "That hardly makes the business a financial heavyweight, but the sale is the latest sign of the transformation of the American manufacturing landscape and a big marker in the changes at GE. The company has been selling off industrial units to pare down its debts, making GE smaller but also making it more reliant on an aviation unit that now faces tough prospects under the coronavirus pandemic." • Good job, GE.
Housing: "April 2020 Pending Home Sales Crash Continues Due To Coronavirus" [Econintersect]. "The year-over-year growth is in NEGATIVE territory. I believe the housing industry will reset due to the coronavirus – and I suspect housing will slump until a permanent fix for the pandemic is realized."
* * *
Retail: "Dollar General, Family Dollar Same-Store Sales Jump" [PYMNTS.COM]. "Amid increases in average transaction amount and shopper traffic, Dollar General Corp. reported that same-store sales rose 21.7 percent for fiscal year 2020 Q1 compared to Q1 2019. The company reported a rise in same-store sales in consumables, home products, seasonal and clothing categories, noting the biggest percentage increase in home products, according to an announcement. 'The Company believes consumer behavior driven by COVID-19 had a significant positive effect on net sales and same-store sales,' it noted in the earnings announcement."
Retail: "Americans, It Turns Out, Would Rather Visit a Store Than Buy Food Online" [Bloomberg]. "[H]ere's the bad news for companies that have spent billions building web supermarkets: Russolillo and shoppers like her prefer to walk the aisles themselves. 'If I feel it's safe, I'd much rather do my own shopping,' says Russolillo, who is 62 and lives on Long Island. 'It's much different than going online and looking at pictures.'… Problems with online food shopping also persist. The operations are expensive to run, and limits on capacity and inventory abound right now with supply chains upended. The shopping experience can be clunky and confusing, especially for older consumers. And one thing the pandemic hasn't changed is that Americans still like to squeeze their cantaloupes and eyeball their rib-eyes."
* * *
Today's Fear & Greed Index: 52 Neutral (previous close: 53 Neutral;) [CNN]. One week ago: 52 (Neutral). (0 is Extreme Fear; 100 is Extreme Greed). Last updated May 28 at 1:31pm.
The Biosphere
"The New Cash Crop: Carbon" [AgPro]. "What if farmers could get paid for practices that promote ecosystem services? Let's say you've been using cover crops as a way to reduce the amount of nutrient inputs and keep carbon in your soil. Well, now it's possible to get paid for that. But it's complicated. To start, what would qualify as an ecosystem service? According to [Christophe Jospe, the co-founder of Nori], ecosystem services can mean anything from carbon sequestration, water retention, carbon reduction, and nutrient density. An ecosystem service market, according to Jospe, 'is like a digital crop that you can sell. So along with physical grain crops, there are abstractions of the improvement of what you can do to your land and then sell that to companies.';Those companies could be interested in your data for the supply chain or those who are looking to offset their carbon emissions by paying someone else who can remove an equal amount or carbon." • Hmm. I have a vague feeling I should beware of this "services" concept, since it implies monetization — as we see here. Do readers think this is a good way to incentivize good soil?
Health Care
"Despite The Hype, Gilead'S Remdesivir Will Do Nothing To End The Coronavirus Pandemic" [The Intercept]. "[W]hile [Gilead's] clever rollout has generated excitement among investors, politicians, and the public, a combination of generic drugs that appears to be more effective in fighting the coronavirus has flown under the radar…. While some patients and their families have spent the past few weeks frantically trying to procure remdesivir, another Covid-19 treatment has been quietly been shown to be more effective. Although neither option appears to be the much-needed cure for Covid-19, a three-drug regimen offered a greater reduction in the time it took patients to recover than remdesivir did. People who took the combination of interferon beta-1b, lopinavir-ritonavir, and ribavirin got better in seven days as opposed to 12 days for those who didn't take it. Critically, the treatment has another leg up on Gilead's: It clearly reduced the amount of the coronavirus in patients who took it, according to a study published in The Lancet on May 8. Yet so far there has been no stampede of patients demanding the new regimen or lotteries to mete out the doses, which may be due at least in part to the fact that the treatment hasn't been the subject of a major marketing campaign. ."
"An orally bioavailable broad-spectrum antiviral inhibits SARS-CoV-2 in human airway epithelial cell cultures and multiple coronaviruses in mice" [Science]. Rarely, a pre-abstract: "Broad-spectrum antivirals are desirable, particularly in the context of emerging zoonotic infections for which specific interventions do not yet exist. Sheahan et al. tested the potential of a ribonucleoside analog previously shown to be active against other RNA viruses such as influenza and Ebola virus to combat coronaviruses. This drug was effective in cell lines and primary human airway epithelial cultures against multiple coronaviruses including SARS-CoV-2. Mouse models of SARS and MERS demonstrated that early treatment reduced viral replication and damage to the lungs. Mechanistically, this drug is incorporated into the viral RNA, inducing mutations and eventually leading to error catastrophe in the virus. In this manner, inducing catastrophe could help avoid catastrophe by stemming the next pandemic." • This sounds hopeful to me, even if it is in vitro, mouse study-level. Readers?
Our Famously Free Press
"Left-Wing Podcasters Are Charting a Future Without Bernie Sanders" [Bloomberg]. "Chapo Trap House and a handful of other tiny socialist media outlets—many of the most successful of which center on podcasts—had found a niche during Sanders's two presidential runs. The collection of podcasts, sometimes called the "dirtbag left" ranges from serious Marxist analysis to crude comedy shows that are vaguely political at best. Chapo Trap House sits somewhere in the middle, combining some of the shock-jock aesthetic of right-wing talk radio with the emerging business model of the online micro-media company. The six-person team generates about $2 million annually from podcast subscriptions through Patreon, a platform for artists and creators to get paid directly by supporters, in addition to revenue from book sales and in-person events. The live shows, of course, are on hold due to the coronavirus, and subscribers have dropped 6% from their peak on March 16. The pandemic has thrown doubt on every media company from Walt Disney Co. down as corporate advertising budgets have taken a hit. But smaller media outfits that rely predominantly on subscriptions may be uniquely positioned to weather the economic slump." • Hmm.
Groves of Academe
"Dartmouth to apply for federal coronavirus relief funding" [WCAX]. "Dartmouth College plans to apply for federal aid to help students during the coronavirus pandemic. The college is eligible for approximately $3.4 million through the coronavirus relief bill. President Philip Hanlon said in a weekly online forum Wednesday that the college will apply for the first portion – $1.7 million – which by law is designated for student aid. Officials expect to announce on June 29 whether students will return to campus in the fall." • Federal aid for MOOCs. You hate to see it.
News of the Wired
"Man acquitted of entering a home with a weapon after successful sex fantasy defence" [Guardian]. "Two men hired to carry out a stranger's sexual fantasy of being tied up while clad in his underpants went to the wrong rural NSW address with machetes, but politely left after realising their mistake." • There'll always be an Australia. Of course, for all we know what happened was the fantasy, as so often happens.
"The general wisdom of Ulysses S. Grant" [Strategy + Leadership]. "Grant's second attribute was his strategic sensibility. He understood that the Union had more men and resources than the Confederacy. But he also knew that the secessionists could win by not losing — that is, by hanging on until the Northern states lost the will to fight. Accordingly, he adopted an aggressive strategy that relied on corralling the enemy by cutting its forces off from the territory needed to maneuver, the resources needed to fight, and one another. And then, after mustering the largest force possible, Grant attacked to destroy or capture the enemy armies." • I expected to skewer this as airport bookstore leadeship fodder; it's not too bad. My views in Grant here. The left needs a Grant.
"What Tony Hawk's First Skateboard Shows About the History of the Sport He Made Famous" [Smithsonian]. "Skateboarding remains an American anomaly. It was born here, died here and then came back—again and again and again. In its 60 years, it has been viewed as a menace, an art form and now, finally, a noble athletic pursuit recognized at the highest level of international sports." • I had no idea skateboarding had been going on that long. I think skateboarding is neat!
"Me, myself, bye: regional alterations in glutamate and the experience of ego dissolution with psilocybin" [Nature]. "ollowing a double-blind, placebo-controlled, parallel group design, we utilized an ultra-high field multimodal brain imaging approach and demonstrated that psilocybin (0.17 mg/kg) induced region-dependent alterations in glutamate, which predicted distortions in the subjective experience of one's self (ego dissolution). Whereas higher levels of medial prefrontal cortical glutamate were associated with negatively experienced ego dissolution, lower levels in hippocampal glutamate were associated with positively experienced ego dissolution. " • News you can use!
* * *
Readers, feel free to contact me at lambert [UNDERSCORE] strether [DOT] corrente [AT] yahoo [DOT] com, with (a) links, and even better (b) sources I should curate regularly, (c) how to send me a check if you are allergic to PayPal, and (d) to find out how to send me images of plants. Vegetables are fine! Fungi and coral are deemed to be honorary plants! If you want your handle to appear as a credit, please place it at the start of your mail in parentheses: (thus). Otherwise, I will anonymize by using your initials. See the previous Water Cooler (with plant)
here. Today's plant (Clive):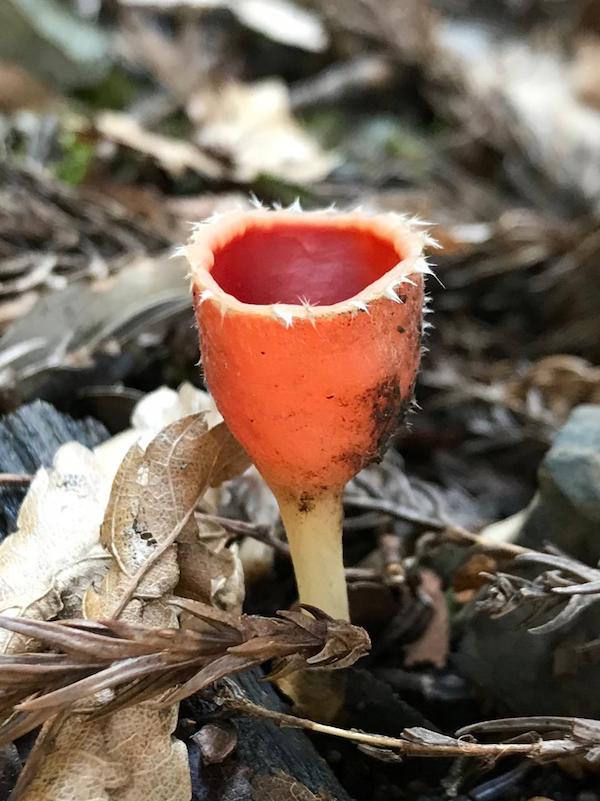 Clive writes: "Some variety of fungus, somewhere in north Japan. I know no more than that. But it is beautiful in that beautifully creepy way fungi are." Can anyone identity this odd little number?
* * *
Readers: Water Cooler is a standalone entity not covered by the annual NC fundraiser. So if you see a link you especially like, or an item you wouldn't see anywhere else, please do not hesitate to express your appreciation in tangible form. Remember, a tip jar is for tipping! Regular positive feedback both makes me feel good and lets me know I'm on the right track with coverage. When I get no donations for five or ten days I get worried. More tangibly, a constant trickle of donations helps me with expenses, and I factor in that trickle when setting fundraising goals:
Here is the screen that will appear, which I have helpfully annotated.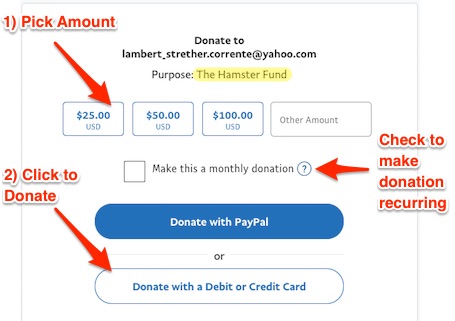 If you hate PayPal, you can email me at lambert [UNDERSCORE] strether [DOT] corrente [AT] yahoo [DOT] com, and I will give you directions on how to send a check. Thank you!