By Lambert Strether of Corrente.
Patient readers, I'm sorry to be a little late. I got wrapped around the axle on NIH's Long Covid study, and belatedly realized the topic really needed to be in a post. So I had to scramble. –lambert
Bird Song of the Day
European Turtle-Dove, Kelling Heath, Norfolk, England, United Kingdom.
* * *
Politics
"So many of the social reactions that strike us as psychological are in fact a rational management of symbolic capital." –Pierre Bourdieu, Classification Struggles
Biden Administration
"New Details in Debt Limit Deal: Where $136 Billion in Cuts Will Come From" [New York Times]. "According to an administration official, the deal leaves intact funding for two key Covid programs: Project NextGen, which aims to develop the next generation of coronavirus vaccines and treatments, and an initiative to offer free coronavirus shots to the uninsured… The agreement only sets parameters for the next two years of spending. Congress must fill them in by passing a raft of spending bills later this year. Large fights loom in the details of those bills, raising the possibility that lawmakers will not agree to spending plans in time and the government will shut down." • I'm glad Project NextGen, which seems to be our only way forward for potentially sterilizing nasal vaccines, absent foreign travel, didn't get axed. But there's plenty of opportunity still for Pfizer and Modern to have a word with the appropriators….

"Debt ceiling deal's next steps — getting it through Congress" [CBS]. "The House released the 99-page legislative text Sunday evening…. Both Republicans and Democrats are expected to lose some votes, and leaders on both sides have been telling the rank and file that neither side won everything it wanted, as they strive to ensure that the deal has the support to pass both chambers. The president has urged both the House and Senate "to pass the agreement right away." Top White House Cabinet officials and aides including chief of staff Jeff Zients, counselor to the president Steve Richetti, Office of Management and Budget Director Shalanda Young and several others have been phoning and briefing lawmakers and fielding technical questions from congressional staff, according to a White House official. They have called over 60 House Democrats and briefed House and Senate Democrats, as well as the Congressional Black Caucus, with more specific briefings to come Tuesday. Under House rules, lawmakers must have 72 hours to read the bill, and since they received it on Sunday, Wednesday would be the earliest day the House can vote. House Majority Whip Tom Emmer indicated Tuesday the House will vote on the bill Wednesday night." • Commentary:

and then settled on Republican terms. I cannot belong to a party that is so passive, unwilling to fight for what it believes, and has such thoroughly inept leaders. I'll vote for them because there is no alternative, but I doubt I will ever call myself a Democrat.

— Bruce Bartlett (@BruceBartlett) May 27, 2023
2024
I guess it's time for the Countdown Clock!

* * *

The Democrats are going to regret this if they can't keep Biden juiced up (or if Ukraine goes pear-shaped (or Covid roars back)):

Democratic Primary, 60 Days In:

Bernie: I will never say a negative word about my good friends Joe Biden or Liz Warren

Republican Primary, 60 Hours In:

Donald Trump: I am running on opening a gate to Hell and sending DeSanctimoniois straight there

— Zaid Jilani (@ZaidJilani) May 28, 2023

"Ron DeSantis raises $8.2 million in first 24 hours after launching presidential campaign" [CBS]. " Florida Gov. Ron DeSantis has raised a record $8.2 million in the first 24 hours after announcing his 2024 presidential campaign, as he barrels toward an expensive and combative primary led by former President Donald Trump. The sum includes online donations and money raised by fundraisers at a gathering in Miami to dial for contributions, DeSantis' campaign confirmed. The breakdown of how much each method raised is unclear. DeSantis' $8.2 million haul surpasses President Biden's first day fundraising of $6.3 million on day one of his 2020 campaign launch, and outpaces the $9.5 million Trump raised in the first six months of his 2024 campaign. Only South Carolina Sen. Tim Scott, who had over $22 million in his Senate reelection account when he transferred it to his presidential campaign, began his White House bid with more 'hard' dollars — or money raised under federal fundraising limits." • Interesting on Scott.

"Stanford professor Jay Bhattacharya joins Ron DeSantis' 2024 presidential campaign kickoff" [Stanford Daily News]. "Florida governor Ron DeSantis announced his 2024 presidential campaign bid through Twitter earlier today on May 24, garnering more than 1.3 million views on his 2-hour Twitter Space live. Stanford professor of health policy Jayanta Bhattacharya A.M, A.B '90, MD '97, Ph.D. '00, was featured as a speaker on the live stream alongside figures like Twitter CEO Elon Musk and PayPal founding COO David Sacks. Bhattacharya and DeSantis have worked together in the past on COVID-related issues, with both figures having historically supported the easing of pandemic restrictions. At Stanford, Bhattacharya is the director of the Center on Demography and Economics of Health and Aging and a senior fellow of the Stanford Institute for Economic Policy Research, among other appointments. During the live broadcast, Bhattacharya said it was "an absolute honor" to work with Desantis and praised what he described as DeSantis' abilities to make decisions on COVID-19-related issues despite criticism. He expressed support for DeSantis' rolling back certain pandemic-induced restrictions, including school closures, saying, "Governor, you did the right thing when you opened the schools.'" • So, the Overtown Window on Covid has the openly eugenicist GBD on the right, and the stochastic eugenicism of Biden's policy of mass infection without mitigaton on the left.

"Ron DeSantis Thinks His Wife, Casey, Should 'Be on Every Fashion Magazine'" [Jezebel]. "The thing is, fashion magazines famously care about fashion, and Casey is not fashionable so much as she is trying way too hard to sartorially perform the role of FLOTUS. This is a woman who wore to a daytime event at the Florida capitol a hot pink off-the shoulder dress with roses, white gloves, and white pumps. A woman who wore a tacky gold one-shoulder pageant dress to Ron's election night party. A woman who tried so, so hard to conjure Jackie O comparisons with her inauguration cape look. Ron could have merely said Casey deserved to be on the cover of 'women's magazines,' but conservatives are still reeling over the fact that (actually stylish) Michelle Obama was a fashion world darling, while the same publications mostly ignored Melania Trump. Times fashion columnist Vanessa Friedman wrote that the couple is trying to project 'Camelot-meets-Mar-a-Lago,' and Casey is using her body in this effort to make Ron look the part. The capes and gloves are an attempt to project royalty. 'She understands the image game and how to play it,' Ron Bonjean, a Republican strategist, told Friedman. But does she? She's constantly overdressing at events where she's photographed next to other people who aren't doing that, and it looks comical. As House of Cards costume designer Tom Broecker told the Times, Casey is 'dressing to be either princess of the world or first lady.'" • Meow!
Democrats en Déshabillé
Patient readers, it seems that people are actually reading the back-dated post! But I have not updated it, and there are many updates. So I will have to do that. –lambert

I have moved my standing remarks on the Democrat Party ("the Democrat Party is a rotting corpse that can't bury itself") to a separate, back-dated post, to which I will periodically add material, summarizing the addition here in a "live" Water Cooler. (Hopefully, some Bourdieu.) It turns out that defining the Democrat Party is, in fact, a hard problem. I do think the paragraph that follows is on point all the way back to 2016, if not before:

The Democrat Party is the political expression of the class power of PMC, their base (lucidly explained by Thomas Frank in Listen, Liberal!). ; if the Democrat Party did not exist, the PMC would have to invent it. . ("PMC" modulo "class expatriates," of course.) Second, all the working parts of the Party reinforce each other. Leave aside characterizing the relationships between elements of the Party (ka-ching, but not entirely) those elements comprise a network — a Flex Net? An iron octagon? — of funders, vendors, apparatchiks, electeds, NGOs, and miscellaneous mercenaries, with assets in the press and the intelligence community.

Note, of course, that the class power of the PMC both expresses and is limited by other classes; oligarchs and American gentry (see 'industrial model' of Ferguson, Jorgensen, and Jie) and the working class spring to mind. Suck up, kick down.

* * *

2023 – 2016 = 7 years later, and Trump is still living rent-free in their heads:

A cartoon from The New Yorker https://t.co/XWaSM9OU4Y pic.twitter.com/R9QUGE2Yjn

— Caris Davis (@cd123) May 27, 2023
#COVID19
"I am in earnest — I will not equivocate — I will not excuse — I will not retreat a single inch — AND I WILL BE HEARD." –William Lloyd Garrison
Resources, United States (National): Transmission (CDC); Wastewater (CDC, Biobot; includes many counties); Variants (CDC; Walgreens); "Iowa COVID-19 Tracker" (in IA, but national data).
Lambert here: Readers, thanks for the collective effort. We are now up to 50/50 states (100%). This is really great! (It occurs to me that there are uses to which this data might be put, beyond helping people with "personal risk assessments" appropriate to their state. For example, thinking pessimistically, we might maintain the list and see which states go dark and when. We might also tabulate the properties of each site and look for differences and commonalities, for example the use of GIS (an exercise in Federalism). I do not that CA remains a little sketchy; it feels a little odd that there's no statewide site, but I've never been able to find one. Also, my working assumption was that each state would have one site. That's turned out not to be true; see e.g. ID. Trivially, it means I need to punctuate this list properly. Less trivially, there may be more local sites that should be added. NY city in NY state springs to mind, but I'm sure there are others. FL also springs to mind as a special case, because DeSantis will most probably be a Presidental candidate, and IIRC there was some foofra about their state dashboard. Thanks again!
Resources, United States (Local): AK (dashboard); AL (dashboard); AR (dashboard); AZ (dashboard); CA (dashboard; Marin); CO (dashboard; wastewater); CT (dashboard); DE (dashboard); FL (wastewater); GA (wastewater); HI (dashboard); IA (wastewater reports); ID (dashboard, Boise; dashboard, wastewater, Central Idaho; wastewater, Coeur d'Alene; dashboard, Spokane County); IL (wastewater); IN (dashboard); KS (dashboard; wastewater, Lawrence); KY (dashboard, Louisville); LA (dashboard); MA (wastewater); MD (dashboard); ME (dashboard); MI (wastewater; wastewater); MN (dashboard); MO (wastewater); MS (dashboard); MT (dashboard); NC (dashboard); ND (dashboard; wastewater); NE (dashboard); NH (wastewater); NJ (dashboard); NM (dashboard); NV (dashboard; wastewater, Southern NV); NY (dashboard); OH (dashboard); OK (dashboard); OR (dashboard); PA (dashboard); RI (dashboard); SC (dashboard); SD (dashboard); TN (dashboard); TX (dashboard); UT (wastewater); VA (dashboard); VT (dashboard); WA (dashboard; dashboard); WI (wastewater); WV (wastewater); WY (wastewater).
Resources, Canada (National): Wastewater (Government of Canada).
Resources, Canada (Provincial): ON (wastewater); QC (les eaux usées); BC, Vancouver (wastewater).
Hat tips to helpful readers: Art_DogCT, B24S, CanCyn, ChiGal, Chuck L, Festoonic, FM, FreeMarketApologist (4), Gumbo, hop2it, JB, JEHR, JF, JL Joe, John, JM (9), JustAnotherVolunteer, JW, KatieBird, LL, Michael King, KF, LaRuse, mrsyk, MT, MT_Wild, otisyves, Petal (5), RK (2), RL, RM, Rod, square coats (11), tennesseewaltzer, Utah, Bob White (3).
Stay safe out there!
* * *
Look for the Helpers
Optimism:

Signs are all around of the message getting through.

We think clean air in schools will provide some of the best value for money in the history of public health.#CleanTheAirWeShare#CleanAirRevolutionhttps://t.co/R15fUc9uzd

— The Corsi-Rosenthal Foundation (@CRBoxFoundation) May 28, 2023

I am actually with the The Corsi-Rosenthal Foundation on this; I have a sense, however unmotivated by actual data, that we've hit bottom on opposition to non-pharmaceutical interventions, just because so many dull normals at ground-level weren't having it.
Maskstravaganza
"Assessing the Fit of N95 Filtering Facepiece Respirators Fitted with an Ear Loop Strap System: A Pilot Study" [Annals of Work Exposure and Health]. N = 16. " Three models of cup-shaped N95 [filtering facepiece respirators (FFRs)] were tested in three versions: the standard version with manufacturer's strap system, the [ear loop straps system (ELSS)]-converted, and the ELSS-converted version modified by adding the [novel faceseal (NFS)]. [Occupational Safety and Health Administration (OSHA)-approved quantitative fit testing (QNFT)] demonstrated that the fit of an N95 FFR featuring the traditional/standard headbands strap system is negatively impacted when this system is converted to an ELSS. The fit of an ELSS-converted respirator can be significantly improved by the addition of the NFS." On the NFS: "The key element of this technology is an ethylene vinyl acetate (EVA) foam that is secured to the inner perimeter of the respirator, enhancing its fit to the user's face." • Bottom line is don't turn your straps into earloops, and maybe better face seal tech is on the way (one of the authors has a patent on the NFS).

Lysistratic Non-Action by implication?

My mask doesn't keep me from antiquing OR looking hot #HotMaskSummer bay bee https://t.co/pGtbMPO2zB pic.twitter.com/4cqKORyOGQ

— #StopCopCity (@lunaxstorta) May 27, 2023
"Something Awful"
SARS-CoV-2 optimizing the social conditions for its reproduction by causing brain damage:

I mean, it explains SO MUCH…https://t.co/2w6Brg8Zh8

— CZEdwards (@CZEdwards) May 9, 2023

I'm leery of this claim as a trope because it's so close to Democrats saying "Republicans are stupid." And I'm also leery of medicalizing and psychologizing as methods. Nevertheless, there does seem to be some science here (and lots of anecdotes, too, which, when suitably aggregated, are one of our few reliable sources of…. data). Perhaps readers can talk me off the ledge on this one, because it's uncomfortably close to a The Last of Us scenario. Oh, and:

It's not denial. It's not a sensory-specific or hemispheric issue. It's not an amnesia, or an inability to form a new memory (though it may be related).
It does make regular family relationships difficult — it's often the underlying problem when it's time to take the car keys.

— CZEdwards (@CZEdwards) May 10, 2023

Word of the day: anosognosia. Rings true!
Elite Maleficence
On "personal risk assessment" (1):

I work with statistics and probability professionally and I can't do meaningful "personal risk assessment" with available data. If I can't do it, I'm damn sure no one else can do it either, and anyone who says we have to do it is either ignorant or deliberately gaslighting. https://t.co/Hh9TAvEdv2

— Tom Radcliffe (@tjradcliffe) May 28, 2023

On "personal risk assessement" (2):

This is what the corrosive social pressure for "normalcy" gets us.

There's no way the attendees at THIS conference didn't know what was likely to happen. If "personal risk assessment" didn't work here, it won't work (at scale) anywhere. https://t.co/1aAXIOjzEC

— Alan J. Card (@AlanJCard) May 27, 2023

"THIS conference" was the CDC conference of "infection detective" brain geniuses who managed to create a superspreader event.

And speaking of the CDC:

"CDC Meeting Turns COVID Super Spreader" [Prevue Meetings and Incentives]. "A week after CDC held its three-day, 2,000-attendee 2023 Epidemic Intelligence Service (EIS) Conference in Atlanta, about three dozen attendees [now 181] reported they had contracted COVID. As reported in the Washington Post, 'Attendees said many people at the gathering did not mask, socially distance or take other precautions that the CDC had recommended earlier in the pandemic.' As Alanis Morissette would say, isn't it ironic? More to the point, isn't it a reminder that, as sick of the expense and hassle of COVID precautions as most meeting organizers and their attendees are — and despite U.S. reported cases of the virus falling to their lowest levels in two years — COVID still is on track to be one of the top 10 causes of death in the U.S. this year? … While many event organizers, at least anecdotally, have dropped all COVID-related precautions, business is still brisk for Attend Safe, which provides an array of virtual verification and on-site COVID-related risk-mitigation services, says CEO Amanda Schleede. 'I would say about half are saying it's over, or it's just the flu' she says, citing the recent CDC meeting and another recent 35,000-attendee healthcare-related convention that had no COVID-related protocols in place." • Fascinating than an event organizing trade journal has more insight into how Covid spreads than Hospital Infection Control — and Attend Safe spotted a business opportunity. Love the Alanis Morisette reference. Cheeky!

* * *

Our famously free press:

As far as I know there are no dedicated covid reporters. Bizarre. It just killed 7-25 million people. It's still killing, still causing economic and social ripple effects, and there's a good chance of an omicron-level mutation soon. Does no one want to be ahead of this story?

— Nate Bear (@NateB_Panic) May 26, 2023

Worse than labor reporting!

""We Want Them Infected:" A Review of the Push for Herd Immunity" [Psychology Today]. "Before the federal agency he represented could say with certainty when vaccines would be available—before any serious reckoning with the precautionary principle, a bedrock to U.S. public health policy since the 1970s—Alexander advocated openly for the mass infection of infants, children, young adults, and the middle-aged 'with no conditions, etc.,' on the assumption that doing so would hasten population immunity without mass sickness or mass death. As readers of COVID news will already know, and Howard's book documents with much-needed rigor and tenacity, it did neither. More than 850,000 people have since died from the virus in the U.S. alone. Alexander, we now learn, was supported by several high-profile epidemiologists, health economists, and even a radiologist whose early, error-strewn talking points—widely publicized by conservative and libertarian think tanks—helped set COVID policy at the federal level. With their shared emphasis on intentional mass infection of the unvaccinated documented unflinchingly in this book, it is much easier to grasp why, of necessity, that policy came to include vehement opposition to almost all previously accepted public health measures—targeted local lockdowns and social distancing, testing and contact-tracing, masking and indoor air changes, and eventually, cross-generational vaccination." • Policies that remained constant across two administrations, given Biden's policy of mass infection without mitigation.
The Jackpot
COVID-19 was just the warm-up act" [Peter J. Hotez, Houston Chronicle]. The deck: "Catastrophic pandemics may become our new normal." More: "SARS, SARS-2 and MERS all came from wild bat populations before they jumped to humans, either directly or through other animal species. This happened because of accelerated human and animal migrations due to climate change, deforestation and urbanization. New coronaviruses are currently jumping from bats to people hundreds or even thousands of times daily. Every few years one catches fire and causes a pandemic. We should expect yet another major and entirely new coronavirus pandemic to strike us before 2030. … We are entering a reality in which catastrophic pandemics could become our new normal. …. To respond at the national level, the U.S. government has implemented some measures, but they may not be sufficient. The CDC has improved since it missed the entry of the SARS-2 virus from southern Europe into New York and failed to implement diagnostic testing in 2020, but it is still not ready for the next big one. That will still take time. Next, the Biden administration has proposed a Project NextGen initiative to stimulate investments in universal coronavirus vaccines and other countermeasures, but it remains unclear if those funds will be mobilized." • See under Biden Administration for Project NextGen.

"Immunologist Akiko Iwasaki: 'We are not done with Covid, not even close'" [Guardian]. Iwasaki: "I understand why the emergency declaration had to be ended, because of the economic impact and other things. But at the same time, we are not done with Covid, not even close. The virus is here to stay with us and that's why we do need to think about future booster vaccines that match with the circulating variants, as well as the potential of new variants that further evade our existing immunity. I get that people want to move on from the pandemic, but the virus is still out there, people are getting infected, and there's the possibility of developing long Covid. I'm still wearing masks and following preventive practices as much as possible." • Iwasaki is at least on the side of the angels with nasal vaccines, but notice how she advocates for non-pharmaceutical interventions at the personal level, but not the systemic level.
* * *
Lambert here: I'm getting the feeling that the "Something Awful" might be a sawtooth pattern — variant after variant — that averages out to a permanently high plateau. Lots of exceptionally nasty sequelae, most likely deriving from immune dysregulation (says this layperson). To which we might add brain damage, including personality changes therefrom.
Case Data
NOT UPDATED From BioBot wastewater data from May 25: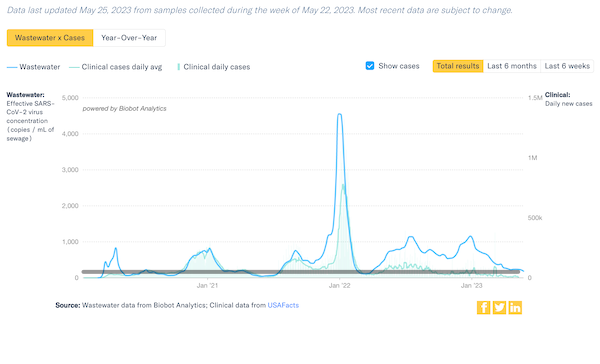 Lambert here: Unless the United States is completely, er, exceptional, we should be seeing an increase here soon. UPDATE Still on the high plateau. Are we are the point in the global pandemic where national experiences really diverge?
For now, I'm going to use this national wastewater data as the best proxy for case data (ignoring the clinical case data portion of this chart, which in my view "goes bad" after March 2022, for reasons as yet unexplained). At least we can spot trends, and compare current levels to equivalent past levels.
Variants
NOT UPDATED From CDC, May 27, 2023: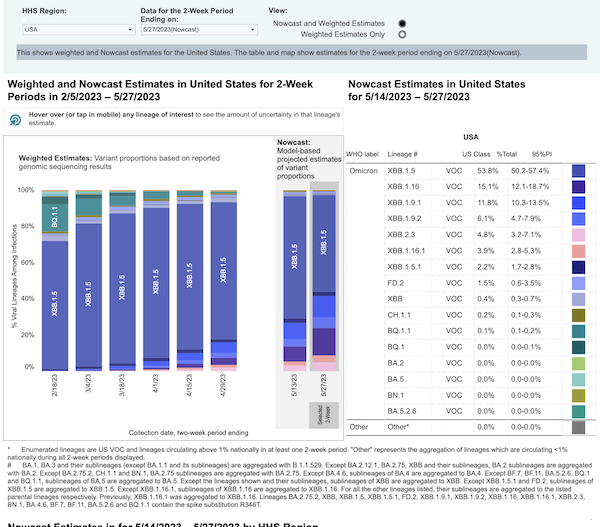 Lambert here: XBB.1.16 and XBB.1.9.1 still on the way up, eating into XBB.1.5. I sure hope the volunteers doing Pangolin, on which this chart depends, don't all move on the green fields and pastures new (or have their access to facilities cut by administrators of ill intent).
CDC: "As of May 11, genomic surveillance data will be reported biweekly, based on the availability of positive test specimens." "Biweeekly: 1. occurring every two weeks. 2. occurring twice a week; semiweekly." Looks like CDC has chosen sense #1. In essence, they're telling us variants are nothing to worry about. Time will tell. Looks like the Walgreens variants page isn't updating.
Covid Emergency Room Visits
NOT UPDATED From CDC NCIRD Surveillance, from May 20: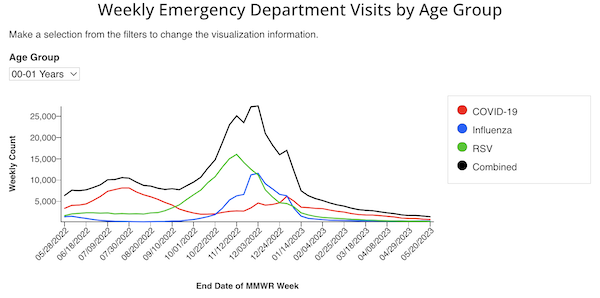 NOTE "Charts and data provided by CDC, updates Wednesday by 8am. For the past year, using a rolling 52-week period." So not the entire pandemic, FFS (the implicit message here being that Covid is "just like the flu," which is why the seasonal "rolling 52-week period" is appropriate for bothMR SUBLIMINAL I hate these people so much. Notice also that this chart shows, at least for its time period, that Covid is not seasonal, even though CDC is trying to get us to believe that it is, presumably so they can piggyback on the existing institutional apparatus for injections.
Positivity
From Walgreens, May 30: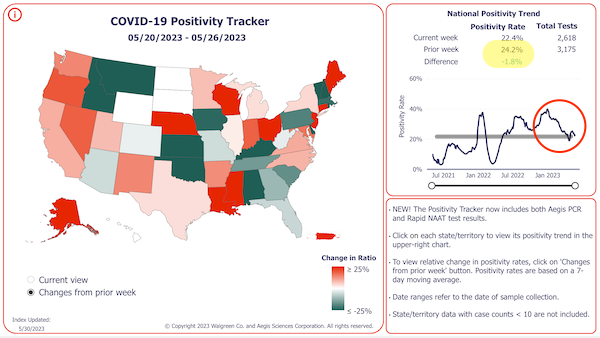 -1.8%. Frequency down to once a week.
Deaths
NOT UPDATED Death rate (Our World in Data), from May 24: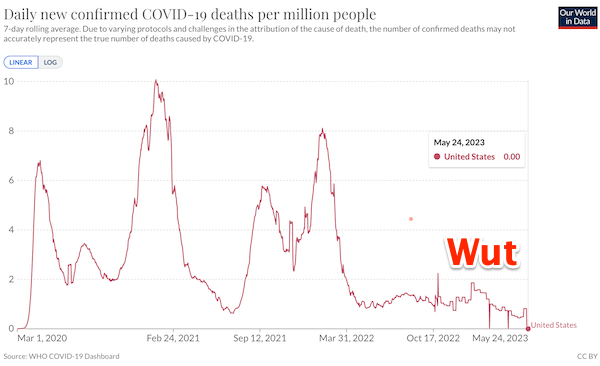 Lambert here: Zero deaths, for three days in a row. Not possible. Thanks, Johns Hopkins of the $9.32 billion endowment, for abandoning this data feed and passing responsibility on to the clown car at WHO.
Total: 1,165,281 – 1,164,934 = 347 (347 * 365 = 126,655 deaths per year, today's YouGenicist™ number for "living with" Covid (quite a bit higher than the minimizers would like, though they can talk themselves into anything. If the YouGenicist™ metric keeps chugging along like this, I may just have to decide this is what the powers-that-be consider "mission accomplished" for this particular tranche of death and disease).
Excess Deaths
NOT UPDATED Excess deaths (The Economist), published May 21: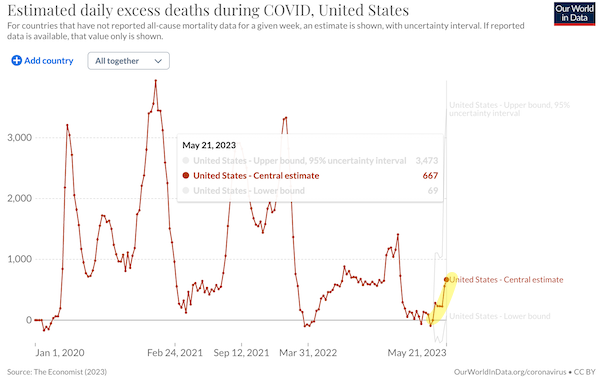 Lambert here: Based on a machine-learning model. (The CDC has an excess estimate too, but since it ran forever with a massive typo in the Legend, I figured nobody was really looking at it, so I got rid it. )
Stats Watch
Manufacturing: "United States Dallas Fed Manufacturing Index" [Trading Economics]. "The Federal Reserve Bank of Dallas' general business activity index for manufacturing in Texas sank by 5.7 points from the previous month to -29.1 in May of 2023, the lowest since the pandemic-induced crash in the second quarter of 2020."
* * *
The Bezzle: "Bitcoin Ordinals Are The Next Big Thing In Crypto" [Forbes]. "The hot new thing in crypto are ordinals. In a nutshell, an ordinal is a piece of information written to the bitcoin blockchain and referenced by a unique address also held in the blockchain data structure. Sounds similar to an non-fungible token (NFT), but an NFT is a token that references a piece of data somewhere else on the internet like IPFS (inter-planetary file system), which is the actual data. It might be somewhere else, but the trouble is, if the file or its storage goes away then the NFT data is gone, only leaving the token pointing to nothing. An ordinal is actually stored in a bitcoin block so while bitcoin or any of its forks live, the data is there." • So now they're just hyping…. digits? Like latlon coordinates except unrelated to a map?
* * *
Today's Fear & Greed Index: 64 Greed (previous close: 67 Greed) [CNN]. One week ago: 65 (Greed). (0 is Extreme Fear; 100 is Extreme Greed). Last updated May 30 at 1:47 PM ET.
Rapture Index: Closes down one on Earthquakes. "The lack of negative activity has downgraded this category' [Rapture Ready]. Record High, October 10, 2016: 189. Current: 184. (Remember that bringing on the Rapture is good.) NOTE on #42 Plagues: "The coronavirus pandemic has maxed out this category." More honest than most!
The Conservatory
I realize this is 2023 – 2006 = 17 years old, but I'm only just now getting around to it:
I don't know if I like the music much, but I do like the refrain (lyrics).
Guillotine Watch
"Elizabeth Holmes enters Texas prison to begin 11-year sentence for notorious blood-testing hoax" [Associated Press]. "Holmes, 39, on Tuesday entered a federal women's prison camp located in Bryan, Texas — where the federal judge who sentenced Holmes in November recommended she be incarcerated. The minimum-security facility is about 95 miles northwest of Houston, where Holmes grew up aspiring to become a technology visionary along the lines of Apple co-founder Steve Jobs. As she begins her sentence, Holmes is leaving behind two young children — a son born in July 2021 a few weeks before the start of her trial and a 3-month old daughter who was conceived after a jury convicted her on four felony counts of fraud and conspiracy in January 2022." • Not even a good start.
Class Warfare
"'What's More Tragic is Capitalism': BLM Faces Bankruptcy as Founder Cullors is Cut By Warner Bros." [Jonathan Turley]. "Two years ago, I wrote columns about companies pouring money into Black Lives Matter to establish their bona fides as 'antiracist' corporations. The money continued to flow despite serious questions raised about BLM's management and accounting. Democratic prosecutors like New York Attorney General Letitia James showed little interest in these allegations even as James sought to disband the National Rifle Association (NRA) over similar allegations. At the same time, Black Lives Matter co-founder Patrisse Cullors cashed in with companies like Warner Bros. eager to give her massive contracts to signal their own reformed status. It now appears that BLM is facing bankruptcy after burning through tens of millions and Warner Bros. cut ties with Cullors after the contract produced no — zero — new programming. Some states belatedly investigated BLM as founders like Cullors seemed to scatter to the winds. Gone are tens of millions of dollars, including millions spent on luxury mansions and windfalls for close associates of BLM leaders. The usual suspects gathered around the activists like former Clinton campaign general counsel Marc Elias, who later removed himself from his 'key role' as the scandals grew."
IIRC, those GBD loons are for child labor, too. Not their children, I am sure:
If you've been disabled by SARS because you were forced back to unsafe workplaces and are now unable to work and facing years of disability denials and poverty thanks to Bidens courageous leadership you can soon send your children out to earn a living and feed the family 🇺🇸 pic.twitter.com/Ak3ljVNLMJ

— The fed up Chef (@TheChefsGardens) May 28, 2023
"The History of Nepo Babies Is the History of Humanity" [The New Yorker]. "What if world history more resembles a family tree, its vectors hard to trace through cascading tiers, multiplying branches, and an ever-expanding jumble of names? This is the model, heavier on masters than on plot, suggested by Simon Sebag Montefiore's 'The World: A Family History of Humanity' (Knopf), a new synthesis that, as the title suggests, approaches the sweep of world history through the family—or, to be more precise, through families in power. In the course of some thirteen hundred pages, "The World" offers a monumental survey of dynastic rule: how to get it, how to keep it, how to squander it." • That would certainly be how elites think of the world, yes; see here.
"The people in charge":
The Obama/Netflix series is breaking my fucking brain. I've replayed this part of his narration 20 times, transcribed it, read it. As the Folksy God Narrator of Neoliberal Reality, it's fascinating to hear him say this in a tone of soothing matter-of-factness, not horror or anger pic.twitter.com/wCSyvifWYD

— Maximillian Alvarez (@maximillian_alv) May 26, 2023
News of the Wired
"Day 20: Sigils are an underappreciated programming technology" [Raku Advent Calendar]. "Every time a programmer  @ s someone on GitHub – for that matter, every time someone describes themselves as  #blessed  or tags a post as  #nofilter  – they're using a sigil…. The symbolic nature of sigils is key to their power: because they encode an entire phrase's worth of information into a single glyph, they have a much higher semantic density. Put differently, they let you say more, with less." • Hmm. Not sure I can think of an example of a sigil in the wild. At least in English, punctation comes at the end…..
* * *
Contact information for plants: Readers, feel free to contact me at lambert [UNDERSCORE] strether [DOT] corrente [AT] yahoo [DOT] com, to (a) find out how to send me a check if you are allergic to PayPal and (b) to find out how to send me images of plants. Vegetables are fine! Fungi and coral are deemed to be honorary plants! If you want your handle to appear as a credit, please place it at the start of your mail in parentheses: (thus). Otherwise, I will anonymize by using your initials. See the previous Water Cooler (with plant) here. From JZ: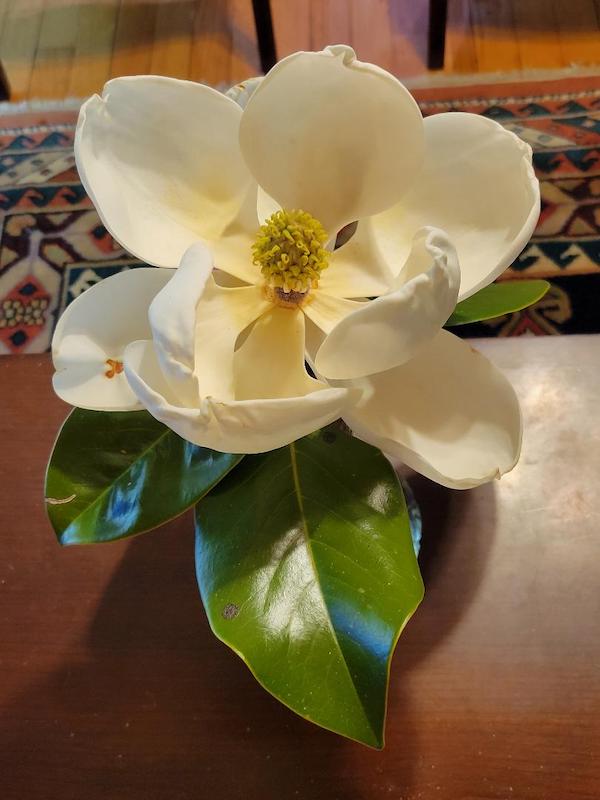 JZ writes: "The magnolias are beginning to bloom."
* * *
Readers: Water Cooler is a standalone entity not covered by the annual NC fundraiser. So if you see a link you especially like, or an item you wouldn't see anywhere else, please do not hesitate to express your appreciation in tangible form. Remember, a tip jar is for tipping! Regular positive feedback both makes me feel good and lets me know I'm on the right track with coverage. When I get no donations for five or ten days I get worried. More tangibly, a constant trickle of donations helps me with expenses, and I factor in that trickle when setting fundraising goals:
Here is the screen that will appear, which I have helpfully annotated: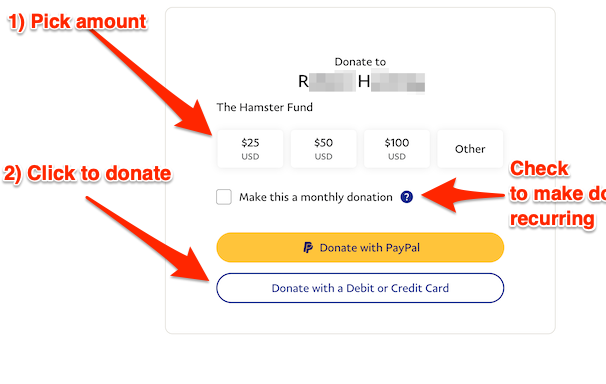 If you hate PayPal, you can email me at lambert [UNDERSCORE] strether [DOT] corrente [AT] yahoo [DOT] com, and I will give you directions on how to send a check. Thank you!