2:00PM Water Cooler 6/18/2020
By Lambert Strether of Corrente.
#COVID19
At reader request, I've added this daily chart. The data is the John Hopkins CSSE data. Here is the site. For a change, here are the numbers (in log scale):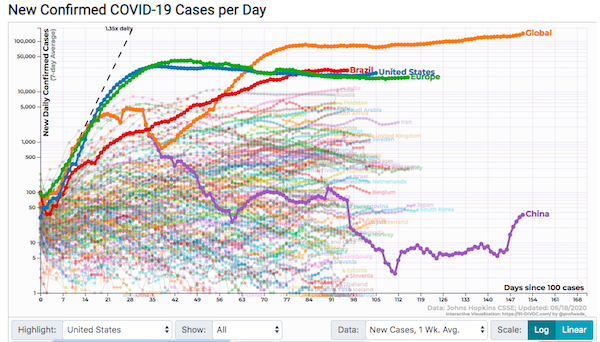 Our slope is increasing; new cases per day are going up. On the bright side, we're doing OK by world standards!
Politics
"But what is government itself, but the greatest of all reflections on human nature?" –James Madison, Federalist 51
"They had one weapon left and both knew it: treachery." –Frank Herbert, Dune
"They had learned nothing, and forgotten nothing." –Charles Maurice de Talleyrand-Périgord
Since we're getting closer to the election, maybe it's time to start looking at the electoral map, updated June 17 and unchanged today:
So, taking the consensus as a given, 270 (total) – 204 (Trump's) = 66. Trump must win 66 from the states in play: AZ (11), FL (29), MI (16), NC (15), PA (20), and WI (10) plus 1 to win not tie = 102. 102 – 66 = 36. So if Trump wins FL, MI, NC, and PA (29 + 16 + 15 + 20 = 80), he wins. That's a heavy lift. I think I've got the math right this time!
* * *
2020
Sanders (D)(1): "Bernie Sanders tests influence in House primaries for open seats" [MSN]. "Sen. Bernie Sanders is moving on from his presidential campaign, turning his attention to races further down the ballot. And he's not just taking on Republicans or sitting Democrats who aren't sufficiently liberal [sic]. The Vermont independent is also weighing in on crowded, open-seat primaries in Democratic territory in an effort to bring more progressives to the House. Primaries for two open seats next week around New York City could test whether his endorsement provides a last-minute boost in fundraising and energy that his favored candidates need to win…. Sanders endorsed in just two of 14 safe Democratic open seats in 2018. In the 2020 cycle, Sanders has endorsed candidates in four of the eight open-seat races in deep-blue territory."

Sanders (D)(2): "Bernie Sanders' California forces want Ro Khanna — not Newsom — to lead state delegation" [San Francisco Chronicle]. "Sen. Bernie Sanders' supporters haven't gone away just because Joe Biden is the presumptive Democratic presidential nominee. Some of their top California supporters want to send a national message by electing Fremont Rep. Ro Khanna to lead the California delegation at the Democratic National Convention — even though Khanna supported Sanders and not Biden. Electing Khanna to a post that is largely ceremonial would be more than a symbolic gesture of unity, the Vermont senator's supporters say — it would be a way for Sanders' platform to live on into the convention. But it's not without political complications. The job is typically given to the governor, meaning if Khanna won the post, Gov. Gavin Newsom wouldn't. Newsom is frequently mentioned as a possible presidential candidate down the line, and party conventions are a showcase for those with national ambitions." •

Trump (R)(1): "Following Trump's Protest Antics, Young Voters Turn Hard Against Him, According To Exclusive New Poll" [Forbes]. "Last month's installment of the Forbes Under 30 Survey, Powered by John Zogby Strategies—a recurring poll of likely voters between the ages of 18 and 29—showed a beleaguered President Trump floundering in the race against former vice president Joe Biden. Following his response to the recent Black Lives Matter protests, the president's outlook is dimmer still. Since May, Trump's share of likely voters has dropped from 34% to 31%, and Democratic nominee Joe Biden now polls with a two-to-one advantage against the sitting president. While Biden has long held an edge over his opponent within the Millennial and Gen Z cohort, this new lead—60%—is his largest yet. The uptick in support marks an increase of nearly ten percent since the Forbes Under 30 Voter Survey debuted in January."

Trump (R)(2): "Exclusive: Trump plots virus-era, made-for-TV mass festival" [Axios]. "President Trump's campaign plans to turn this weekend's Tulsa rally into a massive pro-Trump festival complete with musical acts, and it's flying in high-profile backers and camera crews to show the world the fervency of his supporters…. Temperature checks are being planned on site and masks and hand sanitizer were to be handed out, according to people familiar with the planning.

The Trump campaign says 1 million people have signed up — a data grab for the campaign — and of those, tens of thousands are expected to attend. The Bank of Oklahoma (BOK) Center, where the indoor event will be held, holds 19,000 people, and the area next to it where the second stage will be set up can hold tens of thousands more."

* * *
Realignment and Legitimacy
"Opinion analysis: Court rejects Trump administration's effort to end DACA" [SCOTUSblog]. "It has been eight years since the Obama administration created the Deferred Action for Childhood Arrivals program, known as DACA, which allows undocumented young adults who came to the United States as children to apply for protection from deportation. In 2017, the Trump administration announced that it would end the program, which it believed had been illegal in the first place. Today, by a vote of 5-4, the Supreme Court ruled that the administration acted improperly in terminating the program, and it sent the case back for the Department of Homeland Security to take another look. The ruling means that the DACA program will remain in place, at least for the foreseeable future." • Reax (1):

In typical Roberts fashion, this opinion: (1) allows Trump to rewrite the order in a less racist but equally harmful way, and (2) sets a precedent that makes it easier for courts to strike down future orders by a Dem president. https://t.co/it3kIjoSi2

— 29 U.S.C. § 157 (@OrganizingPow3r) June 18, 2020

Reax (2):

I literally cried tears of joy when I heard the DACA decision.

The wonderful young Dreamers and their families have a huge burden lifted off their shoulders.

One day they will become American citizens. https://t.co/exh0OIlniJ

— Chuck Schumer (@SenSchumer) June 18, 2020

"Literally!" Leave that for Boehner ffs. (Good to quote the excellent SCOTUSblog though!)

* * *

"In defense of Karen" [Matthew Walker, The Week]. "At the risk of outing myself as a hopeless contrarian, I would like to put in a good word for Karen." • "Contrarian" seems to be the new word for "bad person." More: "My misgivings began when I saw people asking what the male equivalent of a Karen was…. Instead of arguing that Karen is not real, which seems to me untenable (not least because, upon a moment's reflection, I realize that she is my mother), I will not only accept the premise of her existence but do my best to paint a sympathetic picture of her, even though doing so requires painting with the same broad strokes as her critics…. Let's talk about the manager and why Karen wants to speak with him. Karen has probably worked a terrible job before, or she might, in fact, have one now. She has always done the best she could at her job, not because it meant that she would be paid more or because she would win the esteem of her indifferent colleagues and superiors, but for purely abstract reasons. Karen does not like sloppiness. She is not okay with the old college try. She has been asked to do a great many difficult and not especially rewarding tasks both inside and outside the workplace, and if you ask her now, Karen will in fact disinterestedly apply herself to any tedious project, but she will expect the same from everyone else involved."

"Exiting the Vampire Castle" [Mark Fisher, Exiting the Vampire Castle]. • Twitter seems to be a little dogpile-y lately; I recommend reading this classic essay in full as an antidote.

The CCP is trolling us:

Headlines watch:
AP: "Americans are the unhappiest they've been in 50 years"
A poll finds that just 14% of American adults say they're very happy, down from 31% who said the same in 2018. Read AP's original report: https://t.co/nK4nelJJsK pic.twitter.com/tzZvqmqZvD

— China Xinhua News (@XHNews) June 18, 2020
Stats Watch
At reader request, I added some business stats back in. Please give Econintersect click-throughs; they're a good, old-school blog that covers more than stats. If anybody knows of other aggregators, please contact me at the email address below.
Employment Situation: "13 June 2020 Initial Unemployment Claims 1,508,000 This Week" [Econintersect]. "According to the BLS: 'The COVID-19 virus continues to impact the number of initial claims and insured unemployment. This report now includes information on claimants filing Pandemic Unemployment Assistance and Pandemic Emergency Unemployment Compensation claims.'The pandemic has so far caused a 46,020,000 job loss.a portion of this number now have jobs." • There's a line:
The state police said it will be an 8 hour wait from the back of the line to speak to a state employee about unemployment. pic.twitter.com/plGONcpS6n

— Daniel Desrochers (@drdesrochers) June 17, 2020
Manufacturing: "June 2020 Philly Fed Manufacturing Survey Index Improves And Is Now In Expansion" [Econintersect]. "The Philly Fed Business Outlook Survey significantly improved and now is well into expansion…. Overall, this report was a much better than last month's report with key elements significantly improving…. This is a very noisy index which readers should be reminded of is sentiment-based."
* * *
Cash: "US Casinos To Go Cashless, Citing Pandemic Fears" [PYMNTS.COM]. "The American Gaming Association (AGA), the Washington, D.C.-based trade group for the $261 billion sector, has issued "Payments Modernization Policy Principles" that they say will guide the industry into ePayments….. The group devised seven principles to educate regulators who are considering expanding payment choices, including: Equip customers with more tools to wager responsibly; Give customers payment choice and convenience; Ensure state laws enable a flexible regulatory approach, capable of keeping pace with evolving forms of digital payments; Address heightened customer public health concerns; Provide customers confidence in digital payment security; ." • Of course.
Retail: "Some of that stockpiled inventory might be with us for a while. Several clothing retailers are saying they may pack away a substantial share of inventory for later seasons, or even next year…. instead of pushing their goods into what's likely to be a cutthroat period of post-pandemic markdowns" [Wall Street Journal]. "Companies across the retail sector are coping with bloated inventories after the coronavirus lockdowns kept consumers at home over much of the spring. The stockpiles are a major cloud over apparel retailers because sales are highly seasonal and styles can change drastically over the course of a year. But merchants hope to avoid deep sales discounting that is a drag on profits. Not everyone is following a "pack-away" strategy. Fast-fashion retailers are moving quickly to reduce inventory levels…"
Shipping: "Alternative meats: a threat to the trucking industry?" (audio, graphics) [Freight Waves]. "Production centers are closer to consumer." Alternative meats are manufactured, not farmed.
Manufacturing: "Tesla Inc. may be facing a demand problem just when the electric-car maker looks like it has solved its supply chain woes. Registrations of newly purchased Tesla vehicles plunged in California over the past two months…. signaling a new challenge in a critical market as Chief Executive Elon Musk tries to maintain investor enthusiasm" [Wall Street Journal]. "Tesla shares have soared recently, fueled in part by reports that the auto maker last month delivered a record 11,095 locally made Model 3 compact cars in China.
* * *
Today's Fear & Greed Index: 52 Neutral (previous close: 51 Neutral;) [CNN]. One week ago: 55 (Neutral). (0 is Extreme Fear; 100 is Extreme Greed). Last updated Jun 17 at 12:42pm.
The Biosphere
"Can the World Get Along Without Natural Resources?" [Economics from the Top Down]. "From its outset, the field of political economy was not designed, in any meaningful sense, to understand resource flows. Instead, it was designed to explain class relations. The goal of early political economists was to justify the income of different classes (workers, landowners and capitalists). They choose to do so by rooting this income in the 'production of wealth'. What followed from this original sin was centuries of conflating income with 'production'. This conflation is what allowed Robert Solow to proclaim that the world could "get along without natural resources". Let's retrace this flawed thinking. It starts with a failure to understand property rights. Political economists largely understand property as a productive asset — a way of thinking that dates to the 17th-century work of John Locke (or perhaps earlier). Locke proclaimed that property rights stemmed from 'natural law'…. Locke's thinking became known as the 'labor theory of property'. This theory (and it derivatives) is why political economists misunderstand the role of natural resources. Here's what happens. If we accept Locke's argument that you have a right to own what you produce, it follows that your wealth should stem from your output. Most political economists after Locke accepted this reasoning (at least in part). That meant that the debate was not about whether wealth was 'produced', but rather, about which 'factors of production' were 'productive'. The physiocrats thought land alone was productive. Marx insisted that only labor was productive. Neoclassical economists proclaimed that, alongside labor, capital too was productive. The debate between these schools played out over centuries. The problem, though, is that it's based on a flawed premise. The debate assumes that value is 'produced'. (It's not.) To see the consequences of this mistake, we need an actual scientific theory of property rights — a theory that explains why property exists, not why it 'ought' to exist. The most convincing theory of private property, in my opinion, comes from the work of Jonathan Nitzan and Shimshon Bichler. To understand property, Nitzan and Bichler argue that we should turn Locke's idea on its head. Property isn't a 'natural right'. It's an act of power." • Sorry for the length, but this is interesting…. A commenter — sorry, too long ago! — recommented Nitzan and Bichier's book, Capital as Power. A Study of Order and Creorder and I got partly through it, but I'm allergic to neologisms that are not my own. Perhaps I should try again!
"Court tosses San Diego County climate plan, calls carbon-offset program 'unlawful'" [Los Angeles Times]. "The county was relying on the offset program as part of an ongoing push to approve a slate of housing projects on undeveloped land throughout unincorporated territory… Last year, the county sought to approve eight new projects totaling about 10,000 new units, but nearly all have been derailed or delayed by lawsuits. Many of those projects have been individually challenged in court by environmental groups. Those groups point to the tail-pipe emissions that would be created by additional traffic. Also, nearly all of the projects are located in wildfire-prone areas."
Police State Watch
"LACSD deputy fatally shoots Robert Fuller's half-brother in Kern County [updated]" [Antelope Valley News (PI)]. Local coverage: "A half-brother of Robert Fuller was shot to death by Los Angeles County Sheriff's deputies Wednesday afternoon in Kern County, a Fuller family attorney confirmed…. Robert Fuller's body was found with a rope around his neck around 3:40 a.m. June 10 in Poncitlan Square, across from Palmdale City Hall. Authorities initially said the death appeared to be a suicide, although an official cause of death has not been made." • Curious timing, to say the least.
"Shooting charge dropped against suspected New Mexico shooter" [Reuters]. " A New Mexico prosecutor on Wednesday dropped a shooting charge against an Albuquerque man suspected of shooting a protester and called for further investigations after allegations the protester was armed at the time he was shot…. Bernalillo County District Attorney Raúl Torrez said he had serious concerns an initial police investigation into the Monday shooting did not identify who owned multiple weapons collected at the scene, including knives, nor interview key bystanders and police." Whoopsie. More: "Torrez filed four new charges against Baca for unlawful carrying of a firearm and battery for allegedly assaulting three women before the shooting." • There's a weird self-defense justification I can't understand ("a person cannot claim self defense if they are the first aggressor"); maybe an Arizonan (?) reader can help.
"Protesters Filing First Wave of Police Brutality Lawsuits Against NYPD" [The City]. "So far, 18 notices of claim, the first step in filing a suit against the New York City, have been lodged with the city Comptroller's Office alleging police abuses at the rallies, according to records obtained by THE CITY. Dozens more are expected to be submitted in the coming days." • Lots of detail.
"As protests spread to small-town America, militia groups respond with armed intimidation and online threats" [WaPo]. "[T]he activists spearheading unlikely assemblies in rural and conservative corners of the country have faced fierce online backlash and armed intimidation, which in some places is unfolding with the apparent support of local law enforcement…. The armed mobilization sheds light on the growth of anti-government militia groups, whose efforts — often coordinated on Facebook and other online platforms — have expanded since the onset of the coronavirus pandemic and the nationwide outburst of protests for racial justice. Militia activity has marked recent protests in places across the country, often driven by false online alerts about infiltration by antifa and other left-wing militants."
L'Affaiire Joffrey Epstein
"Epstein Case: Documentaries Won't Touch Tales of Intel Ties" [Consortium News]. "Neither documentary ["Who Killed Jeffrey Epstein?," Investigation Discovery; "Jeffrey Epstein: Filthy Rich," Netflix] deals at all with Epstein's suspected ties to the world of intelligence. Absent from both are Maxwell's reported links to Israeli intelligence through her father, Robert Maxwell, former owner of The New York Daily News and The Mirror newspaper in London. Maxwell essentially received a state funeral in Israel and was buried on the Mount of Olives after he mysteriously fell off his yacht in 1991 in the Atlantic Ocean." • Oddly. Or not.
The Tube
From Sam Spade to Andy Sipowicz via Jack Webb; a thread:
Have you noticed that at some point the protagonists of procedural mystery shows switched from private investigators to police officers? Have you ever wondered what caused this shift? Well, I'm going to try and keep this short, but nevertheless, this will be a THREAD.

— Will McAvoy (@WillMcAvoyACN) June 15, 2020
Black Injustice Tipping Point
A good union:
This Friday, June 19th.

Longshoremen from Seattle to San Diego will shut down 29 ports- the whole west coast- in support of Black Lives Matter.

In Oakland, Angela Davis, Danny Glover, and I- among others- will be speaking.pic.twitter.com/MZGPirIf5p

— Boots Riley (@BootsRiley) June 17, 2020
?
But
one union. Imagine if the longshoreman, teamsters, and airline attendants got together…
Zeitgeist Watch
But there are cash incentives!
Warning…this is horrific, but important to remember that over 20,000 Americans gather yearly to watch inmates charged down by bulls for entertainment. This is a modern day gladiatorial contest dressed up as sport. Advertised on @TripAdvisor as tourism.https://t.co/PlaG7QHDBg

— Dr Asim Qureshi (@AsimCP) June 18, 2020
Class Warfare
News of the Wired
Sunset of empire:
HMS Kent (F78) pic.twitter.com/NeNnJwW8Bn

— Giant Military Cats (@giantcat9) June 18, 2020
* * *
Readers, feel free to contact me at lambert [UNDERSCORE] strether [DOT] corrente [AT] yahoo [DOT] com, with (a) links, and even better (b) sources I should curate regularly, (c) how to send me a check if you are allergic to PayPal, and (d) to find out how to send me images of plants. Vegetables are fine! Fungi and coral are deemed to be honorary plants! If you want your handle to appear as a credit, please place it at the start of your mail in parentheses: (thus). Otherwise, I will anonymize by using your initials. See the previous Water Cooler (with plant) here. Today's plant (Stanley Dundee):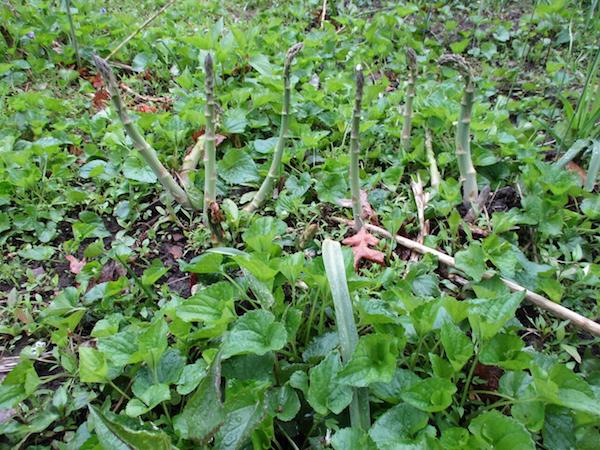 Mmmmm. Asparagus! And another garden (AM):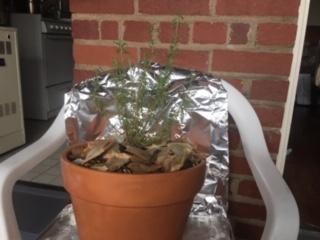 AM: "Enthroned rosemary. Directly across from the screen window. Aluminum back and base to reflect light." (Taken with a very classic phone, hence the width I normally want. But the aluminum foil seems like a clever trick.)
* * *
Readers: Water Cooler is a standalone entity not covered by the annual NC fundraiser. So if you see a link you especially like, or an item you wouldn't see anywhere else, please do not hesitate to express your appreciation in tangible form. Remember, a tip jar is for tipping! Regular positive feedback both makes me feel good and lets me know I'm on the right track with coverage. When I get no donations for five or ten days I get worried. More tangibly, a constant trickle of donations helps me with expenses, and I factor in that trickle when setting fundraising goals:
Here is the screen that will appear, which I have helpfully annotated.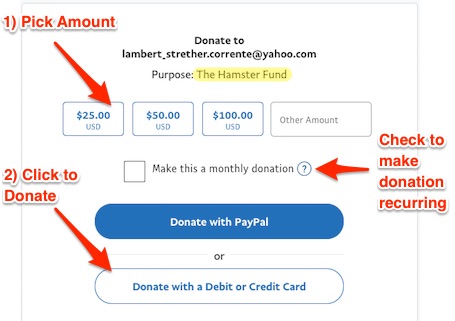 If you hate PayPal, you can email me at lambert [UNDERSCORE] strether [DOT] corrente [AT] yahoo [DOT] com, and I will give you directions on how to send a check. Thank you!