2:00PM Water Cooler 6/3/2020
By Lambert Strether of Corrente.
#COVID19
At reader request, I've added this daily chart. The data is the John Hopkins CSSE data. Here is the site. Here are more states not in the Acela Corridor: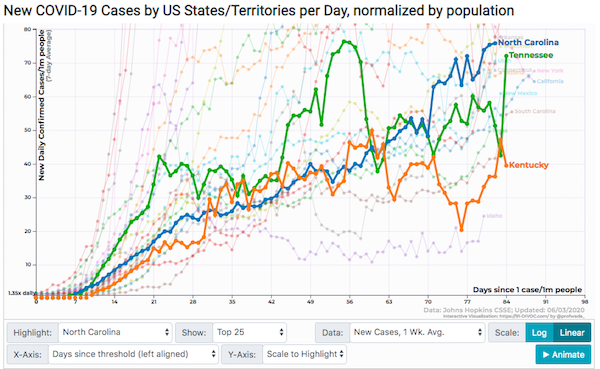 Linear, normalized for population. North Carolina, which does not want to hold an in-person Republican National Convention v.Tennessee, where the Republicans are considering holding it instead, in Nashville. Kentucky v. Tennessee is a good natural experiment, the two being neighbors; Kentucky's Governor Beshear got going earlier than Tennessee's Governor Lee.
Politics
"But what is government itself, but the greatest of all reflections on human nature?" –James Madison, Federalist 51
"They had one weapon left and both knew it: treachery." –Frank Herbert, Dune
"They had learned nothing, and forgotten nothing." –Charles Maurice de Talleyrand-Périgord
Since we're getting closer to the election, maybe it's time to start looking at the electoral map, unchanged from yesterday:
So, taking the consensus as a given, 270 (total) – 204 (Trump's) = 66. States in play: AZ (11), FL (29), MI (16), NC (15), PA (20), and WI (10) plus 1 to win not tie = 102. 102 – 66 = 36. Trump, then, can lose only 36 votes out of the states in play. He could lose, say, AZ (11) and PA (20), but would have to win FL, MI, NC, PA, and WI. That's a heavy lift. Readers will naturally correct my math!
* * *
Biden (D)(1): "Biden to attend George Floyd funeral, Floyd family attorney says" [The Hill]. "Floyd family attorney Benjamin Crump said in an interview with political commentator Van Jones shared on Facebook that Biden is set to attend Floyd's funeral next Tuesday. A public viewing for Floyd will be from noon to 6 p.m. local time on Monday at the Fountain of Praise church in Houston, USA Today reported. The funeral and burial will take place the following day. A spokeswoman for the Fort Bend Memorial Planning Center confirmed to USA Today that Biden is set to attend the funeral. Biden's campaign did not immediately respond to The Hill's request for comment." • That famous Biden empathy, seemingly never unmixed with pragmatic concerns (and fostered by the press, much in the same way that McCain's "maverick" persona was, when he reinvented himself after the Keating 5 scandal).
Biden (D)(2): "Bush administration alums form pro-Biden super PAC" [The Hill]. "Former officials from the George W. Bush administration have formed a super PAC to support former Vice President Joe Biden's White House campaign…. The group did not immediately respond to a request for comment from The Hill regarding who else will be involved in the group or what it intends to do to support Biden." • It's not clear to me how the Biden campaign can present an image of competence, moral rectitude, and empathy while also climbing into bed with the Bush administration. Unless Democrat loyalists will buy absolutely anything, of course.
Biden (D)(3): "Donors Rally to Biden in Wake of Trump's Response to Protests" [Bloomberg]. "'As a 'bundler,' you're usually out chasing the bundle but now the bundle is chasing me," said John Morgan, a longtime Florida-based Democratic fundraiser and one of Biden's biggest backers. Bundlers raise contributions for candidates and parties from their professional and personal networks and "bundle" them together. Employees of Morgan's law firm, Morgan & Morgan, gave Biden more than $435,000, his third largest source of funds for the primary. Those donations were capped at $2,800, but now Morgan, who's preparing to raise bigger sums in the general election, can collect bigger checks through different channels. Biden has set up a fundraising vehicle that can accept much bigger amounts, split between the Democratic National Committee, his campaign and 26 state parties, the general election fundraising will far outpace the primaries. He says he's fielded multiple calls this week from donors who can write large checks – the maximum donation is now $620,300 – asking how they can support the campaign." • I guess that's the important thing. Nevertheless, Yesterday, my Twitter feeds was full of Schwärmer like this:
Tears rolling down my face listening to Biden talk about healing our country. Feels like we have been a desert with no leadership, and this is the first drink of water.

— Amy Siskind 🏳️‍🌈 (@Amy_Siskind) June 2, 2020
Today, all of it had vanished as if it had never been. I guess their work was done?
Sanders (D)(1): "Where Are Bernie Sanders and College Campus Activism When We Need Them Most?" [Newsweek]. • Waiting for Biden to deliver something more than Bush retreads and performative empathy?
Trump (R)(1): "Trump slams North Carolina and says he's moving GOP convention elsewhere" [Politico]. • Granted, hotel rooms are easy to find these days, but organizing a convention takes time.
Trump (R)(2): "'Let Them Have Eric,' Screams Trump While Pushing Son Through Door Of Bunker" [The Onion].
2016 Post Mortem
"'As guarded as Fort Knox': the inside story of Hillary Clinton's presidential campaign" [Guardian]. "Clinton's shock loss to Donald Trump – the embodiment of chaos to her bastion of control – left so much destruction in its wake (a victory party mothballed, shell-shocked staffers out of work, 66m futile votes) that it was easy to overlook the small matter of 2,000 hours of behind-the-scenes campaign footage, shot in a spirit of cautious optimism but now left to languish. Clinton's office suggested cobbling it together as an official record, an insider's account of what went wrong. But film-maker Nanette Burstein recoiled when the idea was put to her. 'Too soon,' she says now. 'Too raw. Too disturbing for the public. I know I wouldn't want to watch that myself, never mind make it.' Instead, Burstein received clearance to use the footage for a bolder, more wide-ranging project. Hillary, the result, is a four-part biography that frames Clinton's life against the arc of the women's movement and recasts her career as a series of giant leaps and bounds. Significantly, it ends not in despair but in hope."
Realignment and Legitimacy
"Confusion, missing ballots as eight U.S. states vote during coronavirus pandemic" [Reuters]. "All of the states voting on Tuesday encouraged or expanded mail-in balloting as a safe alternative during the outbreak, and most sharply reduced the number of in-person polling places as officials struggled to recruit workers to run them. That led to record numbers of mail-in ballots requested and cast in many states, along with an explosion of complaints about delayed ballots and questions about where to vote after polling places were consolidated." • For example, in DC:

"The last day that vote centers are open," otherwise known as… Election Day https://t.co/JxbE0sLcxC

— Dave Weigel (@daveweigel) June 3, 2020

"Touchscreen Voting Machines and the Vanishing Black Votes" [WhoWhatWhy (geoff)]. "Votes from predominantly black precincts have mysteriously vanished from touchscreen voting machines in both Tennessee and Georgia in recent elections. Georgia replaced the touchscreen system it had been using since 2002 with yet another controversial touchscreen system, rejecting the advice of most election security experts, who note that hand-marked paper ballots are less vulnerable to both tampering and error. A political battle is now raging in Shelby County — Tennessee's most populous county — over whether it will follow in Georgia's footsteps or switch to hand-marked paper ballots for the general election in November…. The loss of black votes from touchscreen voting machines in Shelby County was discovered by election commissioner Bennie Smith, a Democrat, in 2015. The debate over a new voting system has led to a knock-down, drag-out fight, pitting Smith and election security reformers against Republican election administrator Linda Phillips and other election commissioners (three Republicans and one Democrat) who recently voted to buy controversial new touchscreen voting machines called "ballot-marking devices" (BMDs) for use by most voters at the polls." • For more on BMDs, which are not auditable, see NC here. BMDs have exactly one unique selling proposition: Election fraud.

online

Lots of questions about how you'd secure online voting. Blockchain and cloud services are being used in the pilots https://t.co/hqrsUNaPe7

— Zaid Jilani (@ZaidJilani) June 3, 2020

Philly

https://www.reuters.com/article/us-usa-election-pennsylvania-machines-ex/exclusive-philadelphias-new-voting-machines-under-scrutiny-in-tuesdays-elections-idUSKBN23828J

* * *
Stats Watch
At reader request, I added some business stats back in. Please give Econintersect click-throughs; they're a good, old-school blog that covers more than stats. If anybody knows of other aggregators, please contact me at the email address below.
"May 2020 ADP Employment Declines 2,760,000" [Econintersect]. "ADP reported non-farm private jobs growth at –2,760,000 which was better than expectations [(!)]. Last month's employment gain was cut. This month the coronavirus had a major impact on jobs. ADP employment has not been a good predictor of BLS non-farm private job growth."
* * *
Supply Chain: "Europe's Freezers Are Filling Up as Virus Chills Food Sales" [Bloomberg]. "Demand for cold-storage space in Europe has surged after bars, restaurants and sports venues closed, leaving their suppliers hunting for new customers or somewhere to store the unsold food. Farmers, manufacturers and retailers in the bloc say it's nearly impossible to find commercial fridge and freezer space. The shortage is forcing production cuts, and may mean wasting thousands of tons of produce that suddenly has nowhere else to go. The squeeze is yet another way that the coronavirus is wreaking havoc on the global food industry." • Gluts and shortages whereever you look.
Tech: "How Money Transfer Companies Squeezed Four Years Of Digital Growth Into Just Two Months" [Forbes]. "Imagine that for the last twenty years you sent $200 cash home every two weeks using a local store with people you know by name. Suddenly, you weren't allowed out of your home but your family was still relying on you to send money to them, what would you do? This situation has been faced by millions of people, especially the migrant worker community worldwide. It has also been the single biggest catalyst for growth of digital remittances ever. Four years of digital growth has been compressed into two months in the money transfer space."
Tech: "The winner in the Trump administration's increasingly aggressive effort to cripple China's Huawei Technologies Co. may be in Sweden. Telecom giant Ericsson AB is emerging as the steadiest player in the $80-billion-a-year cellular-equipment industry …. and is in a strong position to lead the rollout of 5G technology around the world" [Wall Street Journal]. "That would put the company a commanding position at the heart of high-value supply chains that will provide the backbone for new communications technology that will advance around the world. The question for Ericsson is figuring out which technologies of tomorrow to bet on, with the outcomes likely to affect billions of dollars' worth of gear that include the semiconductors that underpin the technology. Ericsson is testing equipment in several fields that 5G's superfast wireless speeds promise to unlock, such as driverless cars and remote-control mining machinery." • There are no robot cars. And "remote-control mining machinery _______" seems a little ominous….
Supply Chain: "Manufacturers are looking to bolster the use of data and analytics as they reset their supply chains. Technology officers at various companies say disruptions during the coronavirus outbreak have highlighted the importance of real-time information in operations… and that they're looking to use tools to monitor plant equipment remotely and to get ahead of potential problems" [Wall Street Journal]. "Analyst group ABI Research estimates annual spending by global manufacturers on data management, analytics and other advanced capabilities will reach nearly $20 billion by 2026, up from roughly $5 billion this year. A key driver is the ability to access data remotely, a more pressing concern since the pandemic. Many are looking for data beyond their own operations, with . " • Speaking of Big Brother:
when we were touring a house the other day the one real estate agent suddenly said "ALEXA PLAY MUSIC" and then we sat in silence for a couple seconds and she said "I just wanted to make sure there wasn't one of those listening to us".

— SUN|DESTROYER|2020 (@bombsfall) June 7, 2019
* * *
Today's Fear & Greed Index: 61 Greed (previous close: 58 Greed;) [CNN]. One week ago: 53 (Neutral). (0 is Extreme Fear; 100 is Extreme Greed). Last updated Jun 3 at 12:53pm.
The Biosphere
"Erratum for the Report: "The global tree restoration potential" by J.-F. Bastin, Y. Finegold, C. Garcia, D. Mollicone, M. Rezende, D. Routh, C. M. Zohner, T. W. Crowther and for the Technical Response "Response to Comments on 'The global tree restoration potential'" by J.-F. Bastin, Y. Finegold, C. Garcia, N. Gellie, A. Lowe, D. Mollicone, M. Rezende, D. Routh, M. Sacande, B. Sparrow, C. M. Zohner, T. W. Crowther" [Science]. "First, in the original version of the Report, the authors stated in the abstract and in the main text that tree restoration is the most effective solution to climate change to date. This was incorrect. They meant that they know of no other current carbon drawdown solution that is quantitatively as large in terms of carbon capture. They did not mean that tree restoration is more important than reducing greenhouse gas emissions or should replace it, nor did they mean that restoring woodlands and forests is more important than conserving the natural ecosystems that currently exist. The authors acknowledge that climate change is an extremely complex problem with no simple fix and that it will require a full combination of approaches. They have made these points explicit in their subsequent communications. The Report text was changed accordingly when the Technical Comments and Technical Responses were published." • Science advances….
"Oats, a very effective disease suppressive cover crop" [John Kempf]. "Before crown rust was a significant challenge, oats did not have a reducing/disease suppressive effect. The plant secondary metabolite profile of oats changed once they were bred to be resistant to crown rust. This change in the metabolite profile resulted in a changed profile of root exudates, which converted a plant with a former oxidizing effect on the soil redox environment – a disease enhancer, to a reducing effect, or disease suppressive. This means we need to consider the possibility that some plants which currently have an oxidizing effect, such as modern wheat, can be shifted to having a reducing/disease suppressive effect when we change the plant metabolite profile." • A farmer who thinks about his soil…
"Plantwatch: vital peat needs protection from compost sales" [Guardian]. "Compost made with peat is still being used by both gardeners and commercial growers, even though it is dug up from peatlands, devastating wild bogplants, wildlife, and sabotaging the fight against the climate crisis. Peat is made up of dead plants saturated and preserved in water, locking away vast amounts of carbon in the plant remains. Peatlands account for about 3% of the Earth's land area but hold more than one-third of all the carbon in soil, and more than twice as much as the world's forests. But when peatlands are damaged they release their carbon, some 2bn tonnes of CO2 worldwide annually, more than 5% of all manmade greenhouse gas emissions." • Don't do this!
Patio eggplant pic.twitter.com/xNLE2LpzCh

— Alice Marshall (@PrestoVivace) May 29, 2020
Class Warfare
"Next Wave of U.S. Job Cuts Targets Millions of Higher-Paid Workers" [Bloomberg]. "The pandemic isn't finished with the U.S. labor market, threatening a second wave of job cuts—this time among white-collar workers. Close to 6 million jobs are potentially on the line, according to Bloomberg Economics. That includes higher-paid supervisors in sectors where frontline workers were hit first, such as restaurants and hotels. It also includes the knock on-effects to connected industries such as professional services, finance and real estate." • Handy chart: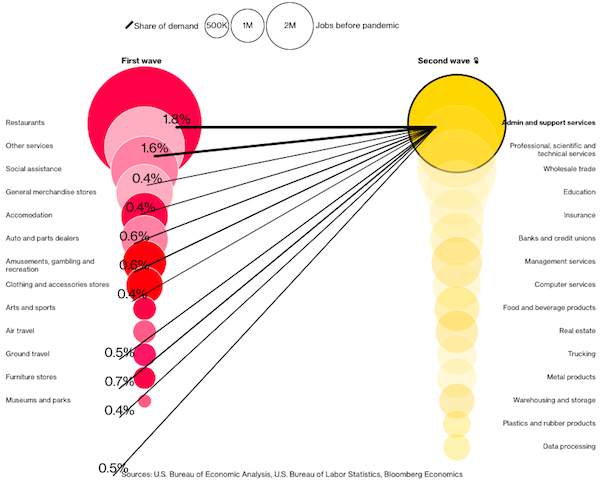 (Not sure what's happening with that line to 0.5% at botttom.)
News of the Wired
Department of Clarification:
Its only tear gas if it comes from the Teârè region of France, otherwise its just sparkling eye irritant

— Jason Sclar (@JasonSclar) June 3, 2020
* * *
Readers, feel free to contact me at lambert [UNDERSCORE] strether [DOT] corrente [AT] yahoo [DOT] com, with (a) links, and even better (b) sources I should curate regularly, (c) how to send me a check if you are allergic to PayPal, and (d) to find out how to send me images of plants. Vegetables are fine! Fungi and coral are deemed to be honorary plants! If you want your handle to appear as a credit, please place it at the start of your mail in parentheses: (thus). Otherwise, I will anonymize by using your initials. See the previous Water Cooler (with plant)
here. Today's plant (IM):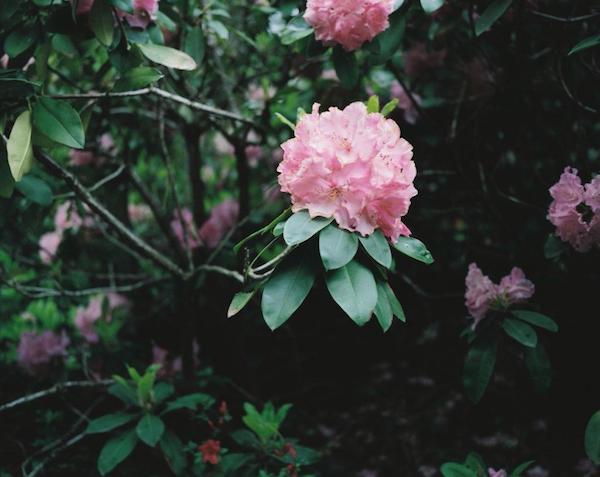 IM writes: "Dear Lambert, a rhododendron from last year. No doubt, the same one is blooming right about now, but unseen by human eyes, as Van Dusen Gardens in Vancouver is closed. The way nature unfolds without regard for the pandemic is restorative." It is, as are the lovely pink, and the deep green shadows.
* * *
Readers: Water Cooler is a standalone entity not covered by the annual NC fundraiser. So if you see a link you especially like, or an item you wouldn't see anywhere else, please do not hesitate to express your appreciation in tangible form. Remember, a tip jar is for tipping! Regular positive feedback both makes me feel good and lets me know I'm on the right track with coverage. When I get no donations for five or ten days I get worried. More tangibly, a constant trickle of donations helps me with expenses, and I factor in that trickle when setting fundraising goals:
Here is the screen that will appear, which I have helpfully annotated.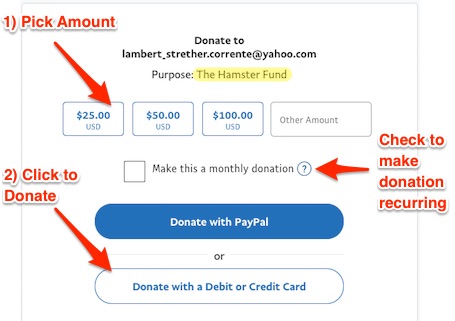 If you hate PayPal, you can email me at lambert [UNDERSCORE] strether [DOT] corrente [AT] yahoo [DOT] com, and I will give you directions on how to send a check. Thank you!