2:00PM Water Cooler 6/4/2020
By Lambert Strether of Corrente.
Gentle readers, I seem to be asking for more patience than usual. Today, my idiotic iOS mailer decided not to mail my links out to my Mac, and dumped then in the Outbox, without telling me, as it will do, a brutally bad UI/UX experience. So completing today's Water Cooler will require me to go through that inventory, which by now should be arriving; naturally I discovered the debacle at the last minute. What is it, phases of the moon? –lambert
#COVID19
At reader request, I've added this daily chart. The data is the John Hopkins CSSE data. Here is the site. Here are the South: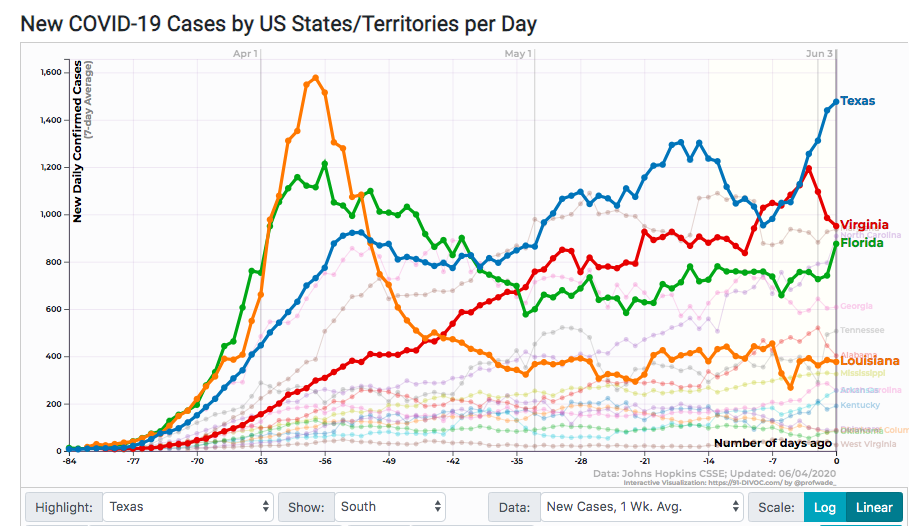 Linear. Good for Louisiana for bringing down the peak, but I don't see how anybody could look at this and say we've beaten the virus. (I suppose if you think COVID-19 is like the flu, that's OK, but it isn't.)
Politics
"But what is government itself, but the greatest of all reflections on human nature?" –James Madison, Federalist 51
"They had one weapon left and both knew it: treachery." –Frank Herbert, Dune
"They had learned nothing, and forgotten nothing." –Charles Maurice de Talleyrand-Périgord
Since we're getting closer to the election, maybe it's time to start looking at the electoral map, unchanged from yesterday:
So, taking the consensus as a given, 270 (total) – 204 (Trump's) = 66. Trump must win 66 from the states in play: AZ (11), FL (29), MI (16), NC (15), PA (20), and WI (10) plus 1 to win not tie = 102. 102 – 66 = 36. So if Trump wins FL, MI, NC, and PA (29 + 16 + 15 + 20 = 80), he wins. That's a heavy lift. I think I've got the math right this time!
* * *
2020
Biden (D)(1): "Trump and Biden clash as George Floyd's killing jolts 2020 race" [CNN]. "The presumptive Democratic nominee has reacted to the changed dynamic of a campaign previously kept in hibernation by lockdowns, warning that citizens cannot 'let our rage consume us.' Energizing a campaign initially based on the uninspiring prospect of an old order restoration, Biden Tuesday presented himself as an avatar of racial justice and national healing…. He will need to informally corral voices of tolerance and turn his campaign into a cohesive national movement for change. That means encouraging peaceful protests and emerging as the leader of Americans like those who quietly gathered on the Lincoln Memorial on Tuesday and went home before a 7 p.m. curfew. He must open his tent to those attracted by former Republican President George W. Bush's moving and above partisan politics [lol] call on Tuesday for 'America to examine our tragic failures.'" • First, restoration. Now, a "movement for change." Scratch out cat, and write in dog…..

Biden (D)(2): "Biden Has Changed—For the Better" [Franklin Foer, The Atlantic]. "The challenge for the Biden candidacy is to bridge an alliance with a resurgent left. Biden, a creature of the Senate, has to convince young people rushing to the barricades that he's worth a trip to the polls. And the challenge for the left is to accept that Biden is its greatest chance of achieving its long-held dreams. What he's demonstrated over the past week is a willingness to play the role of tribune, to let the moment carry him to a new place." • Foer leaves out the Republicans, to whom Biden also seeks to appeal. This pudding has no theme….

Trump (R)(1): "Trump's Words Are Not Meaningless Ramblings" [Jane Chong, The Atlantic]. "Because law enforcement begins with the simple act of legal interpretation, presidential speech is presidential action. This is not how Americans usually think about what the president is doing when he speaks. Under the government's three-branch structure, interpretation of the law is a function usually attributed to the courts. That's because when it comes to defining the law's parameters in the context of a specific dispute, the courts get the last word. As tensions explode across the country, however, America is getting an indelible reminder that, as the authority charged with overseeing the execution of the law, the president gets the first word…. The natural inclination is to draw a distinction between the president's speech and the president's actions—to separate the chaff from the wheat, the empty pronouncement from the concrete government response…. That the president is wrong about the law, however, doesn't render his speech empty of legal import….. [M]achinery aside, many of Trump's statements are self-executing. Therein lies their power. Never mind what the courts say tomorrow; he speaks the law as it is understood and applied today…. On the contrary, the nation is witnessing, firsthand, the immense might the president wields by way of his most ill-defined, hard-to-measure power: presidential speech." • I can't help but think back to Watergate, when there was a plethora of figures able to successfully take issue with Nixon's pronouncements. I was younger then, but it seems evident to me that there is nobody with the stature of, say, Sam Ervin (or Eliott Richardson) today.

* * *

"A day after he enters District 12 race, Chris Hedges drops out" [Planet Princeton]. "Chirs Hedges, the Green Party candidate who announced on Wednesday that he would challenge Democratic U.S. Rep. Bonnie Watson Coleman in the 12th District race this year, said on Twitter Thursday that he was dropping out already. Hedges, a Princeton resident, said he was informed Thursday that according to FCC rules, he can't run for federal office and have a national TV show. 'I entered the race to bring up issues I care about, but this is not worth losing an important media platform,' Hedges wrote. 'I entered the race to challenge the corruption of the Democratic Party, especially the Democratic Party machine in New Jersey, one of the worst in the nation,' he wrote. 'It was never about winning, but raising public awareness and building popular opposition to the ruling political elites that will not be successful in the limited span of one election cycle, but must begin to take root.'"
2016 Post Mortem
"Appeals court mulls making Hillary Clinton testify on emails" [Politico]. "Of the three judges, [Obama appointee Robert Wilkins] sounded weariest of the Clinton email saga and most eager to bring it to a close. When Cotca said whether Clinton was intending to avoid FOIA was 'a critical question in this case that has to be answered,' Wilkins interrupted. 'I don't understand why that's a question that has to be answered,' he declared. 'The question is whether there's been an adequate search. What difference does it make what the intent was or what her reasons were for using a private server?'" • One for the judges, I guess!
Realignment and Legitimacy
"He Took in Protesters Facing Arrest in DC. Then the Washington Post Reported That He Was Late Paying Rent." [The Washingtonian]. "The stories about Dubey had focused on his selfless act—"I know in my heart of hearts that you would open the door, too," he told Washingtonian Tuesday morning—and the experiences of the demonstrators who stayed with him, many of whom said they'd been tear-gassed or pepper-sprayed. That is, until Tuesday evening, when the Washington Post published an article that included comments from Dubey's landlord, who says Dubey is late paying rent on the Swann Street house." • Gotcha! More: "Dubey, CEO of Percynal Health Innovations, says he's fine. "I'm a 1099 independent contractor," he explains, and because of coronavirus, business has dropped off." • The Post merely characterized Dubey as a "a 44-year-old health-care entrepreneur." • What WaPo omits entirely, and the Washingtonian airbrushes, is that Percynal Health Innovations is a contractor for AHIP (the horrid lobbying organization for the health insurance industry, responsible for whatever number of excess deaths there are without #MedicareForAll). So, rent payments in the midst of a pandemic and a depression are a gotcha moment, an occasion for scandal and pearl-clutching, but working for a death-dealing lobbyist organization is A-OK. Your political class at work! (None of this takes away from Dubey's courageous and moral act, even it it did take place in an immoral system.)

"CIA veterans who monitored crackdowns abroad see troubling parallels in Trump's handling of protests" [WaPo]. "The scenes have been disturbingly familiar to CIA analysts accustomed to monitoring scenes of societal unraveling abroad — the massing of protesters, the ensuing crackdowns and the awkwardly staged displays of strength by a leader determined to project authority. In interviews and posts on social media in recent days, current and former U.S. intelligence officials have expressed dismay at the similarity between events at home and the signs of decline or democratic regression they were trained to detect in other nations." • Life's little ironies. I would say that our descent to Third World political forms began, at the very latest, in December 2016.

"The Memo: Nation nears a breaking point" [The Hill]. "A Monmouth University poll released Tuesday found that an astonishing 74 percent of respondents believe the nation to be on the wrong track." • "'I've reached the breaking point,' he snapped." But for what reason?

"The American story, splintered, and those vying to tell it" [Associated Press]. "It was, in fact, a clash between storylines — the fundamentally different visions the North and South had for the country — that precipitated the Civil War." • Oh.
Stats Watch
At reader request, I added some business stats back in. Please give Econintersect click-throughs; they're a good, old-school blog that covers more than stats. If anybody knows of other aggregators, please contact me at the email address below.
Employment Situation: "30 May 2020 Initial Unemployment Claims 1,877,000 This Week" [Econintersect]. "The more important (because of the volatility in the weekly reported claims and seasonality errors in adjusting the data) 4 week moving average moved from 2,608,750 (reported last week as 2,608,000) to 2,284,000… The COVID-19 virus continues to impact the number of initial claims and insured unemployment. This report now includes information on claimants filing Pandemic Unemployment Assistance and Pandemic Emergency Unemployment Compensation claims."
Employment Situation: "May 2020 Job Cuts Nearly 400,000 – Second Highest On Record" [Econintersect]. "Job cuts announced by U.S.-based employers totaled 397,016 in May, down 40.8% from April's total of 671,129, the highest monthly total on record. Despite the drop, last month's total is the second-highest monthly total on record since we began tracking job cut announcements in January 1993. The COVID-19 pandemic caused 209,147 cuts in May, followed by 119,018 job cuts due to market conditions, and 50,172 announced cuts due to demand downturn."
Trade: "April 2020 Trade Significantly Declined Due to Coronavirus" [Econintersect]. "This was a full month of coronavirus impact – and it significantly impacted trade…. Headlines said Imports of goods were down month-over-month – import goods growth has positive implications historically to the economy. Econintersect analysis shows unadjusted goods (not including services) growth decelerated 14.3 % month-over-month (unadjusted data) – down 20.9 % year-over-year (down 16.7 % year-over-year inflation-adjusted). The rate of growth 3-month trend declined. Headlines said Exports of goods were down month-over-month, and Econintersect analysis shows unadjusted goods export growth decelerated (not including services) 19.9 % month-over-month – down 29 % year-over-year (down 25.5 % year-over-year inflation-adjusted). The 3-month rate of growth trend declined.""
* * *
Honey for the Bears: "Opinion: Key Economic Indicators Are Weirdly Inverted. It's a Warning Sign" [MarketWatch (rd)]. "The inversion came in the form of figures showing Americans' collective income rising by double-digits, even as tens of millions of people lost jobs, incomes, and businesses. It's a statistical oddity caused by Congress' massive infusion of cash into the economy…. Personal income rose 10.5% for March, according to the latest Bureau of Economic Analysis figures, while consumption fell by 13.6%, leading to a massive increase in the savings rate for households…. Households saved a third of their income in April as their spending on restaurants and travel dropped, along with spending on health care as people stayed away from doctor's offices and hospitals…. [T]he only thing holding the economy back from the abyss are government payments that some policymakers are reluctant to renew. Without new legislation, the expanded benefits are scheduled to run out by the end of July."
Fodder for the Bulls: "Restaurant bookings data show U.S. economy is starting to revive after Covid closures" [CNBC]. "Though statistics provided by online reservation platform OpenTable for May 26 show that the number of seated diners at its participating restaurants nationwide is down an eye-popping 85% compared to this time last year, that is still far better than the 100% slide observed as recently as earlier this month and throughout April." • But can restaurants make a profit at that level? I'm dubious, especially as social distancing requirements shrink the number of seats. Via alert reader rd, compare Germany.
* * *
Today's Fear & Greed Index: 61 Greed (previous close: 61 Greed;) [CNN]. One week ago: 50 (Neutral). (0 is Extreme Fear; 100 is Extreme Greed). Last updated Jun 4 at 12:23pm
The Biosphere
State of emergency in Norilsk after 20,000 tons of diesel leaks into Arctic river system" [The Siberian Times (periol)]. "A state of emergency was introduced in Norilsk, Russia's nickel capital, after almost 20,000 tons of diesel burst out of a reserve fuel tank at the TPP-3 industrial site. … The exact reason of the leak is yet to be established, but a statement from Norilsk Nickel company, which operates the site suggests it could have been caused – worryingly – by collapsing permafrost. 'Due to sudden subsidence of supports which served for more than 30 years without problems, the diesel fuel storage tank was damaged, resulting in a fuel leak', said a statement from Norilsk Nickel, the world's largest producer of palladium and Russia's leading nickel mining and smelting company."
Health Care
"Surgisphere: governments and WHO changed Covid-19 policy based on suspect data from tiny US company" [Guardian]. Apparently, the Science story I ran yesterday on Surgisphere was triggered by Guardian reporting. The deck: "Surgisphere, whose employees appear to include a sci-fi writer and adult content model, provided database behind Lancet and New England Journal of Medicine hydroxychloroquine studies." Oh. More: "Two of the world's leading medical journals – the Lancet and the New England Journal of Medicine – published studies based on Surgisphere data. The studies were co-authored by the firm's chief executive, Sapan Desai. Late on Tuesday, after being approached by the Guardian, the Lancet released an 'expression of concern' about its published study. The New England Journal of Medicine has also issued a similar notice…. It is not clear from the methodology in the studies that used Surgisphere data, or from the Surgisphere website itself, how the company was able to put in place data-sharing agreements from so many hospitals worldwide, including those with limited technology, and to reconcile different languages and coding systems, all while staying within the regulatory, data-protection and ethical rules of each country." • So who was funding Desai? Also, the Lancet article based on Desai's proprietary database was peer-reviewed. What went wrong there?
"The coronavirus seems to be sparing populations at high altitudes" [MSN (Wukchumni)]. "When tourists from Mexico, China, and Britain became the first COVID-19 fatalities in Cusco, Peru, it seemed as if the onetime capital of the Inca Empire might be headed for a significant outbreak. Nestled in a picturesque Andean valley, the high-altitude city of 420,000 residents, the gateway to the cloud forest citadel of Machu Picchu, receives more than 3 million international visitors per year — many from pandemic hot spots, including the United States, Italy, and Spain. Yet since those three deaths, between March 23 and April 3, at the start of Peru's national lockdown, there has not been another COVID-19 fatality in the entire Cusco region, even as the disease has claimed more than 4,000 lives nationally…. In one peer-reviewed study, published in the journal Respiratory Physiology & Neurobiology, researchers from Australia, Bolivia, Canada, and Switzerland looking at epidemiological data from Bolivia, Ecuador, and Tibet found populations living above 3,000 meters (9,842 feet) reported significantly lower levels of confirmed infections than their lowland counterparts." • Interesting.
Class Warfare
"Opinion: Lower-income Americans threw the economy a lifeline during the pandemic" [MarketWatch]. "With data from millions of daily financial transactions, including debit and credit cards, as well as ACH payments and prepaid debit cards, we can glean some interesting insights into spending behavior, one of which is the comparison between low-income and middle-income-and-above Americans over the past two months. As more and more local and statewide lockdowns went into effect at the tail end of March, middle- and upper-income consumers went into a bunker mentality and reduced their spending by as much as 15% compared with the same period a year earlier….. Fortunately, spending by low-income consumers held steady during this period, taking only a moderate dip of 5% before rebounding. Why? Simply put, they don't have a lot of discretionary income to begin with, so there isn't much room to cut back on spending. If you need food, you need food. If you need your phone, you pay your phone bill. Put another way: Non-discretionary spending is non-negotiable. Hunkering down and cutting discretionary spending is the territory of middle-income-and-above consumers, not low-income consumers…. As the data clearly indicates, 19 of the 20 top merchants are 'staples' or 'non-discretionary.'" • Yes, our "work or starve" social contract has unexpected advantages!
News of the Wired
I remain unwired, as of this writing!
* * *
Readers, feel free to contact me at lambert [UNDERSCORE] strether [DOT] corrente [AT] yahoo [DOT] com, with (a) links, and even better (b) sources I should curate regularly, (c) how to send me a check if you are allergic to PayPal, and (d) to find out how to send me images of plants. Vegetables are fine! Fungi and coral are deemed to be honorary plants! If you want your handle to appear as a credit, please place it at the start of your mail in parentheses: (thus). Otherwise, I will anonymize by using your initials. See the previous Water Cooler (with plant)
here. Today's plant (TH):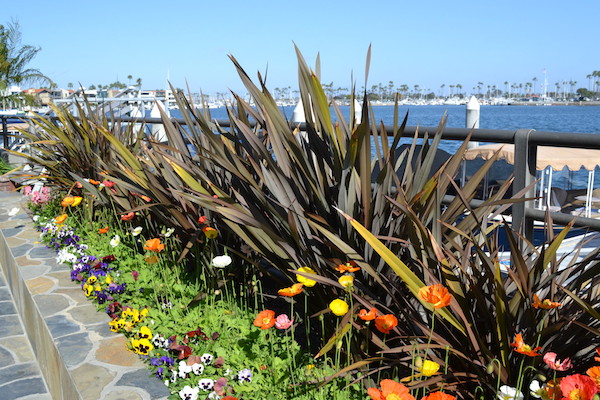 TH writes: "The garden along Los Alamitos Bay in Long Beach that includes bright cheery pansies and Iceland poppies."
* * *
Readers: Water Cooler is a standalone entity not covered by the annual NC fundraiser. So if you see a link you especially like, or an item you wouldn't see anywhere else, please do not hesitate to express your appreciation in tangible form. Remember, a tip jar is for tipping! Regular positive feedback both makes me feel good and lets me know I'm on the right track with coverage. When I get no donations for five or ten days I get worried. More tangibly, a constant trickle of donations helps me with expenses, and I factor in that trickle when setting fundraising goals:
Here is the screen that will appear, which I have helpfully annotated.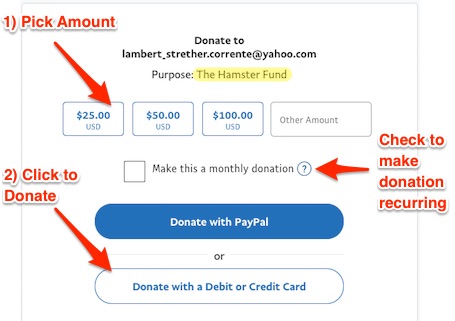 If you hate PayPal, you can email me at lambert [UNDERSCORE] strether [DOT] corrente [AT] yahoo [DOT] com, and I will give you directions on how to send a check. Thank you!