Australia's "big four" banks — ANZ, CBA, NAB and Westpac — are about to branch into a whole new area if business: "identity as a service". According to the Australian Financial Review (AFR), a recently created entity called Australian Payments Plus will co-ordinate the banks' investments to help them respond to competition from international payments giants also moving into digital ID — presumably in reference to Mastercard and Visa.
The AFR article says (emphasis my own) the banks "see 'identity-as-a-service' as an incremental revenue stream that will allow them to charge retailers, utilities or fintechs for validating customer details, given banks are highly trusted in the digital economy". the Service will supposedly offer a "seamless online identity verification experience," in the words of Australia Payments Plus (AP+) CEO Lynn Kraus.
Australian Payments Plus tweeted out the following message the same day that the AFR article went live: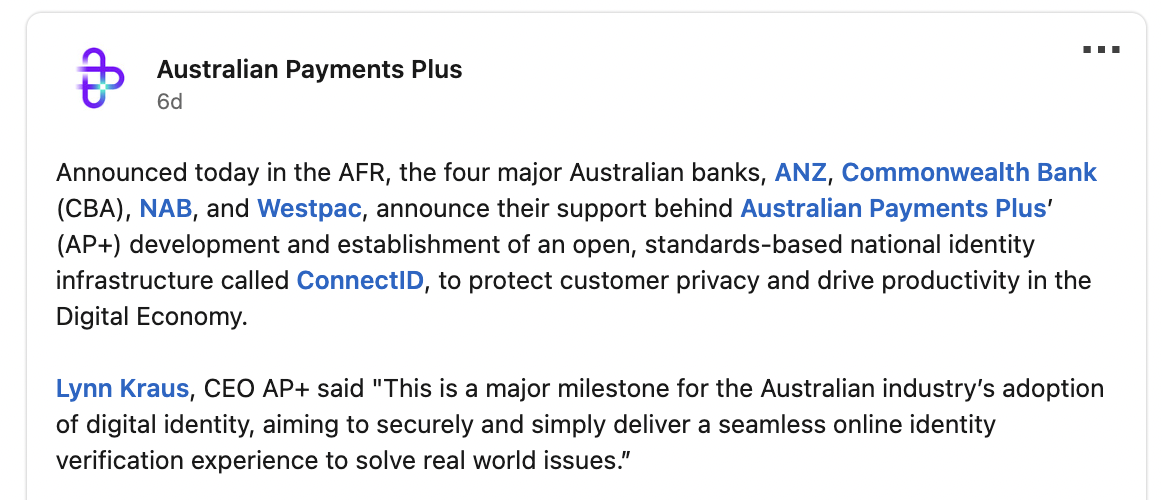 AP+ was set up in 2021 to bring together Australia's three domestic payment organisations — BPAY Group, eftpos and NPP Australia — under one roof, while allowing them to continue operating as separate businesses with distinct brands under a single Board. So what are these organizations and who do they belong to:
BPAY is a electronic bill payment SaaS company which facilitates payments made through a financial institution's online, mobile or telephone banking facility to organisations that are registered BPAY billers. It is a wholly owned subsidiary of Cardlink Services Limited, which, in turn, is owned in equal parts by Australia's "big four" banks.
EFTPOS (stylized as, "eftpos"), whose initials stand for  "electronic funds transfer at point of sale", is an electronic payment system involving electronic fund transfers based on the use of debit or credit cards, at payment terminals located at points of sale. The current members of EFTPOS Payments Australia Ltd include the "big four" as well as a mishmash of international banks (Citigroup, ING Australia), fintechs (Paypal) and retail groups (Woolworths).
NPP Australia is an open access system for fast payments in Australia, which was built and is maintained by the 12 founding members of NPP Australia Limited, which all of the the "big four" except CBA, as well as Citigroup, ING, HSBC, the London-based fintech Wise, formerly called Transferwise, and the Reserve Bank of Australia.
ConnectID is expected to launch as early as next year. And it is unlikely to be used just in the digital payments space. According to the website Fintech Australia, the ConnectID team is collaboratively working with governments, businesses, online merchants,
banks and other identity providers with a view to building identity into the national payments infrastructure, as well as other commercial applications for all Australians and Australian businesses.