This is Naked Capitalism fundraising week. 573 donors have already invested in our efforts to combat corruption and predatory conduct, particularly in the financial realm. Please join us and participate via our donation page, which shows how to give via check, credit card, debit card, or PayPal. Read about why we're doing this fundraiser, what we've accomplished in the last year,, and our current goal, rewarding our guest bloggers.
As we've said, the freight train of energy shortages is bearing down on Europe. Most of its leaders seem in denial about how bad the impact will be. Mind you, some do understand:
"A few weeks like this and the European economy will just go into a full stop," Belgian Prime Minister Alexander De Croo said in an interview with Bloomberg News.

"The risk of that is de-industrialization and severe risk of fundamental social unrest."https://t.co/4dXkgOGqMX

— Javier Blas (@JavierBlas) September 8, 2022
'
But you wouldn't get it from the tone and expected substance of an emergency EU energy meeting set for Friday. Politico reported yesterday on the main proposals from the European Commission. Some countries were miffed, since this leak was obviously intended to give EU Commission President Ursula von der Leyen more control over the debate. From EU countries split on von der Leyen's energy crisis ideas in Politico:
Von der Leyen proposed five "immediate" moves to help tame Europe's energy emergency:

— Setting a price cap on Russian gas;

— Mandatory measures to reduce electricity demand during peak hours;

— A cap on the "enormous revenues" some companies are making by generating electricity from lower cost sources than gas. These "unexpected profits" would be redirected to help consumers;

— A solidarity tax on fossil fuel companies making big profits, again with the funds sent to help ease the pain for consumers and businesses

— Facilitating funding support for ailing utility companies struggling to pay for supplies on the market.
The article said only two measures had broad support. The first was funding support for utility companies. The excuse is that they are having to pay " sky-high collateral cash needed to trade on energy exchanges." That conveniently omits that many of these utilities are in serious trouble, as we wrote a few days ago, due to bad derivative bets. Generally, the problem was they went short, as in bet prices would fall, and instead they went to the moon. It's hardly a secret that this is the big reason they are in financial pain:
European governments are patching together emergency measures to support utilities amid fears that companies will buckle under the weight of growing margin calls https://t.co/76OjR4Gr98

— Bloomberg Markets (@markets) September 6, 2022
These utilities are too big to fail entities. European officials can't let them collapse in the middle of a crisis. As we predicted, the energy company rescues would be first in the bailout line, ahead of support to households and businesses.
The second proposal that looks set to secure easy agreement is what amounts to an excess profits tax on energy companies that are low cost providers.
However, when the EU's priority should be to avert a disaster, it remains fixated on hurting itself to try to hurt Russia:
The most controversial issue is the Russian price cap — largely aimed at punishing the Kremlin financially for the war in Ukraine — with capitals having "very contradictory views," one EU diplomat said.

Germany has said it is "skeptical" about the idea. Hungary, Russia's closest EU ally, is against it, as is Slovakia and at least two other countries, diplomats said.

Others, including Poland and Italy, want the Commission to go further and cap the price of all gas imported into the EU. Von der Leyen said this was something the Commission was "looking at" — but Brussels has broadly been against the idea in its assessments so far, which would be much more complex than singling out Russian gas.
We hate to have to keep repeating the obvious. First, Russia has said it will not sell gas or oil to any countries that try to impose non-market prices. Second, the EU's earlier plans to cut Russian gas use by 2/3 by year end were deemed to be pie in the sky. From CNBC in June:
The EU plans to replace two-thirds of Russian gas imports by the end of the year, as Russia's war in Ukraine continues to wage on….

However, the EU's current plan to replace Russian gas looks to fall short.

In 2021, the EU imported around 155 billion cubic meters (bcm) of natural gas from Russia. The bloc's proposed gas replacements by the end of 2022 – which include LNG (liquefied natural gas) diversification, renewables, heating efficiency, pipeline diversification, biomethane, solar rooftops and heat pumps – amount to around 102 bcm annually, according to data from the EU Commission's REPowerEU, aggregated in a recent report from economic consultancy TS Lombard.

Christopher Granville, managing director for EMEA and global political research at TS Lombard, said in the report that the European Commission's aims to replace Gazprom's gas this year look "wildly optimistic."

"Apart from implementation timings of commissioning German LNG-receiving terminals, Russia is also an important supplier of LNG, underlining the challenge for Europe of sourcing adequate LNG supplies," Granville said.
Let us also remember that Europe came up largely empty-handed in its LNG appeals to Qatar and Canada, and the US has been quietly undersupplying Europe to keep prices in the US down.
By way of an update, Alex Christoforu provided this screenshot (at 14:25) showing the EU was currently getting 37.2% of its former Russian gas levels.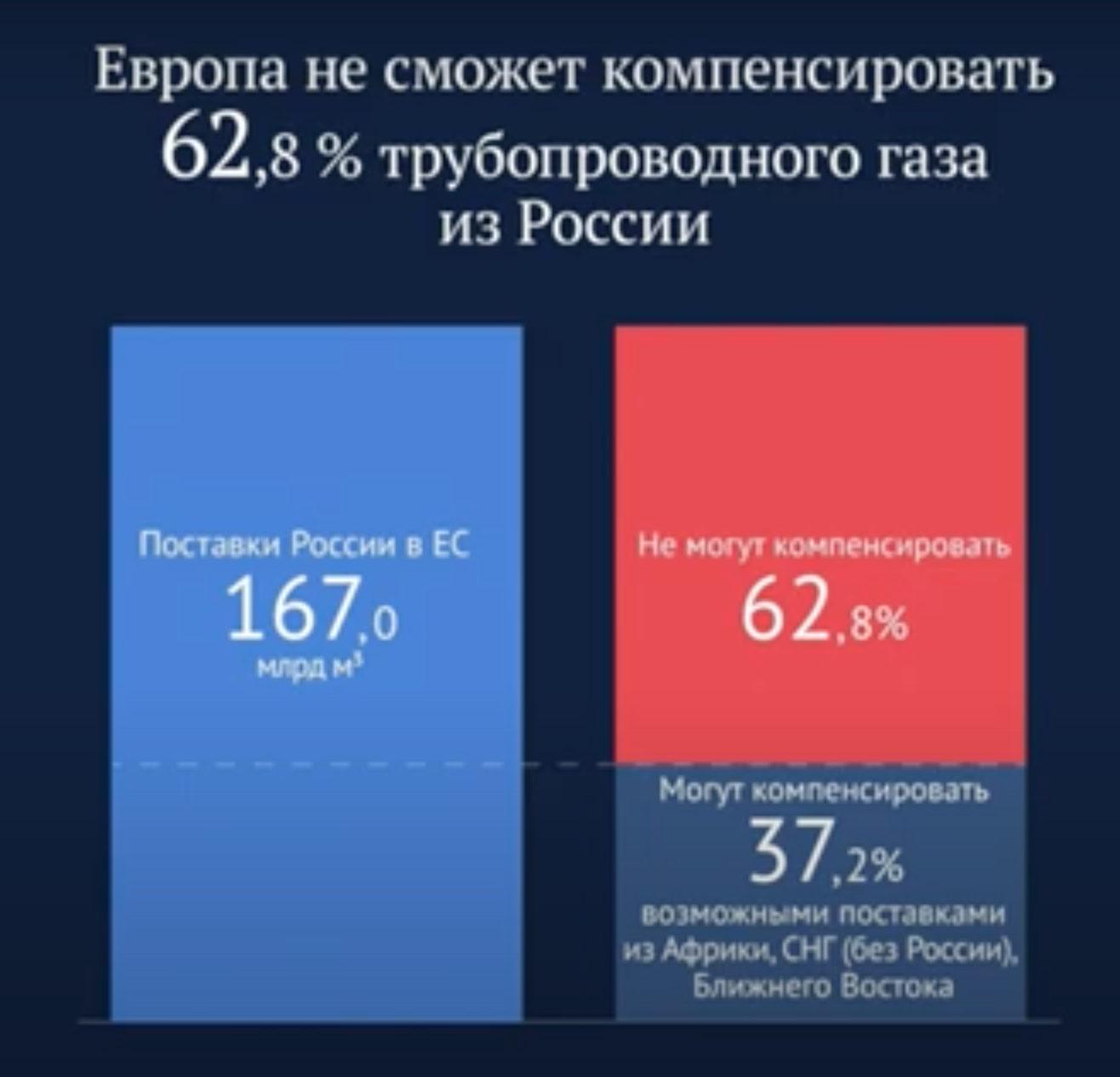 And remember massive stockpiling was also part of the EU scheme.