Yves here. Because the organized labor has been so badly beaten down in America, and few even know the physical risks the first wave of union promoters took (muggings, lynchings, murders; it took events like the Ludlow Massacre to turn the tide), workers have a long road back to their glory days in the 1950s and 1960s. Even local leaders, as in the Kellogg strike account below, acknowledge they have a lot further to go.
As an aside, the idea that the union made restricting offshoring a top priority is remarkable. Crunchy foods like crackers and cookies get stale! Items with more recent sell-by dates are always better. But Kellogg now having bought out all sorts of brands must feel it now controls enough grocery store shelf space that it can get away with crapifying its product.
By Wendi C. Thomas. Originally published at MLK50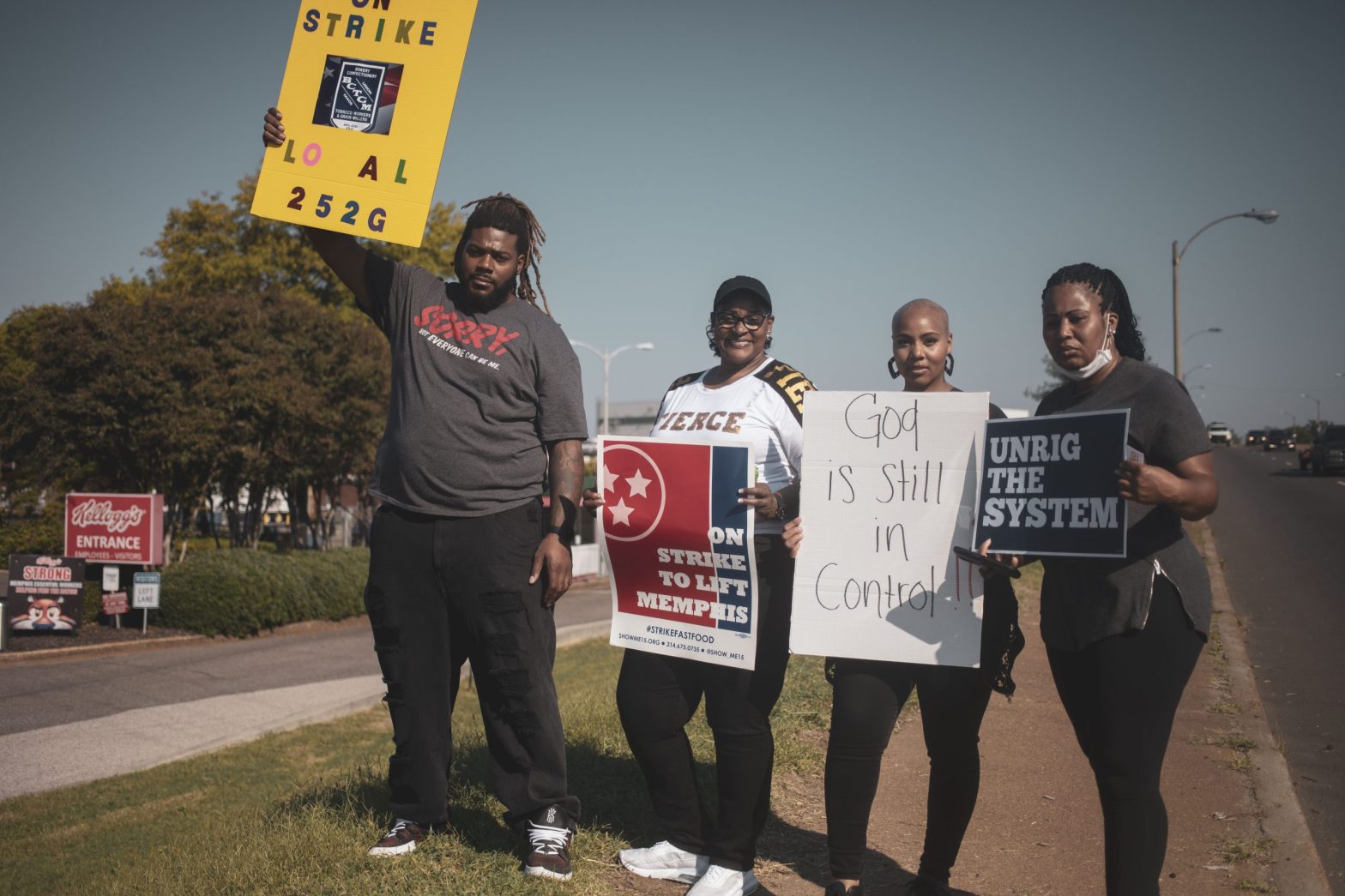 Transitional and legacy workers demonstrate outside the Memphis Kellogg's factory Oct. 8, days after employees nationwide went on strike in October to protest a two-tiered pay system. Photo by Andrea Morales for MLK50
The 11-week national Kellogg's strike came to an end Tuesday as union workers ratified a contract that gives transitional workers a path to regular employment and guarantees no plant closures for five years.
The move comes just two weeks after the Bakery, Confectionery, Tobacco Workers and Grain Millers Union, which represents 1,400 Kellogg workers at four U.S. plants on strike since early October, rejected a union proposal.
"Our striking members at Kellogg's ready-to-eat cereal production facilities courageously stood their ground and sacrificed so much in order to achieve a fair contract," said BCTGM International President Anthony Shelton in a statement Tuesday.
"This agreement makes gains and does not include any concessions," Shelton said.
According to the union, the contract also increases pension benefits and provides cost-of-living raises.
While the BCTGM international president cast the contract in favorable terms, one local union leader was less upbeat, noting that the company, whose CEO made nearly $12 million in 2021, can still send jobs overseas.
"We didn't lose anything, there were no takeaways, but the gains could have been significantly better," said Rob Eafen, president of BCTGM Local 252-G. He voted against the contract.
"The company still has a right to outsource our jobs," Eafen said. "If they want to move production to foreign countries like Mexico, they can still do so and that was one of the bigger items on our proposal list, but the only thing the company said they would commit to was no plant closures."
One of the largest sticking points between the union and Kellogg was a two-tiered pay system, which the company proposed and the union agreed to in 2015 as a one-time cost-cutting concession.
Transitional workers make $19 an hour (not including cost-of-living adjustments and shift differential) and contribute to their health care, Eafen said. Legacy workers are capped at $34 an hour and have their health insurance fully covered. Kellogg wanted to make that two-tier system permanent.
Workers, deemed essential during the pandemic as they produced and distributed cereal like Froot Loops, Apple Jacks, Cocoa Krispies and Frosted Flakes, were frustrated by mandatory overtime and a split pay structure that essentially created two classes of employees.
And even though legacy workers didn't stand to directly benefit from an end to the two-tier system, they stood with their newer, "transitional" colleagues, framing the fight as one for equality and future workers.
The contract allows for transitional workers to move to legacy status within four years. At the Memphis plant, where there are about 274 workers, that means all transitional workers will switch to legacy status by the end of the five-year contract, Eafen said, and around 22 will become legacy employees immediately.
But while transitional employees now have a pathway to legacy benefits, "as long as you have transitional employees in the building, that two-tier system is still alive," Eafen said.
The Oct. 5 strike came eight years after Memphis employees were locked out for nine months after union negotiations broke down. In July 2014, a judge ruled the lockout was illegal and ordered the factory to open its doors.
This time, however, the strike occurred in a tight labor market where conditions were more favorable to union organizing. Unions authorized workers at John Deere and at Kaiser Permanente to strike this year.
"One of the things that the union showed the company is that we are willing to fight for what we believe in," Eafen said.