Cats' weekslong Vitamix standoff is entertaining thousands of people on Facebook NPR (furzy)
Greyfriars Bobby and the dogs immortalised in statues BBC (Bob H). Nice pix!
A colony of 60 million fish has been discovered in Antarctica CNN (furzy)
Attempt to feed manatees fails so far, but effort to hold off starvation will continue PhysOrg (Robert M)
Ohio siblings accused of chopping down a 250-year-old tree for a small profit Washington Post (J-LS)
Elephants dying from eating plastic waste in Sri Lankan dump PhysOrg (Robert M)
Ships from 1,581 ports may go to Antarctica, bringing unwanted guests ars technica (resilc)
Tonga tsunami warning as volcano erupts at sea Guardian (furzy)
Video Friday: Guitar Bot IEEE Spectrum (David L)
Rwandan genocide chemically modified the DNA of victims and victims' offspring ScienceBlog (Robert M)
Phenomenal paper just published in Science persuasively demonstrating that EBV causes most if not all multiple sclerosis.

Phenomenal epidemiological design and technical achievement. 👏https://t.co/LcNFvKHiUp

— Patrick Kearns (@kearnsneuro) January 13, 2022
#COVID-19
Here's the difference between N95 and KN95 masks, and how to spot a fake Seattle Times (furzy)
Novak Djokovic: Tennis star detained ahead of deportation appeal BBC. I cannot fathom why this is the lead story at BBC, but that is why I am including it.
Science/Medicine

"There's this story that we're going to have variants that are progressively less severe," says Dr. Roby Bhattacharyya, who's an infectious disease specialist at Massachusetts General Hospital and Harvard Medical School.

But that's completely untrue, Bhattacharyya says. "It's comforting to think there might be some tendency for SARS-CoV-2 to evolve toward a milder form. That's not what we're seeing here."

"Omicron is so contagious that it can't be stopped."
"We're all going to catch it. It's inevitable."
"Omicron is like a natural vaccine, catching it is a good thing."

Meanwhile on the other side of the world… pic.twitter.com/jKylsLKVJZ

— Dr. Lisa Iannattone (@lisa_iannattone) January 15, 2022

Wow. Long Covid people are missing naive T cells.

I wrote about the loss of naive T cells and the death of T cells being problematic in 2020 in frontiershttps://t.co/M6hBv6k5Cc https://t.co/vzRgaizPek pic.twitter.com/NxEmIWmWpo

— Anthony J Leonardi, PhD, MS (@fitterhappierAJ) January 13, 2022

Asia

Omicron Cases Confirmed in Shanghai, Guangdong Province Bloomberg

Hong Kong extends Covid-19 curbs, flight ban through Lunar New Year South China Morning Post

China suspends 26 more air routes, 4 from US, over Covid-19 infections South China Morning Post (resilc)

UK

Downing Street 'held wine-time Fridays EVERY week' throughout pandemic as Partygate scandal deepens Daily Mail (J-LS)

US

US government moves to end daily COVID-19 death reporting by hospitals WSWS

Americans Can Order Free Rapid Covid-19 Tests from Website on Jan. 19 Wall Street Journal. Just as this Omicron surge is staring to wane, at least according to Mass. wastewater and some other indicators. Expect the site to crash and/or be available only with difficulty the first day. The question is how well it performs under sort of normal conditions. The Obamacare website launch does not bode well for rushed site development.

Harris sends Americans struggling to get Covid test to Google RT. Kevin W: "Cringy Video."

Biden officials divided on message over N95 masks for all NBC (resilc)

Letter of Support for Anthony Fauci Ezekiel Emanuel (Kevin C). When you need letters like that….

Boston Public Schools: Children Bundle Up for Class due to Open-Window Mandate National Review (J-LS)

North Carolina surpasses single-day record for COVID-19 cases, hospitalizations Eagle Tribune

Finance/Economy

U.S. Retail Sales Slide Most in 10 Months on Inflation, Omicron Bloomberg

U.S. grocery shortages deepen as pandemic dries supplies Yahoo. Resilc: "A two front war in the Ukraine and Taiwan should fix all this."

Hospitals Near 'Breaking Point' Amid Covid-19-Related Staff Shortages Wall Street Journal
COP26/Climate Change
Fave Little State: Climate Migrants From Around America Are Seeking Refuge in Vermont Seven Days (resilc)
China?
When I read headlines like this, I want to claw my eyeballs out: What Should the Left Do About China? Nation (PlutoniumKun). As in "Where are the left's divisions?" Since when has the left had any power, particularly with respect to foreign policy, much the less shown any appetite for using it? Having said that, the discussions about the splits is interesting, but the presumption that the opinion of "the left" even if there were one, matters, is bizarre.

"Encircling" China Is a Very Bad Idea Jacobin (J-LS)
India
India's Forest Cover Has Increased Once Again, Finds Report The Wire (J-LS)
New Cold War
As Russia moves 3 amphibious assault ships from Kola base to #Balticsea, #Sweden raises military readiness on the island of #Gotland https://t.co/9UiD1hhaxo

#föpol #säkpol #Finland #NATO #UK #Ukraine @edwardlucas

— Anna Wieslander (@AnnwieAnna) January 14, 2022
1/6
One year after the Capitol riot, experts warn more political extremism and violence could be on the horizon in 2022 Business Insider. Kevin W: "Pearl clutching."
Trump
'Kingmaker' Trump heads to rural Arizona, where GOP candidates are eager for his backing Roll Call (J-LS). Hard to square this with the terrible turnout at his recent rallies. Trump looks to be running on brand fumes plus the media pumping him as a traffic builder.
GOP Clown Car
Herschel Walker Makes Tommy Tuberville Look Like a Statesman Esquire (resilc)

Anti-abortion group linked to Amy Coney Barrett has been accused of 'harassment and intimidation' Alternet (furzy)
Democrats en déshabillé
L'affarire Jeffry Epstein
Queen 'saddened' by decision to force Prince Andrew out of the Royal Family Daily Mail (J-LS)
Man Spends Three Days Trying To Remove Oil Filter, Lives Every Wrencher's Nightmare Jalopnik (Dr. Kevin)
How one of South America's biggest dams became a Bitcoin battleground Rest of the World (Paul R)
Capital Flight The Daily Upside (resilc)
When all you have is a rate-hike hammer, every inflation looks like an excess demand problem. https://t.co/e60vv6Yi8V

— Stephanie Kelton (@StephanieKelton) January 14, 2022
Opinion: Why interest rates aren't really the right tool to control inflation Marketwatch (furzy). Even conventional finance types have gotten the memo.
Guillotine Watch
We don't know why, but being in space causes us to destroy our blood ars technica. Here due to space fantasies of squillionaires.

As things fall apart, the super-rich spend $2m on whisky. We need a wealth tax Guardian (resilc)
Class Warfare
hello, 'hot' labor market,
we need a federal job guarantee. pic.twitter.com/GSSbBHrE3B

— Pavlina R Tcherneva (@ptcherneva) January 14, 2022

Security officers say Smithsonian staff shortages threaten safety of priceless treasures, and people Washington Post (J-LS)
Antidote du jour. Timotheus: "Ibexes from my friend in the Jerusalem Desert."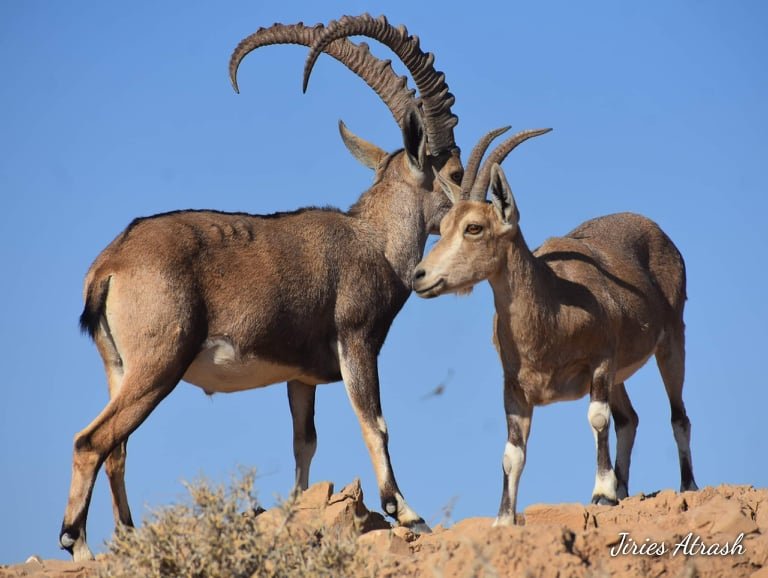 And a bonus (Bob H):
See yesterday's Links and Antidote du Jour here.