It's time to take reproduction in space seriously Axios (J-LS). Kill me now. You lose bone density and muscle mass in space, and we've recently learned your blood starts eating itself. But we're still acting like space is a reasonable option absent huge improvements, which may not be feasible, in space craft?
Science/Medicine
COVID-19: endemic doesn't mean harmless Nature (guurst)

7) UPDATE— we now have an estimate of BA2 transmission growth advantage over vanilla #Omicron BA1. It's not good… see thread 🧵 below… it's approximately *DOUBLE* of omicron. Unclear if contagiousness or if immunity evasiveness. Either way it's growing faster… 👇 https://t.co/tQWaPxiWJW

— Eric Feigl-Ding (@DrEricDing) January 23, 2022

Decreased memory B cell frequencies in COVID-19 delta variant vaccine breakthrough infection EMBO Molecular Medicine

Omicron Survives Longer on Plastic, Skin Than Other COVID Variants WebMD

Remember our harping about T-cells, particularly increased cancer risk? Per Wikipedia: "D8 (cluster of differentiation 8) is a transmembrane glycoprotein that serves as a co-receptor for the T-cell receptor":

Wow. EBV reactivation was seen in 95% of ICU Cov2 patients with low CD8 counts https://t.co/3RXgvifhjg
Thanks, @0bj3ctivity https://t.co/UxpWLWKJXL

— Anthony J Leonardi, PhD, MS (@fitterhappierAJ) January 25, 2022

I warned that reinfections could get worse with the diminishing pool of naive t cells and the increased pool of memory T cells.

Now you all see the naive depletion

Welcome to the knowledge I've had since I saw the depletion long ago https://t.co/q8O4PayzHn

— Anthony J Leonardi, PhD, MS (@fitterhappierAJ) January 23, 2022

The tweet below is important but the data does not prove the claims made. Even assuming very very rapid cancer onsets, timing is before vaccines widely deployed among military. Suggests cause likely 2020/early 2021 Covid cases, including those notorious asymptomatic cases, much more than any possible vaccine effect. We have stressed repeatedly that Covid was predicted to produce T cell derangement and exhaustion, which would be expected to produce an increase in cancers.

Reader DS points out: "The only alternative hypothesis I can speculate about is that there was some wide scale carcinogen exposure through some other route (like water contamination at training camps)."

So this pattern is a Covid effect, it does much more to debunk the "Covid is no more dangerous than the flu" thesis than tie the harm to the vaccines.

Having said that, one possible channel for the vaccines playing a role is vaccination too close to a Covid case (as in overtaxing the immune system; the European medical regulator is now warning against frequent boosting as for that very reason). But at least according to the video further down, that isn't what they are arguing.

I can share with you from attorney Thomas Renz that the number of cancer diagnoses in the military's DMED system went from a 5-year average (2016-2020) of 38,700 per year to 114,645 in the first 11 months of 2021. This is a predominately young population.

— Daniel Horowitz (@RMConservative) January 25, 2022

Ivermectin for COVID-19: Addressing Potential Bias and Medical Fraud Open Forum Infectious Diseases. The problem here is that many of the studies done were by MDs and therefore sorely underpowered. And this analysis does not allow/correct for the fact that many of the more rigorous looking studies were done on hospitalized patients, which was too late for treatment to be of any use. So this is annoying as technically accurate but not looking at "possible fraud" to include studies with protocols destined to produce an Ivermectin fail, whether by accident or design.

Ivermectin trial in treating COVID nearing completion StarTribune (Chuck L)

UK/Europe

"Defy orders".
We are in a very dark place.https://t.co/z5Vux8VWGU

— Trisha Greenhalgh (@trishgreenhalgh) January 24, 2022

Omicron: PCR tests rationed in Germany DW (resilc)

US
China?
Yuan overtakes yen in global transaction volume Asia Times (Kevin W)

EU-China conflict escalating over Hong Kong Asia Times (Kevin W)
Brexit
15/ "She refers to the need to renegotiate the Protocol. So all of that is very negative. But then it's in the context of her saying I want to do a deal. She wants to do a deal quickly. So how do you square that?," says one EU diplomat

— Tony Connelly (@tconnellyRTE) January 25, 2022
New Cold War
Scholz, Macron say diplomacy can fix Ukraine-Russia standoff DW. Translation: Europe trying to lower the temperature.

Russia Has Been Warning About Ukraine for Decades. The West Should Have Listened Time (Colonel Smithers)

Ukraine's Relentless Lobbyists Take to Congress American Conservative (resilc). I thought political contributions from non-citizens/non-residents were illegal…so why is there such a think as a "Ukraine lobby" save for Hunter Biden? Last I checked Ukraine didn't own any meaningful businesses in the US either.

EU unveils 'aid & investment' plan for Ukraine worth billions RT. Kevin W: "A bribe not to start a war on their part?"

The Cracks in Ukrainian Society Run through Kharkiv: A City on Edge Der Spiegel (resilc)

Good Quote With Some Caveats. Andrei Martyanov (Chuck L)

Why is Ukraine such an economic failure? Noah Smith

Russia may decide to deploy nuclear arms in Latin America within one week Pravda (resilc)
Syraqistan
Hundreds of Children Trapped as Fight Over NE Syria Jail Continues Antiwar (resilc)
Imperial Collapse Watch
Big Brother is Watching You Watch
Google sued in US over 'deceptive' location tracking BBC (David L). Go dumbphones!
1/6
Kerik told Jan. 6 panel that former Army colonel came up with idea to seize voting machines Politico (furzy)
Trump
Is Trump Losing His Base? New Poll Suggests Otherwise. New York Magazine (resilc). Wellie, I was fooled by the terrible turnout at his rallies. Looks like the continued press obsession with Trump is yet more free PR. And I wonder if the 1/6 investigation and the various suits (where press leaks are still way way way ahead of filings) are having a Streisand effect.
Pelosi says she will run for reelection in 2022 – The Hill. Kevin W: "The only way Nancy is leaving Congress is feet first."
The school shooting generation grows up Vox (Dr. Kevin)
L'affaire Jeffrey Epstein
Prince Andrew moves to sell Swiss chalet as sexual assault lawsuit proceeds Washington Post (J-LS)
The Bezzle
Chip Shortage Leaves U.S. Companies Dangerously Low on Semiconductors, Report Says Wall Street Journal
Class Warfare
Interestingly, trade unions are shaping up to be China's chosen feedback mechanism on algorithm ethics between regulators, companies, and new economy labor. 11/11

— Kendra Schaefer 凯娜 (@kendraschaefer) January 21, 2022

"Factories with Fences" and "American Made" boasts UNICOR. Better known as the Federal Prison Industries program, UNICOR makes nearly half a billion dollars in net sales annually using prison labor, paying inmates between 23¢ to $1.15 per hour. Despite already earning one-sixth of the federal minimum wage, inmates with final obligations must contribute half of their earnings to cover those expenses. UNICOR, in addition to other government-owned corporations and private prisons, makes millions upon millions of dollars using nearly free prison labor….
Antidote du jour. Willie M: "White Rabbit in Covington, WA."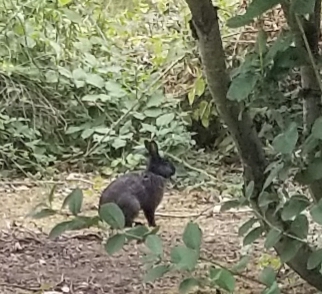 And a bonus. Timotheus: "Chile's new president at his desk." Moi: OMG, the ultimate air gapped computer!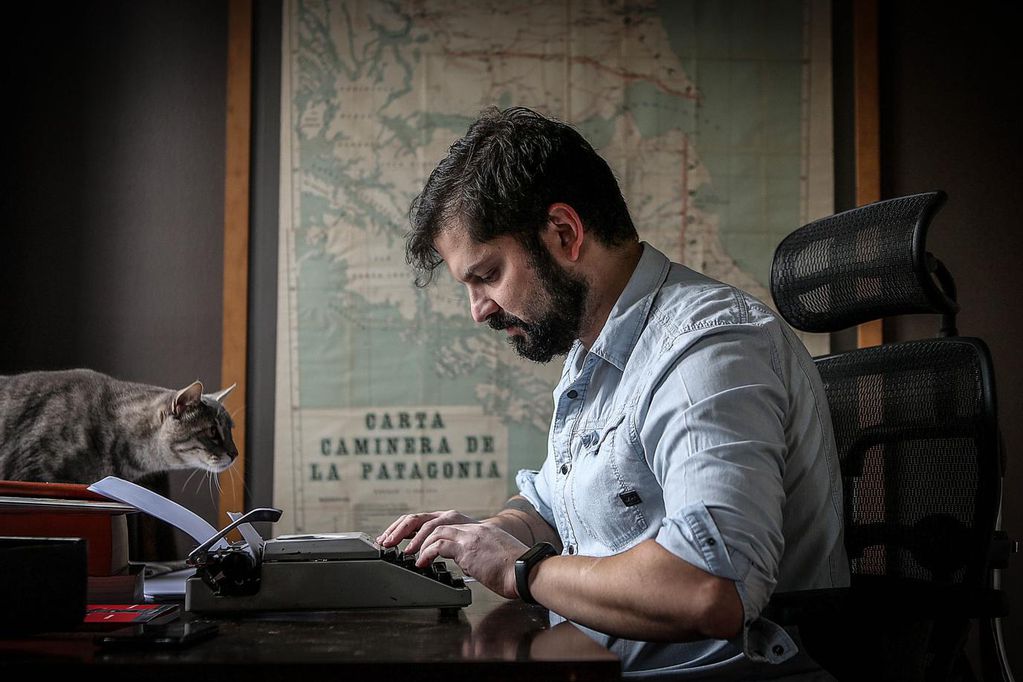 See yesterday's Links and Antidote du Jour here.