Goats Enjoy Playhouse Created for Them by Local High School Students Flipboard (David L)
VIDEO: Two Moose Trot Across Busy Slopes of Steamboat Unofficial Networks (David L)
'A Rosetta Stone': Australian fossil site is a vivid window into 15m-year-old rainforest Guardian (Kevin W)
Much Ado About Nothing Inference. Anthony L: "Scientists clueless when it comes to origins of life – Scientist says"
Truck spends three days dangling over China cliff BBC
China's 'Artificial Sun' Just Broke a Major World Record For Plasma Fusion Science Alert (Chuck L)
#COVID-19
Provinces could make vaccination mandatory, says federal health minister CBC
Science/Medicine
Omicron: 'The fastest-spreading virus in history' El Pais (Joe Well)

Scientist GM has long been worried about brain/neurological damage. The studies here, and there's more in the thread, are not new, but there aren't enough people connecting the dots:

The virus appears to be able to cross the blood-brain barrier and cause significant neurological damage.

The ability of the spike protein to cross the blood-brain barrier was demonstrated in mice at the University of Washington.
(13/🧵)
Rhea, et al https://t.co/t4deIntuwl

— Ian Ricksecker (@IanRicksecker) January 5, 2022

For context, the parenchyma is the functional tissue of the brain – your neurons and glial cells. It isn't normally where T cells are:

"In the brain of healthy individuals, T cells are only present sporadically in the parenchyma."
(15/🧵)
Evans, et al https://t.co/bsabM3KfFr

— Ian Ricksecker (@IanRicksecker) January 5, 2022

More on not pretty T-cell action:

Die erste Beobachtung in der Studie war, dass eine bestimmte Unterart von T-Zellen in Patient*innen mit schwerem COVID-19 häufiger vorkamen. Diese Zellen zeigten Gen-Aktivierungsmuster für T-Zellen, die andere Zellen eliminieren können ("zytotoxische" Zellen). … (2/9)

— Emanuel Wyler (@ewyler) January 6, 2022

Women's Periods May Be Late After Coronavirus Vaccination, Study Suggests New York Times. This is underplaying the effect. I know of one case way way way more extreme than this indicates. I cannot believe that in my small circle I could know of what this suggests would be a category of one.
Asia
UK/Europe
I really can't understand the lack of attention and discussion of this. This is *huge*. Shouldn't there be urgent focus on trying to understand what's going on here?
*570* 0-5 yr olds being hospitalised with COVID-19 *in just a wk* and rapidly rising isn't ok. https://t.co/dB34PUFeVK

— Deepti Gurdasani (@dgurdasani1) January 6, 2022

How on earth is this not a scandal? Long COVID numbers in children have more than tripled in 6 months. 117,000 children with long COVID and 20,000 with illness for *more than a year*. How on earth is this acceptable? – these are children! https://t.co/Ld8gam6Chk

— Deepti Gurdasani (@dgurdasani1) January 6, 2022

UK vaccine panel says no immediate need for second boosters for elderly Financial Times
US
New York City School Operations Crumble Under Omicron's Weight Bloomberg. As more or less predicted.

Justices Hear Case on Vaccine Mandate for Health Care Workers C-SPAN

Sounds like the NYT is telling its readers the Biden OSHA vaccine mandate is going down Alex Berenson. To be very clear, Berenson is more wrong than right on the science re Covid (but then he annoyingly finds research that's been ignored that is important, so he isn't always wrong, but a problematic amplifier given his record). But as former NYT reporter doing a media interpretation…that's within his skill set.

Citi warns US employees they'll be fired if they don't get COVID vaccine New York Post

Insurrection has led to dereliction of duty Dennis Laich and Lawrence Wilkerson, Military Times. On vax refusniks.

The CDC is facing a real crisis of trust. They can help restore trust by changing processes. Be transparent about how decisions are made—what's driven by science vs practicalities. Also, begin w draft guidelines & allow stakeholder input. It's not too late but a reset is needed. pic.twitter.com/ShXK255Wou

— Leana Wen, M.D. (@DrLeanaWen) January 7, 2022

Our normally polite and measured IM Doc has had it:

Behold this video. I cannot tell you how livid Joe Q Public is becoming. And they get to listen to this dope for answers.

like this md has any standing to evaluate other's credibility.

"Guidelines with stakeholder input" I am not even sure what that means exactly……

but that will fix the credibility problem… yeah

I have a good idea – release every single unrestricted VAERS and v safe report along with the entirety of the Pfizer and Moderna data. Then we will talk. Until then shut up. Your bumbling is making the credibility problems so much worse.

maybe I should be grateful we are at least acknowledging the credibility chasm.
Finance/Economy
Capitalism's perpetual pandemic WSWS

Covid Fueled by Neoliberal Austerity Black Agenda Report
Climate Change/Environment
New York Could Make History With a Fashion Sustainability Act New York Times (Kevin W)

As Cryptocurrency Becomes Mainstream, Its Carbon Footprint Can't Be Ignored Truthout. Well, except it is…

How Explosives, a Robot, and a Sled Expose a Doomsday Glacier Wired (Chuck L)
China
India-China trade surge muffles beating war drums Asia Times (Kevin W)
A Million People Sign Petition to Strip Tony Blair of Knighthood Sputnik (MarkT). Good to see that some people in the UK still have a sense of honor.
How the EU destroyed Italian democracy Unherd (Micael T)
New Cold War
How far can diplomacy go? Awaiting the US-Russian talks in Geneva on 10 January Gilbert Doctorow (guurst)

Roman Abramovich settles libel claim over Putin biography Guardian. Confirms John Helmer, who was early onto the Catherine Belton suits and based on reading the allegations, thought she was in a world of hurt.
"I was horrified when I found out": a new experiment with a nuclear power plant could be the last for Ukraine (Chuck L). Google translate screenshot. Warning, the worst ads evah!
Kazahkstan
Not keen about the color revolution label but some good detail: Steppe on Fire: Kazakhstan's Color Revolution The Saker (Kevin W)

Anti-State Terrorists Are Attempting A Hybrid War Coup In Kazakhstan One World
Syraqistan
Mission: HEBRON Vimeo (guurst)

The hurdles to leaving Gaza for medical care (Or, what can you really hide inside a tube of toothpaste?) Mondoweiss
1/6
A Tale of Two Authoritarians Matt Taibbi

Republicans' Jan. 6 Responsibility Wall Street Journal

Meet Ray Epps, Part 2: Damning New Details Emerge Exposing Massive Web Of Unindicted Operators At The Heart Of January 6 Revolver (GramSci). Dept. of Hhhhm…..
Biden
Biden administration poised to give pharmacies a major lobbying win STAT

— Holding Biden Accountable (@WaitingOnBiden) January 7, 2022
A Light in the Darkness American Conservative. Chuck L: "The world has truly turned upside down when The American Conservative puts out a puff piece on Dennis Kucinich!"
Criminal groping case against ex-New York Gov. Andrew Cuomo formally dismissed CNBC (Kevin W)
Black Injustice Tipping Point
All 3 white men convicted of murdering Ahmaud Arbery are sentenced to life in prison NPR

Ahmaud Arbery's killers sentenced to life in prison for 25-year-old Black man's murder CNN (Kevin W)

Yale Law School Mourns the Loss of Lani Guinier '74 Yale (Kevin C)
Woke Watch
Is Gauguin redeemable? No. Would he have wanted to be redeemed? Absolutely not Spectator (Anthony L)
Our Famously Free Press
Far-right extremists shift online strategies The Hill. Coastal elites continue to care about only vehicles they or their kids access, as opposed to talk radio. More selective blindness.

How Google helped TikTok take the throne Kevin-Indig
Leaning San Francisco skyscraper is tilting 3 inches per year as engineers rush to implement fix NBC (David L)
Cryptocurrency Investors Try to Turn Private Islands Into Blockchain Utopias Vice (furzy)
Class Warfare
GOP "Entitlement Reform": Will Disabled Vets Become the New Welfare Queens? Counterpunch

US unemployment rate drops to 3.9% giving Fed room to raise rates Financial Times

Emerson and Thoreau's Fanatical Freedom The New Republic (Anthony L)
Antidote du jour. Furzy: "Stacy's barn kitty…..Minding the barn on Maryland's Eastern Shore."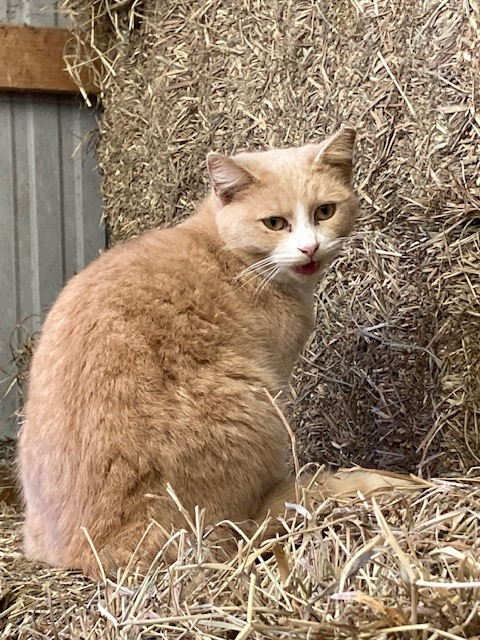 And a bonus (guurst). My cat Gabriel liked walking on the frame over the sliding shower doors and would show off by draping himself over it like a jungle cat on a tree branch:
Thursday vibes… pic.twitter.com/r6lc0OK9Lt

— Dr Anna Jerzewska (@AnnaJerzewska) October 7, 2021
See yesterday's Links and Antidote du Jour here.