Lockdown Rebelliousness: Denying that Coronavirus Is in Charge
The natives are getting restive. USA Today chronicled protests across the US against the coronavirus "shelter at home" and less-extreme forms of activity restriction. Most were small, only a hundred or so in places like Virginia and Utah. The largest was in Lansing, Michigan, despite Michigan suffering the third-highest death toll. Drivers set out to gridlock the capital and succeeded well enough to also block a hospital entrance: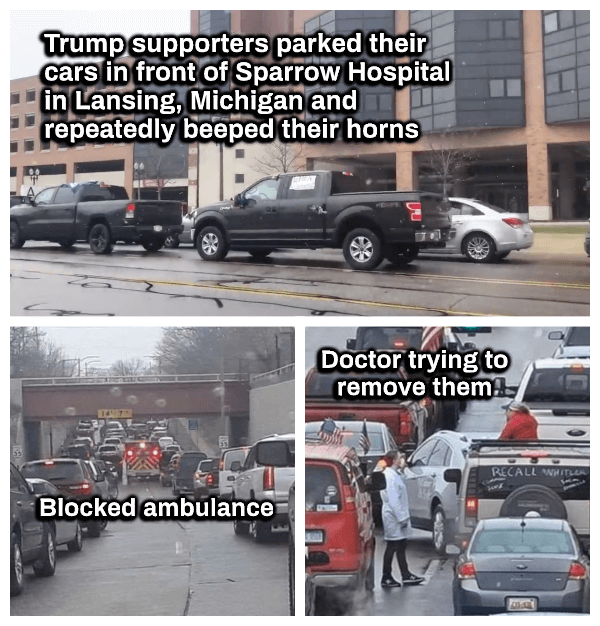 Most of the protestors wanted restrictions removed so they could go back to work or get their business back in operation. And it's undeniable that the coronavirus-induced shutdown have already exacted a huge toll. Data for March, when the restrictions weren't in place for the entire month, show much more severe damage than most economists foresaw. Note featured Mohamed El-Erian, Martin Wolf, and Goldman forecasts which were all more dour than the mainstream "quick rebound" take, which seemed obviously nonsensical.
The Financial Times today, which seldom practices hair-on-fire journalism, nevertheless sounds five alarms in its lead story, New data shows vast scale of US economic breakdown:
Data from all corners of the US economy published on Wednesday revealed the scale of the collapse in consumer demand, industrial activity and confidence, suggesting the hit from coronavirus lockdowns has been deeper even than feared.

Two measures in particular were historically bad: US industrial production showed the biggest monthly decline since the end of the second world war, while retail sales dropped by the most since the data started being collected in 1992…..

Industrial production, a broad gauge of output from factories, mines and utilities, fell 5.4 per cent in March from the previous month, according to the Federal Reserve, its worst performance since 1946.

Headline retail sales, a measure of sales in shops and restaurants, fell 8.7 per cent, according to the Commerce Department, erasing four years of growth….

Purchases at grocery stores surged by 27 per cent as consumers filled up their pantries, but there was a 27 per cent drop at bars and restaurants, which in many cases had to shut their doors. Sales at petrol stations sank by 17 per cent as people stayed home.

Clothing sales were cut in half, the worst of any category. Car and furniture sales each dropped by a quarter.
And aside from that, how was the play, Mrs. Lincoln?
The conundrum, as readers no doubt appreciate, is that trying to alleviate damage to teh