Yves here. Lady Fortune has smiled on Europe, at least as far as gas prices are concerned. As Wolf Richter lists below, many factors have broken their way, presently taking the pressure off what was close to universally predicted to be price hell or at least price pain.
However, Wolf's tally omits some key items:
Europe having loaded up on Russian gas in 2022

The suspensions of activity and even closure of facilities in energy-intensive industries, such as BASF's decision to permanently cut operations at its main plant in Ludwigshafen

China's stop and go growth under Zero Covid, which looks set to remain dampered under "Let 'er rip" (unless China proves more adept at managing a chronically tight labor market than the US)

Borderline recessionary global outlook for 2023. The World Bank forecast this year to show the weakest growth since the financial crisis and Covid
In other words, Europe may continue to have favorable gas prices. But at what cost?
By Wolf Richter, editor at Wolf Street. Originally published at Wolf Street
The price of Dutch front-month TTF Natural Gas Futures – a benchmark for northwest Europe – plunged 15% today to €54.85 per megawatt-hour (MWh), and has now collapsed by 84% from the crazy spike in the summer of 2022. The price is now back where it had first been in early September 2021 (data via Investing.com):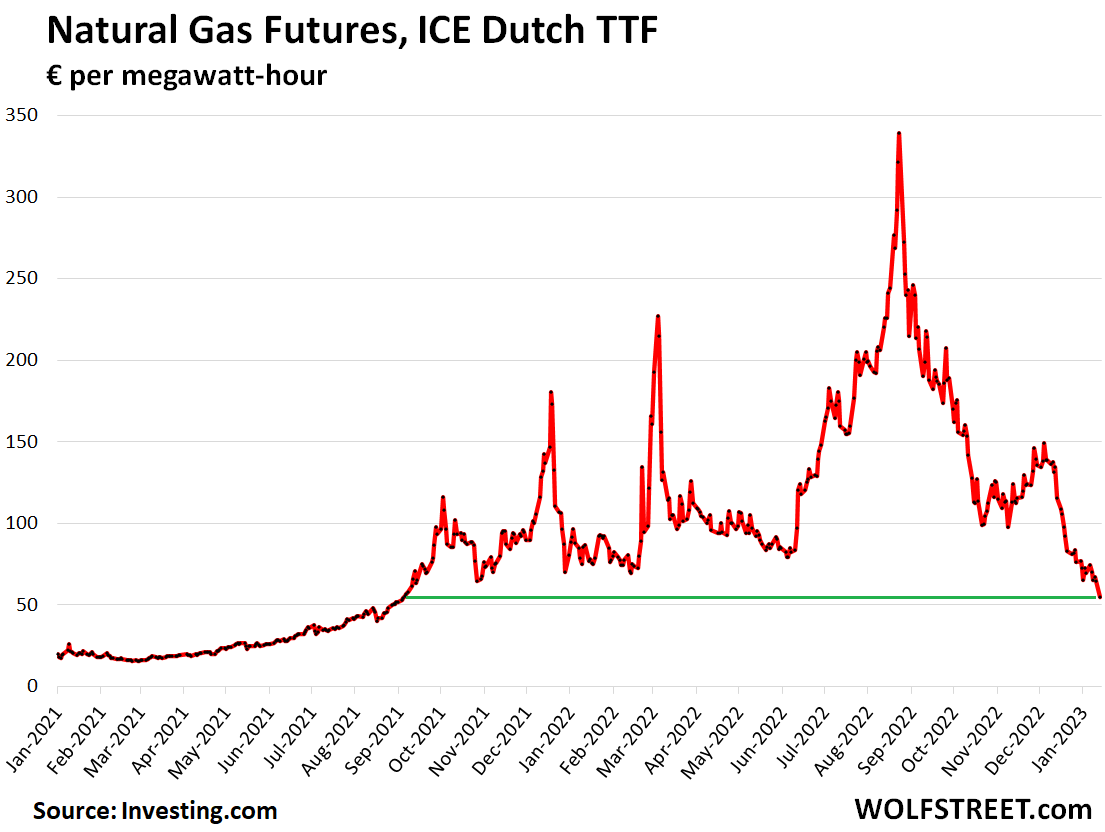 What spooked the European natural gas market today into the 15% sell-off were reports that Chinese importers of LNG were trying to divert February and March LNG shipments from China to Europe, as they were sitting on large stockpiles of LNG amid dropping prices in China.
There had been fears that the reopening of China's economy would put further strain on the global LNG markets. Or was that just hype all over again?
In 2022 and into 2023, several factors came together to avert what had been seen as a potentially dreadful energy crisis:
Surging supply of LNG from the US and other locations around the world.
Rapid deployment of floating storage and regasification units (FSRU) in Europe to offload this LNG supply, including in Germany.
Pipeline natural gas from Norway to the rest of Europe grew by 4% year-over-year in 2022 113 billion cubic meters (Bcm), according to S&P Global. Norway is now Europe's largest supplier. Norwegian gas deliveries to Germany reached historic highs.
A large-scale effort by households and businesses particularly in Germany to reduce natural gas consumption (heating, hot water), motivated also by the big price increases of natural gas.
A shift in power production from natural gas to other energy sources, including coal, also motivated by big price increases of natural gas through the summer of 2022.
A warm winter.
All of this worked together to reduce demand for natural gas and increase supply to replace pipeline natural gas from Russia.
Natural gas storage facilities in Europe are in exceptionally good shape for this time of the year. In the European Union overall, storage facilities were 81.7% full on January 14, according to GIE (Gas Infrastructure Europe). This is how the 916 terawatt-hours (TWh) of natural gas in storage on January 14, compares to the levels at the same time of the year in prior years:
76% above 2022
32% above 2021
1% above 2020
30% above 2019
44% above 2018
Storage levels differed by countries, but all of them were in great shape, particularly in Germany, which has managed to actually increase its storage levels over the past few weeks during a period (winter) that would normally be the withdrawal period. As of January 14, per GIE:
Germany: 90.5% full
France: 79.7% full
Italy: 79.3% full
Spain: 93.6% full
Netherlands: 75.8% full
Poland: 95.6% full
Sweden: 88.4% full
Belgium: 88.6% full
Austria: 87.3% full
Denmark: 91.5%% full
In terms of LNG pricing, the pressure has come off too. The price of the Japan Korea Marker (JKM) futures contract, at $26.80 per million Btu has plunged 62% from the crazy peak on August 31, 2022 (data via Investing.com):