Yves here. I have regularly been mentioning a US diesel shortage as a real risk if the Russian sanctions aren't relaxed soon in private discussions and should have Said Something on the blog. This post depicts the issue as much broader.
However, it does not unpack the technical issue at all and yours truly will take a stab. This is a layperson/simplified version, so if I got anything wrong, please pipe up in comments. Additional details also welcome.
This is a very simplified view of how petroleum distillation works: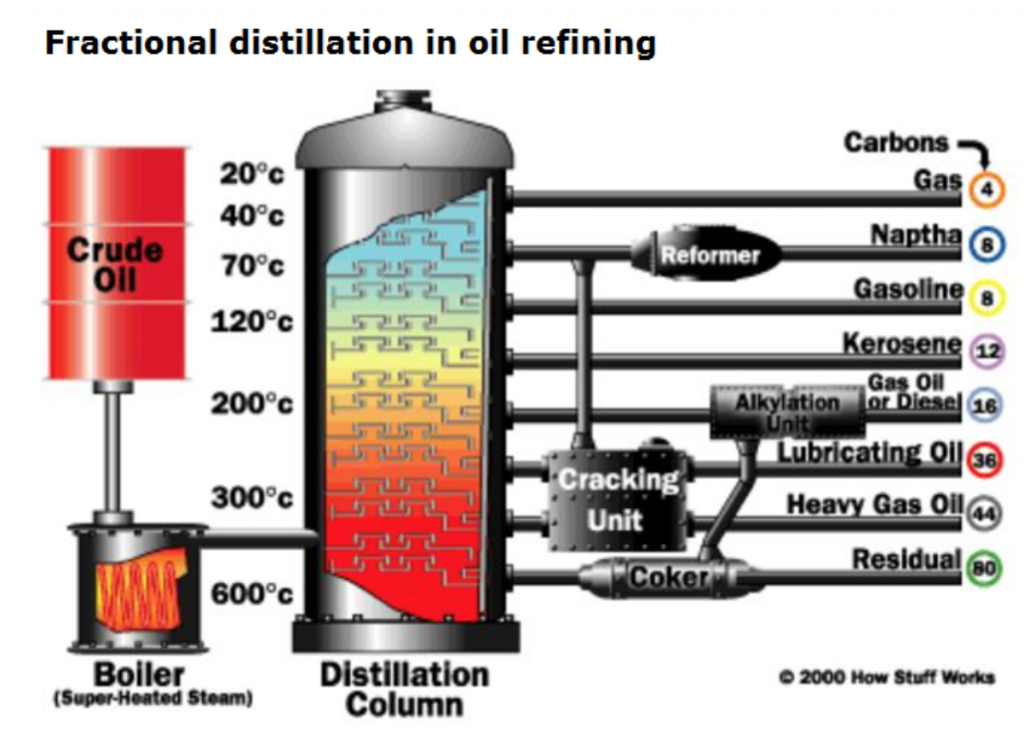 Notice the ordering from top to bottom. The "lighter" products have shorter carbon chains. That means less energy per unit volume. So diesel is more energy dense than gasoline.
But this simple picture ignores that crude oil is most assuredly not created equal. Light sweet crude, the sort that comes from Saudi Arabia, is very much skewed towards the gasoline end of the spectrum when refined. Shale gas is even lighter.
By contrast, Iran and Venezuela produce what is called heavy, sour crude.
Refiners can change some of these "fractions" to others, as ACEA explains:
cracking, which breaking large hydrocarbon chains into smaller ones
unification – which combines smaller hydrocarbon chains to make larger ones
alteration – which re-arranges various isomers to make desired hydrocarbons
However, this process is not cost free. For instance, I have regularly read that oil from Iran and Venezuela are attractive on world markets only at prices of over $100 a barrel. I take that to mean only when prevailing prices are high is it worth the cost and effort to crack them to produce gasoline.
My understanding is that Russia oil is heavy but not as heavy as Venezuela's or Iran's crude, that its energy density is very well suited for home heating oil, and as the article below suggests, diesel. Diesel is important for Europe since many passenger cars as well as trucks use diesel.
In addition, I assume (and welcome reader input) that getting diesel from light sweet crude by unification is mighty inefficient, otherwise coming up with more diesel would not be such a big problem.
And as for Venezuela, experts have opined that due to years of sanctions-induced underinvestment, Venezuela can't produce enough to fill America's Russia shortfall. Plus the US is unable to get over itself. From the Financial Times at the start of the week:
The White House this month sent three top officials to talk to Maduro, even though the US does not recognise him as president and has indicted him as a drug trafficker with a $15mn price on his head. The US government acknowledged last week that one aim was "certainly" to discuss energy security following Russia's invasion of Ukraine.

The visit — the first by a White House official to Caracas since the 1990s — prompted a fierce backlash at home, not only from Republican hawks like Florida senator Marco Rubio but also Bob Menendez, the Democratic head of the Senate foreign relations committee…..

The official US explanation for the trip changed during the week and by Friday, state department spokesman Ned Price said the delegation had travelled to Caracas with "two priorities in mind". The first was the release of US prisoners and the second was "championing the democratic aspirations of the Venezuelan people". He made no mention of oil….

Analysts say the Biden administration has been considering a change in its Venezuela strategy for some time, given the failure of the Trump-era "maximum pressure" policy to topple Maduro.
But no groundwork was laid in the US so the whole thing went pear shaped.
Now to the OilPrice story.
By Irina Slav, a writer for Oilprice.com with over a decade of experience writing on the oil and gas industry. Originally published at OilPrice
Kemp: diesel fuel stocks in Europe are at their lowest since 2008.
Russia is a major supplier of diesel, meaning Western sanctions for its invasion of Ukraine are affecting these supplies too.
A further rise in diesel prices is expected as production still has to catch up.
A crude oil shortage is invariably bad news for those that consume oil products. But when it comes to these products, a diesel shortage has the potential to be even more devastating than a crude shortage. Reuters' Rowena Edwards reported in early February that the supply tightness in crude oil, gas, and coal was beginning to spread to oil products, most notably middle distillates, the most popular among which is diesel fuel.
The fuel, whose biggest market is freight transport, got hit severely during the pandemic lockdowns as transport rates declined. After the end of the lockdowns, however, as economies began to recover from the worst of the pandemic, transport picked up, and diesel fuel demand jumped. Yet production still has to catch up.
Reuters' John Kemp reported this week that diesel fuel stocks in Europe are at their lowest since 2008, and 8 percent—or 35 million barrels—lower than the five-year average for this time of the year.
In the United States, the situation is graver still. There, diesel fuel inventories are 21 percent lower than the pre-pandemic five-year seasonal average, which translates into 30 million barrels.
In Singapore, a global energy trade hub, diesel fuel inventories are 4 million barrels below the seasonal five-year average from before the pandemic.
What is perhaps worse, however, is that over the past 12 months, the combined diesel fuel inventories in the U.S., Europe, and Singapore, have shed a combined 110 million barrels that have yet to be replaced, Kemp noted.
On top of all this, Russia is a major supplier of diesel, meaning Western sanctions for its invasion of Ukraine are affecting these supplies too. With the market increasingly tight, Shell and BP have shied away from offering any diesel fuel cargos on the German market for two weeks, Reuters reported last week, for fear of shortages.
In the UK, meanwhile, the Daily Mail cited analysts as warning that the government may need to resort to diesel fuel rationing from next month because of the state of the market and the ban on Russian oil imports, which include diesel fuel. Russia supplied a third of the UK's imported diesel before the ban.
"Risks of energy rationing and ultimately a recession are growing by the day – something most policymakers seem to be ignoring or not grasping right now.
'If Russian oil is not integrated back into the market within the next few weeks, we are at a real risk of having to ration crude and products by the summer," the Daily Mail report quoted an unnamed spokesman for consultancy Energy Aspects as saying.
Back in February, Morgan Stanley recalled a situation in 2008, when diesel fuel prices reached $180 per barrel, while crude oil was flirting with $140. And there wasn't a war in 2008.
"A repeat of that is not our base case, but it is notable that diesel prices have been tracking the 2007-08 period closely in recent months," the bank's analysts said, as quoted by Reuters' Edwards, adding they expected crude to reach $100 per barrel in the second half of the year. Of course, both Brent and WTI reached that only days after this forecast was made.
A tight supply situation invariably pushes prices higher, which cannot be good news in an environment of persistently high inflation coupled with soaring energy prices that keep on feeding that inflation.
Diesel, it seems, is turning into more kindling for consumer prices amid the Ukraine war and the sanctions. And even diesel fuel production growth may not help, according to Reuters' Kemp. It would only move the shortage from diesel fuel to crude, he said in his latest column.
*   *   *
Yves here. I take the final comment about "producing more diesel absent Russia oil" to be a confirmation of fact that light sweet crude, which is ideal for producing much less energy dense gasoline, would have to be used in comparatively large quantities to make diesel, on top of existing demand for gasoline. Not a pretty picture.