By Conor Gallagher
"If Russia does not end this war and get out of Ukraine, it will be isolated on a small island with a bunch of sub countries and the rest of us 141 countries will go forward and build a prosperous future, while Russia suffers a complete economic and technological isolation…"

-Victoria Nuland, Under Secretary of State for Political Affairs and chief architect of NATO war against Russia, in a March 2022 interview with TASS
Nuland has failed miserably. Instead, Russia's economy is growing, and the inability to isolate Russia is arguably a larger loss than the one NATO is suffering in Ukraine. Last week The New York Times finally got around to admitting the isolation efforts have failed:
Silverado Policy Accelerator, a Washington nonprofit, recently issued a similar analysis, estimating that the value of Russian imports from the rest of the world had exceeded prewar levels by September.
It marks quite the change in script. Consider this sampling of headlines from the past year:
It's been clear that this has never been the case. US allies Japan and South Korea remain unwilling to cut off energy ties to Russia. Chinese and Russian economic integration has grown, as have ties between Moscow and the Persian Gulf states. The US has been particularly frustrated by two countries that have been key to Russia's economic resiliency: Türkiye and India. Washington has been unable to get Ankara and New Delhi to join the sanctions party, and it's not for a lack of trying. What the Times' piece leaves unsaid is that most of these countries have faced unprecedented pressure from the US but have instead ignored the declining power.
The US neocons continue to double down, however, lashing out in increasingly desperate attempts to achieve the Russian isolation they want. How much will they isolate the US in the process? They've long enjoyed creating chaos elsewhere while benefiting from the safety of two oceans. Will that geography play a part in their lasting gift to Americans: the cementing of the US into a backwater nation, effectively quarantined from the economic engine in Asia due to its untrustworthy and aggressive behavior?
As for now, if you think Nuland et al are taking stock of their failures and reconsidering, well think again:
Here's the exchange with Victoria Nuland and Rand Paul where she explains the US position on prosecuting Russian officials. She cites Rwanda, Bosnia, and Kosovo as precedents. Seems very tactful to tell Putin he'll be getting the Milosevic treatment unless he obliterates Ukraine pic.twitter.com/BbqSfSQi5W

— Michael Tracey (@mtracey) January 27, 2023
The problem for Nuland and the neocons is that Russia was wise to this game, which is summarized here by Glenn Diesen. The Norwegian political scientist who specializes in Russian foreign policy writes:
In the Clash of Civilizations and the Remaking of World Order, Samuel Huntington argued:

"The immediate source of Western expansion, however, was technological: the invention of the means of ocean navigation for reaching distant peoples and the development of the military capabilities for conquering those peoples… The West won the world not by the superiority of its ideas or values or religion (to which few members of other civilizations were converted) but rather by its superiority in applying organized violence. Westerns often forget this fact; non-Westerners never do".

Russia's economic development was obstructed ever since the disintegration of Kievan Rus as it severed Russia from the maritime arteries of international trade. Russia's "return to Europe" and subsequently becoming a great power was made possible under Peter the Great by gaining access to the Baltic Sea. Containment of Russia has since relied to some extent on denying Russia reliable access to the sea. …

In Europe, NATO has been instrumental to expand US control over the Black Sea, the Baltic Sea and the Arctic. NATO expansion to Bulgaria, Romania and possibly Ukraine aims to convert the Black Sea into a NATO lake. In the Baltic Sea, NATO membership to Baltic states has extended the reach of the US. Former NATO Secretary General Anders Fogh Rasmussen, argued that the pending NATO expansion to Sweden and Finland was a strategic victory because "if we wish, we can block all entry and exit to Russia through St. Petersburg". The US is also expanding its reach in the high north by converting Norway into a frontline in the Arctic with increased military activity and soon to establish four US military bases on Norwegian soil.
Russia has successfully resisted these efforts. Its  range of international trade links by sea and land make it impossible for Washington to "isolate" it. While the US can cajole, coerce, bribe, and sabotage to take out one link, say the Nordstream pipelines, it's not possible to convince the entire world to go against its own economic interest.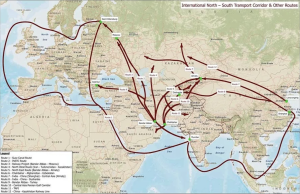 The following is a brief rundown of Russia's arteries of international trade and the efforts of the US to disrupt them.
Europe
The US has successfully severed its vassal states from Russia. The Nordstreams are dead, gas exports as a whole are at a record low, and Europe is paying and will pay the price economically for the foreseeable future.
Gulf of Finland ports like St. Petersburg have seen freight reductions (although as we'll see, all but one of other major Russian ports are seeing increases).
Estonia, which has a population smaller than Russia's armed forces, is making noise about causing problems in the Gulf of Finland with Estonian Minister of Defense Hanno Pevkur talking about how Helsinki and Tallinn will integrate their coastal missile defense, which he says would allow the countries to close the Gulf of Finland to Russian warships if necessary. Estonia is also floating the possibility of trying to inspect Russian ships.
The Center for Strategic and International Studies puts forth the following near-term actions for NATO in the Balkans:
Bring Sweden and Finland into NATO. The ratification of these two nations needs to move forward without delay. Elevating them from strong partners to alliance members changes the calculus of a Baltic conflict significantly. The alliance can immediately leverage these two nations to increase strategic depth.
Forward stage capabilities. Mines, anti-submarine capabilities, missile defense, and secure supply and logistics infrastructure should be forward staged across all domains, increasing deterrence.
Increase patrol. A whole-of-government approach from each Baltic nation and its allies is needed to ensure that energy, communications, and sea routes remain secure. This includes Baltic Air Policing, readiness to shift the balance of A2/AD, and the monitoring and protection of maritime infrastructure.
Strengthen command and control. Existing multi-domain command and control should be tested and ready for use. The need for effective command and control will be swift and will require resilient disaggregated nodes, though an eye should also be kept on future capability.
Moscow's updated version of the Naval Doctrine of the Russian Federation lists the Baltic Sea and and the Danish Straits as "important areas," in which the use of force will be available as a last resort after the other options have been exhausted.
The Arctic Basin
Russia says freight turnover rose 4.4 percent year-on-year to 98.5 mln metric tons. Reuters: 
Russia is sending more crude oil produced in the Arctic region to China and India, and at steeper discounts, after Europe slammed its doors shut on Russian supplies last month, trade sources and data show.
Over many years Russia has built up its fleet of icebreakers, ships and submarines. Moscow has also developed mining and oil well operations along its 15,000 miles of Arctic coastline.
The US is trying to play catch up by pouring money into existing bases in Alaska and Greenland and establishing four US military bases on Norwegian soil. Russian economic activity in the Arctic is only expected to increase in coming years, and Moscow considers it an "area of existential importance: where it can use all components in the defense of its interests, including force.
Much of the oil and gas from the Russian arctic used to go to Europe. It's now headed to China and India. India got its first shipment of Arctic liquefied gas last year, and the country's energy companies are looking at investing in Russian projects there.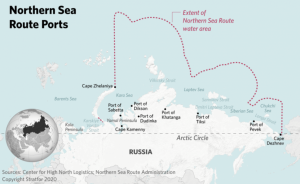 The Black Sea
Ports of the Azov-Black Sea Basin increased activity by 2.7 percent to 263.6 mln metric tons in 2022. Türkiye, despite constant pressure from Washington, has transformed into a transport, logistics, and gas hub between Russia and the West. From The Maritime Executive:
Unlike the Russian-Baltic container market, the Black Sea port of Novorossiysk has managed to stabilize the flow of import and export containers, primarily through well-developed Turkish-Russian relations in the trade and logistics sectors.

After a two-month volume fall in the port of Novorossiysk, its container terminals regained nine percent month-over-month in September. Although numbers show (below) that global shipping lines did not carry any considerable volume of shipments to/from Novorossiysk prior to the war, those liner services played a vital role for many businesses in Russia, connecting them to the remote destinations of Asia, Africa, and South America.
Washington's efforts to coerce NATO-member Türkiye into joining sanctions against Russia have only driven Moscow and Ankara closer together and led to calls to expel Türkiye from NATO.
Washington is increasingly grasping at straws. From the WSJ:
Senior American officials warned last month that Turkish individuals are at risk of jail time, fines, loss of export privileges and other measures if they provide services like refueling and spare parts to U.S.-made planes flying to and from Russia and Belarus in violation of export controls imposed last year, the officials said. Assistant Secretary of Commerce Thea Rozman Kendler delivered the message to Turkish officials during a December visit to Turkey, the officials said.
Türkiye's upcoming election (in either May or June) could not have higher stakes for the US or Russia. Biden said during his 2020 election campaign that Washington should help the Turkish opposition "take on and defeat Erdogan."
The Caspian
Freight turnover declined 13.9 percent year-on-year to 6 mln metric tons in the seaports of the Caspian Basin. Part of the decline could have been caused by more vessels "going dark" – when ships turn off their automatic identification systems. According to Maritime Insights & Intelligence: 
AIS gaps in the Caspian Sea totalled 440 in September. This is 37% higher than the number recorded in August, and the most since May 2021.

The spike was driven by Russian and Iranian-flagged tankers and general cargoships.

The increase in AIS correlates with a higher number of what appear to be dark ports calls, where ships are mainly trying to hide journeys to Russia or Iran.
The emergence of the land route of the International North-South Transport Corridor (INSTC) could have also played a role in the Caspian port decline. These rail routes move goods between Russia and the southeastern Iranian port of Chabahar. Russian Railways report a 26 percent year-on-year growth in freight flow by the corridor.
Western actors are trying to throw a wrench in the INSTC plans via Azerbaijan, a key nexus in both the INSTC and the middle corridor, which seeks to connect Türkiye to China via Georgia, Azerbaijan, the Caspian Sea, and then either Kazakhstan (or Turkmenistan), Uzbekistan, and Kyrgyzstan.
Additionally, Russia is increasing gas pipeline integration throughout central Asia and into southern Asia. From Indian Punchline:
A  Russian gas pipeline to Pakistan is in the making. Zardari's visit to Moscow comes within 3 weeks of a  tripartite gas cooperation arrangement between Russia, Kazakhstan and Uzbekistan making headlines in the news cycle. The termination of Russia's decades-old energy ties with Europe, including gas supplies via pipelines, motivates Moscow's search for new markets, Asian markets being a priority.

Thus, late last year, Moscow proposed a gas union with Kazakhstan and Uzbekistan offering to help out the two Central Asian states that are struggling with gas shortages. Earlier this month, Kazakhstan and Uzbekistan signed two separate agreements with the Russian giant Gazprom cementing the new partnership. A new vista is opening for Russia to use the existing gas pipelines in these two countries to export gas to their domestic market in immediate terms.

Albeit in a bilateral format, this arrangement also positions Kazakhstan and Uzbekistan potentially as transit countries enabling Russian gas supplies to the regional and world market, especially China, South Asian countries and the ASEAN region.
The ambitious projects will of course face American opposition. According to Russian Special Presidential Envoy for Afghanistan Zamir Kabulov, the US is sponsoring ISIL in Afghanistan to destabilize the country and the region.
The Far East
These ports' freight turnover increased 1.5 percent and reached 227.8 mln metric tons in 2022. The ports of Vladivostok, Vostochny and Nakhodka, some of the busiest ports in Russia's east, saw double double-digit growth in traffic in the third quarter, driven largely by general cargo ships and tankers, according to Maritime Insights and Intelligence.
In September China and Russia launched a shipping route between Quanzhou and Vladivostok. Moscow and New Delhi also continue to pursue the Chennai-Vladivostok Eastern Maritime Corridor.
On the pipeline front, Power of Siberia 2 will supply China through Mongolia from western Russia. It will transport roughly the same amount of gas as would have flowed through the Nordstream 2 had the US not destroyed it not been mysteriously destroyed. Gazprom already operates the Power of Siberia 1 pipeline, stretching from eastern Siberia to northern China.
Japan and India remained stakeholders in the now-Russian-led Sakhalin-1 oil project in the Okhotsk Sea. Exxon Mobil, which had been leading the project, exited from operation with no compensation due to western sanctions. Russia is in the process of building a pipeline across the Tatar Strait from Sakhalin Island to the Russian mainland where the oil will be loaded onto tankers for transport to East Asian markets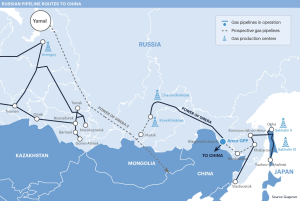 And there will be takers. Despite all the sanctions and coercion, Russian trade is on the upswing. Even the New York Times begrudgingly admits:
Ami Daniel, the chief executive of Windward, a maritime data company, said he had seen hundreds of instances in which people from countries like the United Arab Emirates, India, China, Pakistan, Indonesia and Malaysia bought vessels to try to set up what appeared to be a non-Western trading framework for Russia.
While the US will continue to try to peel off countries still operating freely with Russia, so far its efforts have been an utter failure outside of Europe. For some reason most countries just don't want to abandon mutually beneficial ties with Russia in order to sacrifice their economies for US benefit.
In between pressure campaigns on other countries, the US should take a closer look at itself and its vassal states in Europe. According to a recent study, only 10 percent of the major Western companies that promised to pull out of Russia after the start of the war in Ukraine have actually left. From bne IntelliNews:
Even amongst US-based companies in Russia less than a fifth (under 18%) have left, whereas 8.3% of EU companies and 15% of Japanese companies have shut up shop.

Amongst those that have ignored pressures to exit Russia include: consumer goods giant Unilever, US fast food franchise Subway and Italian pasta-maker Barilla, which have continued to operate in the country. Other companies have curtailed but not completely halted their operations: BMW is not making cars in Russia anymore but it is still importing parts and honouring its service contracts for existing customers.
This is in stark contrast to the widely cited information from the Yale Chief Executive Leadership Institute (what a name!). Jeff Sonnenfeld, the founder and CEO of Yale CEIL, wrote "there is no path out of economic oblivion for Russia as long as the allied countries remain unified in maintaining and increasing sanctions pressure against Russia." Sonnenfeld's polemic claimed that more than 1,000 Western firms responsible for generating the equivalent of 40 percent of Russia's GDP had abandoned Russia and that the effects would be devastating. Oops.
Barring any unforeseen event(s), it seems clear where this is headed. Russian Foreign Minister Lavrov recently said, "Rest assured that in the near future, we will see a serious drop in the West's ability to 'steer' the global economy the way it pleases.  Whether it wants it or not, it will have to sit down and talk."
The first part of his prediction has already been proven; It now becomes a question of just how many more people must needlessly die before the sitting down and talking begins.  Unfortunately, Nuland and her neocon pals have a special talent for ignoring reality.