Rising rates, falling savings, increased deficits, dubious GDP: Ever since the yield curve inverted and warnings of "imminent recession" filled the air, the Philly Fed's map of State Coincident Indexes has provided a good real-time snapshot of the state of the economy. Friday's release might have snuck by, but its filled with upside surprises that are worth looking at.
The overview is simple: Over the past 3 months, the coincident indexes for all 50 states indexes have increased (Diffusion index = 100). Last month (May 2023), indexes increased in 47 of 50 states, were flat in 2 states (Minnesota and Rhode Island), and fell in just 1 (Wisconsin). Other states that were a little soft include New Jersey, Arkansas, and Kentucky.
Ned Davis Research crunches the state coincident indexes into a probability chart that shows but a 1% chance we are currently in a recession. This is not a prediction, but rather, a reading of the coincident indexes as a current recession indicator.
NDR Recession Probability Model: 1% chance of a recession currently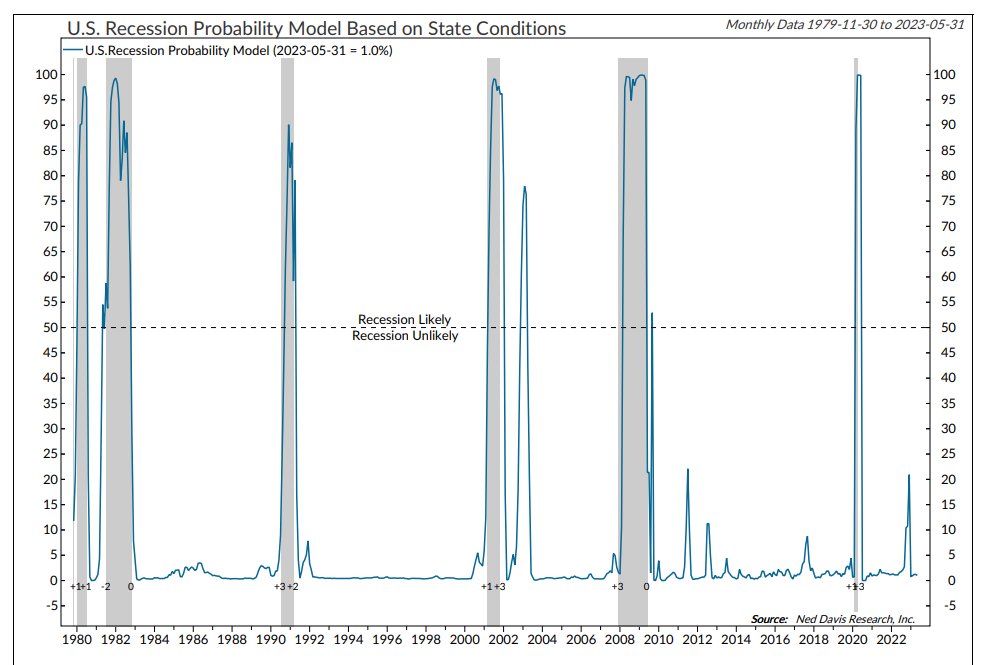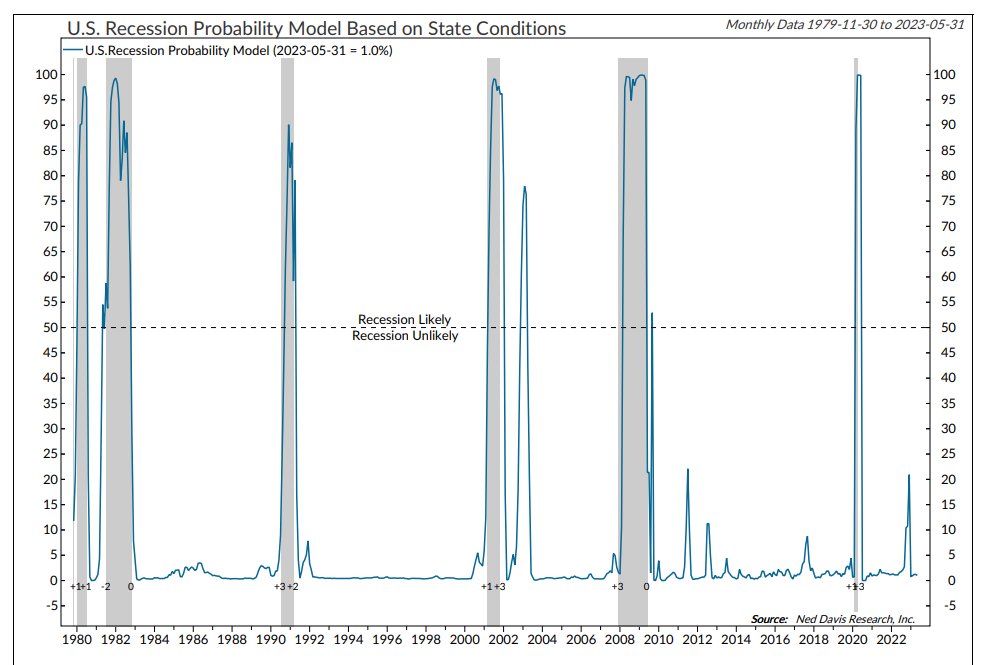 NDR via Ryan Detrick

Side note: The yield curve has been inverted for what feels like forever; note the 10 Year minus the 3-month (created by Duke Fuqua professor Harvey Campbell) inverted in 2019, briefly in 2020, then went deep once the FOPMC began raising rates in 2022:
Despite its near-perfect history of recession forecasting, perhaps the yield curve inversion is less prophetic when coming off of a decade of Fed Funds at zero.
Previously:
Are We in a Recession? (No) (June 1, 2022)
What Data Makes NBER Recession Calls? (September 1, 2022)
The Post-Normal Economy (January 7, 2022)
10 Bad Takes On This Market (May 19, 2023)
Sources:
State Coincident Indexes Current Report (PDF)
Federal Reserve Bank of Philadelphia, May 2023