Wikipedia: The Overlooked Monopoly
Yves here. Michael Olenick sent this piece on Wikipedia along, not just for it being of genuine interest but also as a mental health break from the Biden inauguration media saturation. So enjoy!
By Michael Olenick, a research fellow at INSEAD whose recent articles can be found at innowiki.org and Blue Ocean Thinking

You've never heard of Wikipedia's Tim1965 or the countless others like him but they quietly affect your life and your perception of the world. Tim is a Wikipedia "editor" who brags, in bold, that on June 2, 2019, he made his 50,000th edit on Wikipedia. Just a few months later, on September 4, 2020, the Innowiki consortia I'm a part of got a front-row seat showing how lame that boast is and realized it highlights a serious but overlooked problem with Wikipedia.
What happened is, as these things go, seemingly insignificant enough I paid it no attention for a half year until I thought things through. Specifically, Tim eliminated some quotes I added about my favorite business executive, the late, great Archie McCardell, the worst CEO in history. I'm somewhat of an expert on Archie, having the misfortune of studying and writing about him and even naming an award after him, the Archie McCardell Award for Horrendous Management. Come to think of it, Tim deserves an Archie Award.
Before we get back to the problems about Tim and Wikipedia, the overlooked monopoly, some review is probably in order.
Archie was CEO of Xerox when the Xerox Palo Alto Research Center (Xerox PARC) was set up. It's the division that gave us pretty much everything interesting about modern computing. He became the President of Xerox in 1971 and for three years, the firm recorded record profits just as it had the prior two decades. Then, with Archie's management style in place, all quickly started going south and Xerox never recovered. They never commercialized the inventions at Xerox PARC that included, among other things, the graphical user interface, the laptop, ethernet networking (WiFi is wireless ethernet), object-oriented software, or all sorts of other cool and wildly profitable stuff. Steve Jobs swiped stuff from Xerox PARC and used it to create the Mac. Bill Gates knocked that off to make Windows.
Back to Archie; he laid the groundwork for a few years of wretched sales during which they blew the future and ceded the copier market to Japan. As a reward, Archie was recruited by Booz Allen Hamilton to lead International Harvester, then one of the largest businesses in the US. With a starting salary of $460,000, he was one of the highest-paid executives in the US. Archie also received a then unheard of signing bonus of $1.5 million and a low-interest (at the time) loan of another $1.8 million. Before Archie, International Harvester was a profitable, stable family business but management consultants wanted "a high-powered executive from the outside."
So, how'd the guy that ensured Xerox wasn't Apple do at his new gig? Every bit as wretched as you'd imagine and worse. He cut costs and poked the lead union, the United Auto Workers (UAW), in the eye. They responded with a 172-day strike.
By the time the strike ended, Harvester lost $479.4 million-plus another $397.3 million the next fiscal year as a result of the fallout. Archie borrowed money to stay afloat, eventually bloating the firm with $4.15 billion in debt. Eventually, he cut the budget another $200 million and demanded further union concessions while paying out $6 million in executive bonuses. The union agreed to the concessions on May 2, 1982; Archie was fired the next day. International Harvester was forced to sell their crown jewel, the farm equipment division, and renamed what remained Navistar.
Archie's feelings about his performance (copied from my original articles):
"I don't think we made any one major mistake," McCardell said in a 1986 UPI interview. "I feel very good about my years at Harvester." Later, he adds, "I think I was underpaid." In a different interview with the New York Times he said: "I think I rate myself superb."
Pundits aren't as enthusiastic. One speculated he might have been carrying out "an industrial sabotage operation."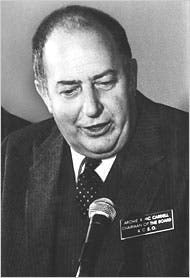 Back to Tim & Wikipedia</strong
My Innowiki project is edited by a small number of people. We typically write under the moniker Ruby Day because WordPress requires attribution. Tim, with his 50,000 edits, apparently watches the Archie McCardell page for edits. He deleted the quotes above and justified the deletion writing: "removing biased source (self-promotional edit, using an article written by the editor), linked to nonreliable wiki source…"